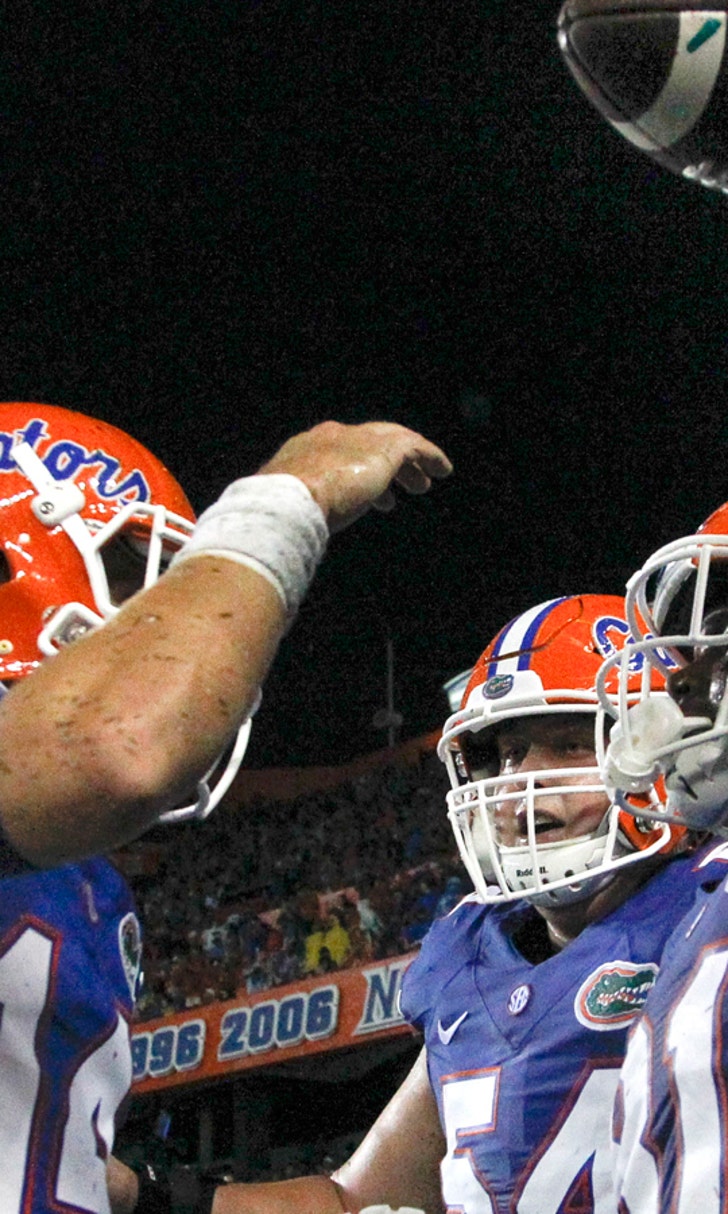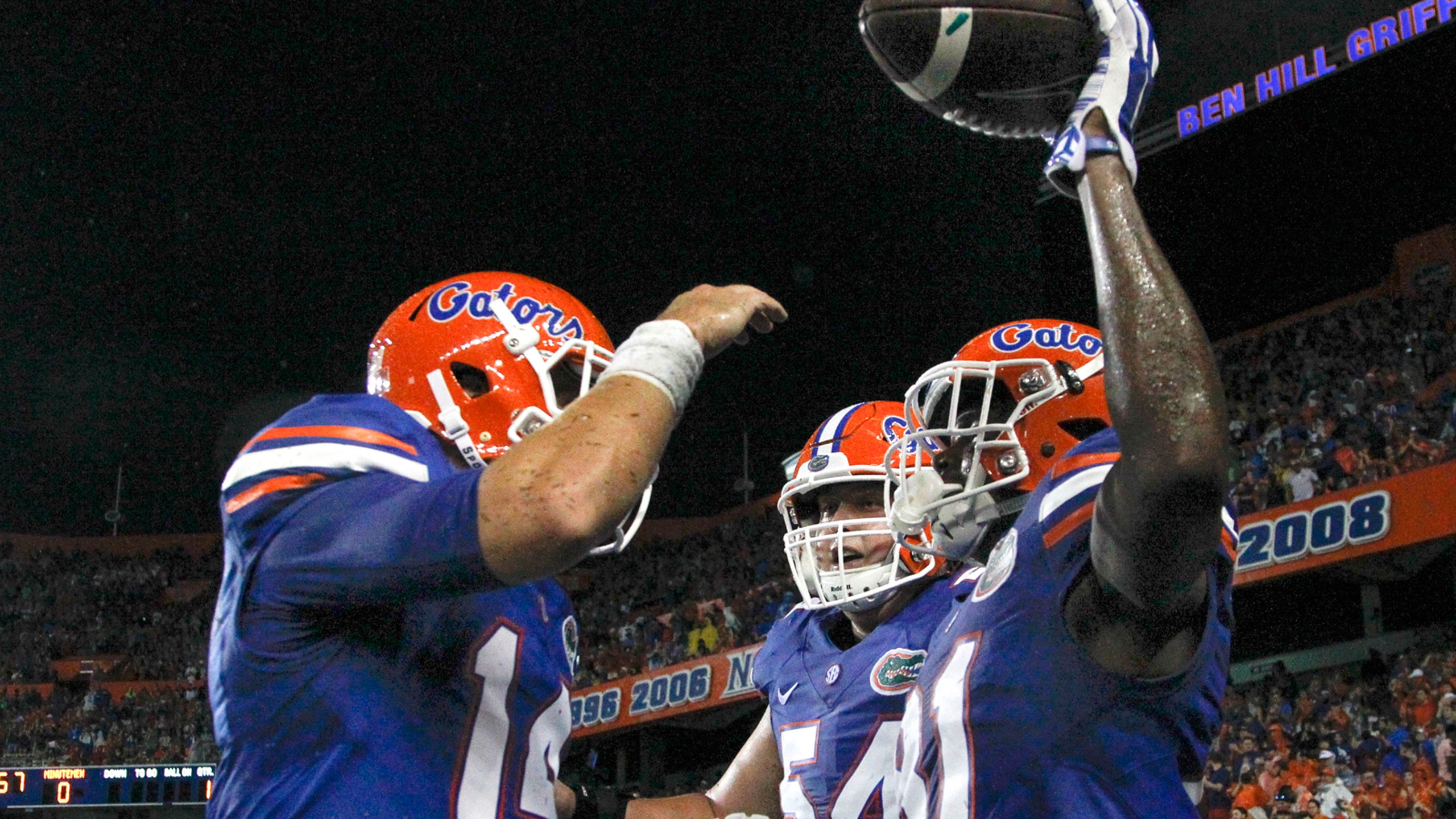 Despite offensive struggles, Florida takes care of Massachusetts
BY foxsports • September 3, 2016
GAINESVILLE, Fla. (AP) -- On a night when retired coach Steve Spurrier was honored along with his 1996 national championship team, No. 25 Florida looked nothing like a potential Southeastern Conference title contender.
Luke Del Rio threw two touchdown passes in his first career start, and the Gators did just enough to beat UMass 24-7 on Saturday night and extend the nation's longest winning streak in season openers to 27.
It was far from the offensive resurgence the Gators were hoping for after ending last season with three consecutive losses.
"We have expectations every game," Del Rio said. "We obviously want to score more points, but we got the win. That's the most important thing."
Things were so ugly for much of the night that Spurrier provided most of Florida's early highlights.
After having Florida Field named after him and then leading 90,000 rain-soaked fans in a pre-game cheer, Spurrier posed like Olympic sprinter Usain Bolt. The 71-year-old Spurrier flashed Bolt's "To The World" pose to all four sides of the newly renamed Steve Spurrier-Florida Field at Ben Hill Griffin Stadium. It drew a raucous ovation from fans on hand for the opener.
"I just planned it myself," Spurrier said. "I didn't tell anybody, either, `cause I thought they'd spill the beans. You know, it's never been done before. I'm a guy that likes to do a little different stuff, so I was the first to do the Usain in the middle of the field."
Many inside the sold-out Swamp were there for Spurrier, who was honored in a number of ways. Not only was the field named after him, but Spurrier served as the honorary "Mr. Two Bits." At halftime, he was recognized again for the 50th anniversary of his 1966 Heisman Trophy and honored along with the 1996 team.
Spurrier said the best parts of the day were watching his name unveiled on the stadium and then seeing band members wearing visors to honor him.
Florida coach Jim McElwain probably could have used one -- to slam to the ground.
"It was fun to get back after it and really get that taste of the last ballgame we played out of our mouth," McElwain said. "Obviously, as you watched the game, we've got a long way to go."
The Gators had trouble blocking the 36 1/2-point underdogs up front and creating holes in the running game. Del Rio completed 29 of 44 passes for 256 yards, with TD passes to Antonio Callaway in the first quarter and Brandon Powell in the fourth.
Florida's defense was solid except for one scoring drive in which it was flagged three times for 35 yards and allowed a fourth-and-14 conversion.
Newcomer Eddy Pineiro kicked three field goals, including from 49 and 48 yards in the fourth that gave Florida a little extra breathing room and started chants of "Eddy! Eddy!"
"This is a dream come true," said Pineiro, who played soccer in high school and had never kicked in a meaningful game. "I've worked my butt off for two years, came in here as an early enrollee and worked very hard for this moment."
THE TAKEAWAY
UMASS: The schedule doesn't look so daunting now. UMass has two more Southeastern Conference teams on tap this fall, but after watching Mississippi State (lost to South Alabama) and South Carolina (edged Vanderbilt) in openers, there's reason to believe coach Mark Whipple's team can be in, or maybe even win, both of those games.
FLORIDA: Could be another trying season for Florida quarterbacks. The Gators clearly still have holes along their offensive line, a problem that plagued the offense last year and really stood out during the season-ending, three-game losing streak.
UP NEXT
UMASS: The Minutemen return home to play Boston College, which is coming off a loss to Georgia Tech in Ireland. UMass has dropped eight in a row in the series and 19 of 23 overall.
FLORIDA: Opens SEC play at home against Kentucky. The Gators have won 29 straight in the series, the nation's longest active streak between any two opponents.
---
---