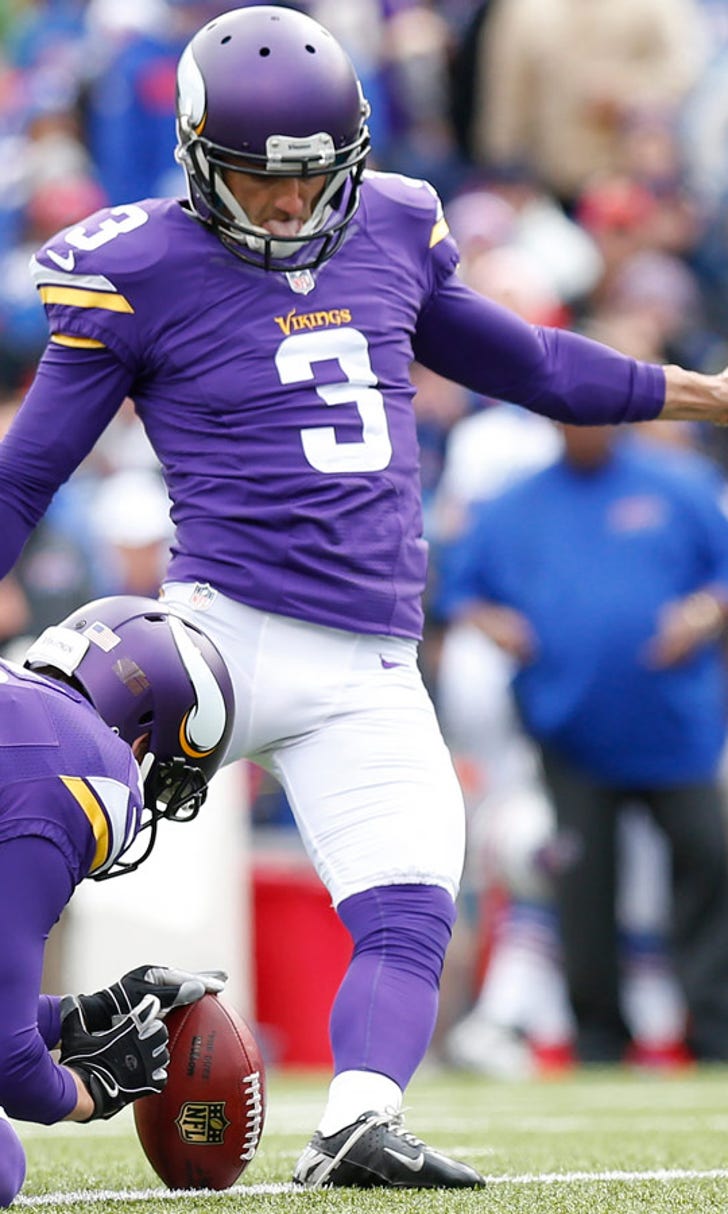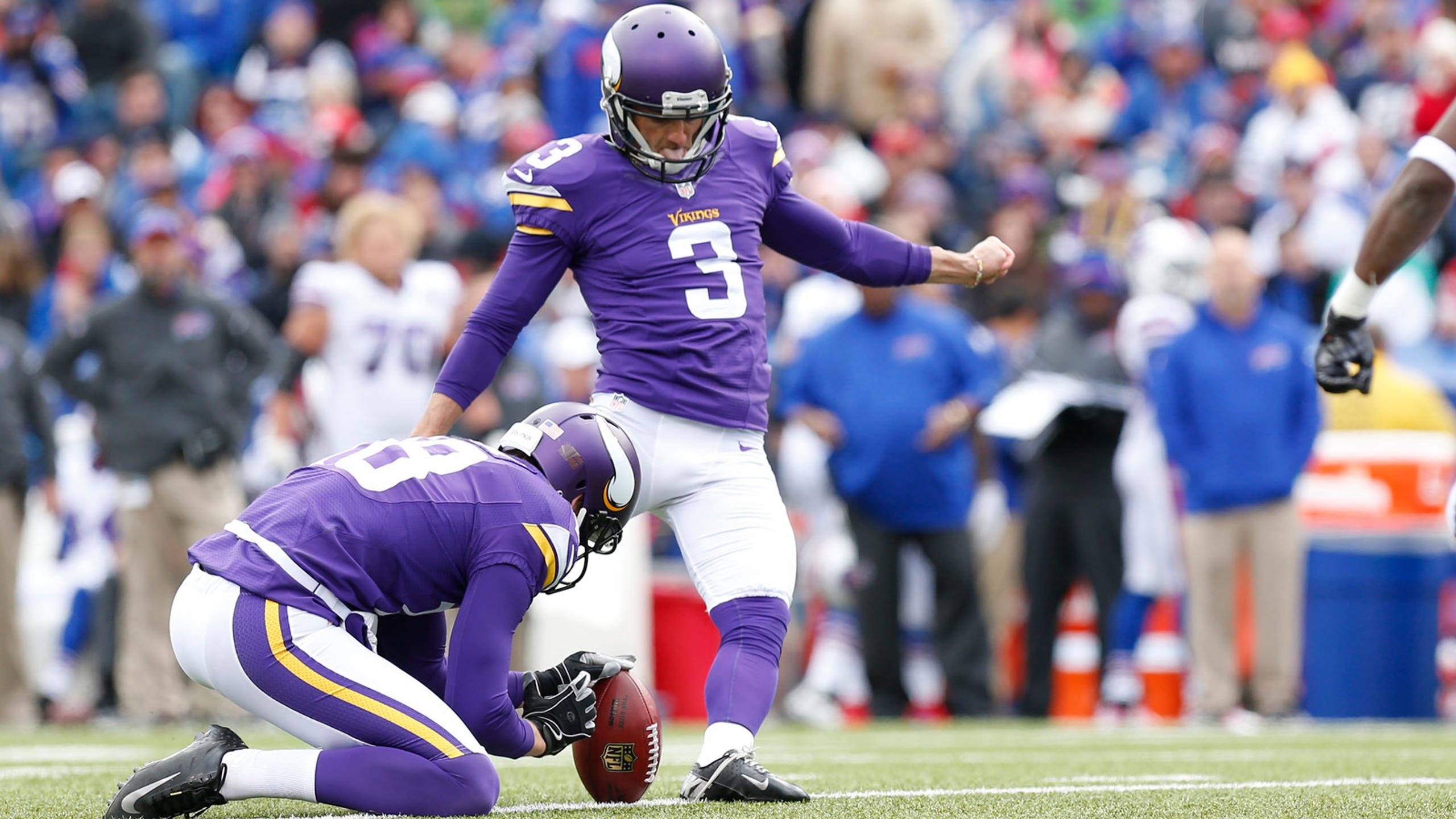 Despite more outdoor field-goal misses, Vikings' Walsh remains confident
BY foxsports • December 9, 2014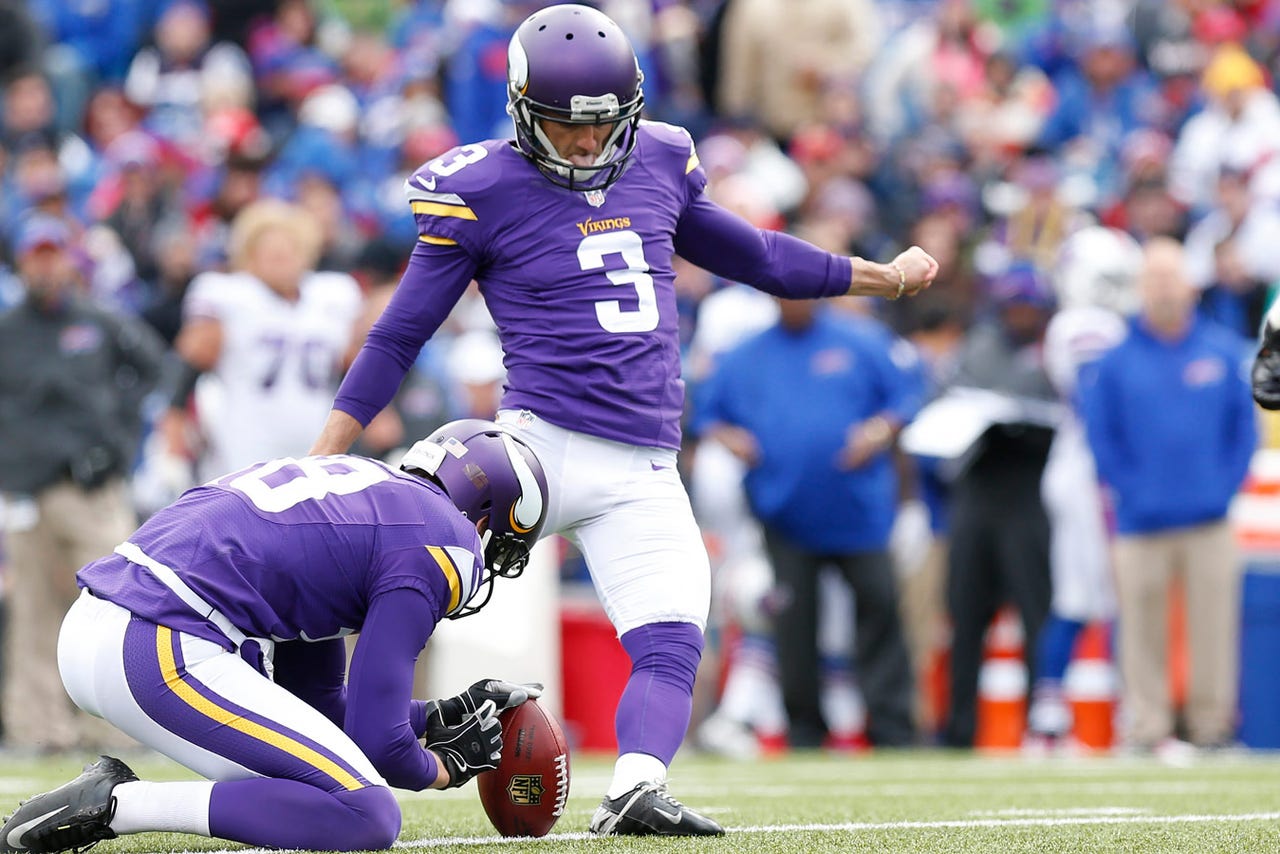 EDEN PRAIRIE, Minn. -- Hours spent at TCF Bank Stadium during the summer led Blair Walsh to an understanding of the wind patterns at the outdoor stadium on the University of Minnesota campus.
Walsh, the Vikings kicker who spent the majority of his first two NFL seasons indoors in the Metrodome, knew there would be an adjustment. Seven games this season has made Walsh more knowledgeable about kicking in the Vikings' two-year temporary home.
Until Sunday, he felt he had handled the elements at TCF Bank Stadium.
"Anytime you've played there as many times as we have now, you're going to get more comfortable with it," Walsh said Monday after missing two of his three field-goal attempts in Sunday's 30-24 overtime win over the New York Jets. "It's definitely a difficult stadium to play in, but like I said before, you've got to do well outside, and up until last game, I thought we had done well outside at TCF. So, we have one more game there, which is nice for me and a little bit of redemption. But we'll be fine."
Walsh missed his first field-goal attempt of the day against the Jets, pushing a 39-yard try wide right into the closed, east end of the stadium. Given a chance at a 56-yarder to win the game with three seconds left in regulation, Walsh missed badly into the open, west end of the stadium, his kick falling well short and looking like it was headed right.
"Anybody who watched that kick can realize I didn't feel good about what I hit," Walsh said of the 56-yard attempt. "It's something I'll draw on for the future. And the next time I get a long opportunity like that with that type of wind, I'll say, 'Hey, made that mistake before, don't do it again.' And move forward."
If attitude counts for a kicker, Walsh has the confidence to recover. It was just last week when Minnesota special teams coach Mike Priefer called Walsh one of the NFL's five best kickers, crediting Walsh's attitude and transforming his body in the offseason to make himself stronger.
Walsh is still one of the league's best kickoff artists. He's knocked 66.7 percent of his kickoffs for touchbacks, which is sixth in the NFL. Walsh's field goal numbers in his first full season outdoors tell the tale of a struggling kicker outside, though.
A Pro Bowl player as a rookie in 2012, Walsh has slipped to a career-worst 78.6-percent conversion rate this season, converting 22 of his 28 field-goal attempts. The 78.6-percent mark ranks 27th in the NFL among qualified leaders. Only Cleveland's Billy Cundiff has missed more attempts.
"There's no underlying problem or issue," Walsh said. "I think I've done enough damage outside this year where I think I can prove that I can kick outside. Games like that don't help my statement there. I'm fine. I'll be fine."
This season's numbers reflect Walsh's career, too.
In 22 career outdoor games, Walsh is 37 of 47 on field-goal attempts, a 78.7-percent conversion rate. Walsh is 40 of 43, good for 93 percent, in 20 games in domes and 6 of 6 in retractable roof stadiums.
In games under domes at St. Louis and New Orleans this season, Walsh is 5 of 5. He is 17 of 23, 73.9 percent, outside.
Walsh said he flipped his toe up and caught a piece of the turf on the 56-yard attempt. He pushed a 39-yard try wide right in the third quarter.
"Didn't give the wind almost enough respect there," Walsh said of the 39-yard attempt. "Sort of needed to play it at the upright and let it fade back in, but I played it a little bit left-center instead."
Curiously, Walsh and punter Jeff Locke had spent more time at TCF Bank Stadium during the week heading into Sunday's game preparing. Sunday's game wasn't as cold as the previous week when Walsh made his only field goal attempt against Carolina, but Sunday's weather was overcast with 17-mile-per-hour winds and a wind chill of 21 degrees.
Walsh said there is a difference week to week in the stadium and it can be unpredictable. But he wasn't making excuses a day later.
"It was bad all day," Walsh said. "It was bad for their kicker and he did a great job. It was bad for their punter, as well, and our punter, and they both did good jobs. I need to hold up my end and make that kick at the end, or at least give it a good chance."
Walsh gets a chance to go back inside this week at Detroit. He said he's already put Sunday's two misses behind him.
"That's already gone," Walsh said. "You know, you got to move forward. You're in the NFL for a reason. Your skill level and your success and your track record in the NFL will always be there in the back of your mind. You've got to build off that and build off what you've done this year outside, and move forward."
Follow Brian Hall on Twitter
---