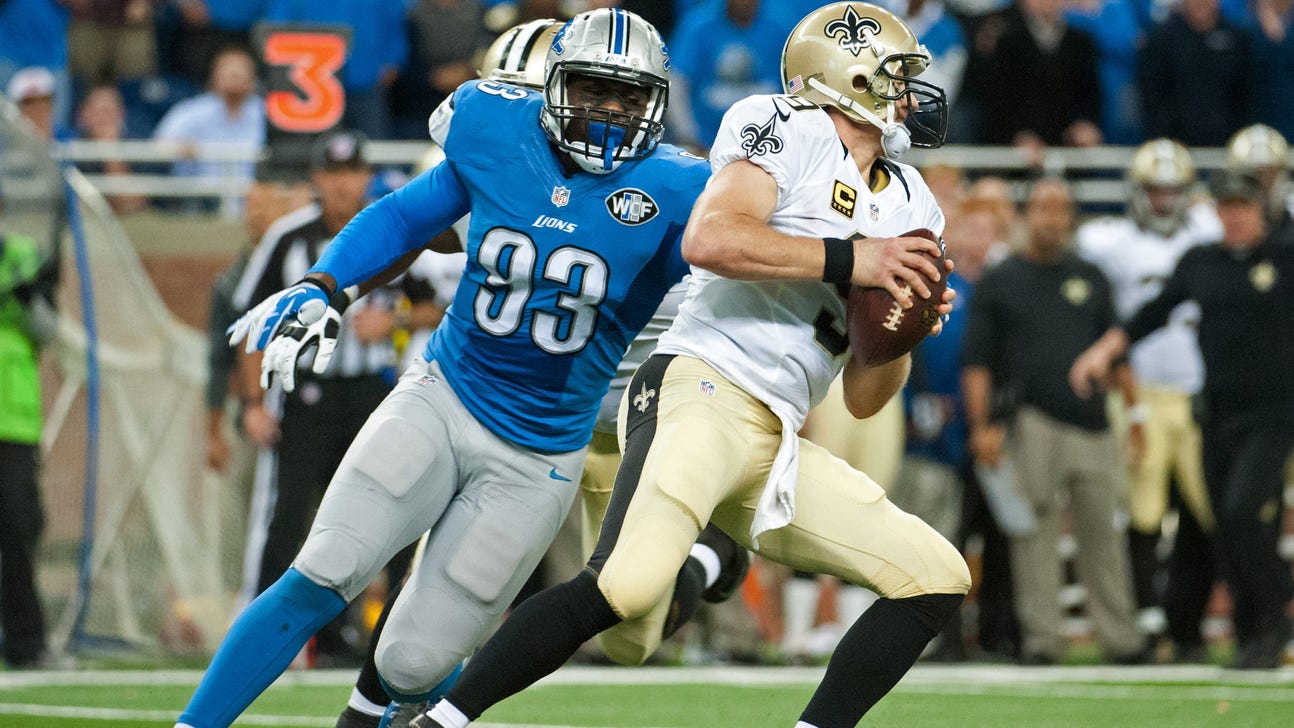 Depth key to Lions' success on D-line
Published
Oct. 22, 2014 11:36 a.m. ET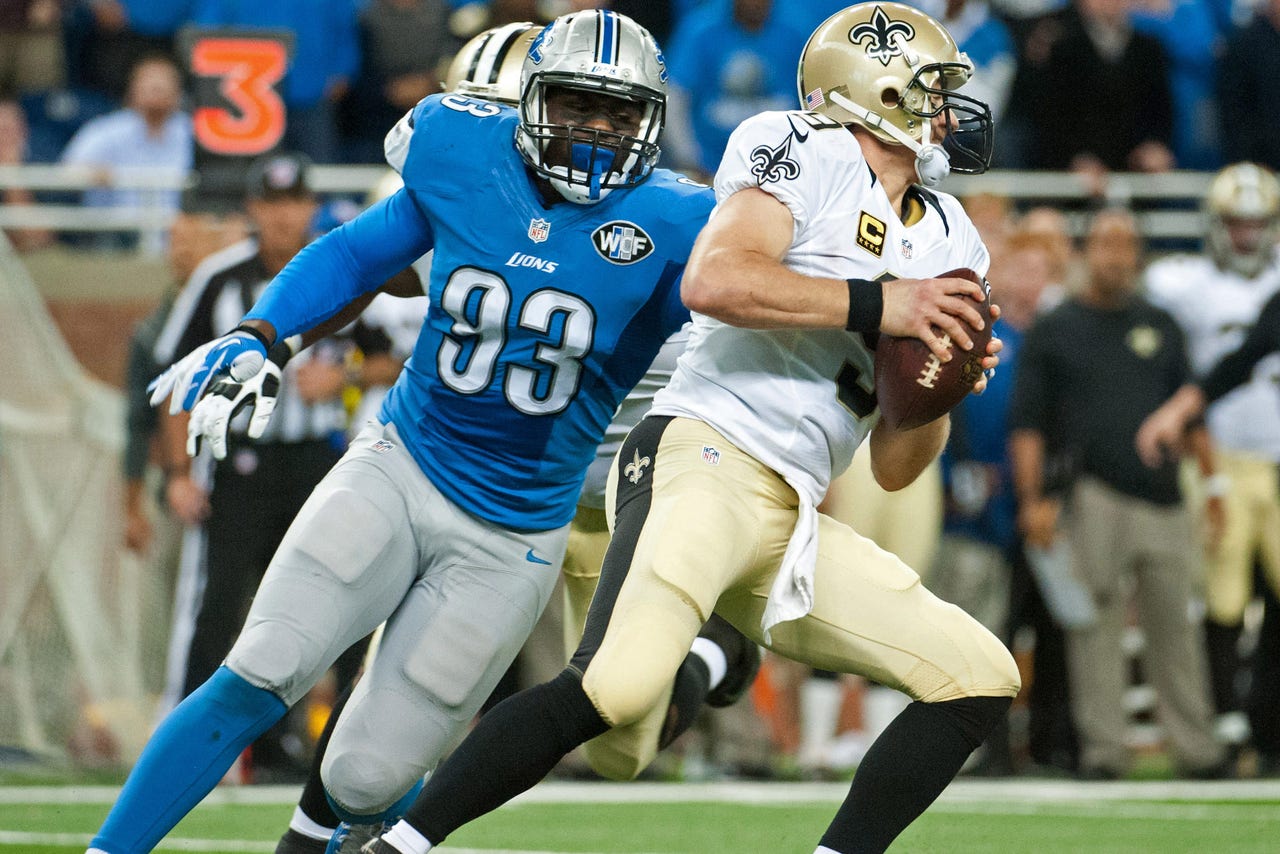 The first-round draft picks -- Ndamukong Suh, Nick Fairley and Ezekiel "Ziggy" Ansah -- get most of the attention on a Detroit Lions' defensive line that has been so dominant this season.
They're the reason that expectations have been so high for the front four, even if they hadn't always lived up to them in the past.
But it's more than the big three behind the Lions' success on the D-line during this 5-2 start entering Sunday's game against the Atlanta Falcons in London, England.
It's the depth that has made such a difference up front, including the emergence of two under-the-radar free-agent additions at defensive end -- George Johnson and Darryl Tapp.
Johnson was the one applying the pressure on New Orleans quarterback Drew Brees that led to a game-turning interception late in last Sunday's 24-23 improbable comeback win, and it was Tapp putting on the heat when Brees threw an incomplete pass on the Saints' final fourth-down opportunity.
"They've been extraordinary," coach Jim Caldwell said of Johnson and Tapp.  "Those guys have been not just role players but guys that have a real impact on the game."
Johnson, 26, has been the biggest surprise, basically coming out of nowhere to take playing time from Devin Taylor, a fourth-round draft pick last year.
Johnson leads the team in sacks with four, more than even Ansah (3 1/2), Suh (three), Fairley (one) and the other starting defensive end, Jason Jones (one). Johnson also ranks fourth in tackles for loss (six), and third in quarterback hits (seven) for the Lions.
Before this season, he had no career sacks in 11 games over the last four seasons with Tampa Bay and Minnesota.
Johnson went undrafted in 2010 coming out of Rutgers, got released four times, and was out of football for about six months before the Lions called last April. He went into training camp this year thinking that this probably would be his last shot if he didn't work out. He was ready to move on from football and was considering jobs such as a bouncer, telemarketer or construction worker.
His big smile shows how much he appreciates the journey he's taken to get where he is now with the Lions.
"It just showed me to be happy where you are," Johnson said. "I'm just having fun. This is something I love to do."
The turning point for him came when he lost more than 20 pounds -- from around 285 to now being listed at 263. It's made him a different player -- faster, more agile and better stamina.
"I lost a lot of weight, that's the main thing," Johnson said of his transformation as a player. "It feels a whole lot better on my hamstrings and my back now that I lost that weight."
If not for the pressure from Johnson, Brees probably wouldn't have thrown the interception that got returned by safety Glover Quin to the Saints' 14-yard line with 3:10 remaining to set up the winning touchdown.
"All year long he's been able to get pressure for us," Caldwell said. "He came underneath and really got in Drew's throwing space and created a little bit of a short throw. Those are the kinds of things that make a difference for us."
Tapp, 30, hasn't been as productive as Johnson, but he's also played an important role in this impressive rotation up front.
The Lions actually cut Tapp late in preseason, only to re-sign him a couple days later when a roster spot opened up. It was the first time that Tapp had been released.
"It was different," he said. "It definitely makes you appreciate the game even more. I'm happy to be here."
Compared to Johnson, Tapp came in with considerably more experience. He was a second-round draft pick in 2006 by Seattle and had played in 114 games over the last eight years.
But he still had to prove that he had some quality snaps left in him as he nears the end of his career.
He's certainly done that, especially the last couple weeks. In a victory at Minnesota, Tapp knocked down two passes and was "really being a factor in the run game," according to Caldwell.
And then he rushed Brees into an errant pass to help clinch the victory last Sunday.
As good as the starters have been, there's simply not much of a drop-off, if any, these days when the Lions turn to their reserve defensive linemen.
"One of the reasons they've been tenacious is because they've been fresh," Caldwell said of the D-line.
Players like Ansah and Jones are better because of Johnson and Tapp.
"With the kind of rotation that we've been able to use back and forth," Caldwell said, "to have a couple guys like that that come in and play as well as they play is great."
EXTRA POINTS
--- Receiver Calvin Johnson returned to practice Wednesday, albeit on a limited basis, after missing the last two games with a high-ankle sprain. It was the first time he had practiced at all with the team since October 3, the Friday before the Buffalo game.
--- Offensive tackle LaAdrian Waddle sat out because of a concussion, according to the official injury report. 
--- The Lions were also without their top three tight ends -- Brandon Pettigrew (leg), Eric Ebron (hamstring) and Joseph Fauria (ankle) -- in practice. Pettigrew hobbled through the end of the last game. Ebron and Fauria are believed to be close to returning to practice, perhaps even this week.
--- Safety Jerome Couplin, who was released Monday to make room on the 53-man roster for an extra tight end (Kellen Davis) just in case, has been re-signed and put on the practice squad after clearing waivers. The Lions released running back William Powell, who had made the trip to London, off the practice squad.
---