Depth finally restored to UCLA offensive line
Published
Oct. 28, 2014 10:47 p.m. ET

Another week, another storyline in Westwood about the UCLA Bruins' offensive line.
However, this time it's more positive.
For the first time in two seasons, the UCLA offensive line has some options. Decimated by injuries throughout last season and this one as well, Alex Redmond and Simon Goines are now healthy, giving the Bruins the most depth they've seen on the offensive line since before the Jim Mora era even began.
"At this point in the season the last two years, it's been a war of attrition," Mora said. "This year, it seems like for the first time we're getting guys back."
Since they've been gone, the offensive line has underwent quite a few transformations. And at the moment, it's holding up quite well. The line was revamped, yet again, right before UCLA played Cal. Even though it's been a small, two-game sample size, the results have been positive. Workloads have been split, Connor McDermott and Scott Quessenberry have both impressed and more importantly, the line has allowed only a single sack in the last two games.
"(McDermott) is a continuous work in progress, but it's like a clean slate," offensive line coach Adrian Klemm said. "He doesn't have any bad habits, there are few wrinkles that he hasn't seen before that he has to learn but he learns from his mistakes and he doesn't make very many... 
"He's just done a remarkable job for the amount of football that he's played."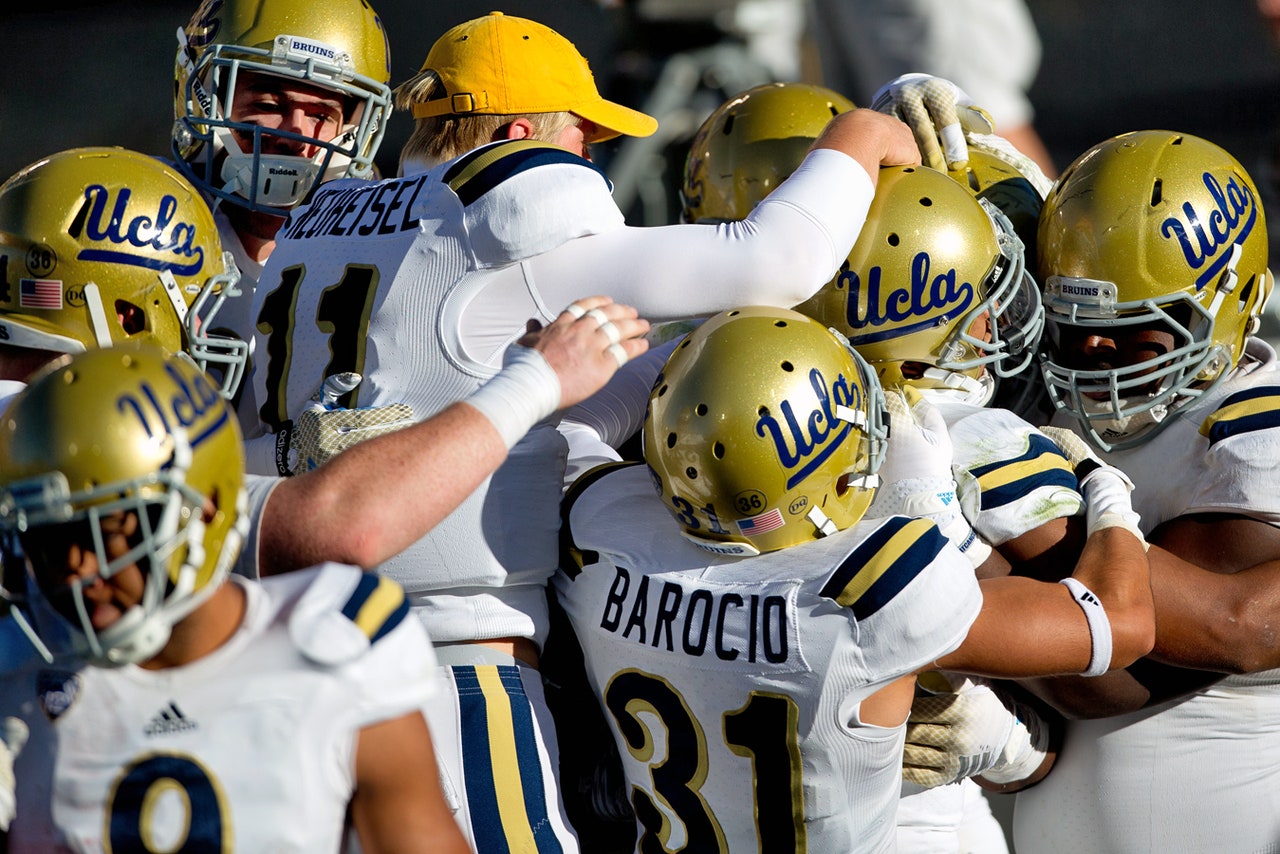 UCLA ranked No. 22 in first College Football Playoff rankings
Quessenberry, a guard, the third of three brothers to play lineman at the Division I level, burned his redshirt last season and was forced to do the same this season. But it might have been a worthwhile move, as the results have been indicative of a bright future. Undersized, better at center -- none of it mattered once he showed how versatile and valuable he is to the offensive line.
"I know people get frustrated because of moving positions, but now you see why he moved positions," Klemm said. "You're talking about him going up against guys who might be first round draft picks, and he's pretty much doing a good job. I won't say shutting them down but he's doing a fine job."
But Goines protected quarterback Brett Hundley's blind side last season, and there's a familiarity and relationship in place. And Redmond is a former All-American. So how will the roles shake out?
"I don't know that we're going to use Simon," Mora said. "Here we are going into game nine and he hasn't played. You've got to balance whether or not you redshirt him or use him, but getting Alex back, having Kenny Lacy play the way he's playing and even Poasi (Moala) playing the way he's playing -- you may not see him on the field, but what we see with Poasi in practice, we're excited about him -- so it's a completely different vibe than it's been in the last few years, where we've been hanging on for dear life."
It's never been a problem before, but Mora realizes that it's a good problem to have.
"Knock on wood that as we go through the season, it continues that way," he said.
---