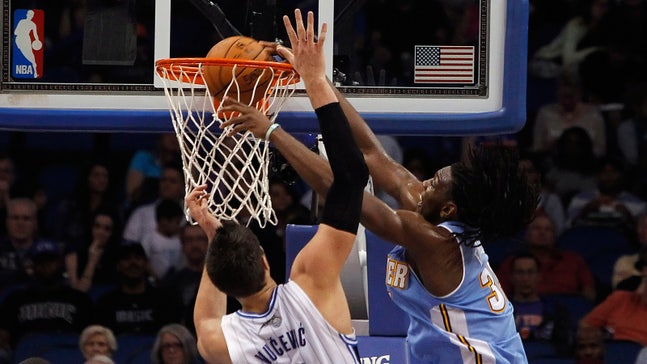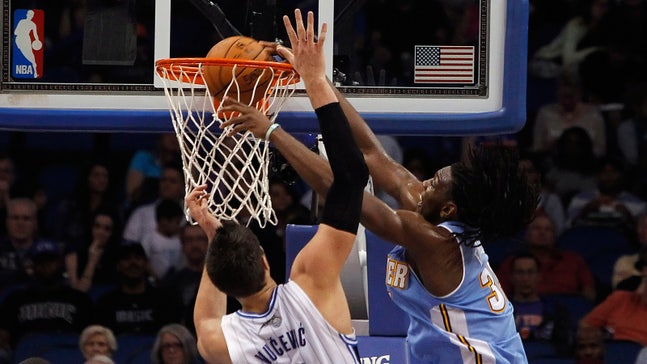 Defensive woes prove to be Magic's downfall against Nuggets
Updated
Mar. 4, 2020 10:46 p.m. ET

ORLANDO, Fla. -- Carmelo Anthony, Michael Adams, Alex English and Dan Issel in their primes weren't walking through the door Wednesday night for the Denver Nuggets.
But given the inability of the Orlando Magic to get many defensive stops during the final three quarters of their 120-112 loss to the Nuggets, it was as Kenneth Faried, Wilson Chandler, Ty Lawson and JJ Hickson turned into unstoppable offensive machines.
The Magic could have been excused for allowing 121 points over the weekend to the perennial championship-contender San Antonio Spurs. But to give up 97 points over the final three quarters to the struggling Nuggets left many of their players wondering how this could have happened.
"Some things you can't control," forward Tobias Harris said. "But at the same time, that was our game out there."
"Winning is hard to do unless that's the purpose from everyone every night," added Arron Afflalo, whose 24 points weren't enough in a game where the Nuggets shot better than 50 percent and outrebounded the Magic 52-38. "We'll get there. We'll continue to grow for the rest of the season. But when winning matters collectively, then I think that's when we'll hang on to leads. You take pride in having that advantage and stepping on their throat in a sense because winning is precious."
This was supposed to be the week where the Magic, at the very least, would match their 20-win total from Jacque Vaughn's first season as coach. Instead, they let an 18-point lead vanish Monday night at Milwaukee in a loss to the lowly Bucks and saw a 13-point advantage on the Nuggets get away by halftime.
Lawson's three-point play with 4.2 seconds to go in the second quarter gave the Nuggets their first lead. Although the Magic pulled back in front during the first five minutes of the third quarter, that didn't last long at all.
"We let them get back into the game too quick," said Nikola Vucevic, who had 12 points and seven rebounds in the first quarter but only eight points and nine rebounds the rest of the game. "The lead just kind of disappeared in like five minutes."
Added Victor Oladipo, who finished with 15 points in 28 minutes off the bench: "We've got to learn how to play with a lead. And when we play with a lead, we've got to play like we're down, really, and just continue to keep the foot on the gas pedal."
Both Harris and Kyle O'Quinn had problems trying to keep up with the highly energetic Faried, who led the Nuggets with 26 points and also pulled down nine rebounds.
"He's one of the most active guys in the NBA," Harris said. "He hustles harder than anybody. He just goes out there and gets it. He's a tough cover."
Chandler's 21 points included a four-point play in the third quarter where Maurice Harkless fouled him from behind the 3-point arc. Hickson came off the Nuggets' bench to contribute 20 points and nine rebounds, while Lawson finished with 17 points and 12 assists with just one turnover.
In a line you seldom see in an NBA box score, none of the Magic's starters recorded a steal. The only ones came from Harris (four) and E'Twaun Moore (two).
"We ended up playing their pace instead of us controlling the game," Vucevic said. "Then they built a lead, and it was hard for us to get back in it."
Not that the Magic didn't have a flurry in them, just like they did in the closing minutes against the Bucks. A 15-point deficit with just over eight minutes to go was trimmed to five on a 3-pointer by Jameer Nelson and later again on two free throws by Afflalo.
But it never seemed as if the Magic were doing more than trading baskets with the Nuggets, who silenced the crowd with 2:18 remaining on a 3-pointer by Aaron Brooks.
"If you're down 12 and you hit a couple back-to-back 3s and a layup, all of a sudden you're down 4 or 5," Afflalo said. "But they hit a big 3 and a layup, and they're back up 10."
Vaughn acknowledged the Magic need to do a better job of playing with a lead and admitted he brought up the subject to his players in a huddle during a timeout after the Nuggets got new life.
"We'll continue to get better at that," he said. "We'll continue to be in situations like that, hopefully, where we'll be up 10, 18, 20 in the first or the second (quarter) and be able to respond and continue that lead throughout."
"There's still 16 games left," Oladipo said. "And we've still got to finish strong."
You can follow Ken Hornack on Twitter @HornackFSFla or email him at khornack32176@gmail.com.
---