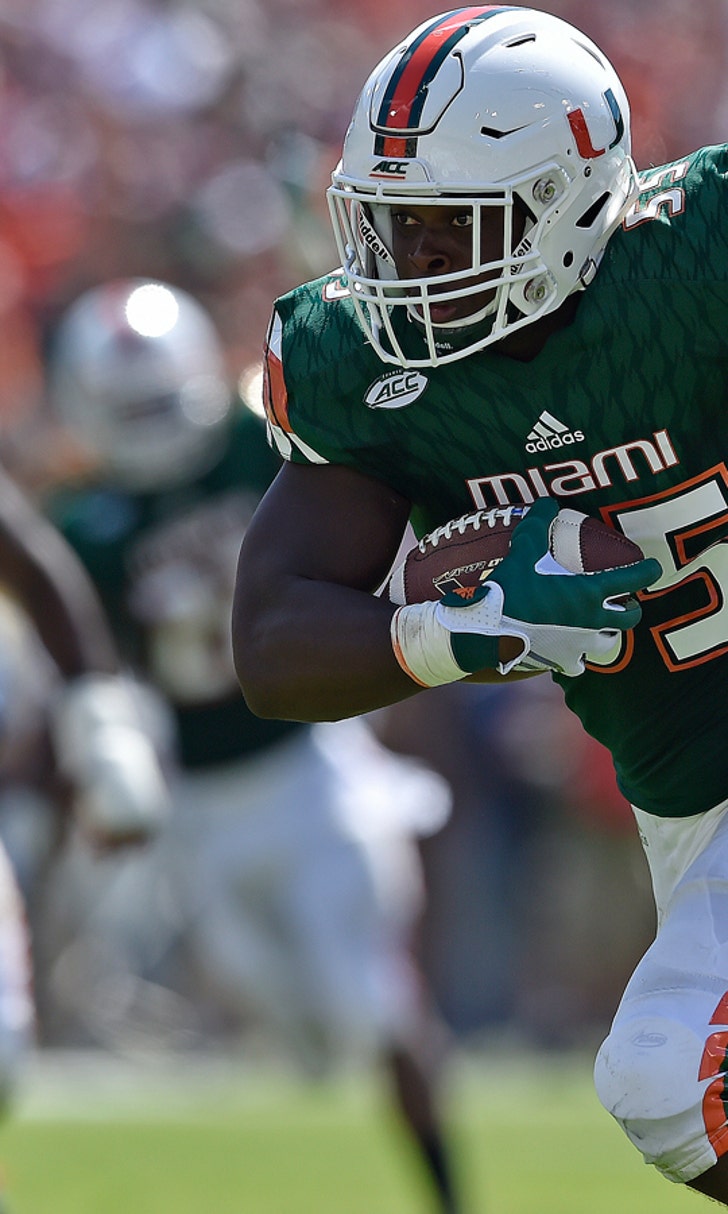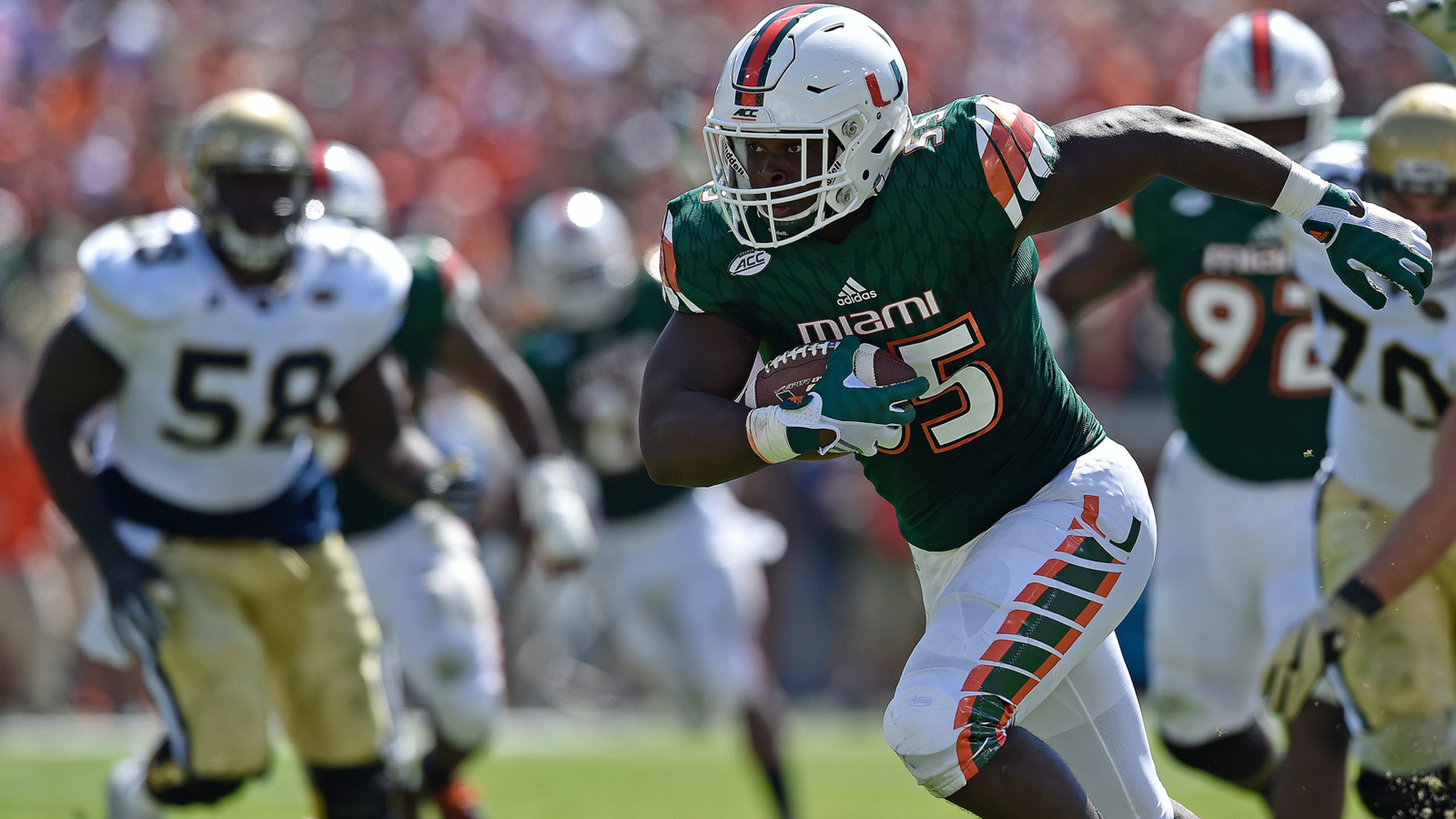 Defensive touchdowns help propel Miami over Georgia Tech
BY foxsports • October 1, 2016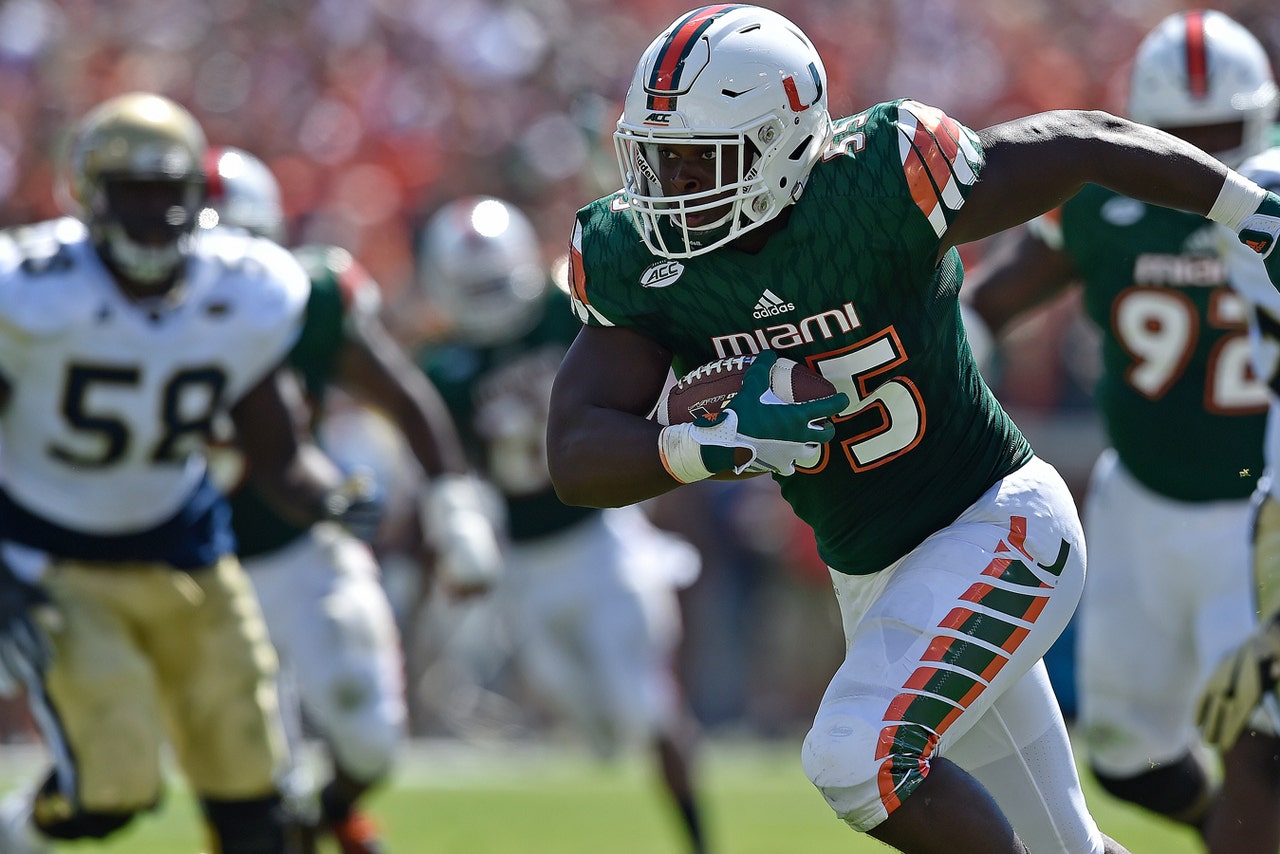 ATLANTA (AP) -- For all the questions about his history at Georgia and his long record of success as a visiting coach at Georgia Tech, Mark Richt was only thinking about his ACC debut.
Shaquille Quarterman and Joe Jackson each returned fumbles by Georgia Tech quarterback Justin Thomas for touchdowns in a span of less than a minute in the second quarter and No. 14 Miami beat the Yellow Jackets 35-21 on Saturday.
Richt improved to 14-0 against Georgia Tech in Atlanta, including an 8-0 record at Georgia and 5-0 as an assistant at Florida State. The win came in Richt's 200th game as a coach -- and his first Atlantic Coast Conference game.
"It was victory No. 1 in league play, which is even more important," Richt said before his focus quickly shifted to next week's state rivalry game against No. 12 Florida State.
"I can promise you before we land I'll be watching some Florida State tape," he said.
Miami (4-0, 1-0 ACC) led 28-7 after the fumble returns of 17 yards by Quarterman and 18 yards by Jackson -- both freshmen.
"I was happy," Jackson said. "It happened so fast. I picked it up and was like `I'm going to score!'"
Georgia Tech (3-2, 1-2) drew to 28-21 before Miami's Brad Kaaya answered with a 31-yard touchdown pass to Stacy Coley late in the third quarter.
Georgia Tech's offense bounced back with 361 yards after being shut down in last week's 26-7 loss to No. 5 Clemson. Freshman Dedrick Mills had 99 yards rushing. He scored three touchdowns on runs of 7 and 1 yards and a 9-yard pass from Thomas.
The Yellow Jackets couldn't overcome three turnovers by Thomas.
"We gifted them two scores in the second quarter," Georgia Tech coach Paul Johnson said. "It ended up being a big momentum changer and a big part of the game. ... We made way too many mistakes."
Thomas said he was looking to pass before being hit from behind by Trent Harris, forcing the fumble recovered by Quarterman. He said he wanted to pitch to Clinton Lynch two plays later but said "he wasn't looking, so I pulled it in. ... I was going down at the same time and the ball came out."
It was the first time a Georgia Tech opponent returned two fumbles for touchdowns.
A fourth-down pass by Thomas was intercepted by linebacker Michael Pinckney with about two minutes remaining.
"They didn't do nothing to stop us," Thomas said. "We stopped ourselves the whole game."
THE TAKEAWAY
Miami: The Hurricanes proved they are a contender in the ACC's Coastal Division. Miami also showed its big-play defense, which began the day ranked first in the nation in scoring defense, sacks and tackles for loss, is ready for conference action.
Georgia Tech: Back-to-back home losses to Clemson and Miami have shown the Yellow Jackets are a notch below the ACC's Top 25 competition. The two lost turnovers in a span of three plays were especially distressing as Thomas, a senior, is expected to provide stable leadership with his pitches, runs and passes while directing the option offense.
POLL IMPLICATIONS
Miami needed a strong showing against its first Power 5 opponent to add validity to its undefeated record and Top 25 ranking . Miami could make another move up in the poll before next week's home game against Florida State.
MIAMI'S NUMBERS
Miami had no turnovers. Kaaya completed 13 of 19 passes for 241 yards and one touchdown.
Joe Yearby had 65 yards rushing, including a 27-yard scoring run, and Mark Walton added a 14-yard touchdown run.
UP NEXT
Miami: The Hurricanes will try to end Florida State's six-game winning streak in the state rivalry in next week's game at Miami. Miami's last win in the series came in 2009 and its last home win came in 2004.
Georgia Tech: The Yellow Jackets' string of four straight home games ends with next week's game at Pittsburgh. Georgia Tech had won two straight in the series before losing to the Panthers in 2015.
---