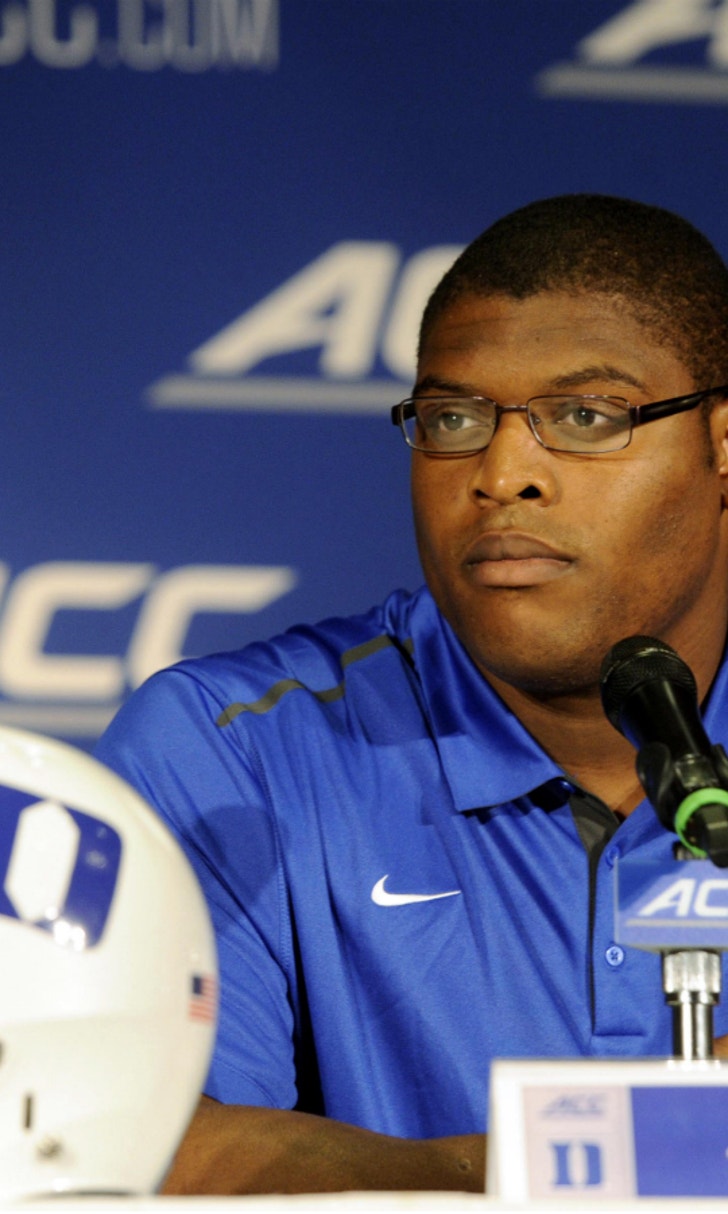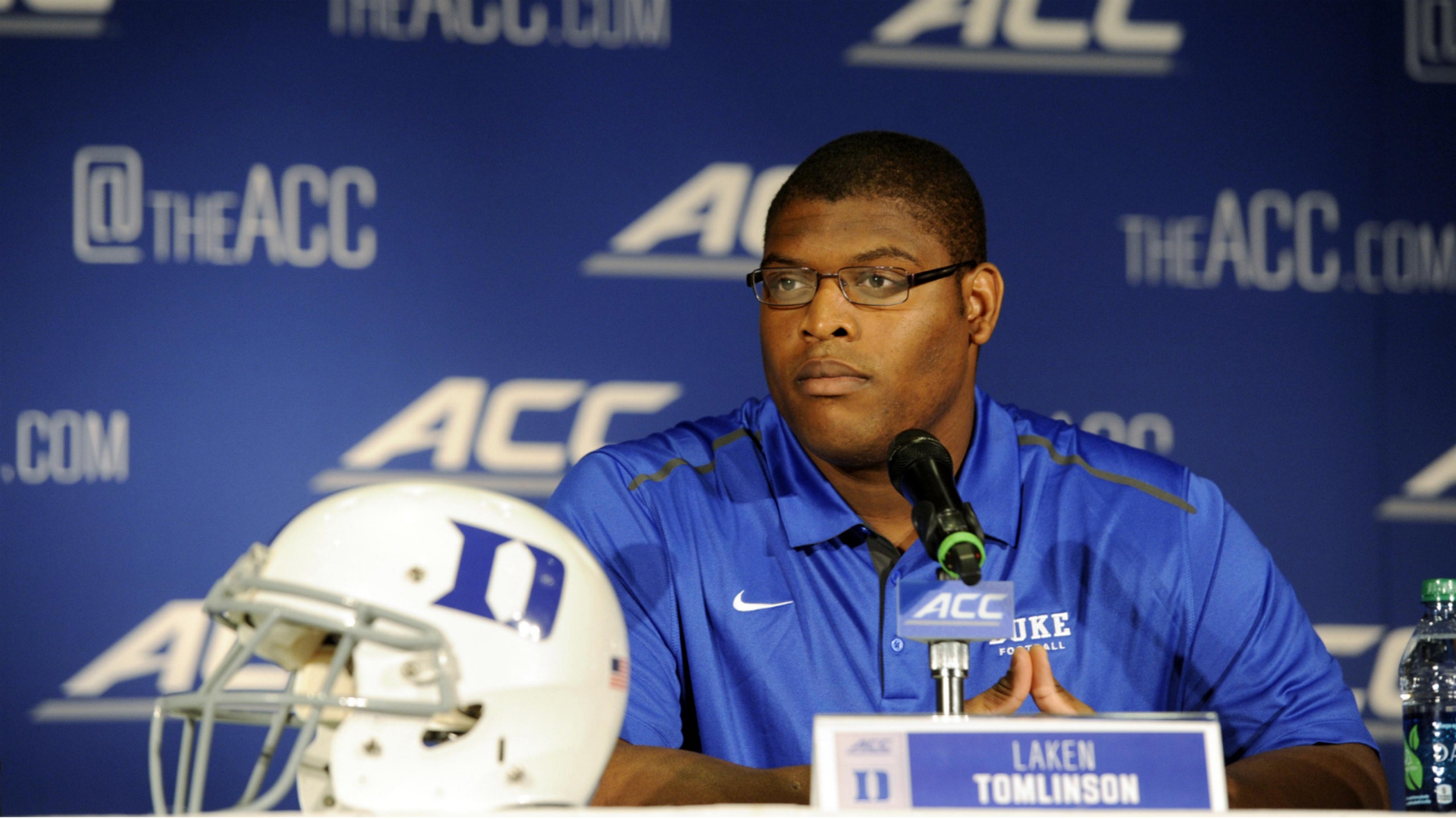 Deeper Duke taking group approach to filling LB, QB slots
BY foxsports • August 15, 2014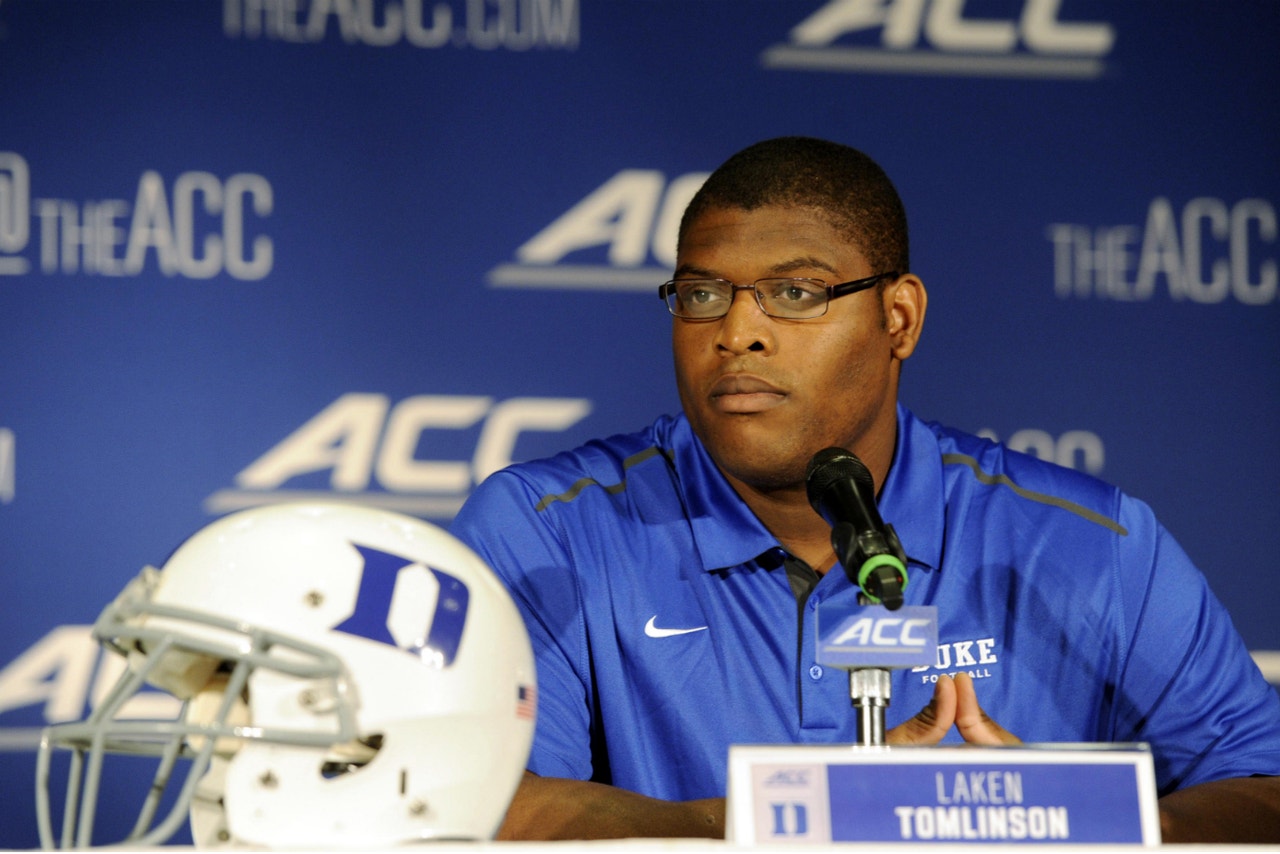 DURHAM, N.C. -- As Duke prepares for its final week of acamp before the defending Coastal champs begin the 2014 season, the Blue Devils found themselves already down one man.
And he's an important one, too -- Kelby Brown, an All-ACC linebacker from 2013 and one of Duke's best defensive playmakers, tore his ACL during a Monday scrimmage and will miss the season.
Duke will have to creative to replace Brown, and defensive coordinator Jim Knowles said that David Helton (who led the ACC in tackles last year) will replace Brown at middle linebacker, while redshirt senior C.J. France will slide over to the weak side -- for now, anyway.
The Blue Devils have some options at linebacker in redshirt freshman Chris Holmes (currently missing time with an injury) and true freshman Zavier Carmichael. Junior Deion Williams replaced Brown after his injury Monday, and freshman Tinashe Bere also saw playing time in Duke's scrimmage on Friday.
Duke head coach David Cutcliffe said he'd have to check the tape before saying anything definitive about the defense after his team's first significant action, in the wake of Brown's injury.
"I thought, at times, our offense ran the ball inside maybe a little more successfully than you want to see if you're looking at your defense. That may have nothing to do with our linebackers," Cutcliffe said. "I do know this -- David Helton was the leading tackler in the ACC for a reason. I like him at MIKE."
Senior offensive lineman Laken Tomlinson thinks the defense will be fine without Brown.
"Just bringing their work, being first-class about their work, just taking care of business," Tomlinson said. "They definitely did a good job of moving on and filling in.
"I mean, obviously with Kelby there, he was a big part of our defense. But we've got great leaders across the defense. We have David Helton. C.J. (France) is a great leader. Jeremy Cash is a great leader, Jamal Bruce. Those guys talk a lot, they bring the fire, they put the extra voice in there that Kelby can't do obviously because Kelby's not there."
That question was about the only way to wipe the grin off of Tomlinson's face, who was extremely excited about Duke's young running backs.
"Looking good, looking good. Oh man, our running backs are crazy. I'm just -- all I can say is I'm really excited for the season to see how the run behind us," Tomlinson said.
Right now, Duke will have a rotation of four backs -- senior Josh Snead, junior Shaquille Powell, redshirt freshman Joe Ajeigbe and true freshman Shaun Wilson.
Wilson, in particular, was impressive, and when Tomlinson was informed by reporters that Cutcliffe said Wilson would be a part of the rotation this season, he lit up like a Christmas tree.
"I would like to see that. Shaun, he's, whoo! He's a hell of a player," Tomlinson said. "He's very agile. He moves side to side real quickly. You like that about a young player. He runs his heart out."
Cutcliffe's offenses at Duke have been much better known for their prowess in the passing game. But he had high praise for his running backs, who will be running behind perhaps the best offensive line that Duke has had under Cutcliffe's tenure.
"They're all playing well and they all displayed it today. I wish we had more depth there, but I'm excited about the quality and probably now that Josh (Snead) is back out there full speed, I think it's been the most consistent part of our offense, as a unit," Cutcliffe said. "So I'm really pleased with where they are right now."
That doesn't mean that the quarterbacks aren't coming along nicely, too. Starter Anthony Boone was his normal self in the scrimmage, steady as ever, but Duke is trying to make sure it has enough depth at quarterback.
When backup quarterback and goal-line specialist Brandon Connette left the team to be closer to his ailing mother after the spring, Duke needed to make sure that its lesser-tested options -- redshirt sophomore Thomas Sirk and redshirt freshman Parker Boehme -- were ready to go.
Both saw extensive action in Friday's scrimmage. Sirk, in particular, is thought to be the one who will play the Connette role, even if the package that offensive coordinator Scottie Montgomery designs for him won't be exactly the same.
Sirk has missed time throughout his Duke career due to injuries and various factors, but the 6-4, 215-pounder certainly looks the part physically. But he needs to get actual game experience, and it shows, even in the scrimmages.
"I think it's definitely a mental thing for Thomas. Thomas has made strikes in the 'classroom'," Duke tight end Braxton Deaver said, making air quotes, "but I think he has really come a long way to understanding the offense.
"It's one of those things where as a quarterback, it's not just two-power or option. It's okay, I've got to read him to him to him to him to him and then I've got to throw the ball. It's all just really complicated and he's definitely getting a lot better there, because he's got all the natural abilities for sure."
Sirk says he knows the playbook; and he shows flashes of the ability Deaver was talking about, like when he hit receiver Johnell Barnes for a 30-yard pass play.

But nothing is automatic right now.
"Playing faster is definitely one thing that I've overcome in camp, just progressing forwards on my reads, getting the ball out faster when the reads aren't there, using my legs when I have to," Sirk said. "Before the end of camp, I just want to keep getting better, keep playing faster, keep making the right reads and just stay healthy."
Sirk threw his body around quite a bit, perhaps indicating that he'll fill that Connette role as a primarily running quarterback. But he still completed 4-of-6 passes for 63 yards (he ran the ball seven times for 14 yards and a touchdown).
Even though he doesn't have any game experience, making this one of the first times in recent memory that Duke hasn't had at least two quarterbacks that have seen game action on the roster, Sirk feels like he'll be ready.
"I think you just have to go out there and relax. You just have to put yourself in the situations that I've been in in these scrimmages, go out there and just perform like I'm performing in these scrimmages," Sirk said. "You can't go out there and let the game overwhelm you. You just have to slow the game down yourself and play it as it is."
True freshman dual-threat quarterback Nico Pierre was also impressive in the scrimmage, but he's coming off of surgery and will almost certainly redshirt if the Blue Devils can help it.
And it will all depend on whether or not Cutcliffe can be sure he has three viable options at quarterback.

Right now, he feels like he does.
"(Pierre) is a big guy that can run. He's fast and he's powerful, so he's going to bring something with him. I thought all of the quarterbacks played really well at different times, but really most of the way through," Cutcliffe said.
"(Sirk) came in and took advantage of his opportunity and Parker Boehme on that last drive did what I thought he would do. So I think that we've got three quarterbacks that will be ready to play when we start the season."
---