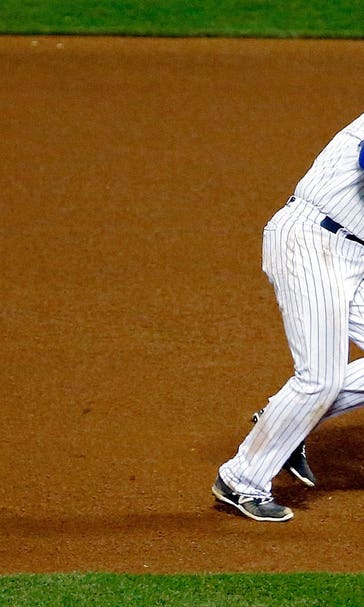 Daniel Murphy's error stands out in game full of memorable moments
November 1, 2015

When a baseball game is decided by one run, or even two runs, it's easy to go back and find a dozen or more moments that could easily have made a difference in the game. And when it's a close World Series game? Well, then we can have a field day.
Which is perfectly appropriate. After all, we know that there's relatively little "skill" involved in winning the close ones. Obviously, an American League team will win a high-percentage of one-run games against some misbegotten nine from the Lickskillet League. But we know that in the great leagues, good teams are little better at winning close games than poor teams. So you might imagine what's involved when two teams good enough to meet in the World Series get together in a tight contest.
All of which serves merely as a preamble to our exploration of a single moment in Game 4 of the 2015 World Series on Saturday night, which ended with the Royals atop the Mets: 5-3.
After seven innings, the Mets were in pretty good shape. Their lead was just 3-2, but these days when the home team's got a 3-2 lead in the top of the eighth inning, they're typically going to win more around 80 percent of the time.
For the Mets, Tyler Clippard relieved Addison Reed, who'd given up a couple of hard liners – fortunately, both of them hit directly at fielders – while setting the Royals down 1-2-3 in the seventh.
Clippard got ahead of world-famous leadoff man Alcides Escobar, who chopped an easy grounder to the mound for the first out.
Ben Zobrist followed with a walk, though, on only five pitches. Which brought up Lorenzo Cain, who took a couple of gusto-fueled swings while fouling off Clippard's first two pitches. He didn't seem fooled by either pitch, and perhaps Clippard, with Game 4 in the balance, lost his nerve just a little bit. Or maybe he didn't.
Cain fouled off another one, took a pitch that wasn't close, fouled off another pitch, and then took three straight pitches, none of which were close to being strikes. It might well have been the biggest walk of his career, and three of the worst pitches Clippard's ever thrown, considering the situation.
That was the end of Clippard's night, and some wags wondered: If Jeurys Familia can be asked to get five outs, then why not six? Why not let him start the eighth? Right or wrong, here (I think) is the answer: You can ask Familia to six outs, and he probably could do that. But if you ask him for three instead, he figures to be somewhat more effective in Game 5. Especially considering that he'd pitched Friday night in Game 3 (granted, he'd thrown only 11 pitches in anger, and maybe shouldn't have pitched at all, considering the Mets' huge lead at the time).
Again, I'm not saying Terry Collins made the wrong move, or the right move. That's not this column. I'm just throwing the inflection point out there.
Clippard did start the eighth inning, and Familia did take the mound with two runners aboard and just one out.
Familia's first pitch to Eric Hosmer was a mid-90s fastball well below the zone, and Hosmer swung through it. His second was the same sort of pitch, but near the outside corner. You're supposed to slap those to the opposite field, but of course that's easy for me to say; Hosmer rolled it slowly toward second baseman Daniel Murphy...
Perhaps Murphy was distracted by Cain running through his field of vision, but he just ... missed it. There would have been a close play at first base if Murphy had fielded the ball cleanly, but the consensus is that Hosmer would have been out, which would have left runners at second and third with two outs.
Instead, Zobrist scored and Cain motored to third base, with Hosmer aboard on Murphy's error. 
Is there anything to "analyze" here? Well, one might point out that the Royals, once again, put the ball in play and when you put the ball in play good things can happen. One might point out that Murphy's actually a pretty lousy second baseman, although there's probably not a single manager in the great leagues who would have removed Murphy in favor of a better second baseman ... if one was even available, and in this case one wasn't. The Mets are carrying six infielders, and two of them are Kelly Johnson and Juan Uribe, neither of whom does even a passable impression of Darwin Barney (and Johnson had already been burned as pinch hitter anyway).
So Murphy was it, and he just didn't make the play. According to Dan Hirsch of The Baseball Gauge fame, Murphy's error dropped the Mets' World Series win expectancy by 12 percent, which makes it the seventh-worst error in Series history. 
Still, even if Murphy had made the play, the Royals would have had runners on second and third, and there certainly wasn't any guarantee that Familia would escape the inning; in fact, the next batter was Mike Moustakas, and he squirted another grounder past Murphy for an RBI single. Salvador Pérez followed with a legitimate shot for another RBI single, making it 5-3.
Which is all the Royals would get, and all they would need.
We're going to remember Murphy's miscue, because it was the single most unlikely thing that happened in that inning.
But there were so many other things to remember in Game 4. There was Alex Rios forgetting how many outs there were in the bottom of the third, which might have cost the Royals a run. There was Yoenis Céspedes getting doubled off first base in the bottom of the ninth to end the game, just as it seemed the Mets might have had something cooking.
But I keep coming back to Cain and his eight-pitch walk. Afterward, nobody pays attention to walks unless they come with the bases loaded. But without Cain's walk, everything that follows is probably different. So you can credit Cain if you like, or blame Clippard. But neither should be forgotten.
---
---