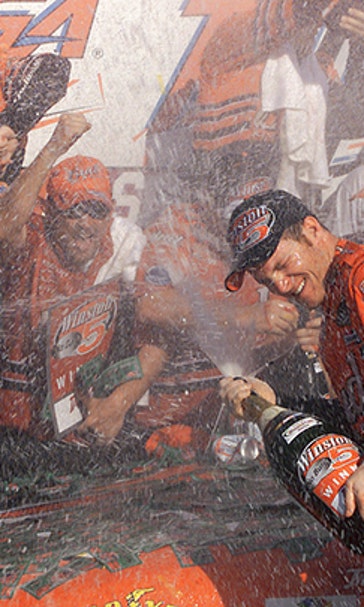 Dale Earnhardt Jr. Has Strong Bond, Respect For Talladega
BY Tom Jensen • October 19, 2013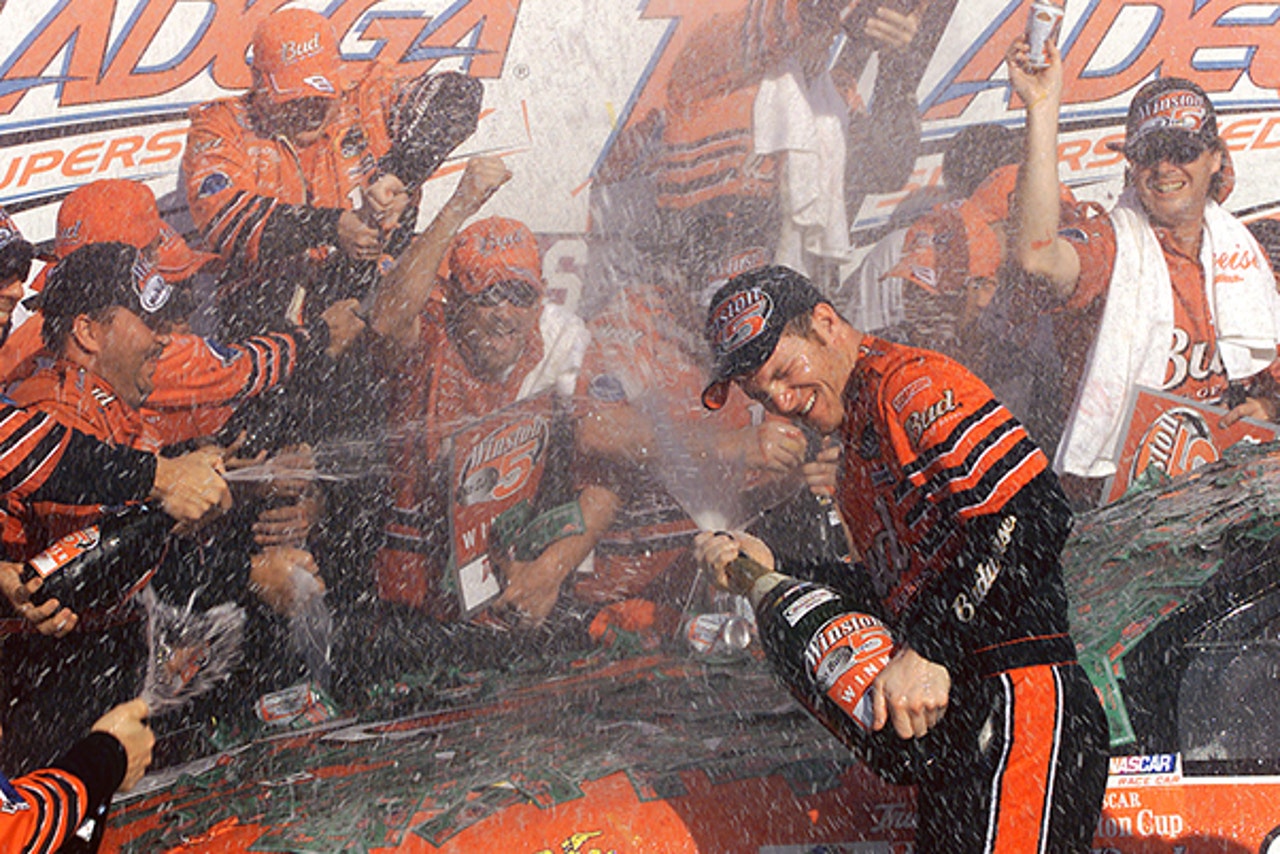 21 Oct 2001: Dale Earnhardt Jr. celebrates with his team in Victory Lane after winning Sunday's EA Sports 500 at Talladega Superspeedway in Talladega, Ala.
Without question, Talladega Superspeedway is one of the most unique tracks in NASCAR, a mammoth facility with a colorful history, lots of one-time winners, countless great finishes and a well-earned reputation for wild nightlife in the track campgrounds.
Every NASCAR driver has his or her own special Talladega memories. But when your last name is Earnhardt, well, those memories are a little more dynamic and maybe even poignant than most drivers have.
In the mid 1990s, Dale Earnhardt Jr. was working as a mechanic at his father's Chevrolet dealership and racing street stocks on the half-mile Concord Speedway near his hometown of Kannapolis, N.C. 
And then one day his phone rang. It was Earnhardt's father, calling from a test session at Talladega. 
"They were going from V-6's to V-8's in the Nationwide Series," Earnhardt Jr. recalled. "And Dad was down here driving it and Dave Marcis was out here driving Dad's car. And Dad called me at the dealership. I was changing oil and he told me to get my helmet and my suit and be at the airport the next morning and not to ask any questions or tell anybody where I was going."
It proved to be more of an adventure than Earnhardt Jr. was expecting, but a fun one.
"I didn't know where I was going. I mean, I knew I was going to Talladega, but I didn't know why," Earnhardt Jr. said. "I assumed I was going to drive a race car somewhere. But we got here and he told me to get my stuff on and get in the car and go out and run, and hold it wide-open, that it would be on the sticks. And I remember going down the back straightaway in that car and wondering if it was really going to stick when I got in that corner because it just didn't seem like it was possible."
Fortunately, it stuck.
And the rest is history. 
Between them, the Earnhardts have now won 15 Cup races at Talladega, and Junior will be one of the favorites to win again on Sunday in the Camping World RV Sales 500.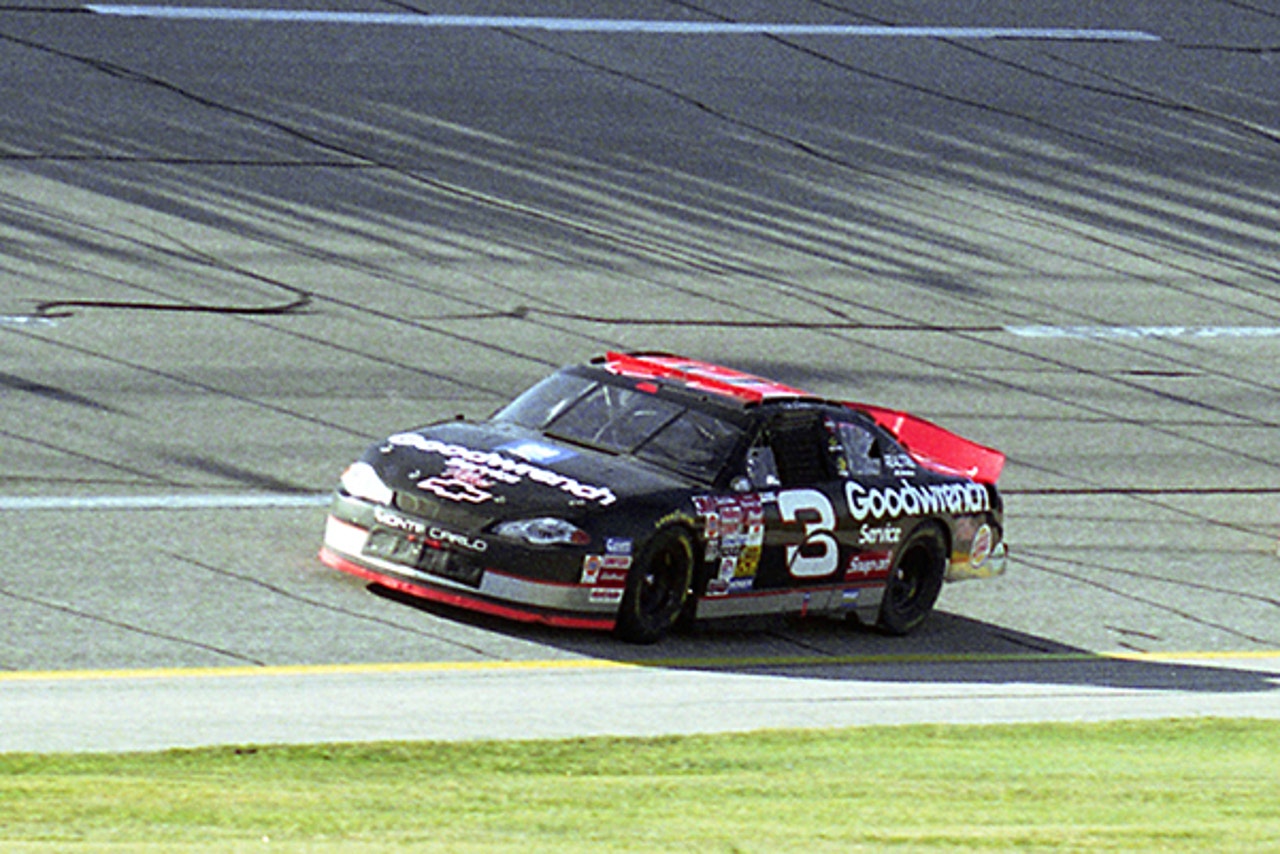 TALLADEGA, AL - OCT. 15, 2000: Dale Earnhardt scored his 10th career victory at Talladega Superspeedway, capturing the Winston 500. 
To this day, Earnhardt Jr. has a strong bond with and deep respect for Talladega. 
"This race track is really a special race track, just in general, to the sport," Earnhardt Jr. said. "I think the history of this place and just how it was conceived and the unique circumstances of that first race and how the drivers, many felt it was unsafe or what have you. And how the track eventually turned into one of the most impressive and unique, concerning speed, and how the style of racing that you have here is so unique, it's just amazing what this place has been able to deliver year after year.
"I do enjoy coming here and I remember this was one of my favorites as a kid. When I was young, out of all the tracks that I had the chance to go to, this was definitely one of my favorites to come to. Milling around the garage during the race and just how big the place was and the cars looked different because of the superspeedway bodies and it was just a really fun experience for me...My dad won a lot of races here and I've had the fortune of being able to get to Victory Lane several times. I think this place will just continue to deliver, year after year, long after I'm gone. It's just such an impressive track and I really enjoy being here."
---