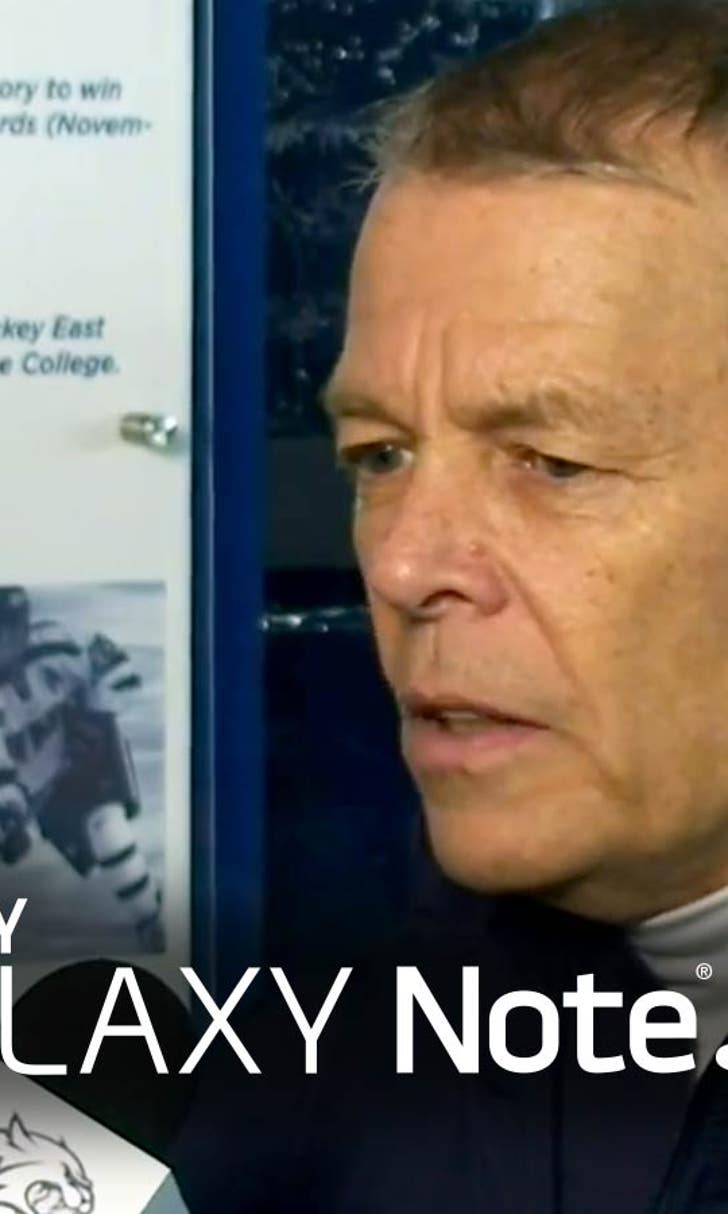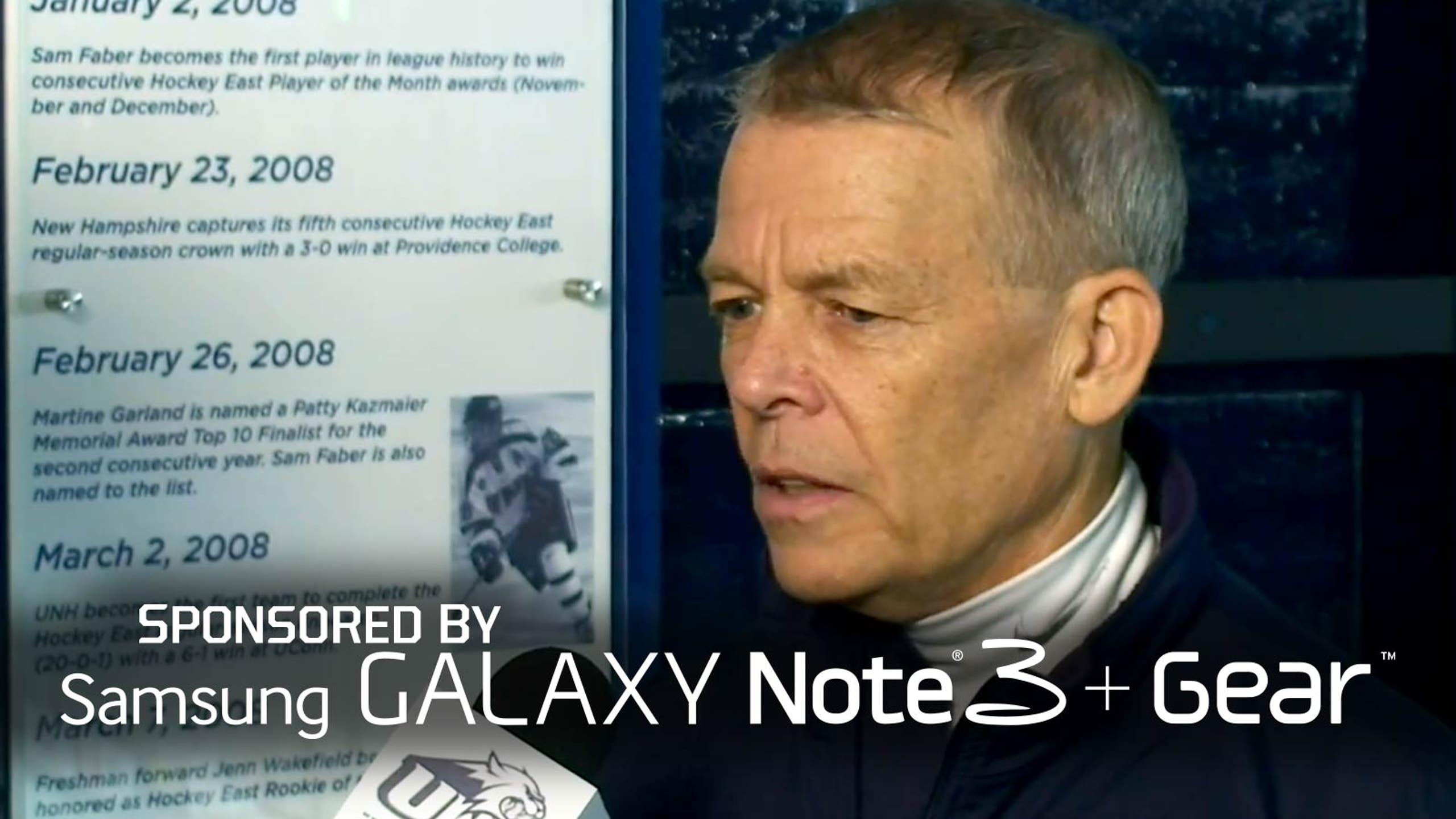 Daily Buzz: UNH coach-player bench incident reportedly under investigation
BY foxsports • February 19, 2014
During a Nov. 30 game, former University of New Hampshire women's hockey coach Brian McCloskey and a New Hampshire player reportedly got into a verbal confrontation during which McCloskey grabbed the player by her jersey and pulled her to a seat on the bench.
In December, the university terminated McCloskey, ending a successful 12-year tenure. Now, the Strafford County attorney's office is reportedly investigating the incident at the request of UNH police. Up for debate is whether his actions constitute either form of discipline.
McCloskey hasn't been charged with a crime. Without publicly available video of the incident or public comment from Haley Breedlove (the sophomore player unofficially identified as the one involved in the incident), who through a school spokesman has declined interview requests, the only detailed account of the incident that has reached the public domain is McCloskey's.
This, as reported in the Boston Globe, is it:
He and Breedlove had a history of what he describes as "communication issues," and during the Nov. 30 game Breedlove swore at him. He then pulled her down to the bench and said, "don't you ever [expletive] talk to me that way again! Do you hear me?" He characterized the exchange as, "an adult telling a young adult, 'This is not acceptable' in a very firm way."
McCloskey's account of the events is supported by a New Hampshire player who witnessed the exchange, but spoke to the Globe under a condition of anonymity; the school has told players not to speak publicly about it.
In an official press release, the school vaguely reported he had engaged in, "inappropriate physical contact" with a player on the bench, which McCloskey and some of Breedlove's teammates say resulted in a lot of speculation that the incident was sexual in nature.
"Even the day after, we walked into the dining hall for our pregame meal and there's the whole school kinda staring at us, pointing at us," Nicole Gifford, a captain, told the Globe. "You hear comments, it's embarrassing. So I mean their word choice [in the release], I think, was pretty pathetic.''
The school's sports information office has since clarified that the incident was not sexual, but McCloskey, feeling the initial implication could have ruined his career, is considering legal action against the school.
At 6-feet, Breedlove stands eight inches taller than the 59-year-old McCloskey. He believes the school perceived Breedlove to be in danger because he is a man.
"That was one of their stated reasons [for dismissal],'' McCloskey said. "I just don't think they would assume that this was a threatening situation. Even if the exact same words were exchanged and the same tug of a jersey. I think there is a natural assumption if it's a male that it's threatening.''
New Hampshire was 6-9-2 at the time of McCloskey's firing and is 3-11 since. McCloskey, who is 252-115-40 in his career, would like to return to work, but wonders if New Hampshire is his only option.
"If I don't get my job back, am I hirable?" he said. "Who knows, right?''
Here are Wednesday's links:
• Congratulations Miami Marlins players, you can now grow a beard.
• A ticket mix-up means a US. skier's family won't be able to see him receive his gold medal.
• Note to self — don't cross Greg Monroe:
• Surely, this will be one of the hot toys this holiday season:
• The Cowboys won a coin flip with the Ravens for the 16th pick in the draft.
• Steve Spurrier questioned Jadeveon Clowney's work ethic during a TV interview.
• Alex Ovechkin played it straight when asked how he felt about Russia being eliminated from the Olympic tournament.
• Jimmy Kimmel did the sports report on a local affiliate in LA this week:
• OK, Gus Kenworthy, enough with the cute Sochi dog pics:
• Someone give this man a contract:
• A former soccer player is reportedly suing his school over injuries allegedly suffered during a wrestling drill.
• Could the Knicks possibly bring back Jeremy Lin?
• The 76ers honored a student with special needs and his teammates at Tuesday's game:
• The Yankees aren't the only team with wildlife checking in on spring training proceedings:
• NJ Transit's executive director has stepped down after the transportation debacle that marred this year's Super Bowl in New Jersey.
• Roy Jones, Jr., is reportedly running for mayor in his hometown of Pensacola, Fla.
• He may not do the dunk contest anymore, but Dwight Howard hasn't lost his touch:
• Kris Medlen shaved his head for charity:
• Major League Baseball reportedly has dropped its lawsuit against Biogenesis.
• Richard Sherman surprised some young fans on Queen Latifah's show:
• Titans president and CEO Tommy Smith gave Jake Locker a vote of confidence but was noncommittal about the future of Chris Johnson.
• The Minnesota Twins are reportedly interested in a reunion with Johan Santana.
• Cam Newton and Colin Kaepernick did some weird stuff and sang Katy Perry on Cartoon Network:
• The AHL handed down six suspensions totaling 13 games in the aftermath of this epic line brawl:
---