D-backs turn over third base to prospect Lamb
Published
Aug. 7, 2014 11:47 p.m. ET

PHOENIX -- The Diamondbacks took another step into the future by promoting top hitting prospect Jake Lamb on Thursday. Lamb is the heir apparent at third base, and the D-backs figured what better time than the present to begin his immersion.
"Based on where we're at and the way things are going, why not now?" D-backs general manager Kevin Towers said.
"Going into spring training, he will probably get an opportunity to be your everyday guy. The experience here will be good for him."
Lamb, a sixth-round draft pick in 2012, has impressive offensive credentials and his career arc has somewhat of a Paul Goldschmidt look, admittedly a steep comparison.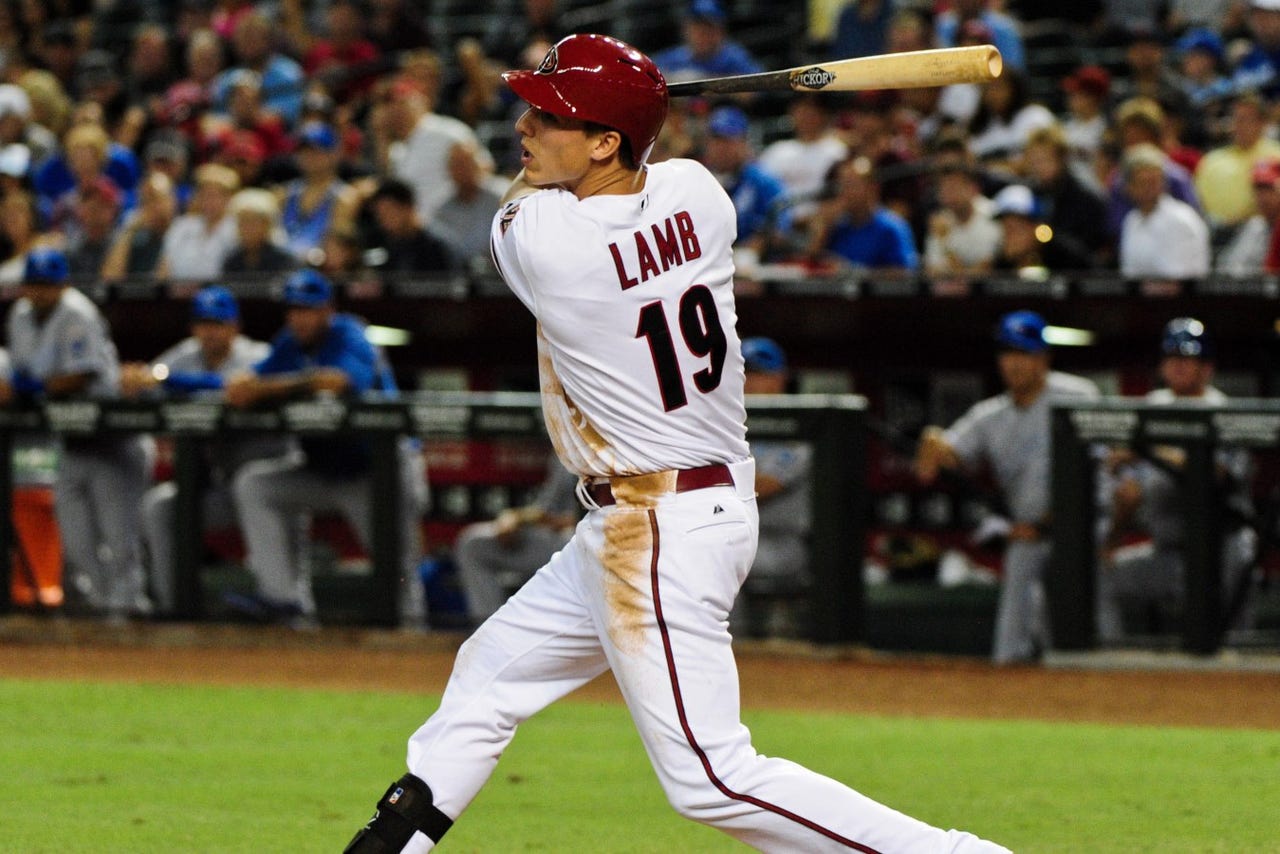 LAMB FARES WELL IN DEBUT
Teammates told Jake Lamb to let the game come to him. It did.
Immediately.
And it had a calming effect on an eventful day. 
On the second pitch of the game, Lamb made a nice charge and a strong throw on a chopper toward third to retire Kansas City leadoff hitter Nori Aoki. On the sixth pitch, Lamb caught a line drive from Omar Infante.
"It was nice to get those out of the way," Lamb said. "Kind of get the nerves down a little bit."
Lamb was not done.
He became the ninth player in franchise history to have a hit and an RBI in his first major league game when he looped a single over third baseman Mike Moustakas to drive in a run in the third inning.
Lamb had some with that.
He was asked if that was how he dreamed it would go.
"Yeah, you know, jam shot over third base, that's how I dreamed it," Lamb said, drawing chuckles. 
The day was made more special because his parents and close friends were in the stands. They were outside the D-backs' clubhouse as he met reporters.
"I haven't seen my family or friends since before spring training, so it might be a little emotional," Lamb said of the reunion.
His parents curt short a vacation in Lamb's cabin in Priest Lake, Idaho, which is about 80 miles north of Spokane, Wash., just across the state line and maybe a half hour from the Canadian border. The Lambs had planned to stay for a week, but were there only there three days before Lamb called Wednesday night to say he had been promoted to the D-backs.
"I called them with the bad news, I guess. You guys have to leave," Lamb said.
Probably the best bad news the Lambs ever received.
Signed in 2009, Goldschmidt made his major league debut in August of his third pro season. Lamb is doing the same. Goldschmidt showed more power in the minors, but both made quick work of pitching along the way.
Lamb was hitting .327 with 39 doubles, 15 home runs and 84 RBIs in 104 minor league games this season, all but the last five with Double-A Mobile. Although Lamb will miss the final month of the Southern League season, he appears to have as good a chance as anyone to become the league MVP. He still leads the league in doubles and RBIs.
It did not take Lamb long to adjust at the top level Thursday. He got his first hit and RBI in his second at-bat, an opposite-field single to left field to drive in a run in the third inning of the D-backs' 6-2 loss to Kansas City.
With the third base job open after last week's trade of Martin Prado, the moved seemed only natural as the D-backs attempt to get a long look at their young pieces -- David Peralta, Ender Inciarte, Didi Gregorius, Roger Kieschnick and Lamb, among others -- moving into 2015.
"We're kind of giving more young guys an opportunity," Towers said. "Peralta, maybe he wasn't even as advanced as Lamb as he's come up here and done well. We wanted to make sure mentally (Lamb) could handle it, and it was pretty much consensus this kid was ready. That's not to say he's not going to have peaks and valleys, but we are excited to have him here."
Mobile manager Andy Green called Lamb Wednesday night to tell the 23-year-old he was going to the majors. Lamb immediately called his parents, who were vacationing in their cabin in northern Idaho, and shared the emotional moment.
"I definitely broke down a little bit," Lamb said. "It is what I have been working for my whole life. That call to my parents is something I will remember for the rest of my life."
Lamb hit .329 with 57 RBIs in 67 games at Missoula after signing in 2012 and hit .303 last year at High-A Visalia despite missing about half the season with a pulled hamstring and a broken hamate bone. He hit well in the Arizona Fall League following the 2013 season, and he impressed D-backs manager Kirk Gibson in spring training with his commitment to improving his defense and his desire to learn.
"He's smart," Gibson said. "He asked a lot of good questions, and he seems to be able to apply the principles he has asked about and now understands."
That and his bat. The D-backs had 12 hits in a 4-3 loss to Kansas City on Wednesday, a double, a triple and 12 singles.
"He is going to be our third baseman," Gibson said. "He has a great bat, and we are in need of offense. He has gap power ... and you want to get somebody who has a chance to drive the ball in the gap with somebody on base. He has come a long way with his defensive capabilities as well, so we're just working toward trying to determine where he is at in his career.
"I think there is a curiosity if he is a fit for next year as well."
Peralta and Lamb were among the players that caught the eye of chief baseball officer Tony La Russa as he set about learning the system following his May 17 hire. Both were in Mobile and La Russa saw them in a doubleheader.
"The first thing you do is you look at the stats and there were a couple of guys ... one of them was Peralta. And Lamb. They both stood out," La Russa said on FOX Sports Arizona pregame show.
"The way they both stood at the plate, it looked far advanced for young hitters. Then I saw Jake make some plays. I rely more on what I've heard from the coaches on his maturity and defensive skills. But he is going to be a real good big leaguer. This is a real good time to just get his feet wet. There is really no pressure on him."
Lamb is the 16th rookie to play for the D-backs, nothing new for the D-backs, who have logged an NL-high 384 rookie-games this season, according to STATS, LLC. He may not be the last.
Towers and Gibson said more roster juggling could occur even before rosters expand on Sept. 1. The D-backs earlier talked about going to a six-man rotation to ease the wear on their starting pitchers, but Gibson said that is unlikely to happen until September. That would be one way to get Archie Bradley some major league experience. Most of the young prospects are already in the majors, but a bullpen addition or two appears possible.
Going with youth is not a concession even as it allows a look into 2015, Towers said.
"We want to win as many games as we can. We think the young guys maybe give us a better chance of winning right now. With youth brings a little bit of energy and a little bit of enthusiasm into that clubhouse," Towers said. "They are going to get an opportunity to showcase themselves and expose themselves to the rest of the league and the major league staff.
"It should help us a little bit more in offseason with our decision-making when we are to put together our '15 club based on getting six weeks of seeing the other guys."
Follow Jack Magruder on Twitter
---