D-backs hold breath after Goldschmidt hit by pitch
Published
Aug. 2, 2014 2:57 a.m. ET

PHOENIX -- The Diamondbacks tried to give Paul Goldschmidt a full day off Friday.
They would have slept much better if they had.
Goldschmidt, who entered in a 9-4 loss to Pittsburgh in a double-switch in the top of the ninth inning, was struck by a pitch in the left hand in the last of the inning.
Different hand, but he was struck in the same general area -- on the top of the hand, nearest the ring finger -- as A.J. Pollock was hit on May 31. Pollock suffered a fractured fourth right metatarsal and has not played since.
X-rays were taken immediately after the game and hand specialist Dr. Don Sheridan is to re-evaluate Goldschmidt on Saturday.
"They took X-rays and didn't have the results," said Goldschmidt, who did not start for only the second time this season. "Dr. Sheridan will take a look at them and let me know what he sees or thinks or whatever happens.
"I've never had any broken bones or fractures or anything like that. It felt OK. Obviously there is still some pain because it hit it pretty good. I don't know what it would feel like if there was or wasn't anything wrong with it.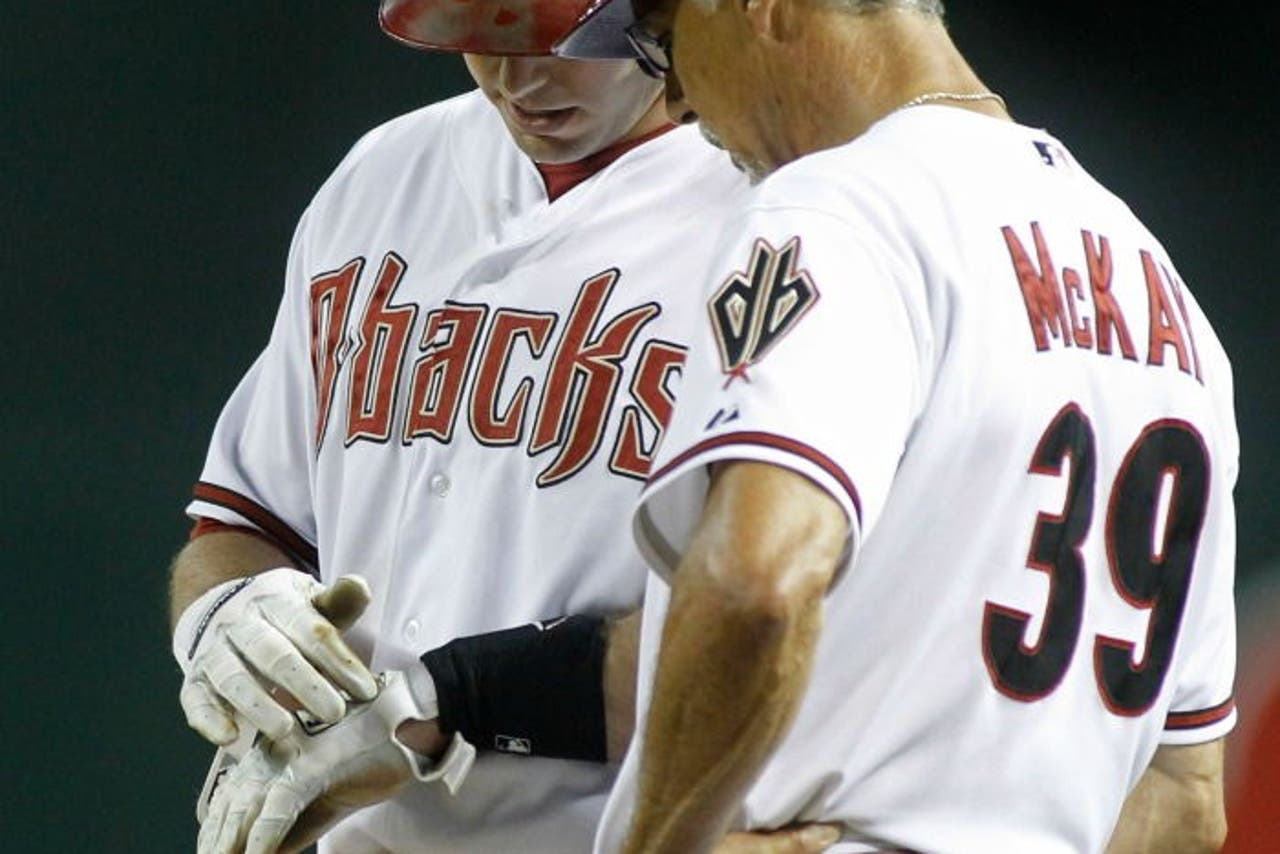 Paul Goldschmidt shows first base coach Dave McKay where he was hit by a pitch during the ninth inning.
"It's part of the game getting hit. I'm going to stay positive and hope it is going to be OK tomorrow. Stuff happens. Hopefully it is not broken, or anything else is wrong with it."
Goldschmidt said he did not believe Pirates right-hander Ernesto Frieri was trying to hit him with the high-inside fastball.
"I don't think that," Goldschmidt said. "He's trying to make a pitch. It's strike one. Ends up being up and in and ends up hitting me.
"Guys have to try to get outs. What do you want him to do, just throw it down the middle? They pitch inside as a team. We do, too. We want our pitchers to be able to pitch inside. Obviously you don't want to see somebody get hurt. As a pitcher, you have to pitch in to get outs. Everybody in the league tries to do it."
The incident caused a bit of a postgame stir, when D-backs first base coach Dave McKay jogged past Pirates catcher Russell Martin on his way to the dugout while the Pirates slapped hands on the field.
"He said, 'You gotta have better command than that,'" Martin said.
Martin approached the D-backs' bench after the game in an attempt to clear the air. D-backs left-hander Oliver Perez walked toward Martin, and several players from each team gathered near the on-deck circle, but there were no incidents.
"I wanted him to know we weren't trying to hit him on purpose," Martin said. "There are not many spots you can pitch that guy, and one of the best spots you can go on him is up and in, away from the barrel. 
"The ball ran in. It's happened to me this year, too. Probably just frustrated. Tough loss. I've been there. I wanted to make sure he didn't think we were doing anything on purpose."
Martin was asked if he expected an eye-for-an-eye response from the D-backs.
"We're going to play the game. Whatever happens, happens," Martin said. "We can't control what they want to do. They are going to do whatever they do, and we're going to do what we do, and that's how it is going to play out. Who knows?"
D-backs manager Kirk Gibson said following the game that 7-8-9 relievers Evan Marshall, Brad Ziegler and Addison Reed were not available. All had pitched two games in a row and three of the last four. "We were in a bad spot today with the bullpen," Gibson said. "You have to take into consideration where they've been, and we have the rest of the season left."
6 -- Consecutive games in which Pirates multi-tasker Josh Harrison has an extra-base hit.  
*Vidal Nuno has three quality starts in his five outings with the D-backs, giving up only one run and three hits over six innings. He was in line for the victory until the Pirates scored eight runs in the final two innings. After giving up a home run to Ryan Howard on a fastball Sunday, Nuno had good command on his fastball.
*Mark Trumbo had two singles, both to right field, a sign that he is beginning to come out of a funk since being activated from the disabled list the weekend before the All-Star break. 
*A.J. Pollock was hit by a pitch in the right hand in an Arizona League game Thursday, but X-rays were negative and he is expected to return to the lineup Saturday. The ball did not hit Pollock where he suffered his fractured fourth metacarpal on May 31.
*Miguel Montero is getting good at beating the pronounced shift he often faces these days. Montero lined a double down the left field line in the fourth inning, although he got no farther. Montero also has had two bunt singles against the shift.
*It has been a small sample size, but Ender Inciarte seems to be a little smaller, little quicker version of Gerardo Parra.
Another day, another hit for Andy Marte, who singled in four at-bats while making his first major league start since Oct. 2, 2010, with Cleveland. Marte, once rated as one of the best defensive third basemen in the minor leagues, also showed a good glove at third base.
Follow Jack Magruder on Twitter
---