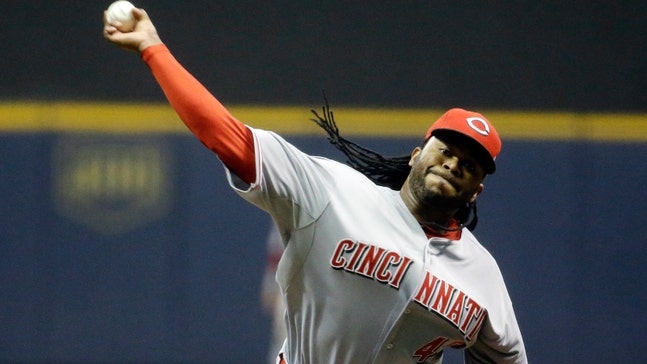 Cueto goes for third straight win
Published
May. 3, 2015 10:06 a.m. ET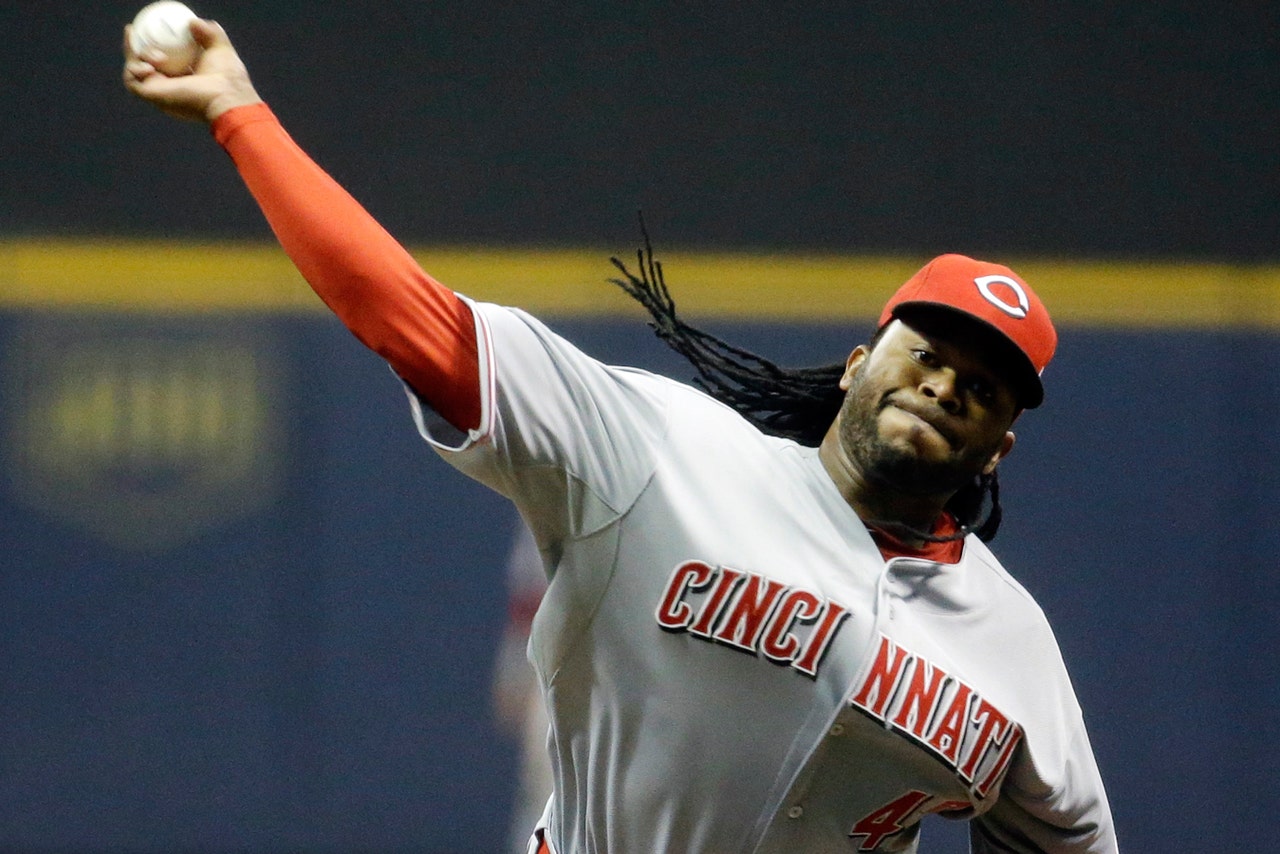 Johnny Cueto is making life relatively easy for his Cincinnati Reds teammates.
The right-hander will try to win his third straight start Sunday against the Atlanta Braves at Turner Field.
Cueto (2-2, 1.95 ERA) went 0-2 in his first three outings but lasted seven innings in each, allowed five earned runs and struck out 10 twice while receiving only four runs of support. Finally, he's had something to show for his effort after giving up three runs and eight hits over eight innings in each of his two victories over the Milwaukee Brewers.
"It doesn't matter who is behind the plate when Johnny's pitching, you just sit down and enjoy the ride," catcher Brayan Pena told MLB's official website. "He's just special."
Cueto allowed a pair of solo homers and one other hit during Tuesday's 4-2 victory over the Brewers.
"He's smart, his baseball IQ on the mound is unbelievable," teammate Marlon Byrd said. "He knows what he's doing. He sets up hitters, he sees swings. He throws to swings he knows hitters can't get to.
After leading the NL with a career-high 243 2-3 innings in 2014, Cueto again ranks among the major league-leaders with 37 thus far.
Though he's 0-2 in four starts at Turner Field, Cueto posted a 2.77 ERA and was given just two runs of support while on the mound. In his only 2014 start against the Braves, Cueto allowed three hits and struck out 11 over eight scoreless innings of a 1-0, 10-inning loss at Atlanta.
He'll try to help Cincinnati (12-12) take this four-game set after winning 8-4 on Saturday. Zack Cozart homered for one of his three hits and Jay Bruce tripled twice as the Reds went deep three times to match their run total from the previous two contests.
Cozart is 9 for 17 in his last four games versus Atlanta (11-13), which has allowed 42 runs while losing four of its last five.
That slide began Tuesday when three of the seven runs Julio Teheran (2-1, 4.67) allowed over 5 2-3 innings were earned. However, he couldn't help hold an early 9-1 lead in the 13-12 defeat to Washington.
The right-hander gave up four runs - two earned - without a homer in 12 innings to win his first two starts but has yielded 16 - 12 earned - and six home runs over 15 innings while going 0-1 in the last three.
"I don't know what I'm doing different," Teheran said. "Maybe I'm not mixing my pitches the right way."
Manager Fredi Gonzalez wants Teheran to rely more on a fastball that's accounted for less than 50 percent of his pitches in two of his last three outings.
"He assured me his health is not an issue, so we've got to get back to some of the other stuff, and I think some of the percentages of fastball to breaking ball was not good enough," Gonzalez said.
Teheran must find the same form he showed last season while yielding seven hits over 14 scoreless innings to go 1-0 in two starts against the Reds.
Teammate Cameron Maybin had a two-run homer and three RBIs on Saturday for his second two-hit game in as many starts. He's 4 for 12 with a home run and double versus Cueto.
---