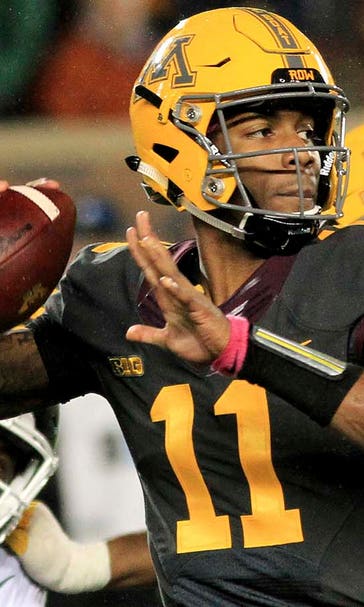 Croft's strong play complicates Gophers QB situation
October 17, 2017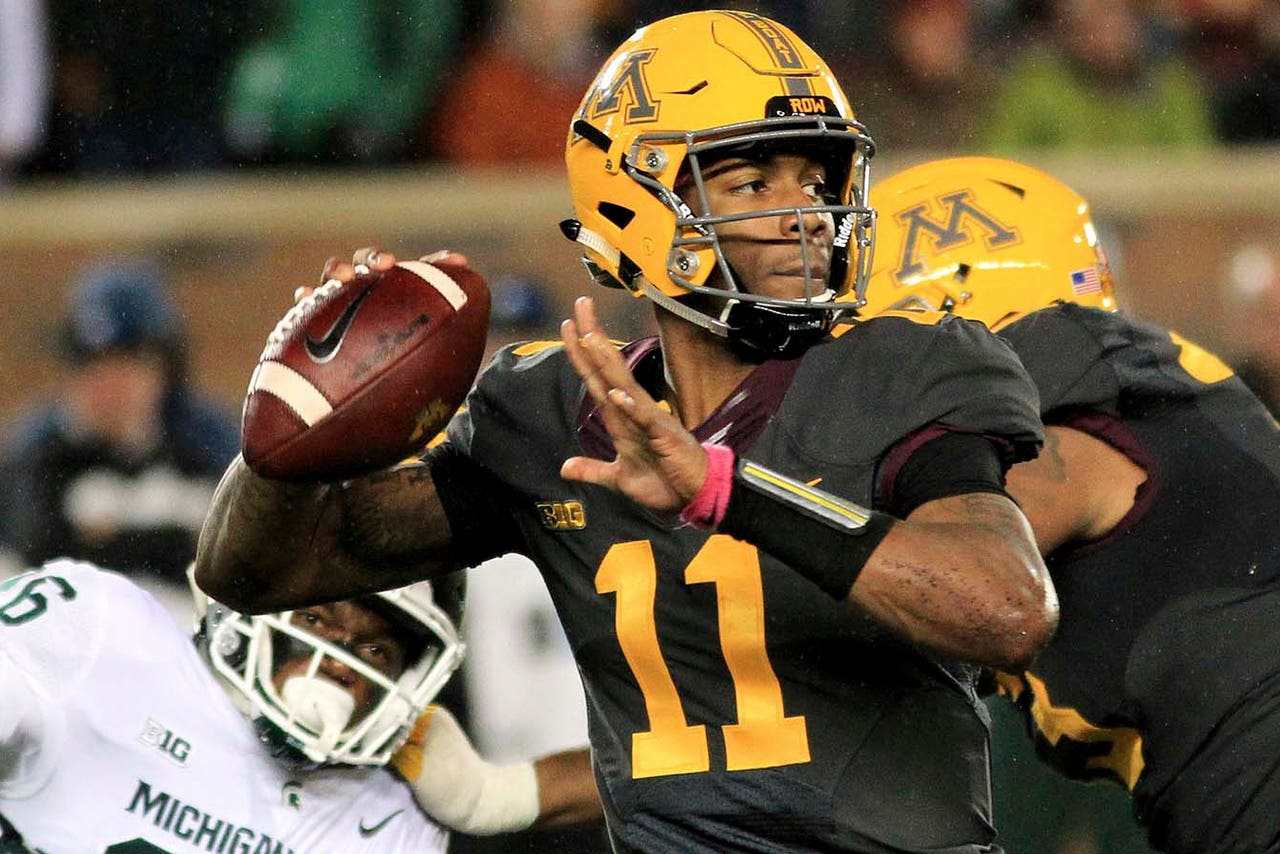 MINNEAPOLIS -- Minnesota's quarterback situation is again unclear, with the Gophers starting the second half of the season still seeking their first Big Ten win under first-year coach P.J. Fleck.
Demry Croft's return to the mix has at least given them some life.
After relieving an ineffective Conor Rhoda late in the first half and scooting around the field for three fourth-quarter touchdown passes to Tyler Johnson on a soggy Saturday night against 18th-ranked Michigan State, Croft has forced Fleck to make yet another significant decision regarding the team's most important position.
For now, Fleck has held off. Making a media appearance for the fourth straight day, Fleck again declined Tuesday to declare a starter for the homecoming game this Saturday afternoon against Illinois.
"I want to continue to watch them perform," Fleck said.
Watching Croft perform down the stretch against a Spartans defense that's fifth in the FBS in fewest yards per game allowed was a big lift for the Gophers (3-3, 0-3), who trailed 23-6 and 30-13 before falling 30-27 . An interception at the Michigan State 17-yard line ended Croft's first drive late in the second quarter, and when Minnesota took possession with 12:45 remaining he was just 3 for 7 for 32 yards.
Then came the first scoring pass, when Croft dropped back and found Johnson on a post pattern for a juggling 28-yard catch. A little later, on third down, Croft stepped forward in the pocket and threw off balance for a short gain before Johnson turned the crossing pattern into a 17-yard touchdown. Finally, Croft completed a 73-yard drive with a 9-yard completion to Johnson on a skinny post route with 1:06 left.
"It's a blessed feeling to be out there with the guys and just keep rowing the boat and seeing the smile on everybody's faces," Croft said after the game.
The redshirt sophomore from Rockford, Illinois, finished 11 for 20 for 163 yards and also ran seven times for 31 yards. The way Croft can move around behind the line and create what Fleck called "the second play" was the spark the Gophers needed after Rhoda made several mistakes in the first quarter including dropping a snap, taking an accidental knee for a loss after a low snap and causing a fumble with a handoff running back Shannon Brooks wasn't expecting because the play call was different.
"It just came at the right time, where I felt like I had to be able to give him an opportunity to show what he can do," Fleck said, making sure to praise Rhoda's contribution to each of the three nonconference victories.
Croft was suspended for three weeks last month for an unspecified off-the-field issue, missing two games. He was reinstated to the team the previous week. Cautiously optimistic about Croft's improved attitude and behavior, Fleck and his staff agreed the day before the Michigan State game to work him into some action.
"Trust is very hard to gain and very easy to lose," Fleck said. "That's going to be a process as we continue to go forward."
---
---