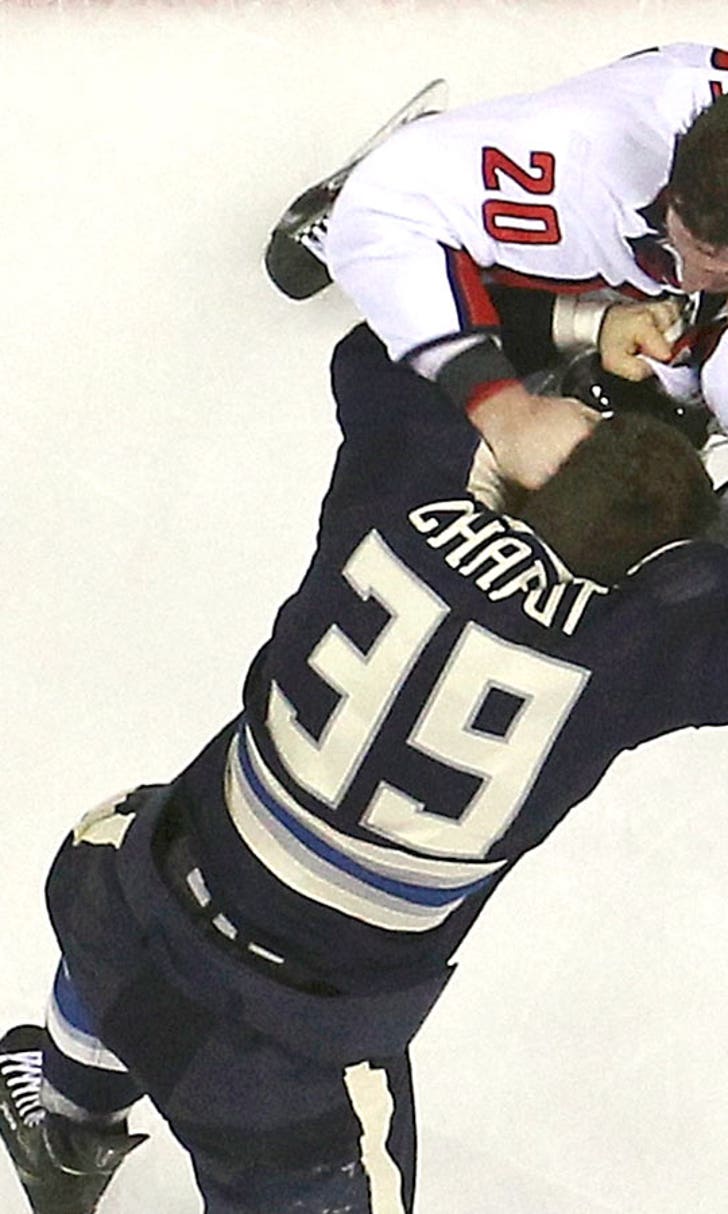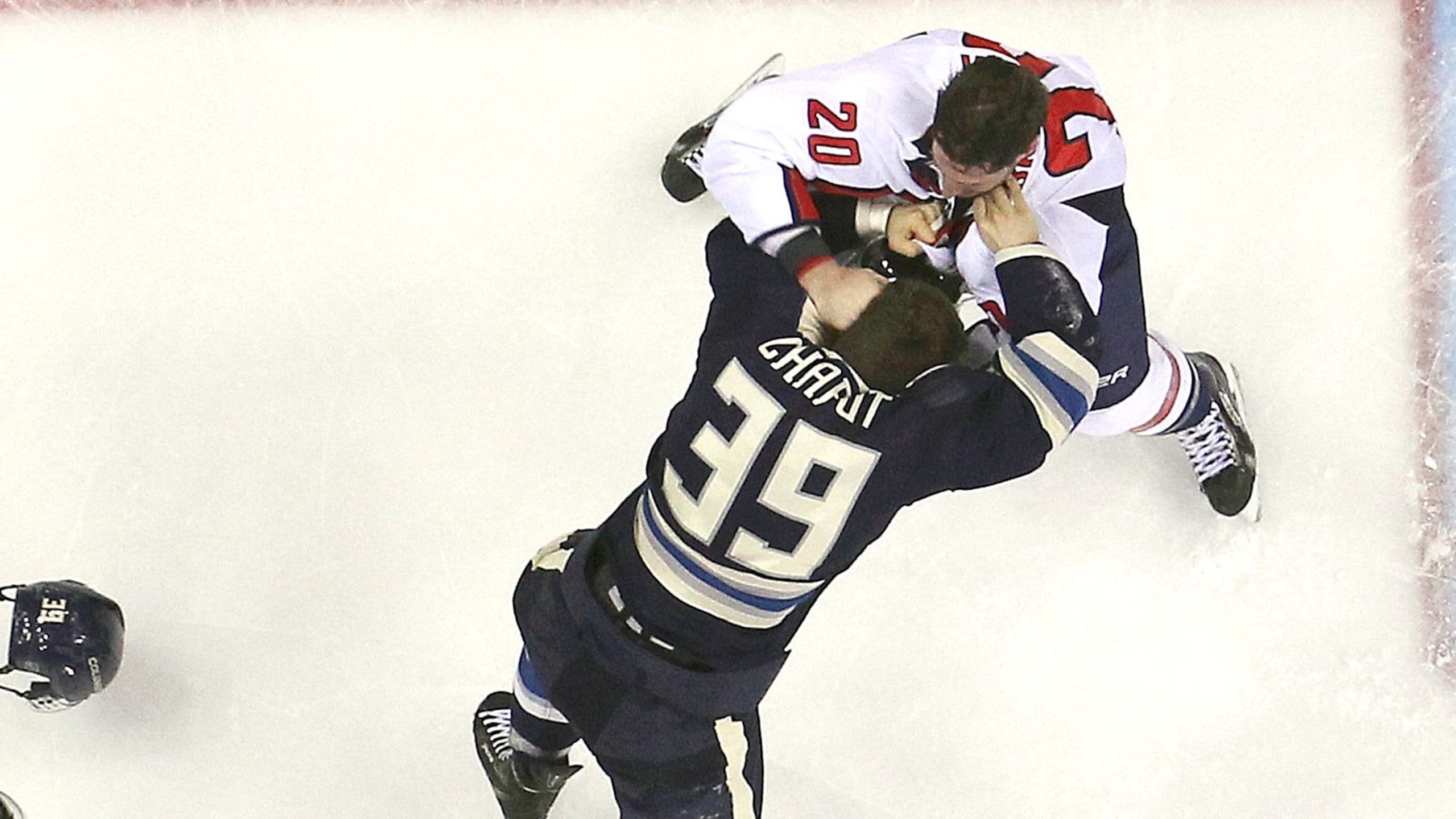 Crashing the Net: Chaput almost nabs a 'Gordie Howe hat trick'
BY foxsports • December 19, 2014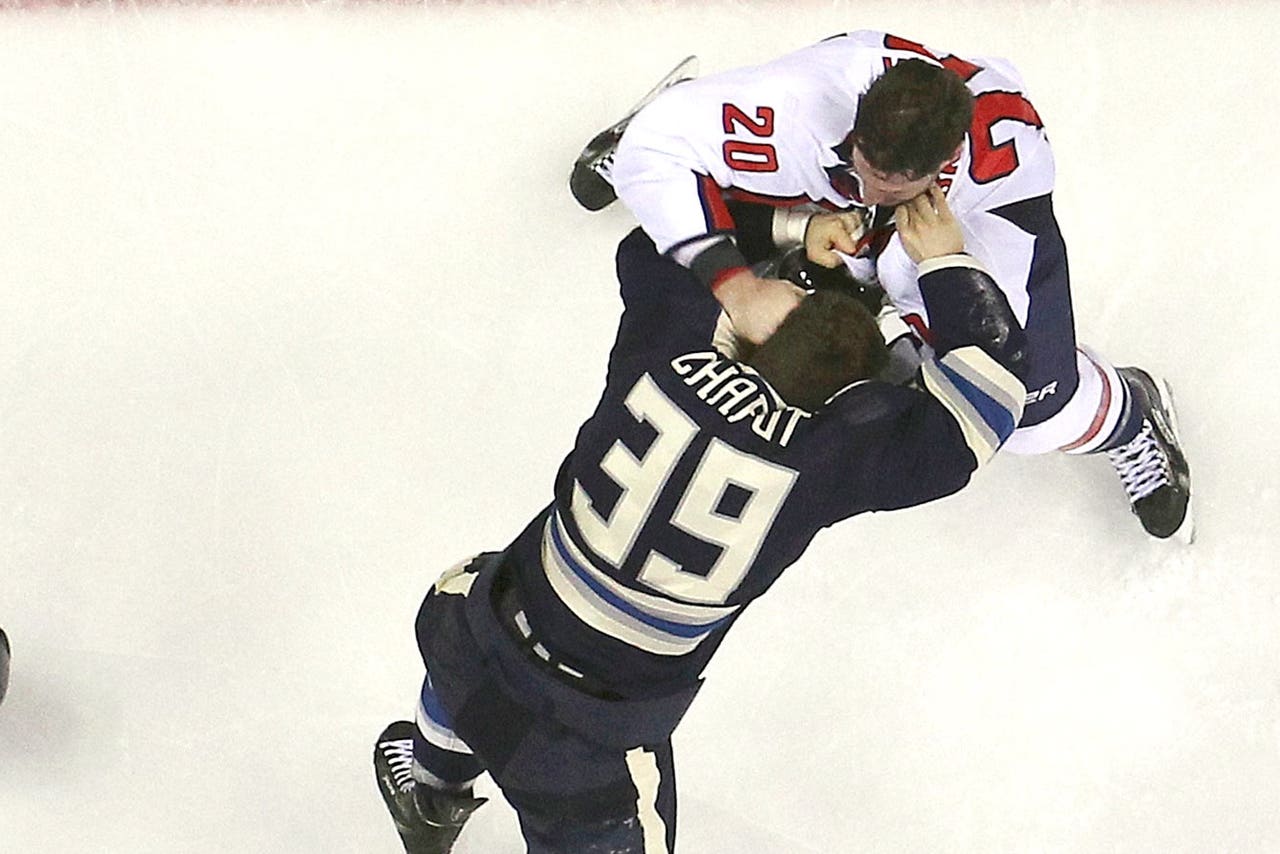 COLUMBUS, Ohio - It's been a long time coming for the center from Ile Bizard, Quebec, Canada to score his first goal in the NHL. For Michael Chaput, 44 games spread over two seasons may have seemed like an eternity.
He's played 27 games for the Blue Jackets this season, putting up one goal and four assists. He's filling in admirably for the injured Mark Letetsu and sees that his development at the NHL level is progressing. Getting that first goal seems to have lifted a weight off of his shoulders.
"I was thinking about it for a while," Chaput said, "especially early on in the season. But lately, I've tried to stop thinking about it and told myself that I'm just going to go out there and make it happen."
He was 1-0-1 in 6:25 of ice time against the Capitals and won 83 percent of his faceoffs (5 of 6). He's playing with a renewed sense of confidence since being recalled by Columbus from Springfield on Nov. 29.  In five games with the Falcons, he recorded 1-4-5.
In addition to his first NHL goal on Thursday, he dropped the gloves with Washington's Troy Brouwer in a fight-filled second period, marking his first NHL fight. He was one assist away from completing a "Gordie Howe hat trick."
"Obviously, it was my first fight in the NHL," he said, "but when someone pushes you, you're going to push back. Right then, I felt it was the right time. I got hit from behind, so I told myself 'why not?' The other guys were doing it (Dalton Prout and Jared Boll also had fights earlier in the period), I might as well chip in."
Amazingly enough, Chaput got an extra two-minute penalty from the fight for roughing after being cross-checked in the back. C'est la vie. He is part and parcel of the pack mentality that permeates this locker room.
He has also been through the ups and downs that they have been through since the first game of the season. And yet, he never wavered in striving to get better, just as the team has done the same.
"I think coming out of training camp, I was playing well," he said. "And then, for whatever reason, I wasn't playing the way I wanted to. Obviously getting sent down (Nov. 19) was disappointing. But I went down (Springfield), played hard and started finding my game."
"Now, I'm skating better and getting involved. I'm happy, but obviously I can see the need to elevate my game, also."
As the team has started playing to their identity and with more confidence, the "energy guys" of Corey Tropp, Michael Chaput and Jared Boll have played with a renewed vigor. There is a bit of an edge to their play that is helping to sustain the energy that runs along the bench. Winning helps with that confidence.
"When everyone's going, I think it's easier for all of us. If we do our job, the top three lines can do their job. Here in this locker room, everyone knows that our four lines can wear other teams down. We've been doing that lately and I think that's why we're having success."
Stringing together a bunch of wins cures many ills. And this team is proof positive of that. Never wavering in their belief that they could dig themselves out of the hole they are in is a large part of the makeup of this room.
"There's no doubt that we can do better and be better. We know that we can win and we have confidence in here. It's all about how we want to go out and play. We've showed that we can do it."
This and that
 - The team held an optional skate this morning, with both defenseman Ryan Murray (knee) and center Mark Letestu (Abdominal surgery) taking part...
- Center Brian Gibbons is being evaluated Friday, per head coach Todd Richards, for a lower-body injury suffered in last night's game against the Washington Capitals...
- They return to action Saturday night as they host the Chicago Blackhawks. This is a team that the Blue Jackets have not had much success against in recent years. "They play with the puck really well," said Todd Richards. "They skate and they want the puck. To me, that elevates their compete levels."
Chicago comes in with a record of 22-9-1, having won their last two games, and leading the Central Division.
---