CP3 dons whistle and smile for Special Olympians basketball scrimmage
BY foxsports • March 21, 2015
Chris Paul played a different kind of role on Saturday, one that included a whistle around his neck.
This was a different kind of game, one where every player wore No. 1 and the name on the jersey said "Thrive."
Paul played coach and referee for a fun scrimmage with Special Olympians at the Crenshaw Family YMCA that was organized by the LA 2015 Special Olympics World Games, which will be in Los Angeles in July. 
One athlete danced for Paul. One girl asked Paul if Kobe Bryant was his best friend. And one boy dribbled around him and made a shot and earned a high five from Paul. There was plenty of laughs, joy and camaraderie.  
"To come out here and put a smile on some of these kids' faces," Paul said of the best part of the day. "They're really athletes. That's what's fun, to come out here and see them shoot. One guy called himself 'Daddy Yankee.' He probably could've beaten me in a shooting contest right now. It's just fun."
When Paul is playing for the Clippers, he's distributing the ball to teammates J.J. Redick, Blake Griffin and DeAndre Jordan. When he was presiding over this scrimmage, he noticed an athlete and that she hadn't had the ball in a while. He motioned for the out-of-bounds player to pass in to her. She was included and all was well. 
The clinic was part of an event organized by the LA 2015 World Games and Kaiser Permanente Southern California. 
"Chris Paul, what an amazing individual he is and what an incredible time for our athletes to be able to spend time with him," said Patrick McCLenahan, the CEO of the LA 2015 World Games. "I think he got as much out of this as the athletes did. I think by the time people leave, you know you got more than you gave.
"It's incredible for him to give his time like this. They put a smile on his face."
Paul attended with his father and brother. He'll be involved in the Special Olympics this summer. McClenahan has met Paul a couple of times and was impressed with Paul's interest in helping.
"He attended our event at CAA and of the 150 people in the audience, he was in the front and focused the whole time," McClenahan said. "He's excited. I think he would be a great ambassador representing basketball players and athletes."
The athletes ran drills with Paul and then scrimmaged. Paul gave out lots of high-fives and called only a few fouls.
"This is priceless. I'm honored and privileged to be here as an ambassador for Kaiser Permanente," Paul said. "The Special Olympics World Games will be here in July, and that's something that's special. There are 7,000 athletes that will be here and they say it will be the biggest event in L.A. since the 1984 Olympics."
Indeed.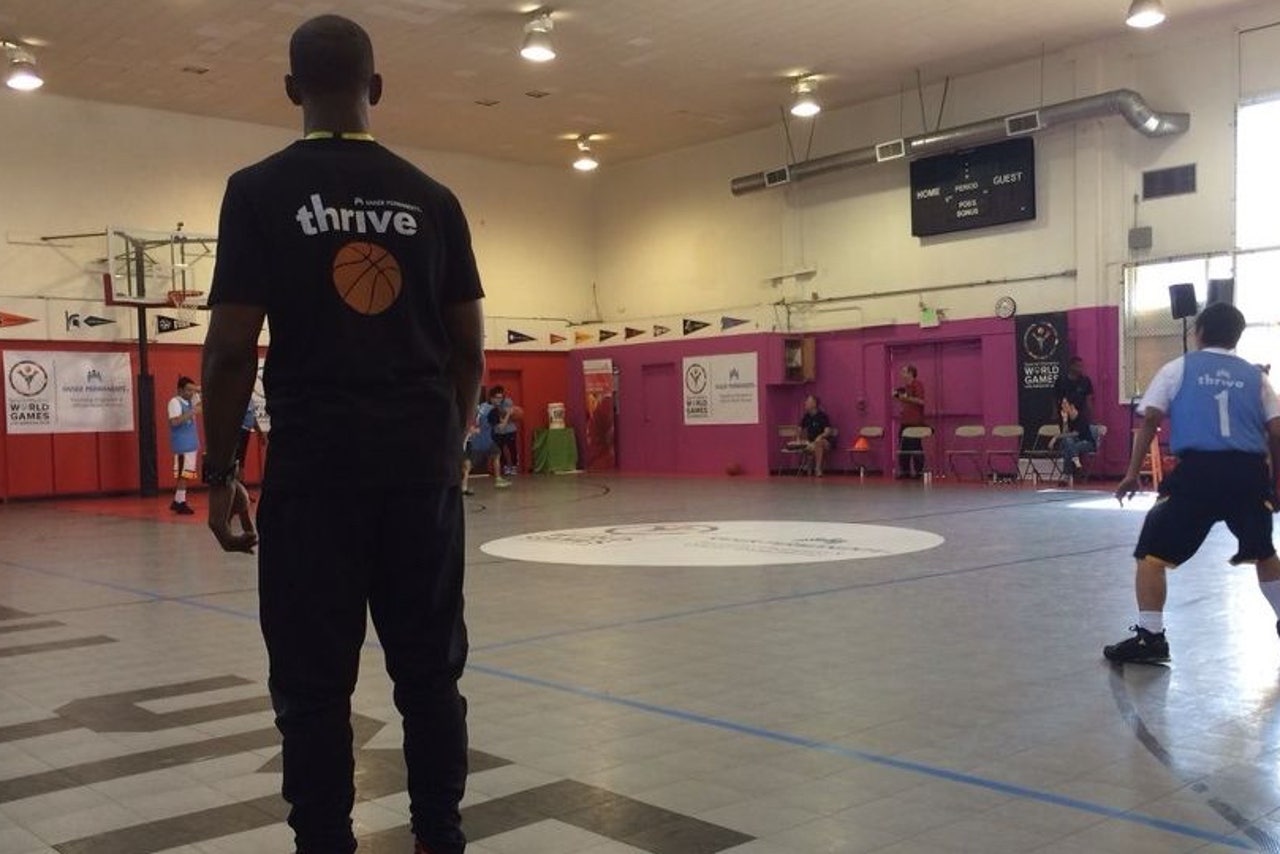 "This is priceless. I'm honored and privileged to be here as an ambassador for Kaiser Permanente," Paul said.
But a big event to these athletes - all who were 18 years or older except for one boy - was sitting in the middle of the gym, near the Special Olympics logo, and asking Paul questions.
One asked how Paul prepares for games, and he said he was in the back of the car on the way to the YMCA and was watching film of the Clippers' win over Washington on Friday. He told one athlete he might be able to use his shooting touch for the Clippers' game against New Orleans on Sunday. 
He talked about his shoulder injury last year and how Blake Griffin encouraged him, and how he tried to encourage and help Griffin through his staph infection that kept him out five weeks. 
One athlete asked Paul if anyone donated things to the Clippers to help them out.
"Fortunately, we have an owner who is very generous," Paul said.
Then he told a story of how his father emptied his 401K to help pay for Chris and brother CJ's equipment and sports travels. He even said they sold donuts door-to-door and car washes for $5. 
One athlete asked how many games they'd won against the Lakers. She figured they'd split their games this year, but Paul had fun mentioning they'd won the two so far and they have another two in April.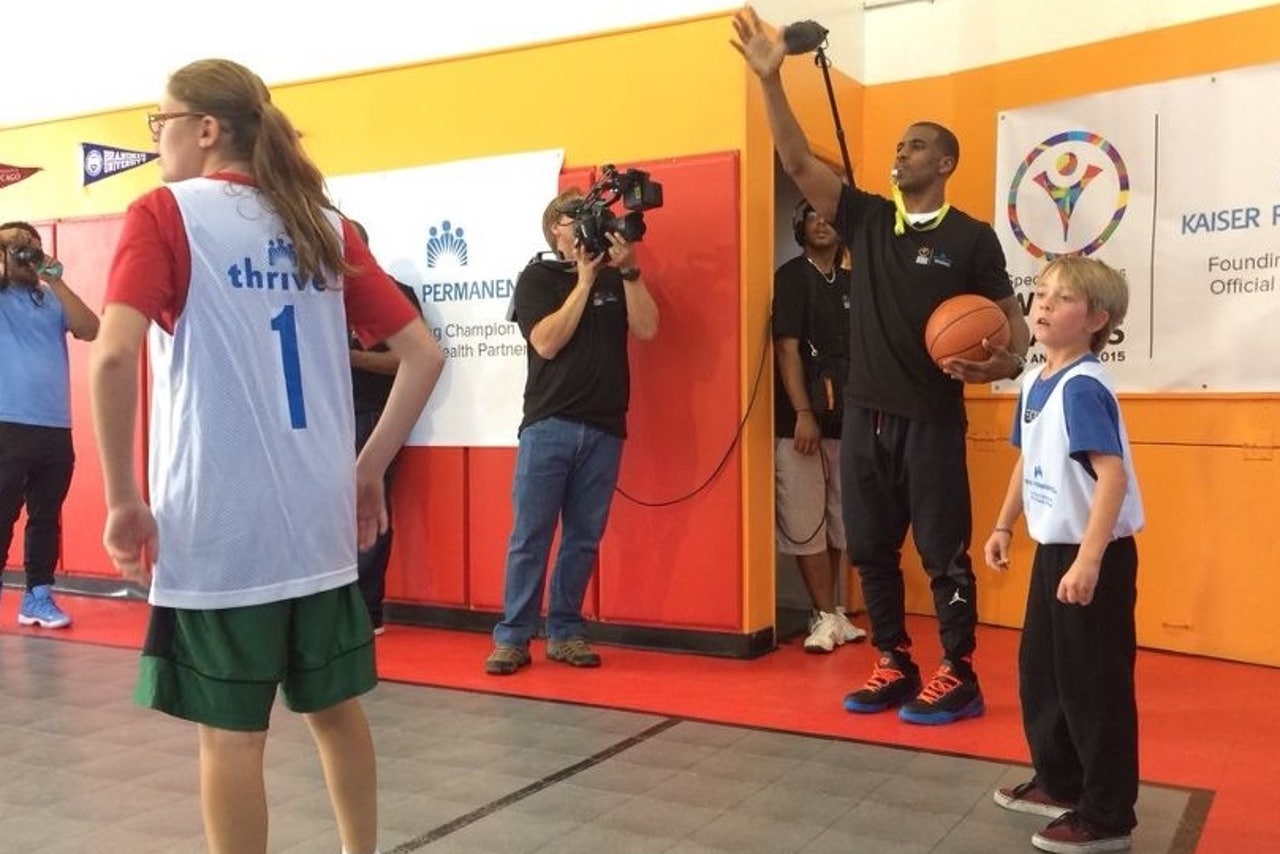 "To come out here and put a smile on some of these kids' faces," Paul said of the best part of the day.
One athlete, Courtney, asked him something but neither he nor the Special Olympics instructors understood what she said. The athlete understandably got emotional because no one could understand her.
"That's OK, Court," Paul said, remembering her name and giving her a fun nickname like they were longtime pals.
She composed herself and asked her question again and a smile was back. 
And that was what the day was all about. Smiles, fun and some hoops.
"Everyone is competitive," Paul said. "That's something you can't teach. Just to be here and to compete and spend a little bit of time. It's not whether they'll forget it. It's something I won't forget."
---