Coyotes shut out by Kings
March 17, 2015

LOS ANGELES -- Andy Andreoff couldn't have picked a more opportune time to get his first NHL goal, especially with the defending Stanley Cup champion Los Angeles Kings fighting to get back into the postseason.
Andreoff scored late in the second period and Jonathan Quick earned his sixth shutout of the season, leading the Kings to a vital 1-0 victory over the Arizona Coyotes on Monday night.
"It's been a long year for me, so I'm glad I finally got it," said Andreoff, a third-round pick by the Kings in the 2011 draft. "We know every game from now on is huge, so I'm just happy to get it out of the way. I definitely got the monkey off my back. It was a dream come true. I've worked pretty hard to get where I am."
The Kings, 13-4-1 since an 0-3 road trip through Boston, Washington and Florida, climbed back into the second and final Western Conference wild-card spot. They have 13 games left to hold onto it.
"I think we've played as well as we can since the All-Star break, and hopefully we can continue to," coach Darryl Sutter said. "I thought we worked hard and had good focus tonight. It was tough scoring out there. We were playing a tough-checking team. They've always been known for that, so we had to be patient and have some balance. They were coming off a five-game homestand, and every one of those five games it was 1-0 going into the third."
Missing the playoffs would be an embarrassment for the Kings. Only seven times has a Stanley Cup champion missed the playoffs the following season.
"Every year is difficult. It's not easy," Quick said. "It's a tough league and there's a lot of parity in both conferences. So I don't think this year is any more difficult than previous years. And it certainly isn't any easier."
Quick made 25 saves en route to his franchise-record 37th shutout. The Coyotes, whose 145 goals are the fewest in the league, were blanked for the 10th time and second by a 1-0 score. Last season, they lost only three games by shutout.
Arizona is 1-13-1 since Feb. 10, the only victory coming against Vancouver in a shootout. The Coyotes haven't won in regulation since beating Columbus 4-1 on Feb. 3, and have scored just eight goals in their last eight games.
"Obviously, we don't have a lot of scoring in our lineup," captain Shane Doan said. "We have to play this type of game. That's how you have to play when you're in that situation."
Mike Smith stopped 34 shots for the Coyotes. The nine-year veteran has one victory in his last 14 starts since Feb. 9 -- when he made 36 saves in a 3-2 win at Chicago.
Smith was 11-4-1 with a 2.26 goals-against average and two shutouts in his 17 previous games against the Kings.
"Everyone knew what was on the line for them. We were trying to play spoiler and it didn't work out tonight," Smith said. "We played 200-foot hockey -- through the neutral zone, out of our end quicker, and get pucks to the net. When it's going tough, scoring wise, it's just about getting pucks and people to the net. I know we talk about it a lot, but we need more of that."
Andreoff got a cross-ice pass from Jordan Nolan a few feet to the right of the net and slid the puck under Smith's left leg 65 seconds before the second intermission. The 23-year-old forward was playing in his 15th NHL game, and it was only the second time he played in back-to-back contests.
"Hopefully he's got some more game-winners in him," Sutter said.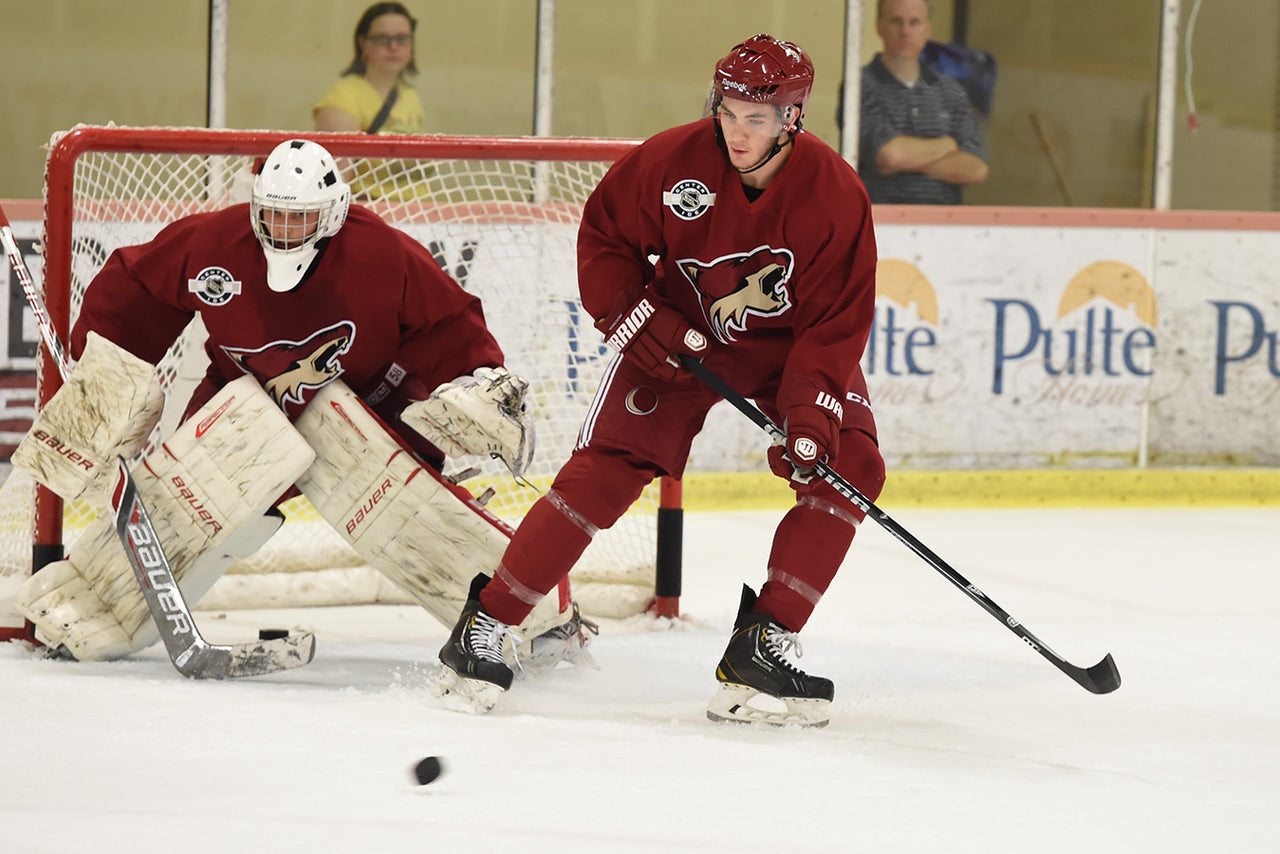 PROSPECT PROFILE: Ryan MacInnis
The Coyotes were 0 for 2 on the power play, and are 3 for 32 over their last 14 games. The Kings have allowed just four goals in 57 short-handed situations over their past 22 games.
"It's something that we're always trying to get better at, and something that you need to have going well if you're going to have success this time of year and in the postseason," Quick said.
NOTES: Kings radio analyst Daryl Evans, who scored the postseason overtime winner against Edmonton in 1982 at the Forum that will forever be known as the "Miracle on Manchester," completed Sunday's Los Angeles Marathon for the sixth time in the last 12 years. ... Kings C Jarret Stoll missed his second straight game because of an upper-body injury. ... Oliver Ekman-Larsson of the Coyotes is the only defenseman in the league that is leading his team in goals (17). The first one came in overtime against the Kings on Oct. 11 in the Coyotes' second game of the season. ... Coyotes C Kyle Chipchura played in his 400th regular-season game.
---
---