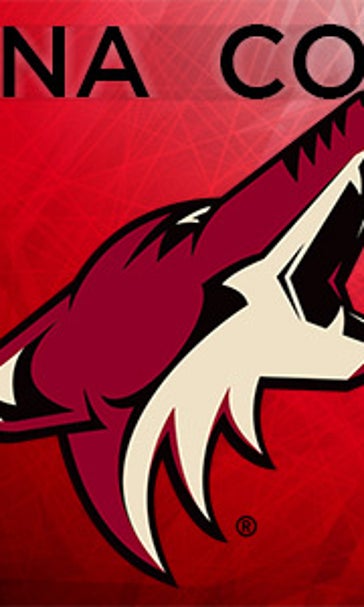 Coyotes' minor-league team in Tucson wins conditional approval
May 10, 2016

The Arizona Coyotes' purchase of the Springfield Falcons American Hockey League franchise for the purpose of relocating the team to Tucson was unanimously granted conditional approval by the AHL's board of governors on Tuesday.
Should all conditions of the transaction be met, the Coyotes' AHL franchise will begin play this fall at the Tucson Convention Center Arena. The Tucson city council is expected to vote on a deal with the Coyotes later this summer.
"We are very pleased that the American Hockey League's Board of Governors today unanimously approved the transfer of ownership of the Springfield Falcons AHL franchise to the Arizona Coyotes as well as the relocation of that franchise from Springfield, Massachusetts to Tucson, Arizona beginning with the 2016-17 season," Coyotes President and CEO Anthony LeBlanc said in a statement. "We will continue to work with the City of Tucson to finalize an arena lease agreement in the near future."
Coyotes head coach Dave Tippett, speaking with the media last week at the announcement of John Chayka as the team's new general manager, said relocating the organization's top farm team 120 miles away would have significant advantages for the Coyotes.
The proximity of the two teams would create an added level of roster flexibility that the Los Angeles Kings, Anaheim Ducks and San Jose Sharks have enjoyed by having minor-league affiliates based in California.
"It's a huge benefit," Tippett said. "Especially when you've got young players, you'd like to flip somebody out for another guy. Sometimes you're sending a message, sometimes you're just looking at a guy.
"We never had the ability to do that. To have depth so close, where you can keep track of each other, watch each other's games every night, it's a benefit we haven't had. Talking to people out here on the West Coast (who have nearby minor-league franchises) -- it wasn't just a benefit, they can't believe how much of a benefit it was.
"In that respect they were all ahead of us, and now we're on a level playing field."
---
---