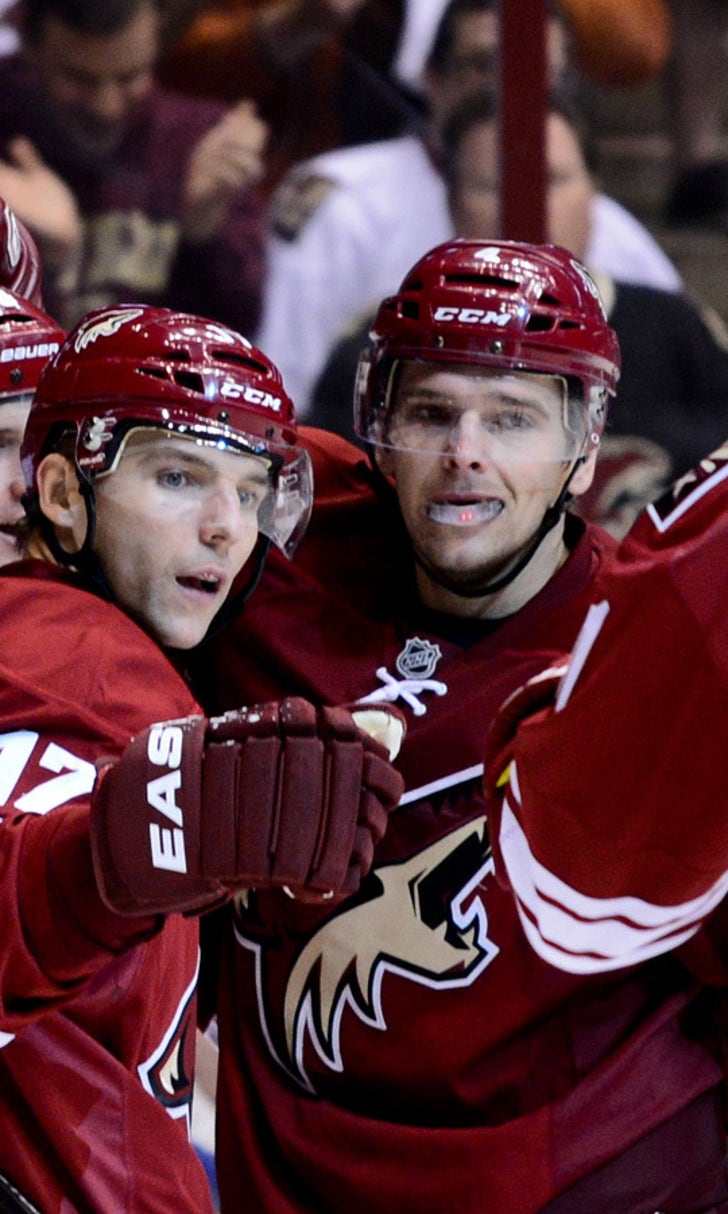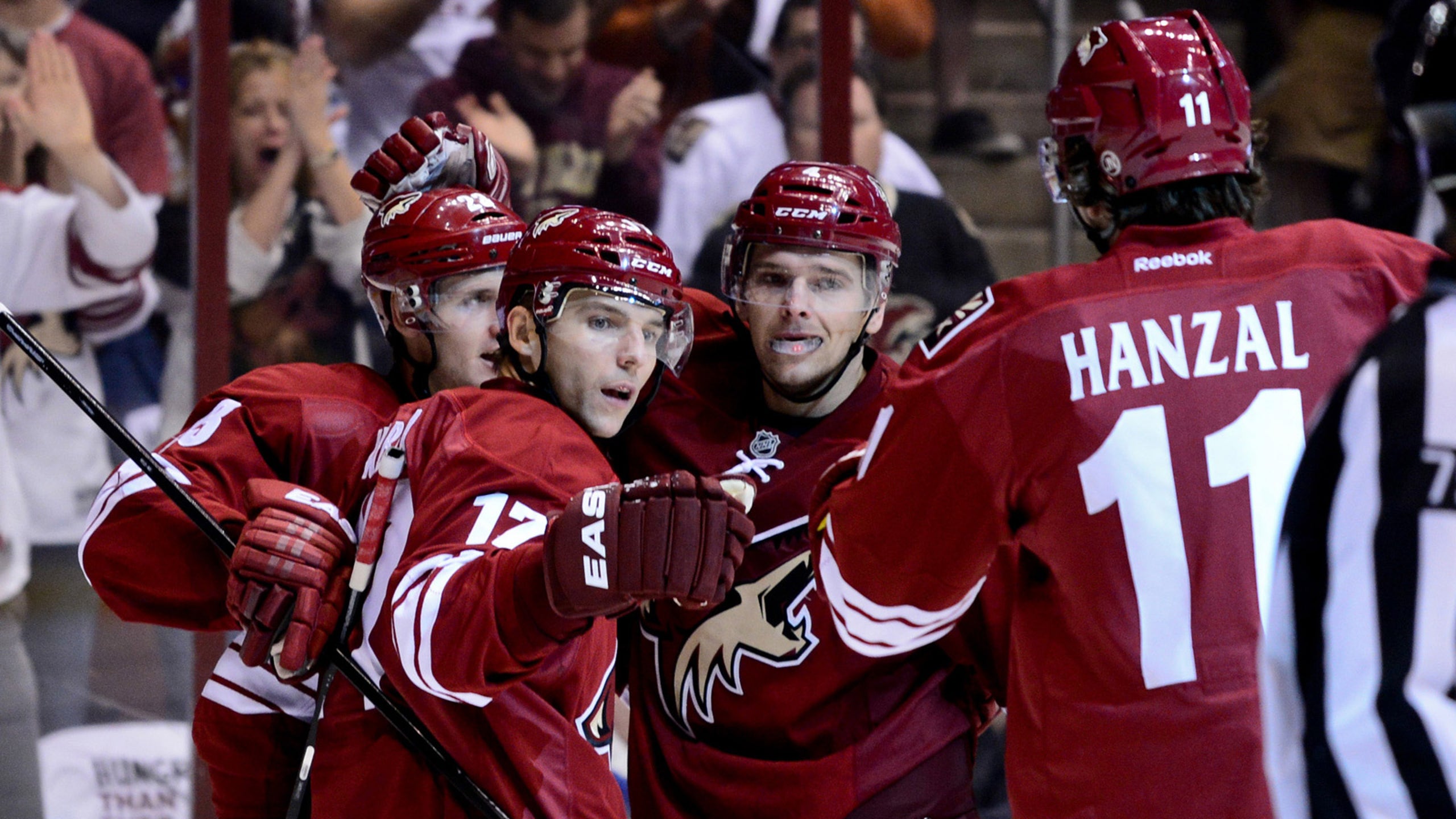 Coyotes hit ground running with 'tough' practice
BY foxsports • February 19, 2014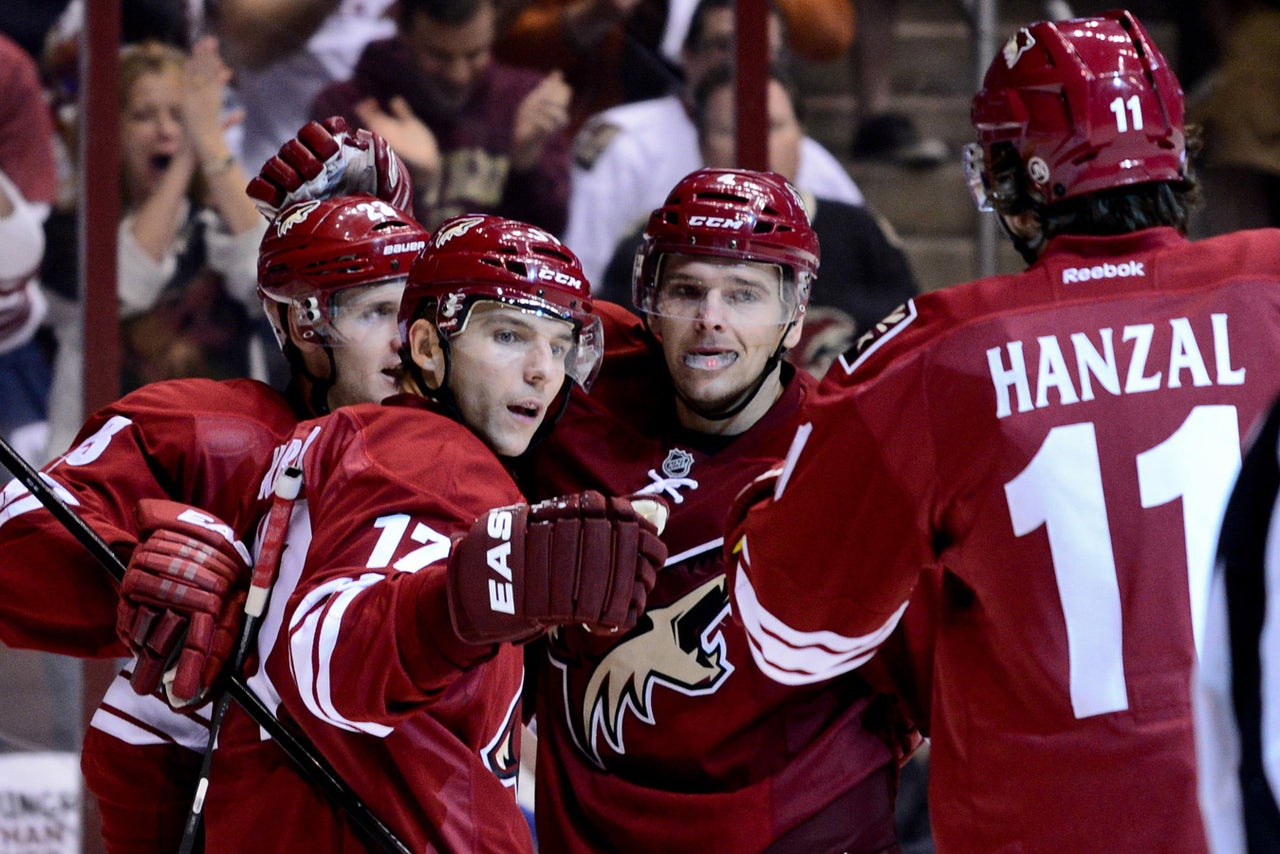 GLENDALE, Ariz. -- The Coyotes resumed practice on Wednesday, after a 10-day layoff. The goal for coach Dave Tippett was simple.
"The plan today was to make them very tired and it didn't take a lot to do that," Tippett said. "It's a very unique situation where even when they come to training camp in the fall they've been skating right up to a day or two before. They come into camp and they're in great shape. Very few times do you say 'let's shut everything down for 10 days.'"
The layoff was apparent at Jobing.com Arena. Many players were doubled over or gasping for wind after a practice that was heavy on conditioning; light on technique.
"You want to come back and get going," captain Shane Doan said. "But you're not looking forward to today because Tip made it a tough one."
That will more or less be the plan the next few days until the Coyotes' Olympians return, giving the team a full complement of players.
The team skated with just three forward lines and the defense was without three of its top four players because Oliver Ekman-Larsson and Zbynek Michalek are still in Sochi, Russia while Derek Morris is still out with an upper-body injury.
When the team reconvenes as a whole, Tippett and his staff will be able to implement some of the tweaks they discussed over the break as the Coyotes hit the home stretch of the season.
"You're in a 24-game stretch now that is going to be very intense. Everybody's going to come back rested, ready to go," Tippett said. "If you're not willing to give everything you have every night in all the aspects of the game we need, then we need to find somebody else to do it better or do it longer."
NEEDED REST FOR DOAN
Doan will probably deflect questions about the impact of his illness (Rocky Mountain Spotted Fever) until the end of the season; taking the player's stance that if he's in the lineup, he has to produce.
But Tippett addressed the value of this 10-day break for Doan, who even looked more rested when he addressed reporters.
"The rest and the refocus has been very good for him," Tippett said. "He had the illness, all of the sudden jumped back in and this was like a whirlwind. This is really the first time he could catch his breath and get his body organized. Hopefully, that gives him a big boost for these last 24 games."
Since returning from a month-long absence on Jan. 4, Doan has three goals and five assists in 18 games. In the 27 games before the illness struck, he had 12 goals and 11 assists.
GORMLEY JOINS FRAY
Coyotes general manager Don Maloney said last week that the team would recall defenseman Brandon Gormley from Portland of the American League. That's exactly what happened on Tuesday, Gormley's 22nd birthday.
"Any time you get a chance to showcase your game you've got to take advantage of it," Gormley said. "You only get so many opportunities."
Gormley leads all Portland defensemen (he's fourth overall on the team) with six goals and 32 points. He's logged heavy minutes for the Pirates in all situations. That's partly a product of the team's faith in him; partly a product of the numerous call-ups of other defensemen to Phoenix that have left the Pirates short-handed.
Tippett thinks Gormley has played too many minutes at times, comparing it to the team's use of Ekman-Larsson earlier this season. 
"He plays so much that he's not playing at 100 percent; he's resting in the game," Tippett said. "If he plays less minutes he can be a more efficient player."
Gormley plays the left side and will get a good look on the team's third pairing, which is still unsettled. The coaching staff, which takes a win-now approach, still wants a shutdown left-handed defenseman for the pairing while Maloney, who also has to consider the team's long-term interests, believes the team can succeed with its existing pieces.
If the latter is the case, Gormley appears locked in a battle for that spot with David Schlemko and Chris Summers, who is expected to be recalled on Thursday.
MORRIS ON MEND
Morris missed practice Wednesday with a lingering upper- body injury that kept him out of the last two games before the break, but Tippett hopes to see him back on the ice in the next few days.
Follow Craig Morgan on Twitter
---