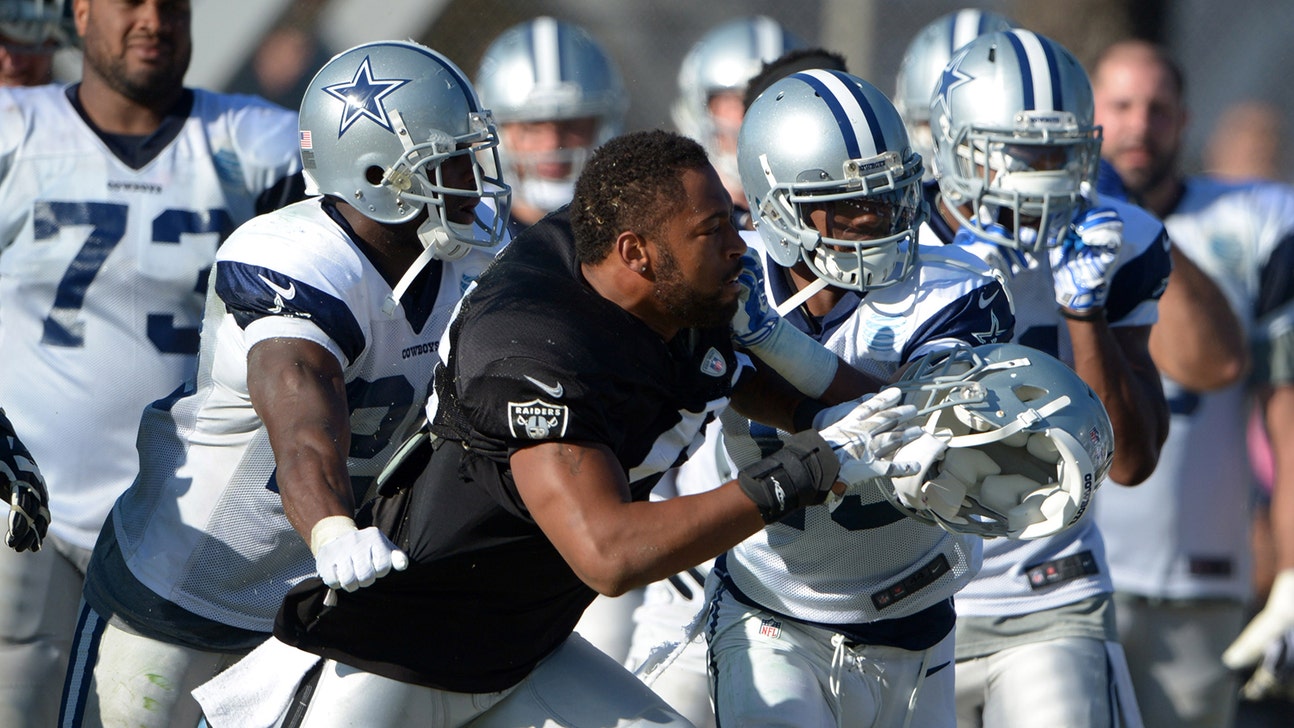 Cowboys, Raiders brawl during joint practice
Published
Aug. 13, 2014 1:42 a.m. ET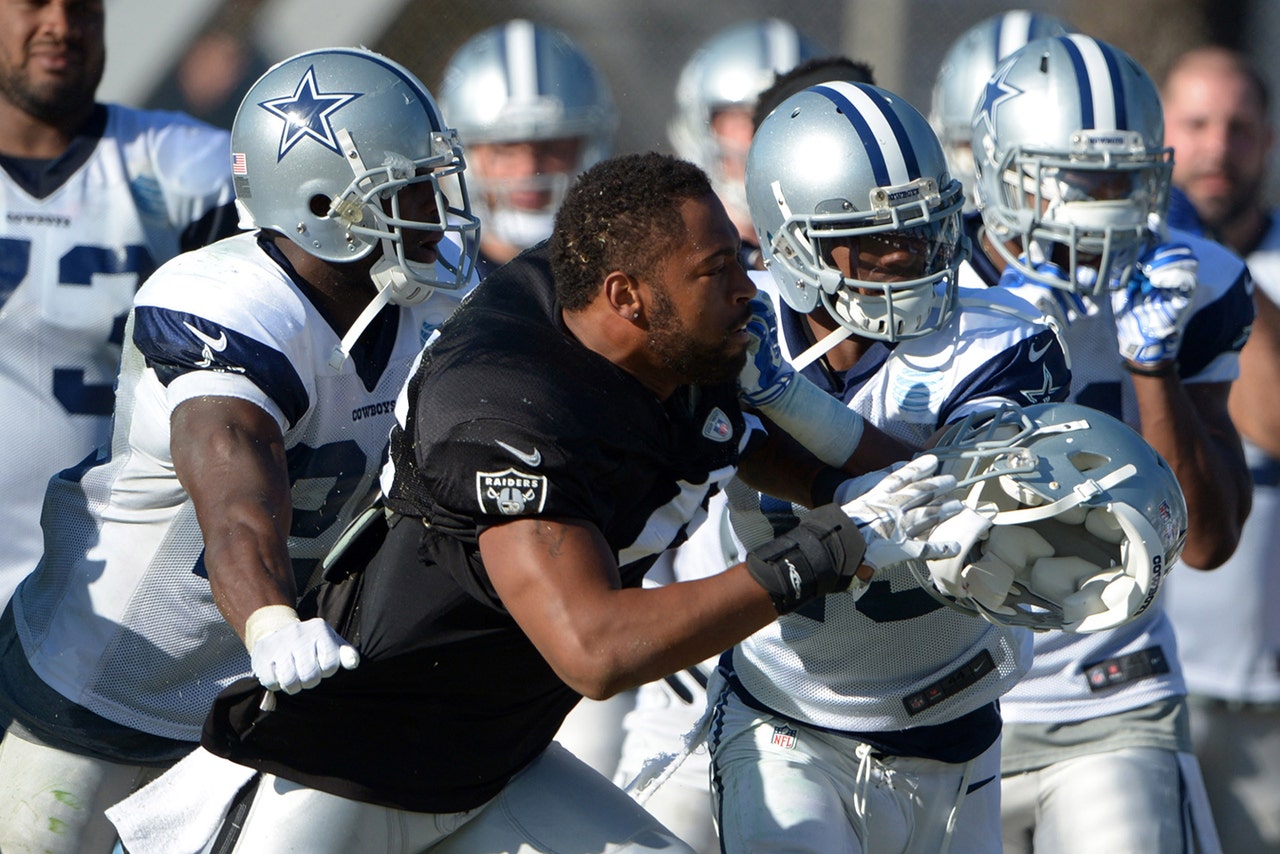 OXNARD, Calif. - It was the Raiders. It was the Cowboys. It was inevitable.
The Cowboys' joint practices with the Oakland Raiders were guaranteed to produce a brawl or two. Too much adrenaline, too much testosterone, too many jobs and paychecks at stake.
And then there is the audience, the passionate Cowboys lovers and the violently passionate Raiders Nation, 8,326 folks total, spurning it all on ...
Spurning it on by reaching across the barricade that separates the dangerous players from the even more dangerous fans, enraged Raiders fans swinging actual helmets at the heads of Mo Claiborne and B.W. Webb.
"That passion, that's mostly what I'd hoped what we would get out of getting these teams together," said Cowboys owner Jerry Jones.
Added Mark Davis, son of the late Al Davis and now owner of the Raiders: "That was fun. Nothing better than Raiders fans."
The first fight was triggered when Claiborne executed a form tackle of Raiders tight end Mychal Rivera - and was too physical in slamming Rivera to the ground.
Said Claiborne: "I just went for the tackle because he dropped his shoulder on me and it turned out a brawl."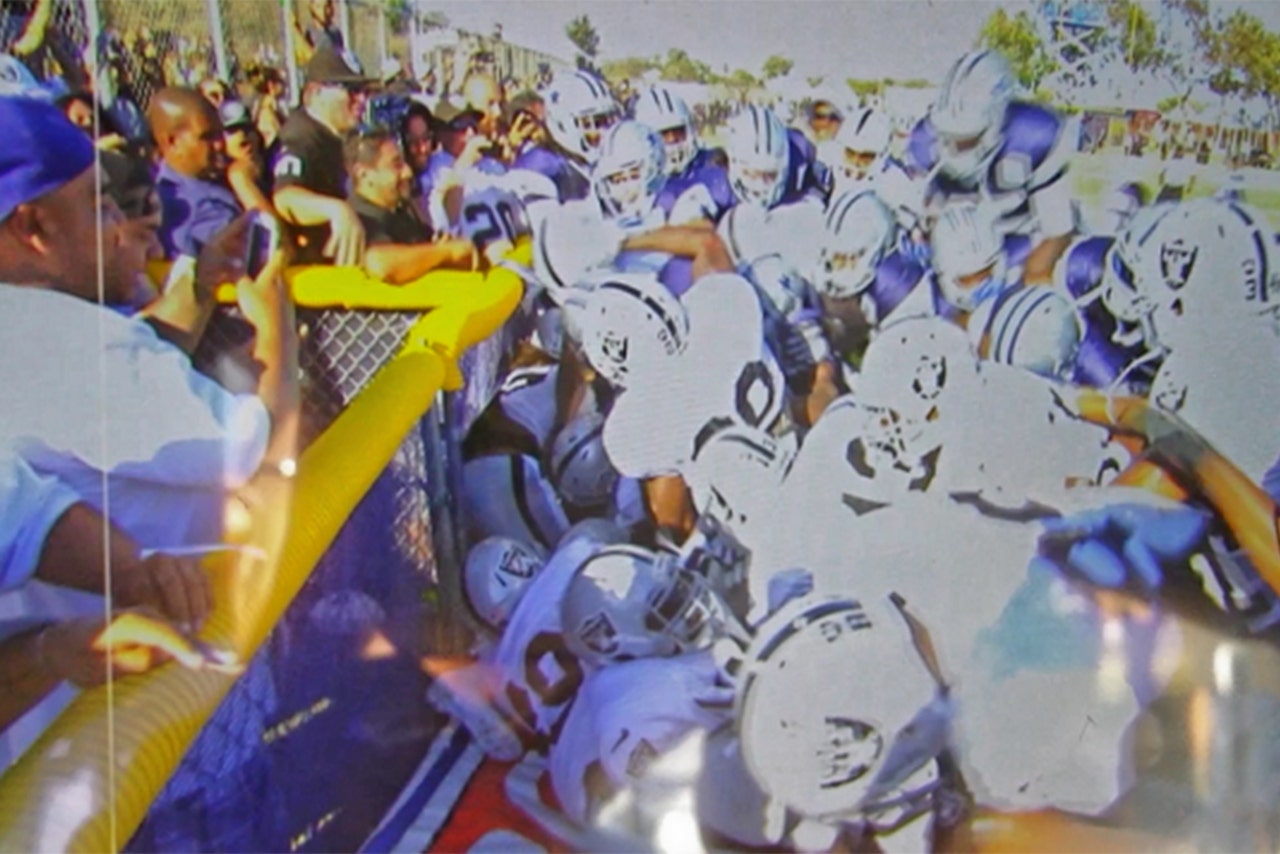 It was good to see Claiborne playing on that edge as he's battled tendinitis in his knee and sat out about a week. It was also good to see Webb leading the charge of Cowboys who rushed to Claiborne's defense.
"I just ran over making sure all my brothers are good," Webb said. "I've got all my brothers' back... Two teams going after it and happened to be some fans, too. Hey man, it happened. I wasn't expecting that. But whoever jumped on my back, I had to get them off. Hey, you got to let them know, man, the only thing protecting you is this fence."
Cowboys offensive players on the adjoining field saw the melee and also hurried to the side of Claiborne and Webb ... but later the Cowboys offense involved itself in another team-wide fight and that ended the practice.
Said Jones of the practice with Raiders, which resumes Wednesday morning: "This was great, the enthusiasm, the atmosphere. It's hard to believe this was a practice."
But it's not hard to believe it was a brawl.
---