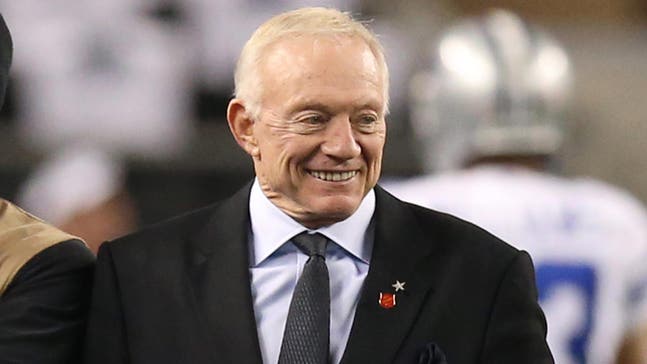 Cowboys pass on a bauble to stay true to board
Updated
Mar. 4, 2020 9:27 p.m. ET

IRVING, Texas -- Given Jerry Jones' well-earned reputation for toy collecting, it's easy to assume that his Thursday night draft-room roller-coaster experience was all about the chance to select Johnny Manziel (yea!) and all about his lieutenants convincing him to pass on the shiny bauble that is the Texas A&M quarterback (aww).

 

But no.



When the marketing-minded owner was face-to-face with the chance to team up with Manziel -- and all ticket sales and T-shirt printings and pizza commercials the Jerry/Johnny marriage would've spawned – Jones did not blink.

 

The Cowboys stayed true to their board (a cardinal rule too often violated at Valley Ranch) and grabbed their higher-rated player remaining, Notre Dame offensive lineman Zack Martin.

 

"He's everything you want," coach Jason Garrett said of Martin. "Someone referenced him as one of the safest picks in the draft. And that's a compliment, but we don't see him as safe. We see him as a damn good football player."

 

Manziel might be that, too. After he slid past Dallas at 16 – and after the Cowboys found trade-down offers for the spot unacceptable -- Cleveland landed Manziel. So the Browns get to sell tickets and pizza (and maybe win games). Meanwhile, in Dallas, somebody seems to have convinced Jones that the best marketing tool of all is the building of a winning team.

 

That somebody could be newly-elevated personnel man Will McClay, who along with Garrett obviously has Jones' draft-room ear. Or that somebody could be a Jones confidante from another generation.

 

Said Jones: "John Madden once told me …  'Jerry, the Cowboys have all the flash, have all the visibility that you could ever conjure up. Make your decisions, get the best players and coaches that win the games. You got all the rest you'd want. You don't need to have big-time flash to be involved in the NFL and be successful in the league.'''

 

"I've always remembered that. No, frankly, (picking Manziel) wasn't even a thought. This was such an obvious football … decision."

 

That's likely an exaggeration; Manziel was on Dallas' board somewhere in this range. That allows time for a "thought.'' And eventually – in this draft in Rounds 2 and below, or in some future draft, the Cowboys will need to address the search for a Tony Romo replacement.



But for now?



"Romo, by contract as well as by commitment, is going to be certainly the quarterback for several years to come," Jones said. "Don't care who we drafted, that's the way it was going to be. So that's what was going through our minds. That's why we didn't spend a lot of time considering Manziel."

 

So instead it's Martin, who has the look and feel of a "Garrett Guy.'' (Handy thing in the coach's final contractual year.) Martin was a four-year starter at Notre Dame and a two-year captain. He will begin his Dallas career as a guard but could eventually slide over to right tackle. … and suddenly the Cowboys have constructed themselves an offensive line featuring a trio of No. 1 picks, Martin joining Tyron Smith and Travis Frederick.

 

"One of my biggest strengths, I think, is my versatility,'' Martin said. "So like I told them, I'm willing to play anything, and anything they need me to do to help the team is what I'm willing to do."

 

If there was disappointment in Dallas' draft room – and there was – it was due to a handful of other players ranked more highly than Martin who went before 16. That was true with Anthony Barr, Aaron Donald, Odell Beckham and, in a development that clearly causes some long faces, linebacker Ryan Shazier going to Pittsburgh one spot ahead at 15.

 

So ... is  this too many premier-round offensive linemen for the Cowboys? What a weird take; just 12 months ago, Dallas was being ripped for having too few.

 

Is that a move that ignores defensive line need? On Friday comes Round 2 of the draft, with Dallas selecting 15 picks in with pinpointed targets like defensive tackle Timmy Jernigan and defensive ends Demarcus Lawrence, Scott Crichton and Kony Ealy still available.

 

Are all involved prepared for the heat that will inevitably come to the Cowboys and Martin because they are the marriage partners instead of Manziel being involved?
"That's fine by me," Martin said. "I can live up to that."
---