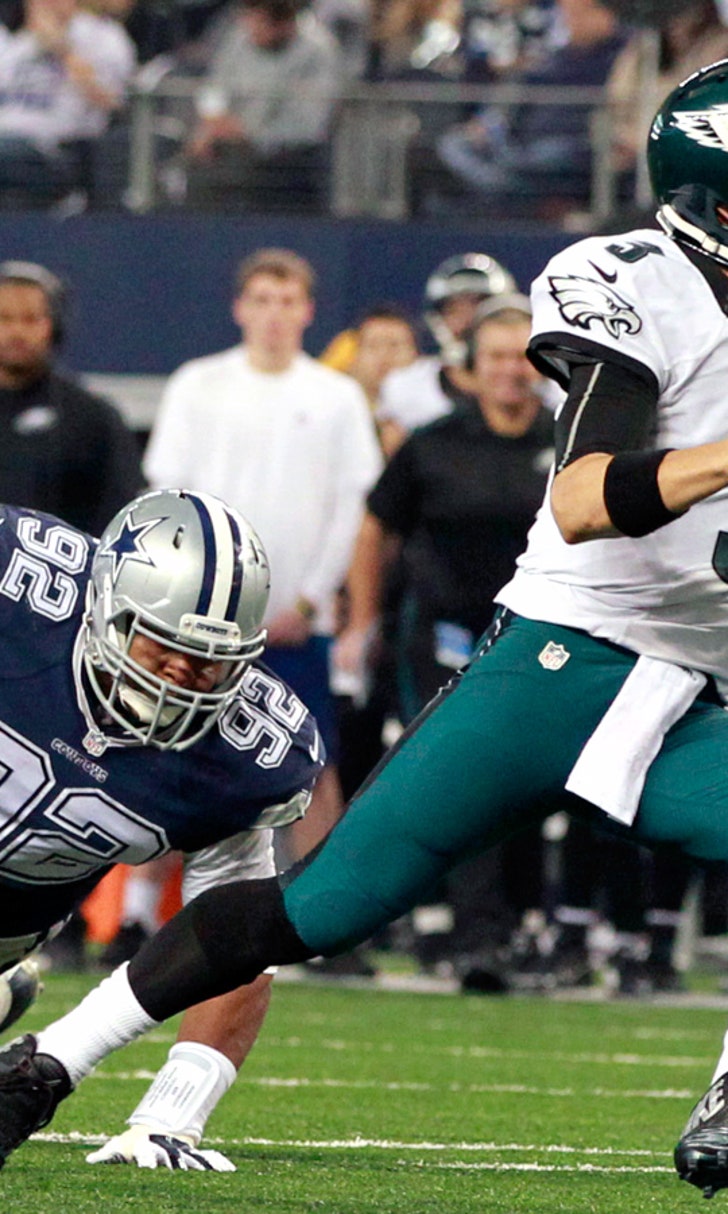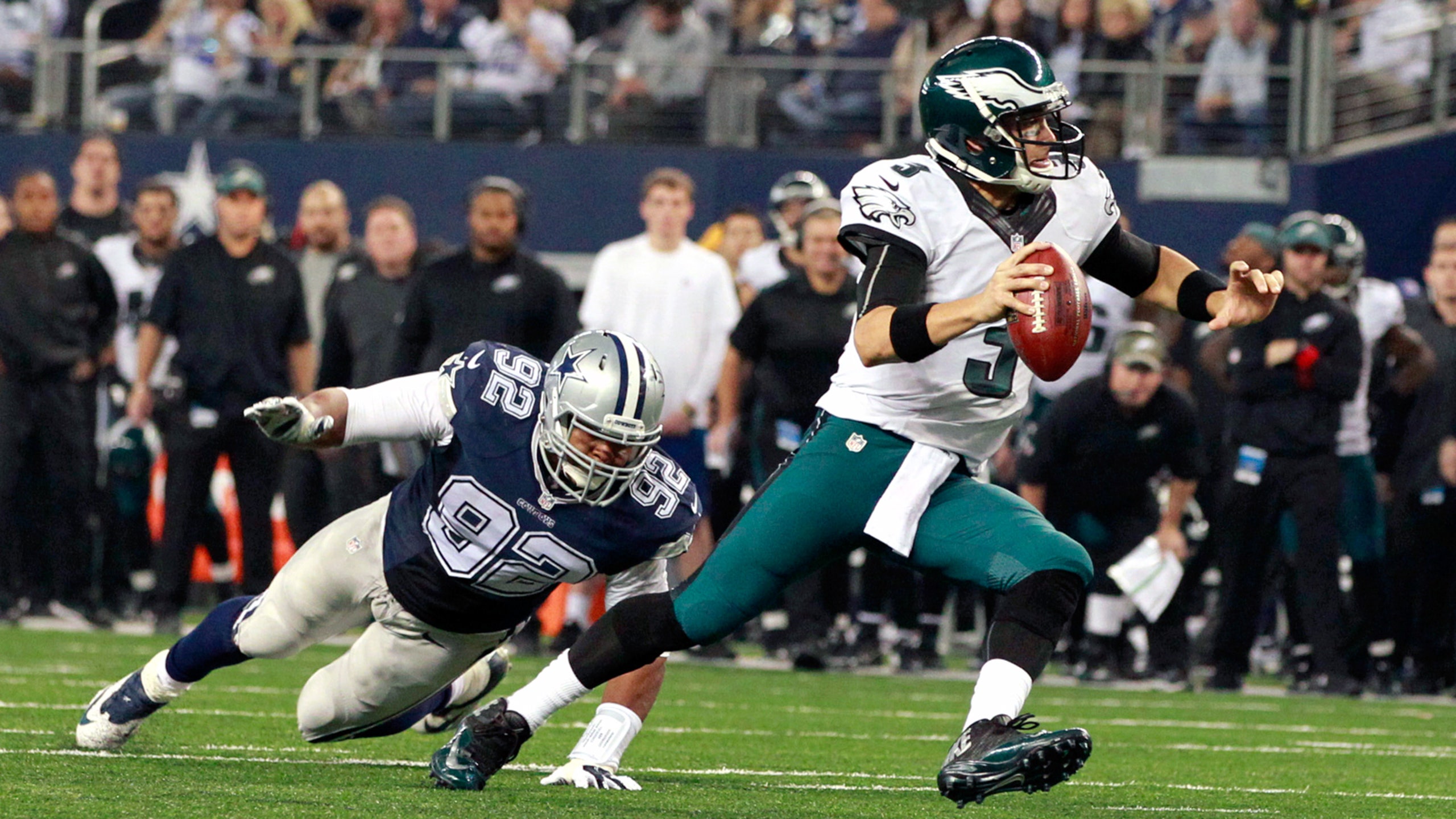 Cowboys can't wait to face the Eagles again
BY foxsports • December 9, 2014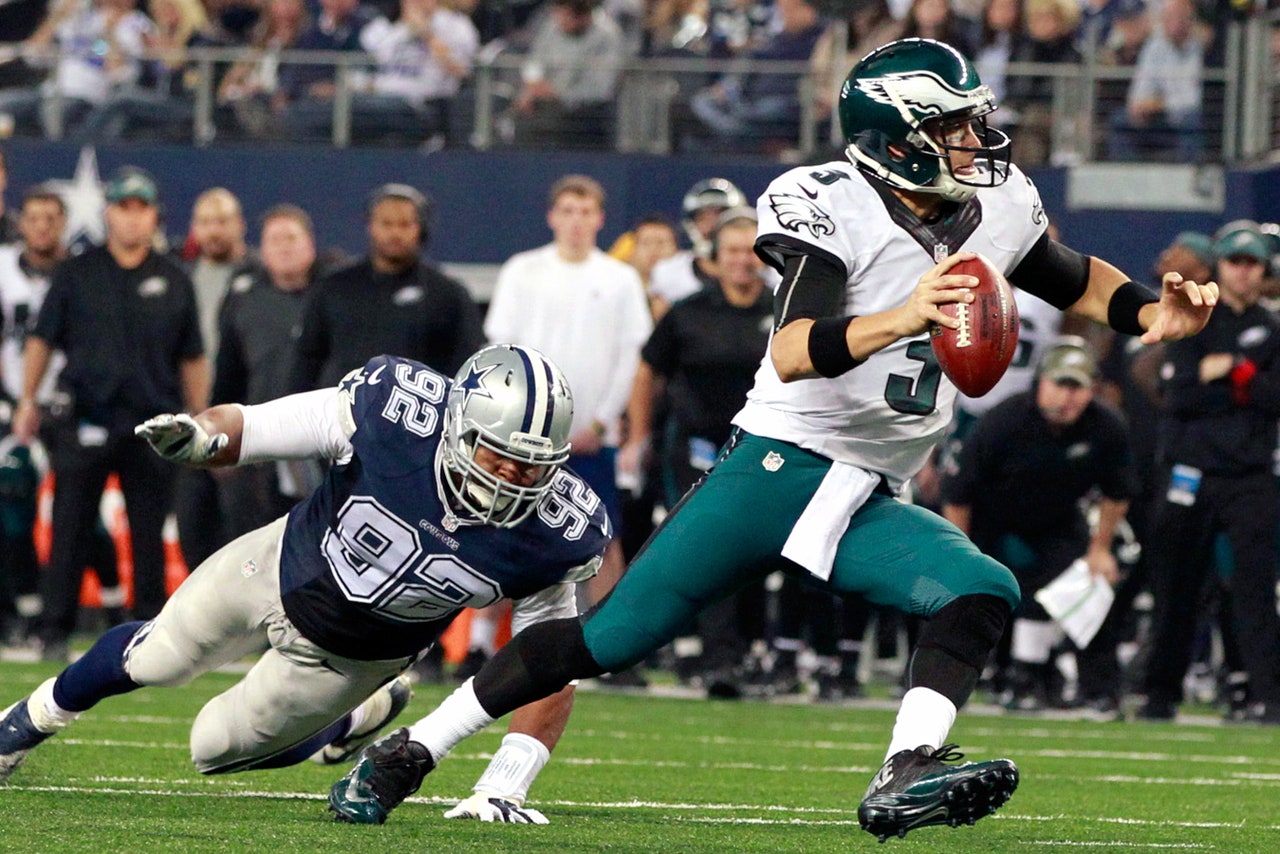 IRVING, Texas –€" Things didn't turn out so well for the Cowboys the last time they faced the Eagles, just a couple of weeks ago on Thanksgiving.
Rather than be wary of another encounter with Philadelphia, the Cowboys are chomping at the bit to get another shot at the Eagles.
"It can't come fast enough, man," defensive end Jeremy Mincey said Tuesday. "I wish we could play tomorrow. We just need a little more time to game plan and prepare, and we'll be fine."
The Cowboys weren't fine when they got steamrolled by Philadelphia, 33-10, on Thanksgiving.
Mincey said his teammates are so eager to right the wrongs of that first encounter with the Eagles that they ignored the sacred "one game at a time" motto last Thursday.
"They're excited for this game, that's all we've been talking about," Mincey said. "Even during the Chicago game, I had to [say], 'Hey hush, man. We've got to finish beating Chicago and then we'll get to, you know.'"
A win over Philadelphia on Sunday night would give the Cowboys sole possession of first place in the NFC East with two games to go. The teams are currently tied at 9-4.
But to the Cowboys' players, playoff positioning and tiebreakers seems to be taking a back seat to the personal issue of getting embarrassed by the Eagles last time.
"We didn't play Cowboy football that day, and I think all the players in this locker room know that," offensive guard Ron Leary.
"They got us the first time. Now we need to go up there and handle business. And we'll do that."
FOX SPORTS DAILY
COWBOYS EDITION
Cowboys News To Your Inbox!
*By clicking "SUBSCRIBE", you have read and agreed to the Fox Sports Privacy Policy and Terms of Use.
This time around, the Cowboys have the benefit of studying the tape of the Eagles' last game, a 24-14 loss to Seattle. Not so much that Seahawks provided a blueprint for beating the Eagles, but watching how Seattle played emphasized the mistakes the Cowboys made against Philadelphia.
"Seattle did a great job of setting the edge," Mincey said. "And they were disciplined, they weren't over-aggressive. They just got to where they needed to go, sat there, waited, and then guys pursued. That's how you win games, gap sound and pursuit."
The Eagles ran for 256 yards and two touchdowns in the first meeting. Mincey said much of that was the result of the Cowboys lacking the poise and discipline to contain the slippery LeSean McCoy.
"You would dominate your man and then you peek inside, and that little bit of [lack of] discipline, it was costing us big chunks of yardage," Mincey said. "You've just got to remember what type of player you're dealing with and you've just got to be focused. Once you get in your lane, you stay in your lane and you don't move until the play's over. I think we get it this go-round."
The Cowboys will also be more experienced at facing Philadelphia's up-tempo offense. The Eagles' tempo disrupts a defense's communication and limits substitutions.
For the Cowboys, the tempo led to the Eagles getting big gains on first down, which in turn limited what Dallas could do on third down.
"There's two different types of tempo, there's teams that play fast and teams that get lined up fast. It had a little bit of both," linebacker Anthony Hitchens said.
"Overall I think it was just more of us not getting lined up, not playing Cowboys football. We've just got to get back to that. Everyone has to be on the same page. If not, with that tempo, one guy messes up and it's an 80-yard touchdown."
The way Mincey described the Cowboys' mood at their Valley Ranch practice facility, it will be Dallas that is operating at a high speed on Sunday.
And unlike on Thanksgiving, the Cowboys will be rested after getting the weekend off following Thursday's win in Chicago.
"I don't know, there's a different type of energy around," Mincey said. "I don't know if it was the break or what, but I can see the energy.
"Guys are ready to get back to work, are willing to work and willing to sacrifice things that guys usually don't sacrifice, time and going out and certain things. Everybody has focused up and put a lot of stuff to the side so we can focus on our main goal, that's to win these games."
Follow Keith Whitmire on Twitter: @Keith_Whitmire
MORE FROM FOX SPORTS SOUTHWEST: 
- Ranking NFL quarterback salaries
- Wake up! Athletes caught sleeping
- College football teams that wish there was a playoff
- Oldest player on every NBA team
---