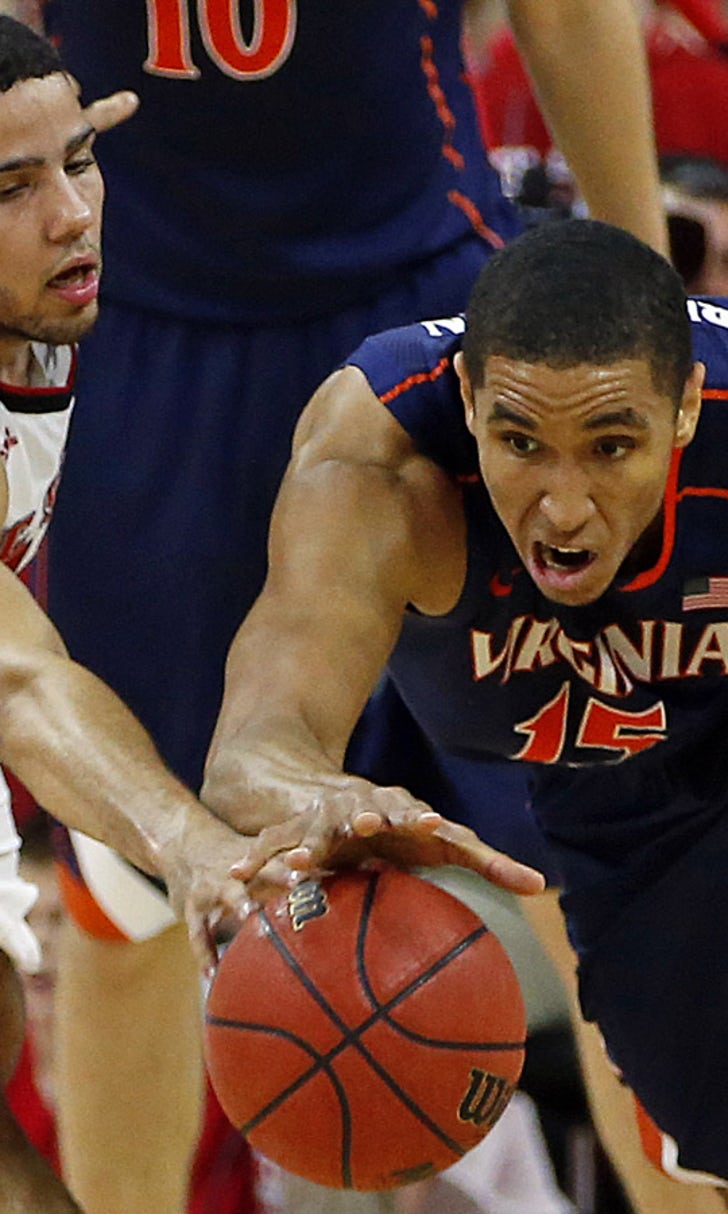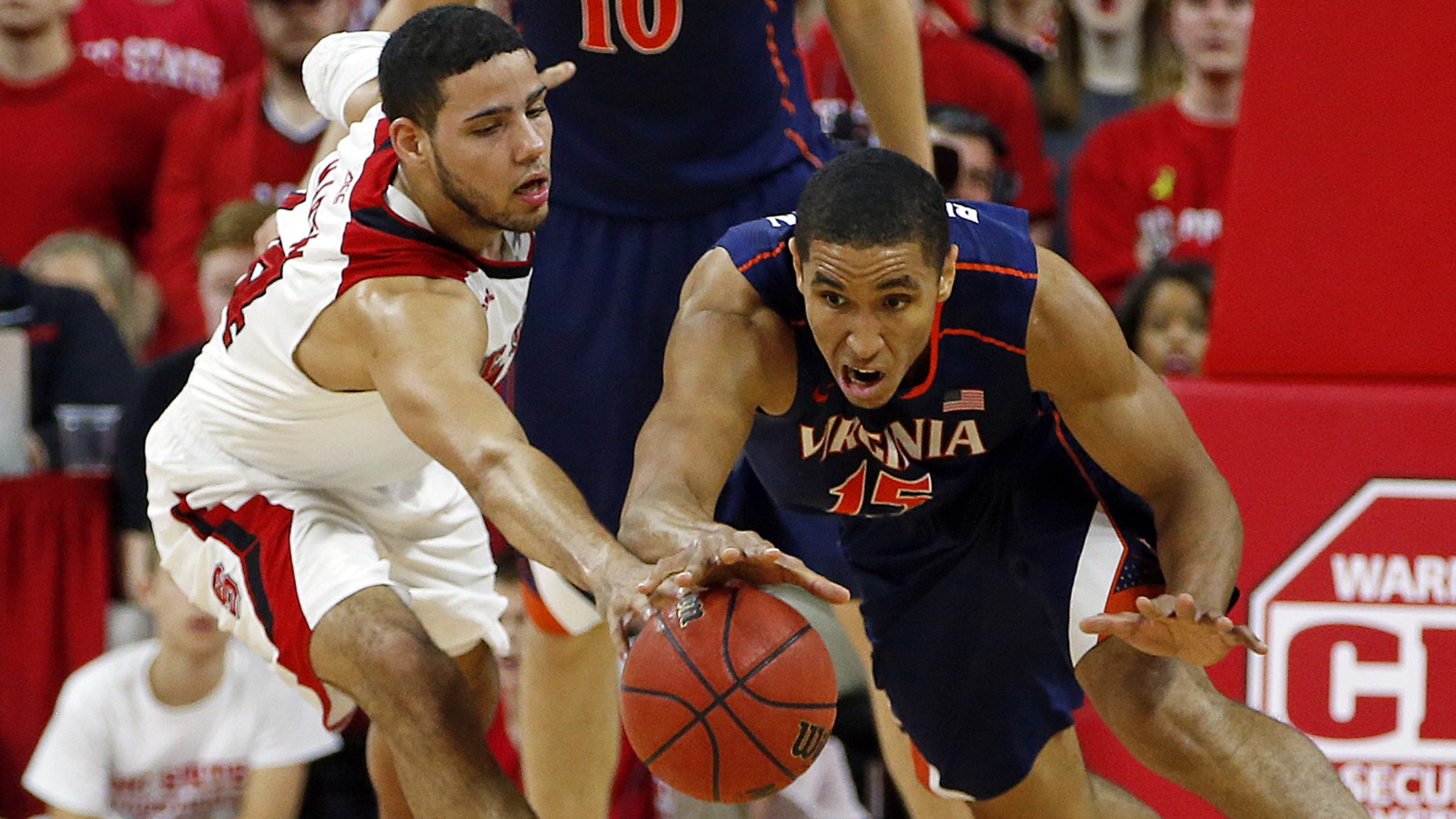 Court Vision: Without Anderson, No. 2 Virginia holds off NC State
BY foxsports • February 12, 2015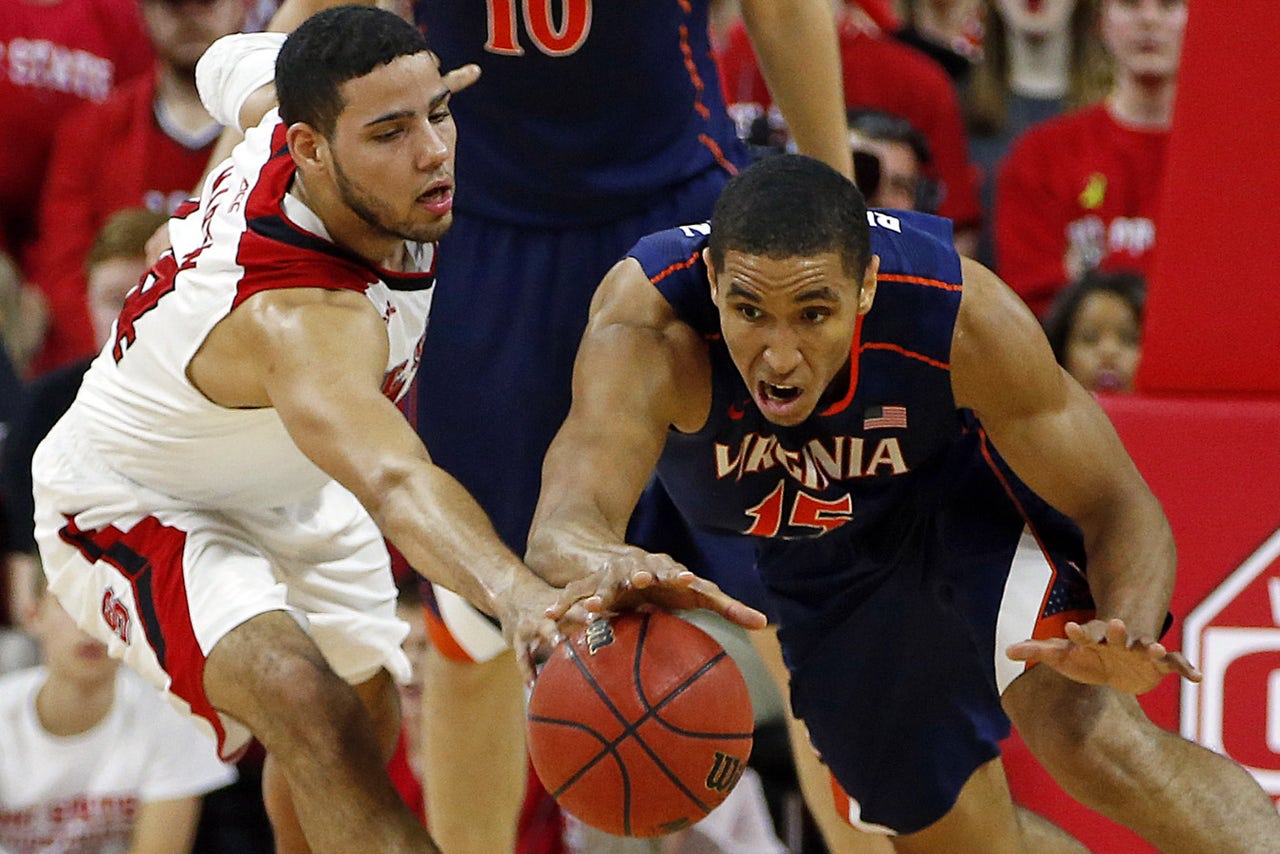 RALEIGH, N.C. -- The old saying is that it's better to be lucky than good. No. 2 Virginia (22-1, 10-1) has been both at times this year, and in an ugly 51-47 win at N.C. State (14-11, 5-7), the Cavaliers were more lucky than good. But they'll certainly take the final result. 
1. Life without Justin Anderson is still a work in progress for Virginia
It was announced last Saturday night that junior guard Justin Anderson broke his left pinky finger and would be out 4-6 weeks. Anderson was Virginia's leading scorer and having a breakout season; he and fellow junior guard Malcolm Brogdon were anchoring arguably the best backcourt in the ACC.
Now, Virginia will be without Anderson until at least the ACC Tournament, if not later. And they're going to have to learn to make do.
"I thought we actually handled it pretty well. It's a chemistry thing, getting it back together, and when you lose one of your key players," Brogdon said. "I thought we made good plays. I thought we shared the ball really well tonight. I thought people made big shots and big stops, so I thought we adjusted well."
It was an ugly win, but it still counts as a win, and it was big for the Cavaliers to prove to themselves that they could do it.
"I think it's a confidence-booster for us, because he's a great player, obviously. But I think it's a big confidence-booster for the guys that are stepping into his spot, just knowing that they can play and that we can win with them," junior center Mike Tobey said.
Evan Nolte, a 6-foot-8 junior, started in Anderson's place but didn't take a shot in the first half in nine minutes of action. Freshman Marial Shayok played seven first-half minutes (11 for the game) at that spot and finished with no points on 0-of-3 shooting. 
Nolte finished with three points (making one of Virginia's two 3-pointers) and added an assist, a steal and a block in 24 minutes. But it's not so much the stats he contributes as how well he plays and how well he can mesh with his teammates. 
"Actually, we wanted him to shoot some more. We were getting a little bit mad at him because he's been -- he hasn't been shooting the ball well as of late, but that's what he's known for, to be that guy to be able to shoot that ball," junior point guard London Perrantes said. 
"We got on him a little bit to shoot it and he came out and made a shot, but he's going to have to be aggressive offensively. We all are going to have to be to help fill the void for Justin. "
Anderson was arguably missed was on the defensive end. N.C. State has three excellent guards, and while Nolte's length and experience was enough to bother N.C. State's Ralston Turner and Brogdon did a good job on Trevor Lacey, Perrantes guarding N.C. State's speedy sophomore point guard Cat Barber was not as good a matchup.
The 6-6 Anderson spent a lot of time on him in Charlottesville, and without him, Barber got to the basket a lot more (even though he finished 5-of-14). 
"Whatever you want to say," Virginia head coach Tony Bennett said about the defense on Barber. "I said after the game, he is so quick, (Barber) is. That's where Justin's length and sitting down and his size -- I challenged, I said to (Devon Hall and Perrantes) after, I said, 'You guys, I hold you guys in such high esteem and we work so hard on our slides, you guys are better than that.' 
"Credit to Anthony, but also, they can be better than that. We got out of position a little bit or we didn't get enough cushion. Once he gets a little shift, boom, he's at the rim. I thought we weren't great. I thought that was poor and we'd better shore that up. Justin did do a good job on him at that game in our place."
More often than not, Virginia's offense had seemed silky smooth -- deliberate, but smooth, and with good ball movement and spacing. In the first half of this game, it seemed as if they had all just met each other at times. And nearly a third of Virginia's shots were 3-pointers in the first half (they were 1-of-8).
"I thought we were a little out of sync early. I thought in the second half, the ball did move better. But we were having a hard time getting a rhythm," Bennett said. "I always go back and look -- was it a quality look? I thought there was a few times in the first half we maybe took a shot, a good shot, and could've gotten a better one. I thought we were better in the second half."
It's going to be rough at times, but five of Virginia's final seven games in the ACC are against teams that Ken Pom ranks 95th or worse. That doesn't mean all of them are guarantees, but it gives them more of a cushion to figure things out without Anderson, still win the ACC regular season and get it going come postseason play when he returns.
"I think every game is going to give us more confidence, give us more rhythm, give us more gel, I guess, as a team, especially now that (Nolte) is in the starting lineup and other people are getting more involved," Perrantes said. "It's definitely going to help. Every game is going to help. Every practice is going to help. We've just got to keep moving forward."
2. The Cavaliers' bigs really stepped up
Virginia's big men have had their moments this season, but the heart of this team's offense has always been its guards. Anything from the bigs is gravy. But Brogdon and Anderson have been the go-to guys. 
Bennett thought that the second-half offense should go through his big men, particularly Tobey and Anthony Gill, who had a combined four points and nine rebounds at the half on 2-of-6 shooting.
In the second half, it did. And Virginia improved its shooting to 41.7 percent in the second half (from 33.3 percent in the second) and took 21 of its 24 shots from two-point range as opposed to 19 of 27 in the first half.
Gill and Tobey finished with a combined 20 points and 20 rebounds -- Gill had 11 rebounds and Tobey had nine, while Tobey had 11 points and Gill had nine (on 5-of-10 shooting between the two of them).
"They didn't trap as much in the second half and we decided that we needed to try to go inside and be on the glass and be a little more patient. That's what we were talking about. In the first half, we were taking the first available outside shot, which is okay if a guy's got it going a little bit," Bennett said. 
"But I think we were maybe a pass or two away from a nice inside touch, wearing them down a little more, because we have to do that with the way we are. It's kind of how we play, but even in this case more so."
Someone's got to make up the scoring that Anderson provided. And Tobey -- who's been inconsistent at times -- and Gill both stepped up to provide it.
What stood out more to Bennett, though, were their tough plays. Tobey in particular has been a bit more of a finesse player at times throughout his career and he pulled down tough boards in traffic amongst N.C. State's bigs. 
When heard about the final combined stat line of he and Gill, Tobey laughed. "That's awesome," he said. "I didn't know that." 
"You should do that in every game," quipped a reporter.
"That would be good," he said, still smiling.
"(Tobey) had a real tough defensive rebound. It was kind of a scramble and he got reached behind him, but those are plays that need to be made," Bennett said. "We're always talking about making the plays offensively. Well there's tough catches, tough rebounds to make, a free-throw make, all of those things.
"Sometimes, that's all it takes for us and we're on a fine line right now. But this was a big win for us to come in here."
3. N.C. State is going to look back on some of these close ones at home against Top 25 teams with regret
For N.C. State now, that's four games against top 15 teams at home and just one win -- over No. 4 Duke. And those three losses have come by a combined nine points. One came in overtime. 
That's a few plays here or there that could have made the difference. One more of those wins, and N.C. State is looking at an almost-certain at-large NCAA Tournament berth for a fourth straight year.
Without Justin Anderson, this was a particularly good chance for a marquee win. And it seemed like N.C. State was right there most of the time.
"We defended them well enough to win," N.C. State head coach Mark Gottfried said. "We've just got to make some more shots. We're struggling a little bit from the 3-point line, went 3-for-17. A couple of those, we're pump-faking and hesitating and we've just got to rise up and shoot it."
This team is starting to press a bit at times. And how could they not? They're so close, and yet not quite there. Maybe they're even starting to doubt themselves.
It's tough to look at the entire season as coming down to a few plays here or there. But with just two big games left -- at Louisville on Saturday and at North Carolina -- there aren't many chances left to reverse that trend. There aren't many close games left.
"We're not going to hang our head. I'm proud of our effort. We're not that far off. We're close. We're right there. We don't need to reinvent who we are. We don't need to do drastic things. We've just got to get better, just a little bit better," Gottfried said, proceeding to detail the end of Duke at Virginia when the Blue Devils made shots -- shots that N.C. State did not make, including a relatively open layup with seven seconds left. 
But Gottfried won't lie to his team. He knows where they are. And where they are is in a precarious spot when it comes to making the Tournament -- and precarious is putting it kindly.
"I think every game is massively important. We know it. We don't have our head in the sand. We've put ourselves behind in a great way, and now we've got to figure out how to finish in a flurry. We know where we are," Gottfried said. 
"We've got very difficult games. It doesn't get any easier. The schedule's not going to get easier. But one thing we're not going to do is pout and make excuses and blame others. We're going to get better. That's the bottom line. That's got to be our objective."
50 percent -- Virginia rebounded half of its missed shots in the second half against N.C. State, pulling down eight offensive rebounds and turning them into seven second-chance points. 
9-8 -- That's the margin that Virginia beat N.C. State by in fastbreak points.
---