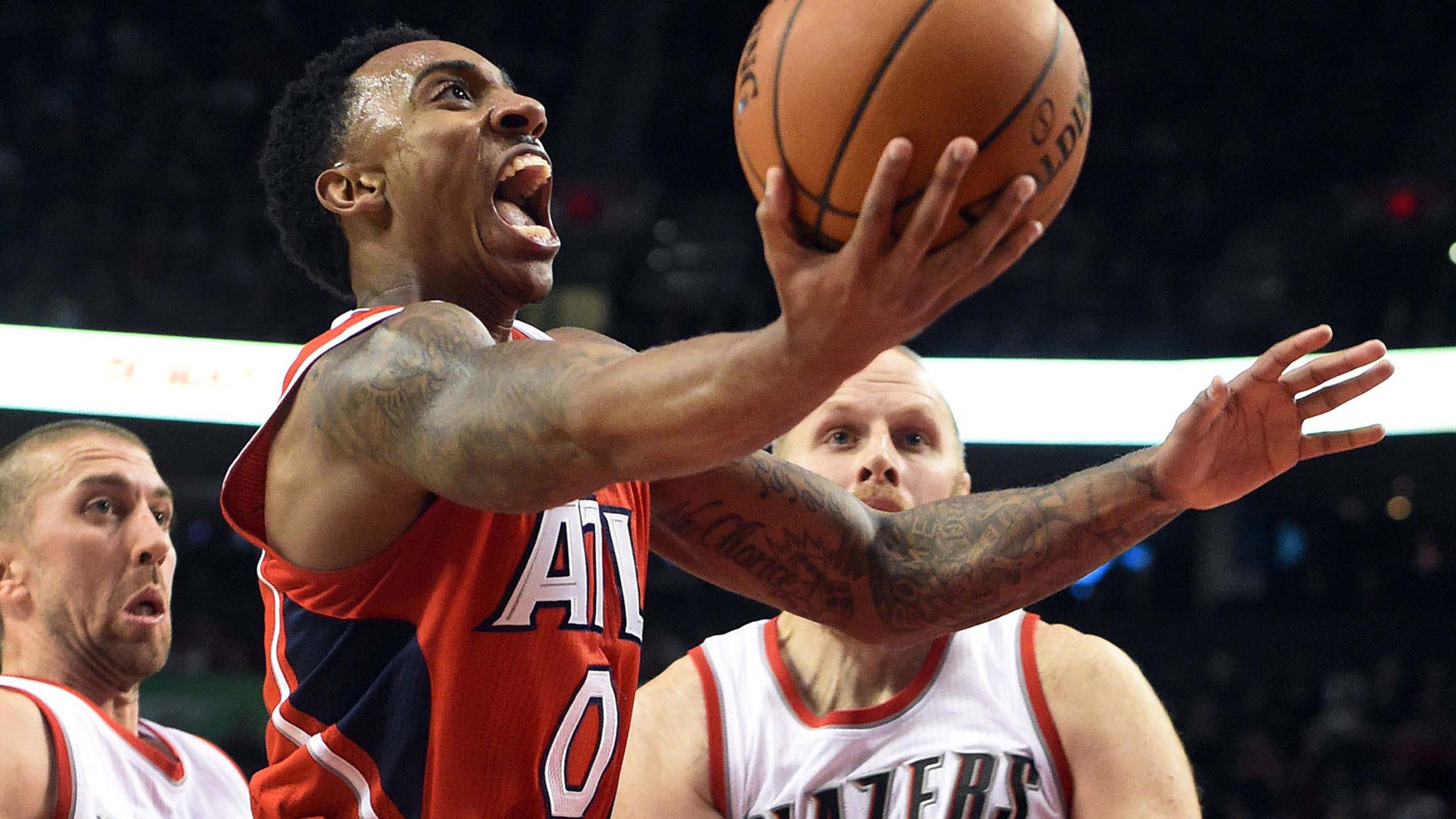 Court Vision: Teague keeps showing All-Star worth as Hawks drop Blazers
BY Cory McCartney • January 4, 2015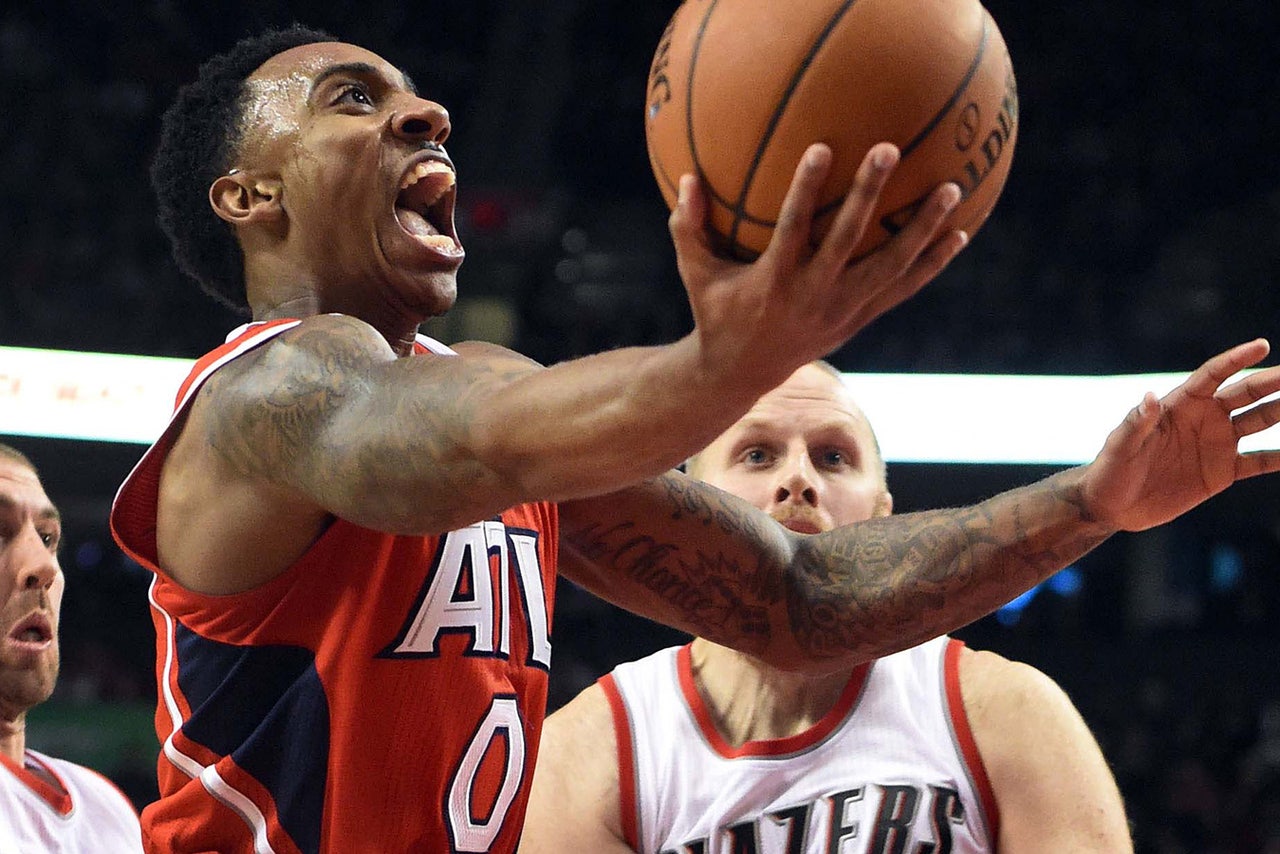 Going inside the Hawks' 115-107 victory over the Trail Blazers on Saturday in Portland, their fourth straight.
In the latest All-Star Game voting returns, the Trail Blazers' Damian Lillard ranked fifth with 147,955 points among Western Conference guards. In his third year, has established himself as one of the top point guards in the league.
But what about Jeff Teague? The Hawks PG doesn't rank among the top 10 guards in the Eastern Conference, but he continued to play at a level that suggests he should be getting more attention as he got the best of his duel with Lillard.
Teague scored 22 points to Lillard's 16 and took over late with the Blazers making a late run.
With Portland on a 10-0 run with 1:38 to go, Teague made a driving layup to push the Hawks' lead back to 108-101. Portland would get no closer than seven the rest of the way.
"Jeff Teague, he's been doing that all year," said Atlanta forward Paul Millsap. "He's our go-to guy in the fourth quarter. That's what he do. Put the ball in his hands and me makes plays."
He's been on a tear, averaging 24 points over the last four games -- Atlanta wins over Portland, the Jazz, Cavaliers and Bucks -- and over the last two victories he's committed just one total turnover.
"He sets the tone for us," Millsap said. "When he comes out aggressive, everybody comes out aggressive. He's got to continue doing it for us."
The Hawks remain one of the NBA's best 3-point shooting teams, ranking eighth with a 36.9 percentage. Only six teams have connected on more 3s than Atlanta's 9.2 made per game and 24.9 attempted.
While this squad still thrives with the long ball, its wins aren't coming because of it.
In Saturday's win and Friday's victory over Utah, the Hawks hit just six 3s in each game, shooting 26.1 percent (6 of 23) vs. the Jazz and 35.3 (6 of 17) against the Blazers.
The reliance on those shots doesn't become as necessary with Teague's driving/floater game complimenting the inside presence of Millsap, who had 27 points and six rebounds.
It was all the more important against the Blazers -- third in the league with 26.9 attempted 3s -- hoisting up 33, 16 more than the Hawks, and hitting 13 of them.
Atlanta still came up with crucial treys when it needed them as Kyle Korver hit two in the fourth, the second of which pushed Atlanta's lead to 13.
Thabo Sefolosha's offensive game is an added bonus as he was brought to Atlanta to bring increased defensive depth on the wings. But he provided a punch early and late in his most substantial playing time of the season off the bench.
Sefolosha scored 13 points, scoring nine points in the second quarter, then with the Hawks up 111-105 with 24 seconds to play he added two key defensive rebounds and hit four straight free throws to ice the victory.
Sefolosha saw more time when he was filling in for DeMarre Carroll in the starting lineup Nov. 12-18, but coach Mike Budenholzer has been showing an increased faith in Sefolosha. He played a 28 minutes Saturday after playing in 18 (Utah), 25 (Cleveland), 24 (Milwaukee), 18 (Milwaukee) and 19 (Clippers) minutes.
If further offensive contributions can come with those increased minutes, expect to see plenty more of Sefolosha.
3 -- Atlanta dealt the Blazers just their third home loss of the season. Those other defeats came courtesy of the Warriors and Grizzlies, who rank first and third, respectively, in the West.
15 -- Averaging 10.9 fast break points per game (22nd in the league), the Hawks had 15 in Portland.
---