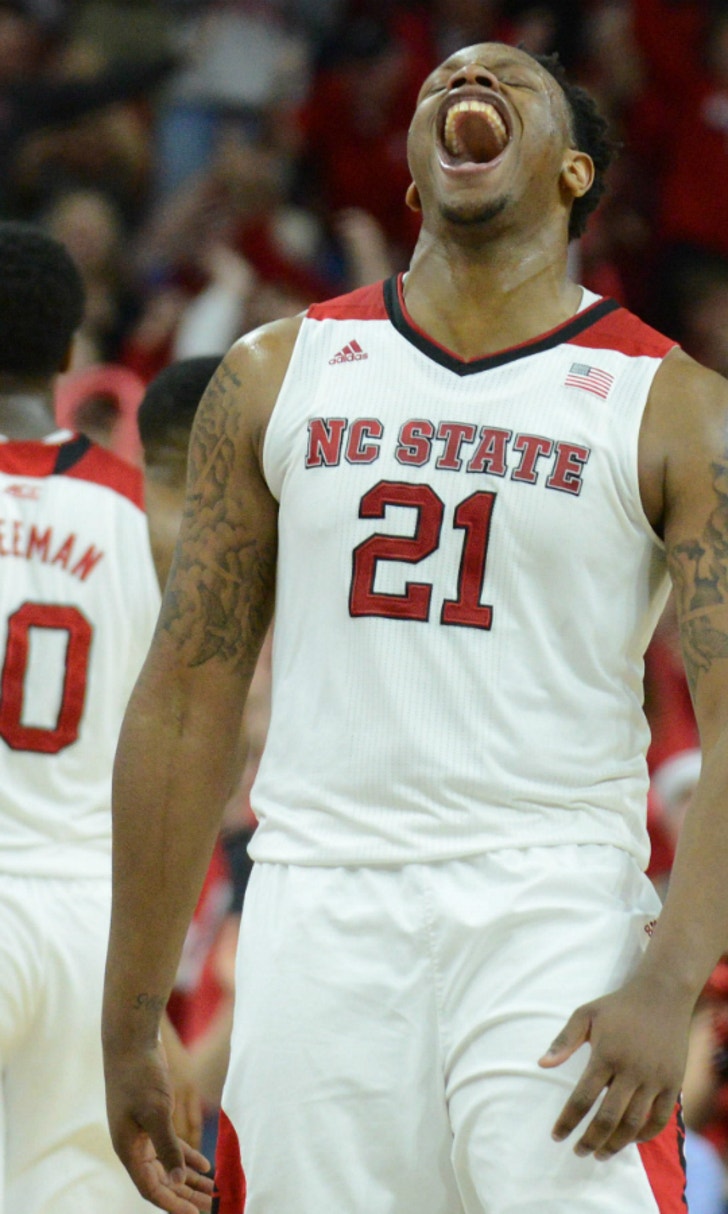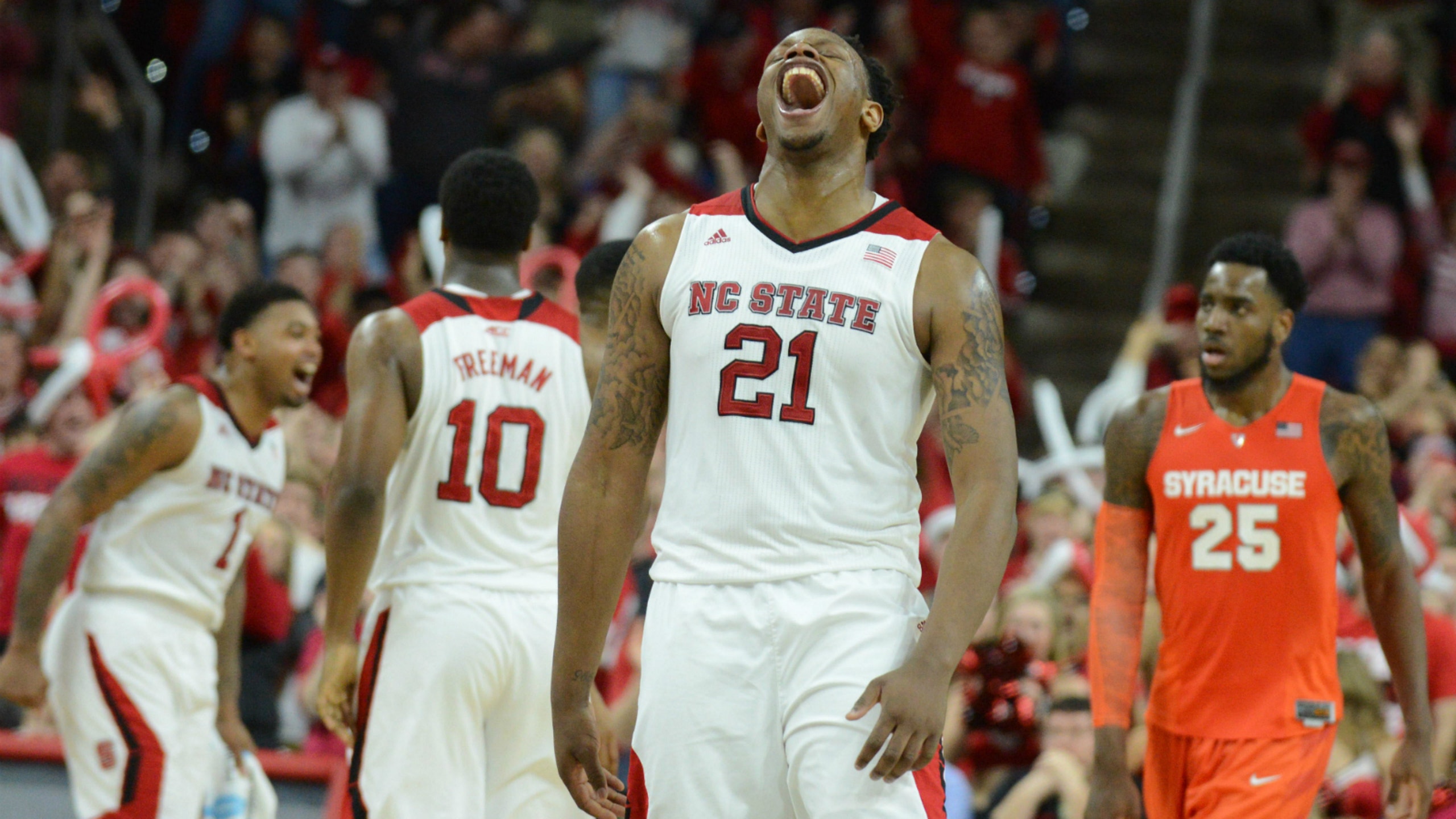 Court Vision: Syracuse's tumultuous season ends as NC State rolls
BY foxsports • March 7, 2015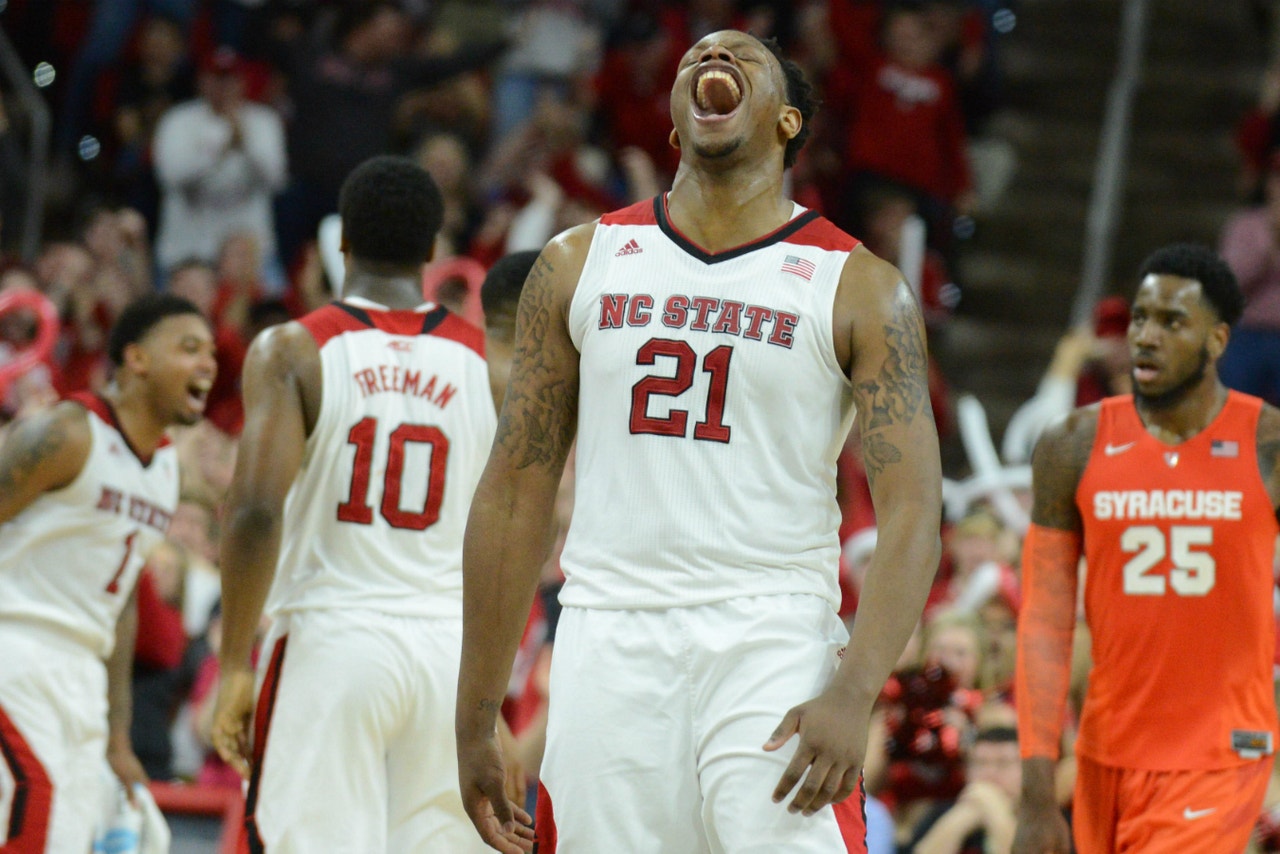 RALEIGH, N.C. -- NC State (19-12, 10-8) won its second straight to close out ACC play with a home win over Syracuse (19-13, 9-9), 71-57. The Wolfpack -- a dangerous team at times -- enter postseason play on a roll, while Syracuse -- who self-imposed a postseason ban and will deal with serious sanctions moving forward, has played its final game.
Three-Point Take
1. Syracuse's tumultuous season came to an end amidst the NCAA sanction news Friday
Syracuse dealt with injuries, youth and inexperience all season long on the court, even as the specter of NCAA sanctions hung over it off the floor. The expectation was that the punishment would be issued this year, and it was -- the news dropped the Friday before their final game of the season that the Orange would be facing serious sanctions, including the suspension of longtime head coach Jim Boeheim for the first nine ACC games next season.
Syracuse announced about a month ago that it would self-impose a postseason ban this year, and it avoided another ban likely as a result of that. But it also meant that wins over Louisville and Notre Dame later in the season, that might have propelled it into the field, were essentially meaningless.
Yet the Orange continued playing for pride, and senior forward Rakeem Christmas had a breakout season, finishing as one of the best players in the league, and in the country.
"He carried us for most of the season, offensively, defensively. Later in the year as teams started double-teaming and the scouting reports started to change, it became a little bit more difficult," Syracuse assistant coach Mike Hopkins said.
"You saw tonight, Rak missed some shots he usually makes around the basket. But he's been a warrior. He's been that 40-minute guy every night. He's rebounded, he's brought it. He's been a great leader. He's brought professionalism every day. That's what makes it so special and why it's so hard to see him graduating here."
Hopkins was the man sent the postgame press conference after NC State's final game, as the media room at PNC Arena teemed with reporters anxious to hear Boeheim's comments -- his first publicly -- about the sanctions, and the season, and what lies ahead for the 70-year-old head coach and his program.
Instead, a statement from Boeheim was handed out to the media that said he "would have no further comment on the matter as (he considers his) options moving forward". Boeheim's statement went on to say he wanted the day to be about his team rather than him or the NCAA sanctions. "There will be time in the future for me to more fully comment on NCAA issues and of course I will take the opportunity to do that at the right time," the statement concluded.
When he got up the podium, Syracuse's head-coach-in-waiting said Boeheim didn't want to "no comment" every question, and that's some of what Hopkins had to do, too. But he did answer a question about Boeheim specifically. "Coach is a warrior. He's a superhero," Hopkins said, taking a moment to collect himself as emotion overcame him. "Superhero."
2. BeeJay Anya remains a big key for the Wolfpack's season, and its future
Not much has been simple or straightforward for this NC State team that has beaten some big-time opponents and struggled with -- or lost to -- so-called lesser opponents. But one thing has been fairly consistent: when the 6-foot-9, nearly 300-pound BeeJay Anya plays well down low, he can change the game for NC State.
Syracuse's Rakeem Christmas, North Carolina's tandem of Brice Johnson and Kennedy Meeks -- you name it, Anya has altered or made them think about every shot in his most recent games against both.
Christmas began the game 1-of-9 shooting and finished 5 of 16, but other than his rebounding (12 boards), he wasn't as big a factor in the game as he normally is. And that's at least in part because of Anya.
"With BeeJay, we played behind (Christmas) a little more, still tried to discourage (getting the ball) in there. But then BeeJay, sometimes when he starts to put his hand up, it's like it just kind of keeps going a little, like one more level. He changes them and blocks them," NC State head coach Mark Gottfried said.
Anya's "Inspector Gadget" arms will be, when he goes to the NBA combine, the longest measured wingspan there. And he shows every bit of that when he's into the game, engaged and blocking shots. He changes everything for NC State's defense.
Then there are games where he plays 12 minutes and picks up three fouls, like the loss at Boston College. Or the loss at Wake Forest, when he played 16 minutes and didn't have a blocked shot (but did have four fouls and a turnover). Or the loss to Clemson at home, when he played just six minutes and had two turnovers.
NC State's perimeter is what it is at this point. Cat Barber, Trevor Lacey and Ralston Turner make up one of the better backcourts in the country. That trio combined for 48 points on 18-of-39 shooting against Syracuse. When one has an off night, usually another is there. Turner is a dead-eye three-point shooter, usually, while Barber controls the game at point guard on both ends and Lacey is as good an isolation player and shot-maker as there is.
They've had their bad games, sure. But even when they're missing shots early, if the bigs are engaged and playing well, NC State is a different group. And Anya is the biggest game-changer in that group. In the last seven games, NC State is 5-2. Anya had 19 blocks in five wins and six in two losses (five of which came in one game, the loss to Virginia).
"BeeJay's really helped our team. He knows this, I'm on him hard, now. I'm not excited at all about where his weight is right now," Gottfried said. "If he ever gets serious, truly serious about becoming a great player and knocking another 20-30 pounds off his body, he's going to become one of the best players in the country.
"He hasn't gotten there yet. Got to get him there. That's the next step for him. He then can become really something special."
3. Maybe, just maybe, an up-and-down NC State team is finding its level
Beat Duke, lose four of the next five. Beat Louisville and North Carolina, lose at Boston College.
These are the types of swings that have characterized NC State's season. Just as you think they're finding themselves, the Wolfpack fall flat on their face in an unexpected way.
But the Wolfpack have now won five of six, including getting those oh-so-valuable mid-tier wins (one at Clemson, and then this one over Syracuse).
What's perhaps even more encouraging is that by virtue of taking care of business after the disappointing loss at Boston College that followed its big win at North Carolina, teh Wolfpack now likely won't sweat out Selection Sunday as they have seemingly every other year but one (2013).
That doesn't mean they're taking anything for granted as they go into the ACC Tournament as the No. 7 seed, though.
"I can't sit here and lie to you that it's not a pretty good feeling, but I think our concentration is still -- we're trying to play our way in," Turner said. "So with that being said, whatever happens, happens. But right now, we feel like we've still got work to do."
A loss in the ACC Tournament to either Pittsburgh or Florida State (either one of which will be the No. 10 seed) on Wednesday wouldn't be disastrous for their at-large hopes, so they're in a better situation than they would be if they were a five-seed or a six-seed and had to face one of the bottom teams in the league. That would give them the potential for a bad loss.
But NC State doesn't want to mess around with this anymore. The Wolfpack, should they win their first game on Wednesday, will face Duke on Thursday (the No. 2 seed). They've beaten Duke already once this season. NC State is definitely a team that no one wants to play right now.
"I think we're playing well. As a coach, what you hope to have is your team playing its best basketball in February and March. We talk about that all the time with our team, being at your best here at the end of the year, and I think we've stepped up," Gottfried said.
"I think we still can get a lot better, but I think probably the difference during this stretch is defensively, we've been pretty good. Making it hard for teams to score. Some of that is our play inside. Some of that is our perimeter guys. I think our rotation and how we're playing and the roles that guys have is kind of more defined right now.
"But defensively, if we can continue to defend like we have, I think we've got a chance to keep getting better and make something happen."
Lacey insisted after the North Carolina win that they would be focused and ready for Boston College. And they were neither of those things, until it was too late. Lacey has been the point man for this team, their go-to scorer when they need a bucket, an excellent spokesman who doesn't mince words but isn't overly harsh by any stretch, unless he's judging himself.
When asked if the team had finally found some stability, he smiled wryly, because he understood the question was coming from a roller-coaster of a season.
"All the games we've lost, it's been a new experience and a building process for us. I've never played in this league. A lot of guys, the freshmen, (Turner), we've only got maybe, five returners? And a lot of their roles weren't as big as they are now. So it's all new for us," Lacey said.
"We're learning each other and we're learning this, being consistent. We're doing a good job of it now. Ending the season on a bang, win, hopefully it carries over to Wednesday. We can't come out and have any slow starts at either half. We understand that. I feel like we're going to keep it going."
Lacey used to be a lot more likely to rattle off an answer that was usually accurate about where NC State's NCAA Tournament hopes were. But he's decided to just stop worrying about it and let it play out. And if NC State keeps winning, all of the hand-wringing will be moot anyway.
"I can only speak for myself -- I feel like that we should just keep winning games. I don't pay attention to that stuff, so I don't really know what the situation is," Lacey said. "From how we finished, yeah, but that's all about winning games. if we keep winning games, we put ourselves in a good situation, whether it's where we want to be or not."
Stats That Matter
4-1: That's NC State head coach Mark Gottfried and his team's record against active Hall of Fame coaches this season. That's nearly half of the Wolfpack's ACC wins, which is impressive.
15: NC State wanted to push tempo against a perilously thin Syracuse team, and the Wolfpack did just that (especially in the second half), as they outscored the Orange in transition 15-6 for the game and 13-6 in the second half.
Straight Talk
"No. I think our guys have played hard all year. That's what Syracuse basketball is all about. It's about winning. If we're playing Timbuktu University, we play the hardest we can and try to win every game." -Hopkins, on whether the NCAA issues were a distraction for the team this year or in the game
"This is my first time. Am I doing okay? A couple of tears, almost." -Hopkins, when asked if this was his first time filling in for Boeheim at a postgame press conference
"I've never one time thought of it that way, like, that I've done it. I really haven't. I'm not saying that just to say the right things. I hadn't scored a basket this year. Our players have done a great job. I'm not sure how many ties that that happens, only because most of the time, there's no opportunities for that to happen. That kind of reflects on how strong this league is. So that's not ever a part of my vocabulary. I've never been a coach that walks around saying, 'Well hey, I beat that guy.' I hear other coaches say it, and I'm not knocking them -- it's just never been part of what I've done. What we do is hard. To get a team to play and to play well like today, our players are the ones that -- they play. I don't play. They do a great job with that." -Gottfried on beating four Hall of Fame coaches this year
---