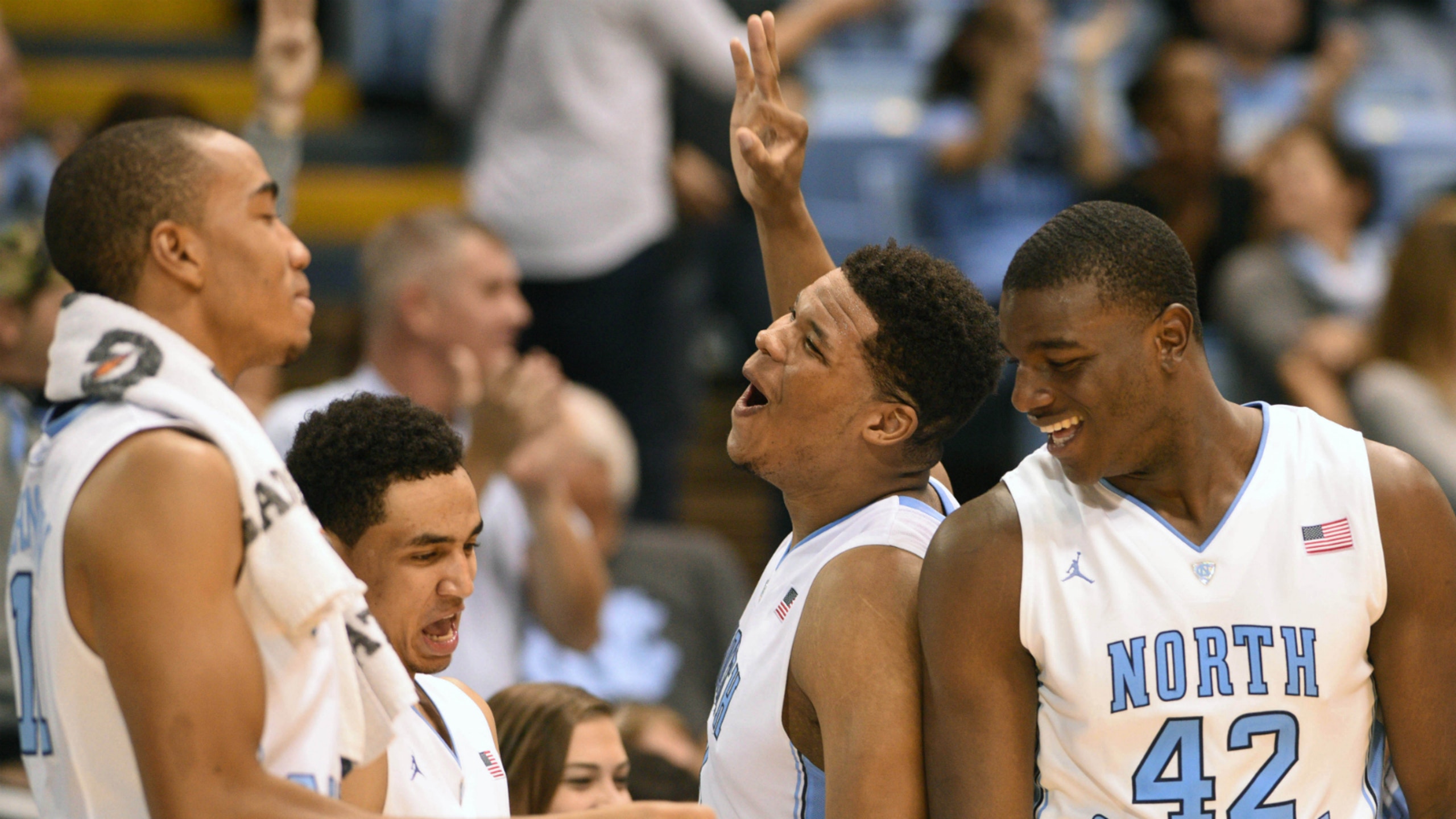 Court Vision: No. 6 UNC looks much sharper in Game 2 win over Robert Morris
BY foxsports • November 16, 2014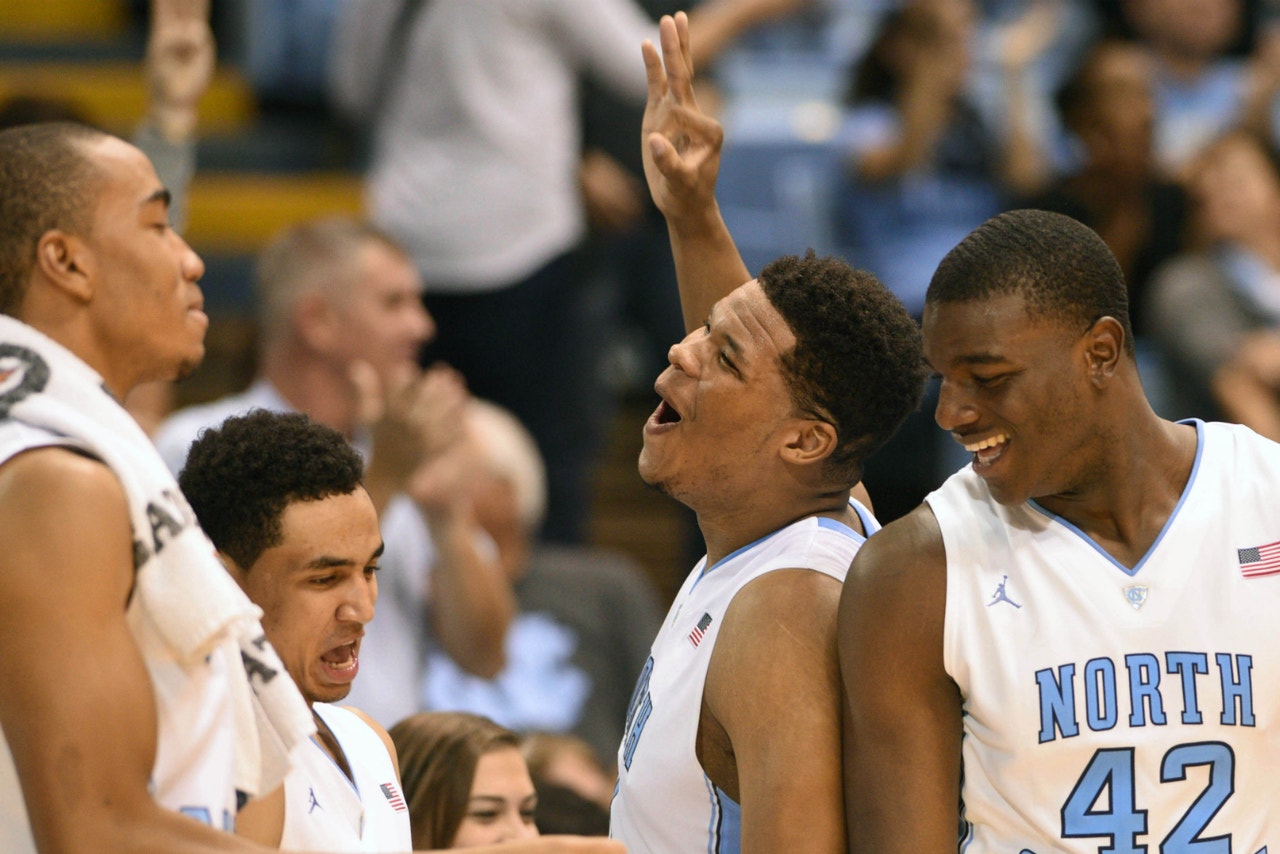 CHAPEL HILL, N.C. -- No. 6 North Carolina (2-0) didn't have the easiest time with NC Central in its opening game on Friday, but it dispatched of Robert Morris (0-2) relatively easily by a final of 103-59. Tough to take away much this early in the season, but for the Tar Heels to play better was encouraging enough.
Three-Point Take
1. UNC head coach Roy Williams has said he needs a big man to step up. How about two?
Last year, Brice Johnson or Kennedy Meeks usually started alongside James Michael McAdoo. With McAdoo gone, Johnson and Meeks are the two left over to provide the post production. The two played together some last year, but not a lot. When they did, they showed plenty of flashes of their chemistry and offensive ability in the high-low game.
"We did it last year. It's nothing new. We love each other," Johnson said. "It's easy out there for us when we actually know where we're supposed to be."
Williams had said that he needed one traditional big man to step up this year to provide a post presence. He's starting Meeks and Johnson together, though, and why not have two traditional bigs?
The post duo combined for 44 points on 16-of-22 shooting (Meeks missed just one field goal while Johnson, who started 2-of-7, made his final eight shots), 20 rebounds, four assists and two steals in 38 minutes.
"We've talked about that in the off-season. That's been one of our keys to our season is getting Brice and Kennedy to score consistently. Tonight, you saw that they're capable of it," junior point guard Marcus Paige said.
"It's Game 2, so they've still got a lot of games to go, but they've shown that they can do it and they're willing to do it, so that's big for our team. If they can keep up, maybe not 20 and 12 every night, but this level of production against quality opponents, then we're going to be pretty happy with that."
Paige's "Game 2" caution was one that was shared by his head coach, who has seen one or both (usually just one) have a big game, only for him to fall flat in the next. Johnson is a junior now, though, and Meeks is a slimmed-down sophomore, so there's hope that they can be what Williams needs them to be.
"What we've got to do is see that over the course of a season. I thought last year, those guys had some good games -- some really good games every now and then," Williams said. "But it's got to be on a consistent basis like Tyler Zeller or John Henson, Tyler Hansbrough, Sean May, those guys give it to you every night."
2. The Tar Heels have struggled getting good looks against zone defenses, but not this one.
The ball rarely stalled when UNC was running its zone offense against Robert Morris, moving and moving and moving until they found the guy in the best spot to make a shot. The Tar Heels were just 4 of 16 from three, but they scored 60 points in the paint, a lot more looks than they would normally get agianst a post-clogging zone.
Of course, this wasn't exactly that.
"That was one of the more unique zone defenses I've seen just because they played it so wide and they had four guys almost above the free-throw line, so it left a lot of room for Kennedy and Brice to operate," Paige said. "There was really only one big guy down low that they were playing against, so they got a lot of 2-on-1 opportunities under the basket, which is in our favor 100 times out of 100. So it was good to see that we were able to take advantage of that."
Robert Morris also doesn't have a ton of length, which made passing a bit easier, and it was a wider zone than UNC is used to seeing.
Caveats aside, though, the unselfishness and the good passing was definitely part of it.
Tokoto in particular thrived on the wing, surveying the zone from above, so to speak (he's 6-foot-6). He dished out 10 assists to just one turnover. "Some of those passes J.P. was trying to make last year would result in turnovers. But now that the game has slowed down, he can pick apart the defense almost with ease," Paige said.
Johnson had three assists, mostly to Meeks down on the low block, while nine of the 10 UNC players who saw 14 or more minutes of action had at least one assist.
And UNC had better keep honing its zone offense. Teams are going to use it, particularly as Paige is the only player that has proven he can make three-pointers. NC Central played a box-and-one on Paige, and it wasn't the first time UNC has seen a defense like that. It won't be the last.
"A lot of teams are going to play zone against us just because they want to force us to shoot the ball. They know we can score inside, it's just they want us to be able to show them that we can shoot the ball from the outside," Johnson said. "Teams know that shooting was our weakness last year and we haven't proven ourselves yet."
3. Williams' teams have always been good at rebounding, particularly on the offensive glass. But this one might be one of his best.
Those were his words, too: "This could be the best offensive rebounding team I've ever coached," Williams said. "Now, we have to do it. We don't get any points for me just saying it. But this could be the best offensive rebounding team I've ever coached."
The Tar Heels are long, athletic and physical. Even their skinnier players from past seasons have put on some weight, and they're ready to crash the boards. They finished the game having rebounded 52.6 percent of their missed shots and turning them into 20 second-chance points.
UNC shot just 50.7 percent from the field, which isn't a bad percentage but isn't what UNC would normally shoot against an opponent like this. They're going to hover around that percentage all season long against most teams, probably, and so they're going to have to combat their lack of proficient shooting with a desire to crash the boards.
Teams that have zoned Carolina in the past to try to slow them down have rarely been successful if they weren't also effective rebounding teams. Because the Tar Heels will kill you if you're not good on the defensive glass, and a lack of presence on the defensive glass is often a byproduct of going to a zone defense where it's harder to find someone to box out.
"Early in the game I think we dominated the boards. If you're not a good shooting team, you'd better go get your misses," Williams said. "We've had some teams that didn't mind playing against a zone and teams that didn't play zone against us because we moved the ball so well and did such a great job on the offensive backboards. That's what we have to do when we're not shooting it as well as I'd like us to."
Stats That Matter
29 -- Assists on 36 made field goals. Even better? Of UNC's seven unassisted field goals, five came off offensive rebounds (generally put-backs) and another came off of a quick steal. So that's only one basket in the flow of the offense, as it were, that was unassisted.
10 -- Marcus Paige, a preseason All-America candidate, only had to take 10 shots in this game for UNC to win comfortably, and he turned those into 15 points. He had just five points at halftime, was saddled with foul trouble and the team still led by 18 points. That's a good sign.
Straight Talk
"If teams are going to just play zone on us all year, it's going to be a sad story for those guys...We have a lot of guys that can knock down shots this year. We haven't shot it as well as we wanted to the last two games, but we know it's there. If teams want to keep playing zone against us, they're not going to get the outcome they want."
-- J.P. Tokoto
"We're not the best three-point shooting team in the country. We have to start inside and we have to go inside a lot. That will open up opportunities for myself and Justin to score from the outside, but it does start on the inside."
-- Marcus Paige
---