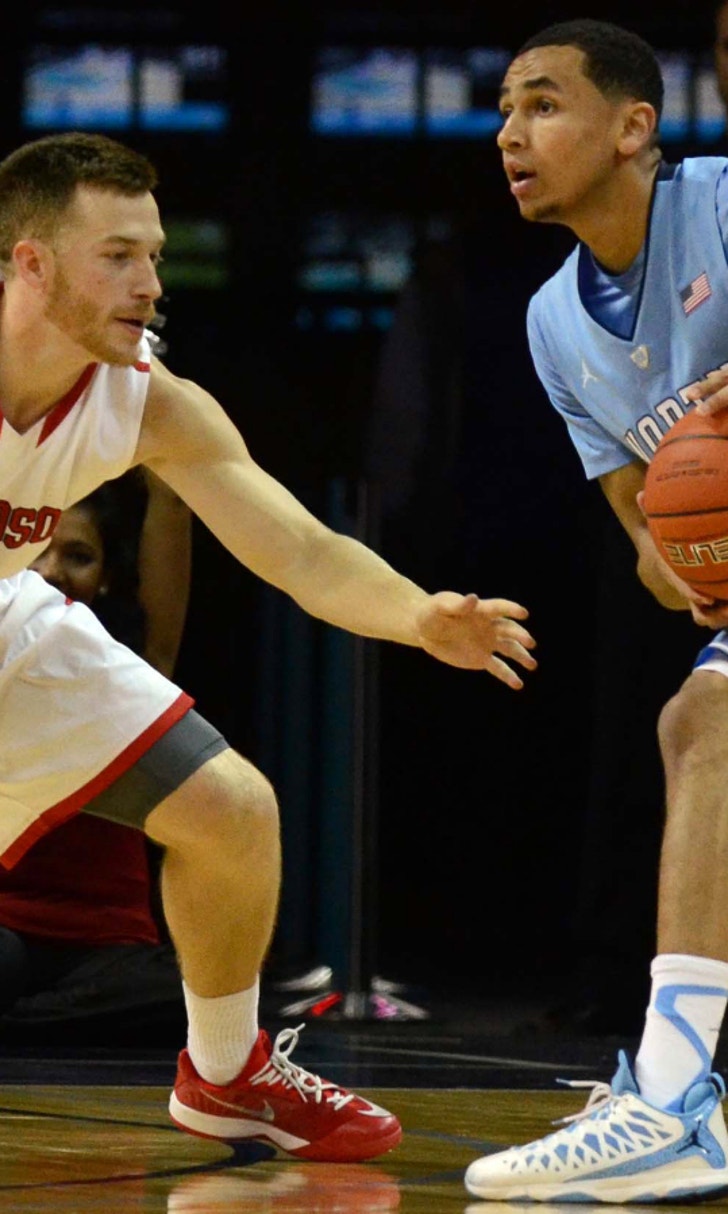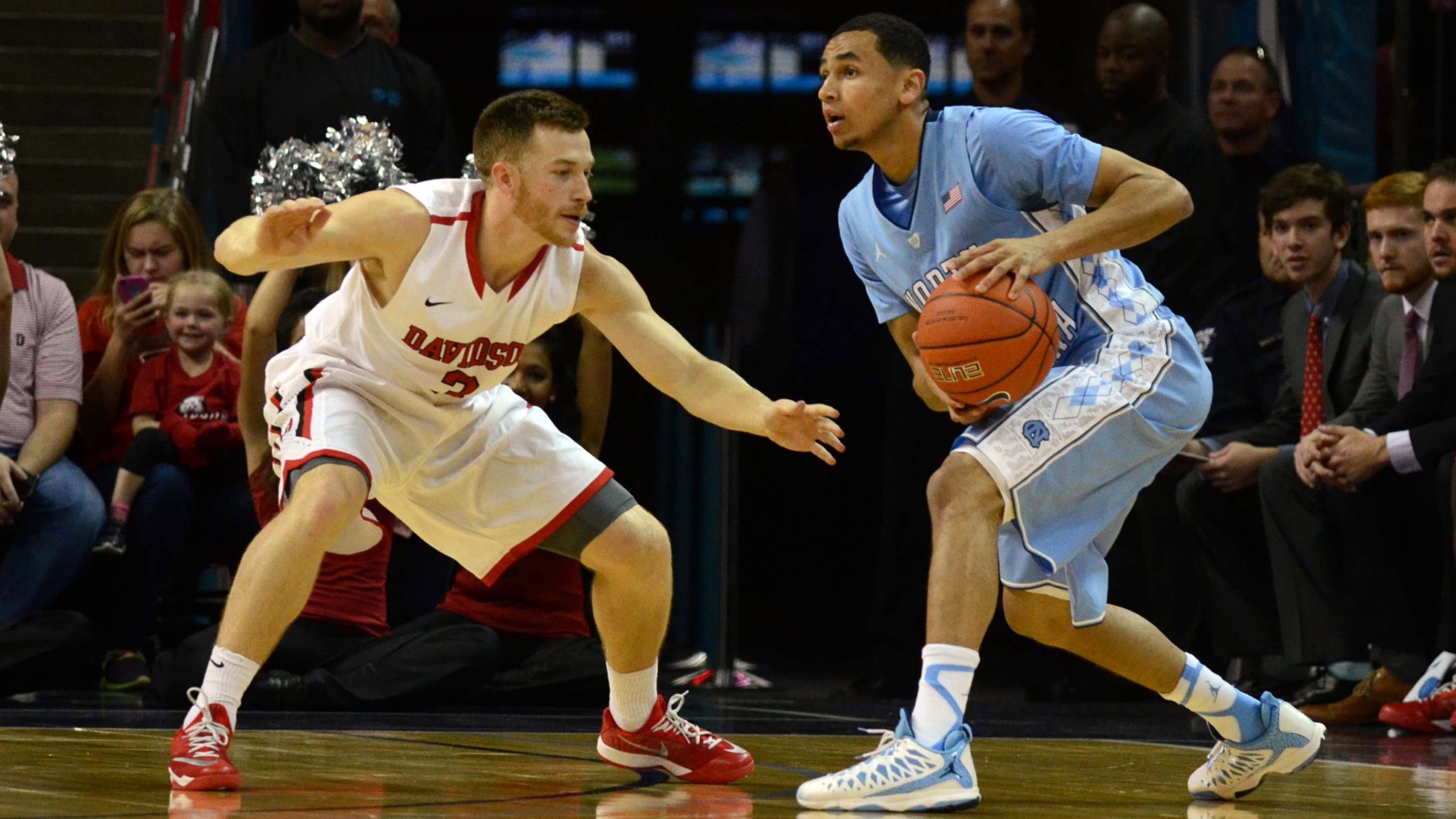 Court Vision: No. 6 North Carolina passes final test before Bahamas
BY foxsports • November 22, 2014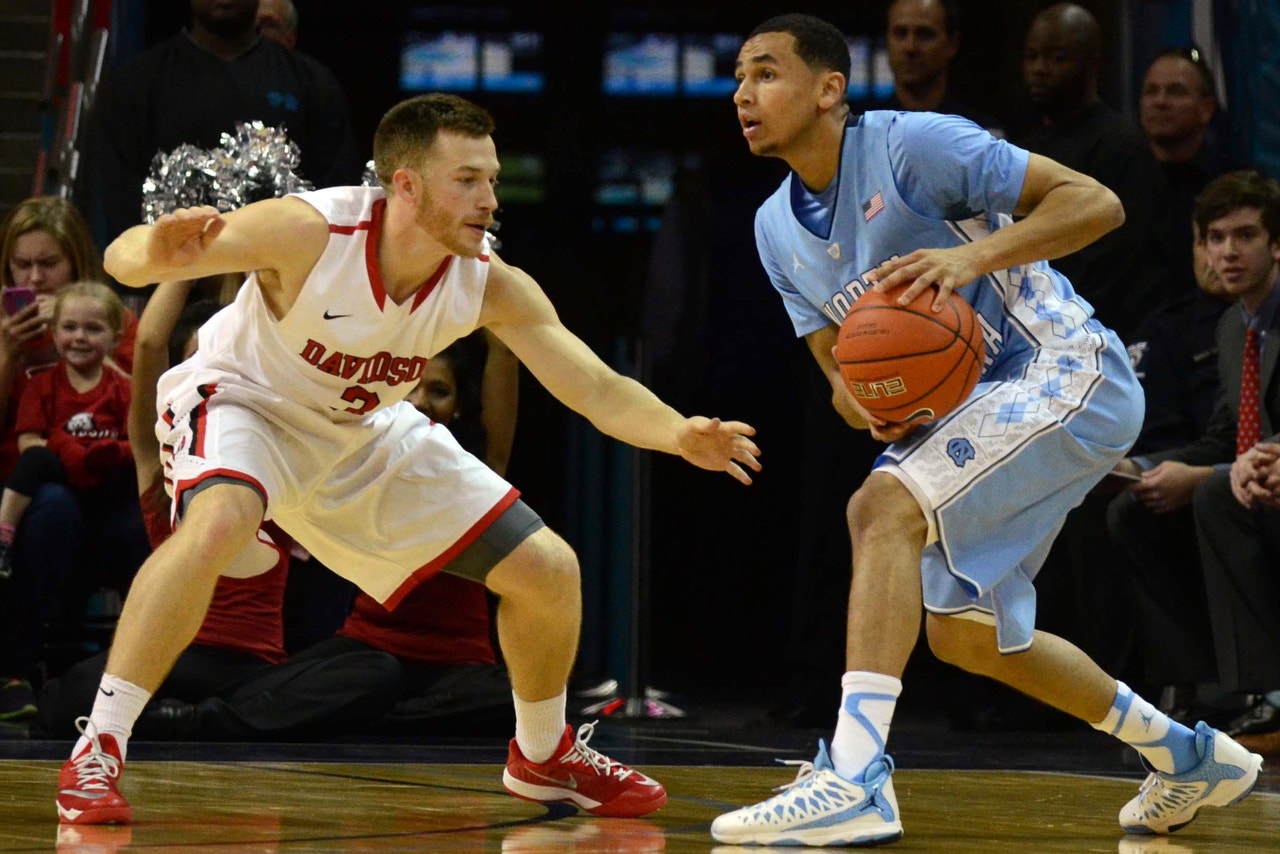 CHARLOTTE, N.C. -- No. 6 North Carolina (3-0) had one more game before their trip to the Bahamas for their Thanksgiving tournament, and it wasn't going to be easy -- against Davidson (2-1). Though it wasn't actually at Davidson, it was in Charlotte and technically served as a Davidson home game. The crowd was into it early, and it was a fairly even split between Davidson and North Carolina supporters.
Eventually, the Tar Heels pulled away and won by a final of 90-72.
1. Davidson offered a bit of a mismatch for the Tar Heels, but they compensated well for it on the defensive end
Under head coach Bob McKillop, Davidson has almost always been a team that likes to shoot 3-pointers, usually off of drive-and-kicks, screens and curls or even just good old-fashioned ball movement.
Davidson also traditionally does not have more than one big man that's going to be able to post up or bang with North Carolina's big men in the post, so they will spread the floor and make traditional bigs defend them on the 3-point line. That can be tricky. Obviously, North Carolina doesn't want to give up its size advantage, but asking big men to chase smaller guard-like forwards around on the perimeter isn't a good idea, either.
"We tried to show (on screens) early, get back on the shots and we did pretty well," freshman Justin Jackson said.
Tar Heel head coach Roy Williams admitted that Davidson missed some shots it would normally make -- the Wildcats entered the game shooting 50 percent from beyond the arc through two games -- but he was pleased: "I thought defensively, it was by far our best game of the year and a difficult situation with our big guys having to go out on the floor."
Davidson finished 11 of 36 from 3-point range, and just 6 of 20 (30 percent) in the second half.
"On drives, we usually try to get in and support all the way to stop the drive. Against these guys, they like to penetrate and pitch so much that we'd almost rather them take a challenged two then have a wide-open 3. So we stayed home and hugged the shooters on the 3-point line," junior guard Marcus Paige said.
And it's a reality that the Tar Heels are going to face plenty this year, even in league play. Brice Johnson is more of a forward-type big man than a stretch-4 -- he has not attempted a 3-pointer in his career -- and some silly reach-ins got him in second-half foul trouble. He knows he'll have to adjust, as will the rest of his team.
"There aren't a lot of actual post-up fours anymore. Everybody's really a stretch-4. They all go out there to the three-point line and they can dribble and they're just like guards," Johnson said.
2. Kennedy Meeks is becoming every bit the dominant big man Roy Williams wants him to be
The story with Meeks entering this year has almost always surrounded his weight loss. The natural comparison is to Sean May, the center on the 2005 national championship team (who won Most Outstanding Player honors). Meeks talks to May frequently, and he briefs him on what he should be working on:
"Having soft hands, looking the ball in all the way through, being explosive, being aggressive on offense, posting up hard and also getting down in a defensive stance and playing defense the entire game," Meeks said of May's advice.
Meeks was 9 for 13 shooting for 19 points, adding 12 rebounds, three assists, two steals and two blocks to go with just two fouls and one turnover. Most important, probably, was that he did it all in 31 minutes, a final tally that would have seemed impossible for him last year as he struggled to make it up and down the court.
He gave Williams the tired signal with 3:45 to go in the game ... then stole Davidson's inbounds pass and went the length of the court for a dunk.
"He's giving me the tired signal and then he goes out there and denies the pass 45 feet from the basket and goes down and dunks it," Williams said, shaking his head. "I tell him all the time, give me the tired signal when you're going back on offense, not when you're going back on defense. He just doesn't realize what his body can do right now."
"I guess I wasn't as tired as I thought I was," Meeks said, grinning. "I mean, if you've got a steal, why not go ahead and go finish it?"
Meeks does look like a brand-new player, though. He was always a fantastic outlet passer and very skilled around the basket but now he can defend a little, get up and down the court and is seeing the whole court better than he ever has.
"Coach Williams, every time he's had a team that's been able to contend for a championship, he's had a guy inside that could really give us points at the free-throw line and establish position and make the defense have to suck in so that we could play on the outside as well," Paige said. "That's what Kennedy has done so far."
3. North Carolina's lineups are flexible, but the rotations are still a work in progress.
Williams has always liked to have a pretty deep bench, and it remains to be seen how deep it will be this year. Eight Tar Heels played 10 or more minutes, which is pretty low in a game like this. What was good is that the ones who got in the game did well, and were important to UNC's win. What was bad, to Williams, was that he couldn't get more of them in the game.
"I want to give guys time. We had eight guys in double figures minute-wise, and I can get 8-9 guys double figures easily. We just have to do a better job of it," Williams said.
Still, the Tar Heel bench put up 21 points, and three players had five or more, a nice distribution. Freshman Theo Pinson had seven points and two blocks in 14 minutes, while sophomore backup point guard Nate Britt had five points in 14 minutes and played some nice defense. Sophomore Isaiah Hicks showed a lot of progress too, scoring nine points in 19 minutes on 3-of-5 shooting.
"Our top five can't play all 40 minutes. Contributions from guys off the bench is really important, so to have them play the way they did is something we need them to continue to do. They have to understand that they're just as important as the first five guys," Paige said.
"If you can sub guys in that are helping you defensively rather than hurting you, even if they're not great on offense, that's a plus. If we can sub them in and still get stops and still have strength and confidence in our defense, then what they're doing is providing us something positive off the bench."
-Four steals, nine blocks. The Tar Heels weren't perfect on defense, but they were active, and they scored 10 points off of just 10 Davidson turnovers.
-28 points (13-of-21 shooting), 19 rebounds, four assists, two steals, four blocks, seven fouls, four turnovers. That's what Meeks and Johnson combined for in 46 total minutes.
"I try not to (foul), but it just seems like they had it out for me the entire game. I guess I just wanted to take a break. Every time, I got back in the game I was like 'Well, let's not foul Brice' and then all of a sudden, beep, there it is, and I went right back to the bench. I just have to keep my hands out of there and be able to move my feet better.
"I really hurt my team tonight being in foul trouble because if we would have been in there most of the time, it would have been a little better of a game for us instead of them giving up all those three's. It's just something I have to work on. I was in foul trouble for the first one. Just something I have to get used to, not getting in foul trouble." -- Brice Johnson on his second-half foul trouble
---