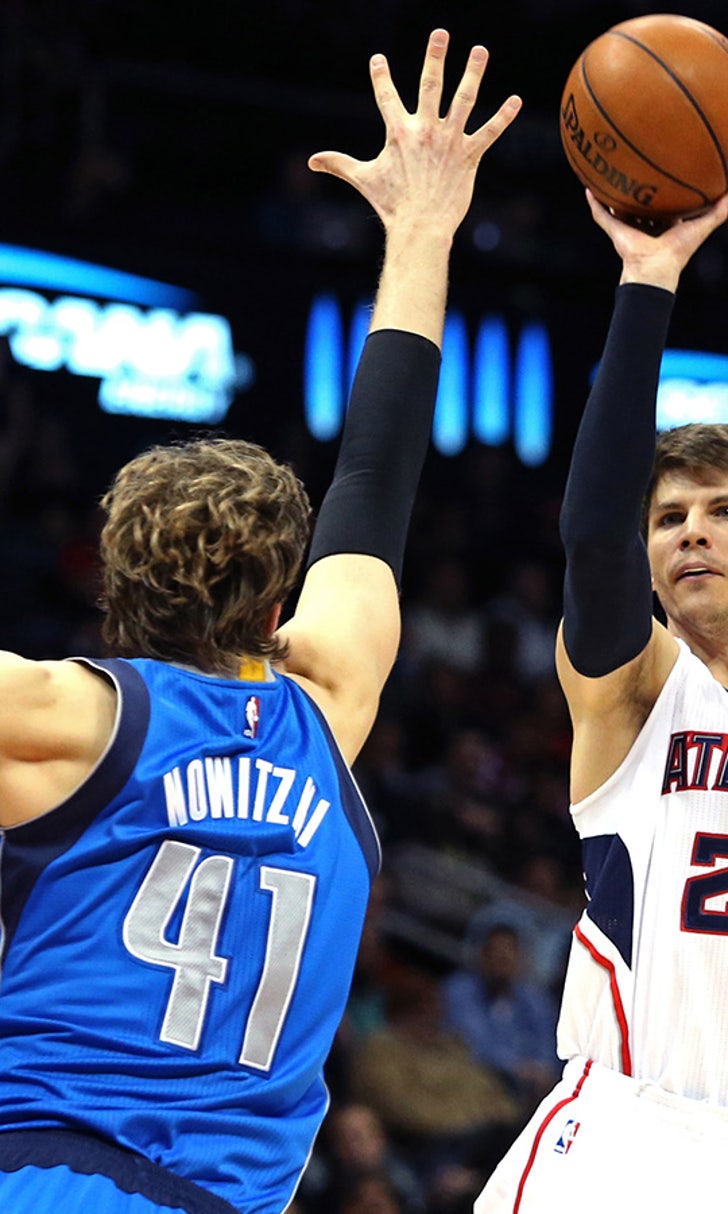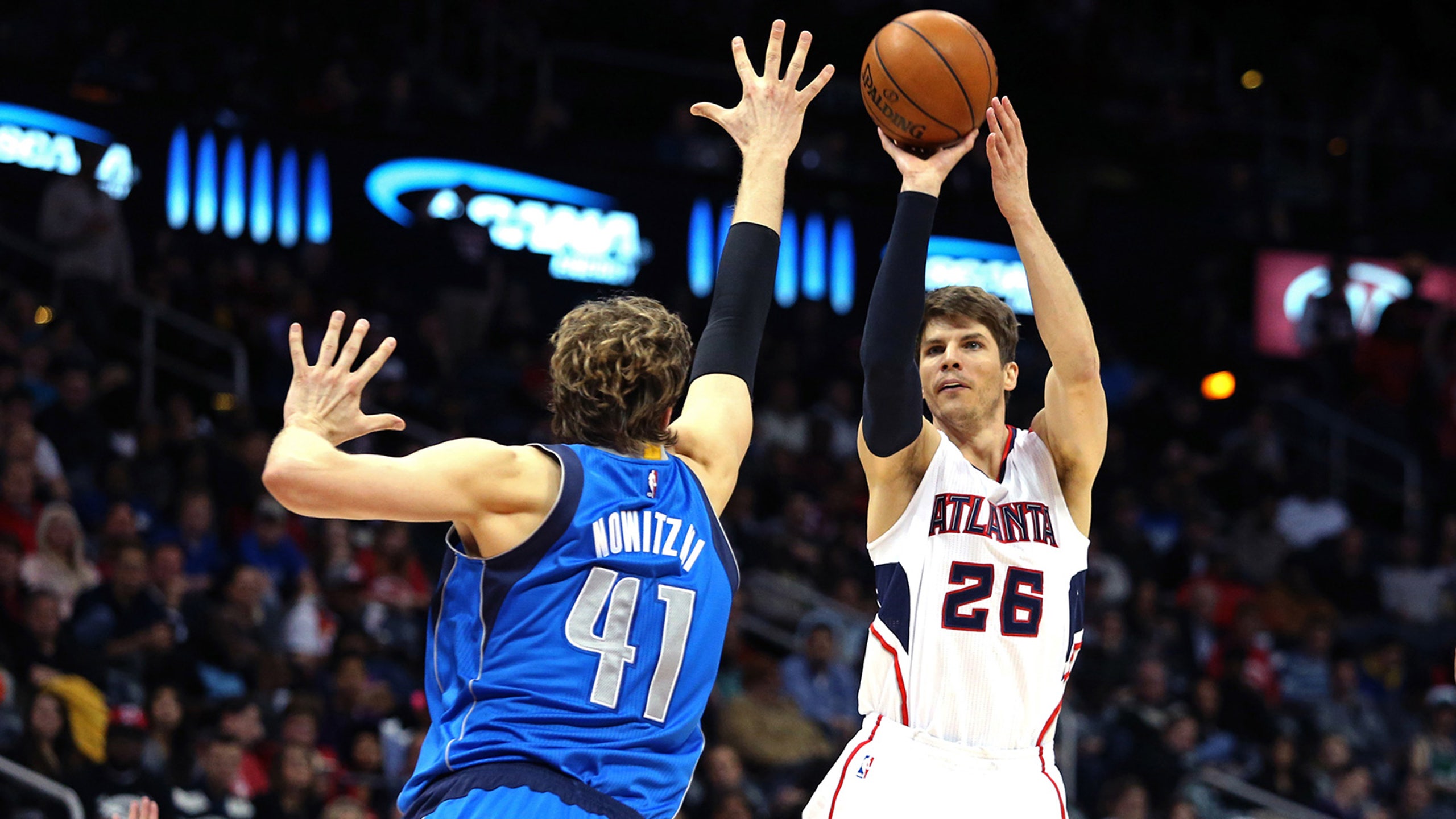 Court Vision: Hawks overcome sluggish start to torch Mavs
BY Zach Dillard • February 25, 2015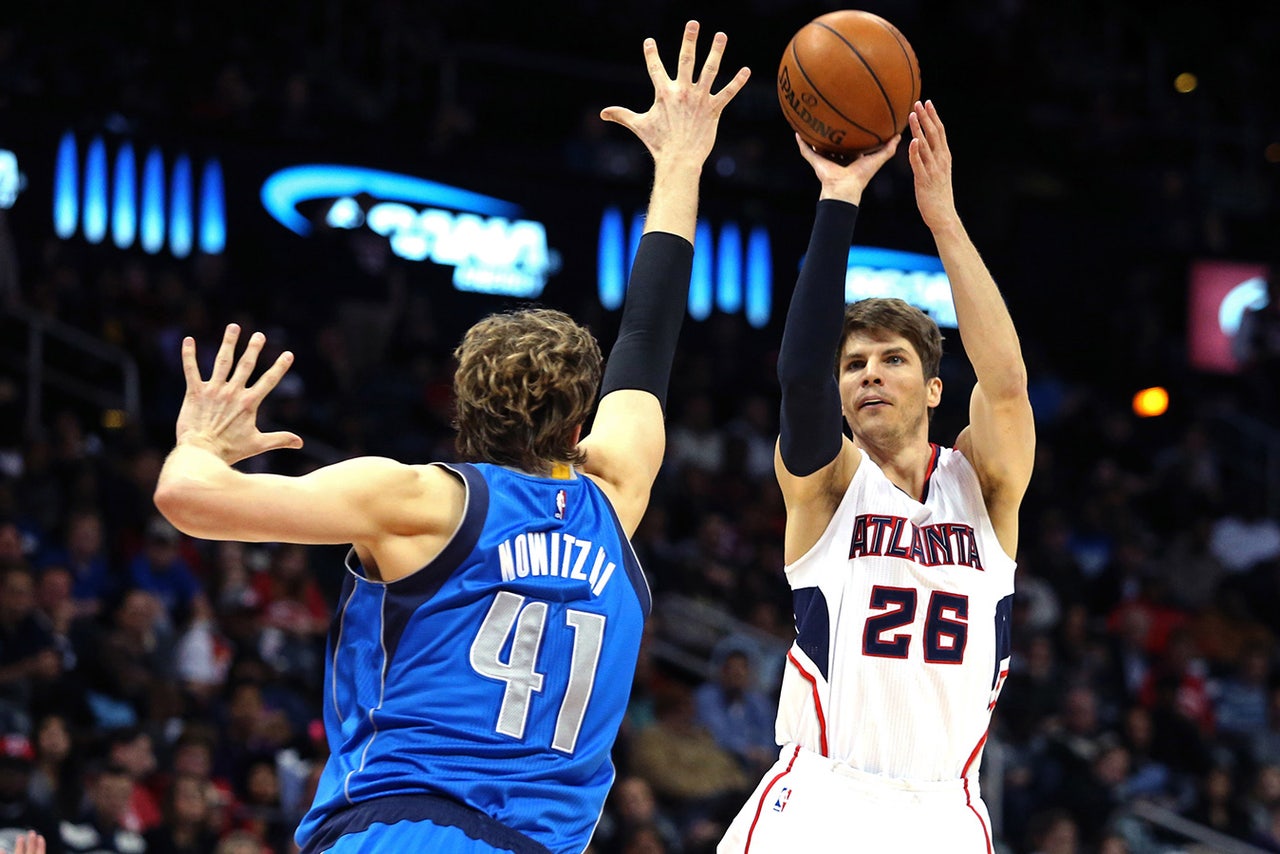 The Atlanta Hawks did not jump out to a fast start against the Dallas Mavericks, but a hot-shooting second half led to a decisive 104-87 win on Wednesday night. Here are three observations from the game:
1. Hacks outlast undermanned Mavs in quirky game
For two teams sitting in the top-five of their respective conferences entering the night, this game got off to a sluggish start.
Perhaps blame can be placed on the inclement weather in Atlanta, a city often ill-equipped to handle such conditions, as the game was initially reported to be postponed. (Hawks players were even told the game was off around 2 p.m., before being informed otherwise later in the afternoon.) The ensuing indoors action was further delayed by a leak in the Philips Arena roof and clock malfunctions.
Aside from the icy weather, the Mavericks suited up without two starters: point guard Rajon Rondo and center Tyson Chandler. Chandler missed just his fourth game this season (hip injury) while Rondo, the former Celtics star whom Dallas traded for this season, was benched for conduct detrimental to the team after he and coach Rick Carlisle got into a heated discussion during Tuesday night's game. While Rondo has struggled to find his role in Dallas, Chandler leads the team in win shares (8.4), and taking those two out against the Eastern Conference leader as it continues to regain its own footing after the All-Star break was guaranteed to put the Mavs at a disadvantage.
By the end of the night, the Hawks' depth flexed its muscle.
After trailing at the break, the Hawks closed on a 57-34 second-half run to send the Mavericks packing. Atlanta put together big-time runs in the third and fourth quarters, taking the lead on one and slamming the door on another.
"Our aggressiveness to start the third quarter and the players got comfortable with what we were doing and sticking with our basics and activities and our hands and getting turnovers. I think the energy changed," coach Mike Budenholzer said. "Dallas is in here on some tough circumstances and we were fortunate that we could turn it."
After losing four of seven games, the Hawks have now taken down two playoff contenders in convincing fashion with the Orlando Magic due up later in the week.
It was far from a perfect or complete performance from Budenholzer's group, but the defensive effort has been much better in the past two games since the debacle against Toronto right out of the All-Star gate -- the Hawks have held the past two opponents (Bucks, Mavericks) under 90 points. Atlanta is 17-1 this season when holding an opponent to 90 or fewer points.
"The defense really turned it around," guard Kyle Korver said. "We let up 34 points in the first quarter and they didn't score 20 in a quarter after that. That was huge."
Of course, it helps when the group is knocking down key shots...
2. Kyle Korver is just fine
Coming out of his first career All-Star appearance and the 3-point contest, Korver was off in that Toronto blowout. Way off. It was arguably his worst shooting performance of a staggeringly great shooting season -- his teammates didn't exactly pick up the slack -- and the questions immediately began if Korver could continue his chase for the 50/50/90 mark.
Well, sources tell me that Kyle Korver can apparently still shoot.
The 6-foot-7 sharpshooter followed up his four 3-pointers against the Bucks with another four 3s on Wednesday night. (Granted, he attempted 19 in those games.) He filled up the box score along the way: 16 points, six rebounds, four assists and two blocks. His efficiency hasn't quite reached its pre-break levels, but the Hawks' outside shooting should still be in good hands.
As for the 50/50/90 dream, he's practically dead even with the mark with 25 games to go. He's shooting exactly 50 percent from the field and just over 50 percent and 90 percent from 3-point range and the free-throw line. At his present rate, that's in danger. If he's burying four 3-pointers per game, though, the Hawks will gladly settle.
3. Another stellar performance for Schroder
Playing against his childhood idol seems to bring out the best in Dennis Schroder. The German product grew up watching Dirk Nowitzki, and now that he's in the league his performances against Dirk's Mavericks seem to offer a little something extra.
In the first Atlanta-Dallas meeting this season, Schroder scored a career-high 22 points on 9 of 15 shooting. He added six assists and three rebounds as well. Wednesday night wasn't quite as spectacular, but the young point guard continues to impress: he poured in 17 points in 21 minutes. This means that the top two scoring performances of Schroder's career have come at the expense of Nowitzki & Co.
"I thought Dennis early, middle, late was really a big factor," Budenholzer said. "Seventeen points, four assists, he hit shots, he guarded, he did a lot of things well. We needed him tonight."
Even on a quiet night for All-Star Jeff Teague, who missed practice due to illness, the Rising Stars participant once again proved he's one of the better young point guards in the game. And to think, if only he could play his favorite player every single night.
26: The Hawks are now 26-4 at Philips Arena this season, the best home record in the Eastern Conference.
5: Along with Schroder, all five starters finished in double figures scoring.
---