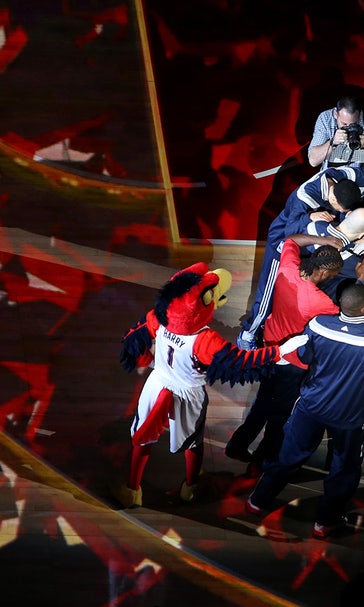 Court Vision: Hawks clinch Eastern Conference's top seed
March 27, 2015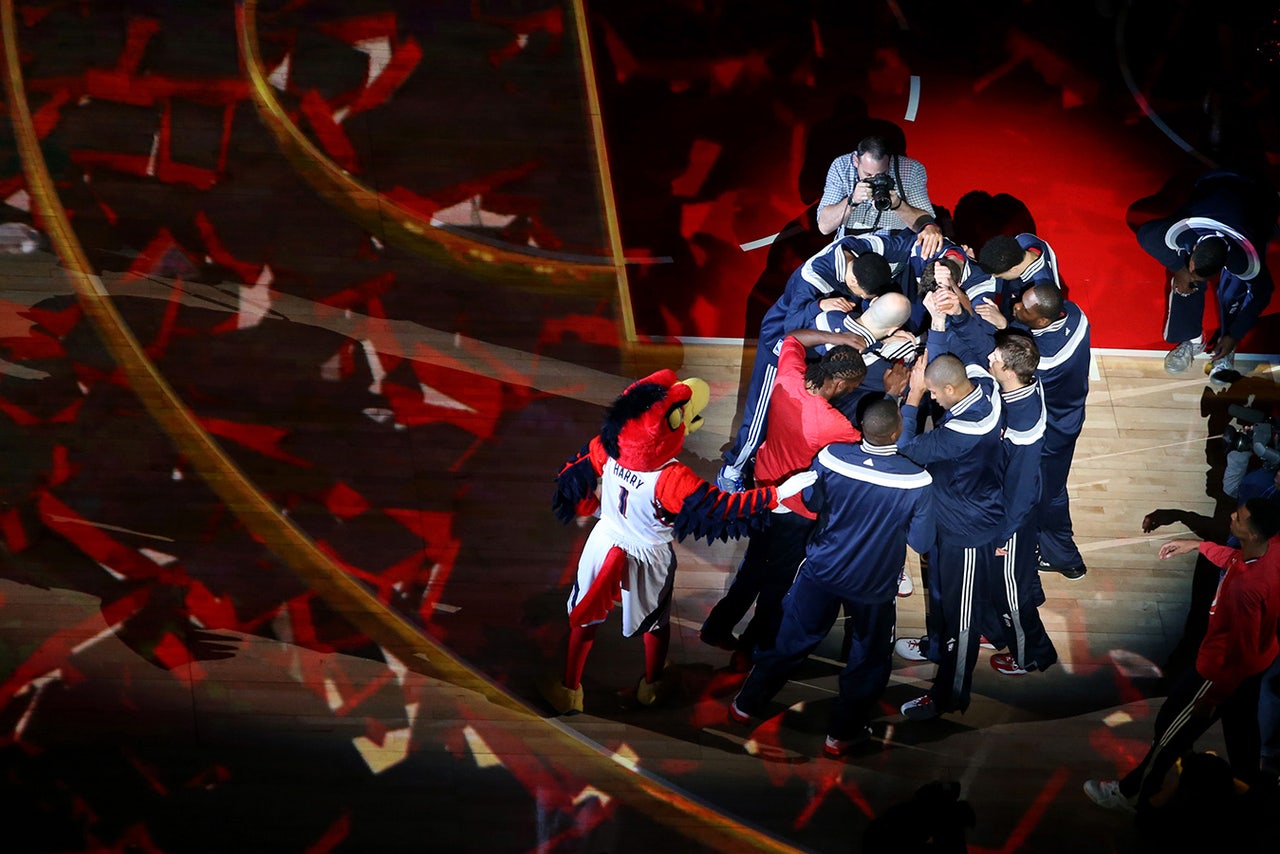 ATLANTA -- The Atlanta Hawks cruised past the Miami Heat on Friday night at Philips Arena, clinching the Eastern Conference's No. 1 seed in the process. Here are three observations from the game:
1. Hawks clinch East's top seed with 10 games remaining
Mike Budenholzer had some good news for his team after its 99-86 dismantling of the Miami Heat. Walking into the locker room, the second-year head coach informed his players that with their win and the Cleveland Cavaliers' surprising loss to the Brooklyn Nets on Friday night, they had clinched the Eastern Conference's top seed and home-court advantage until the NBA Finals.
There was just one problem with his announcement: the locker room was half-empty.
"Bud found out and he came in and there's only like five guys in here. He's just like, 'Good accomplishment, you won the East,'" said guard Kyle Korver, disclosing that the majority of the team was still showering at the time of the announcement. "I'm sure we'll have a little hip-hip-hooray on the plane."
This is an accomplishment, though, and the Hawks seem to understand the success they've enjoyed to date is rare. They just clinched a No. 1 seed on March 27. Sure, it came in the weaker Eastern Conference, but Atlanta has inflicted plenty of damage on teams in the West as well. Budenholzer may downplay such situations to keep his team focused on the overall goal at hand, but he's not going to undermine its success.
"It's a credit to our players and all the good work they've done all year," Budenholzer said. "I'm obviously proud of what they've done. I think our focus is there's still a lot more work to be done. But it's something that they deserve credit (for) and deserve to feel good about that."
(Side note: There was a downside to Atlanta clinching a game or two earlier than expected. With the Hawks owning the Nets pick -- via the Joe Johnson trade -- they are actively, if not publicly, rooting for Brooklyn to post as poor of a record as possible this season. The Nets beating the Cavs cemented the inevitable, but could hurt in the long run if it "boosts" Brooklyn's draft pick. Would it have been better to put off clinching for another night at Brooklyn's expense? Yes.)
Clinching early has its obvious benefits.
The Hawks are now blessed with the roster management challenge of resting players as much as possible without disrupting the chemistry or rhythm they've built up to this point. The goal is to be healthy and firing on all cylinders come mid-April. How to get there remains up in the air.
Budenholzer even (jokingly) invited media members to his coaches' meetings to hear the debate on experimenting with different lineups or sticking with likely playoff combinations.
"We're just going to kind of take it day by day," Budenholzer said. "We've given a lot of our players opportunities to grow and develop. Make sure we're prioritizing our players' health and make sure that we're in the best place we can be going into the playoffs."
The Eastern Conference has its regular-season champion. It's the postseason conference -- and league-wide -- title this team has its ultimate sights set on. Heading to Charlotte on the tail-end of a back-to-back, the Hawks will celebrate accordingly and rest players. Those are the spoils of a regular season in which nearly everything went right.
"This isn't the goal," Korver reiterated. "It's one of the goals along the way."
2. Opponents need to account for DeMarre Carroll on offense
Hawks forward DeMarre Carroll is at the tail end of the best offensive season of his career, entering the Heat game averaging a career-high 12.1 points per game to go along with a 116 offensive rating. All of this comes with being the team's top perimeter, but as the undermanned (and defense-optional) Heat illustrated, teams are forced to account for Carroll more than ever. He's become a dangerous outside shooter and off-ball player, making smart, aggressive cuts to the basket and getting out in transition in Budenholzer's system.
Basically everything went right for Carroll against Miami, at least in the first 24 minutes.
He stormed out of the gate with 19 first-half points and finished two points shy of his career high (26) on 8 of 12 shooting. It was a showcase for the player most consider the fifth scoring option in the team's starting lineup. He beat the Heat's wings outside and inside. He also added five rebounds, two assists and two steals.
"He found a way to score and got us some good offensive looks at the basket, whether it was making shots, cutting, getting to the free-throw line, in transition. That's when you can rack up some points, when you're scoring a lot of different ways. You're not just depending on one thing," Budenholzer said. "He had a really good rhythm offensively, so that helped out a lot.
Budenholzer constantly reference the team's "next man up" approach, but with recent injuries Carroll has taken on a slightly larger role on offense. Over the past eight games, the 28-year-old is averaging 14.9 points per game on 49 percent shooting.
3. Schroder holds the fort
Two nights after Jeff Teague sprained his ankle against the Magic, the Hawks starting point guard could not go. For three reasons, missing an All-Star against a playoff contender wasn't a problem for Atlanta: (1) The Heat were similarly shorthanded and played altogether lackluster defense, (2) the Eastern Conference allows sub-.500 teams to be playoff contenders and (3) Dennis Schroder is a very good backup point guard.
It's not like the game provided any sort of breakout moment for the second-year point guard -- his improvement, even his numbers while splitting on-court time with Teague, has been well-documented -- but it did provide yet another example of the increased comfort level with Schroder running the show this season.
In a semi-strange twist, Atlanta is now 8-0 when the 6-foot-1 speedster starts.
"His consistency as a backup and his consistency as a young player has been something that I think has been a real benefit for us," Budenholzer said. "When he's stepped into the starter position, he's kinda been steady. Obviously he's gotten some bigger numbers, but sometimes it's a factor of just playing minutes. His play has been high level really for the majority of the season. ... We're very fortunate to have somebody that can step in and play the way that he has when he's started."
Schroder didn't look too far into his 12-point, 11-assist night, paraphrasing the team's season-long mantra instead.
"When somebody is missing," Schroder said, "everybody steps up."
22: The Hawks are now 22-0 at home when leading at halftime this season
20: The Hawks sold out their 20th game of the season on Friday night
"Shelvin Mack, because I can beat him. Make sure you print that." -- Atlanta-based rapper 2 Chainz, who was the guest of honor at Philips Arena, when asked which Hawks player he'd like to play one-on-one against
"I've been told that I need to see the bigger picture in all of this, and that is if I wear this for just another week or two, then I'll be free." -- Kyle Korver on the face mask he has to wear after breaking his nose
---