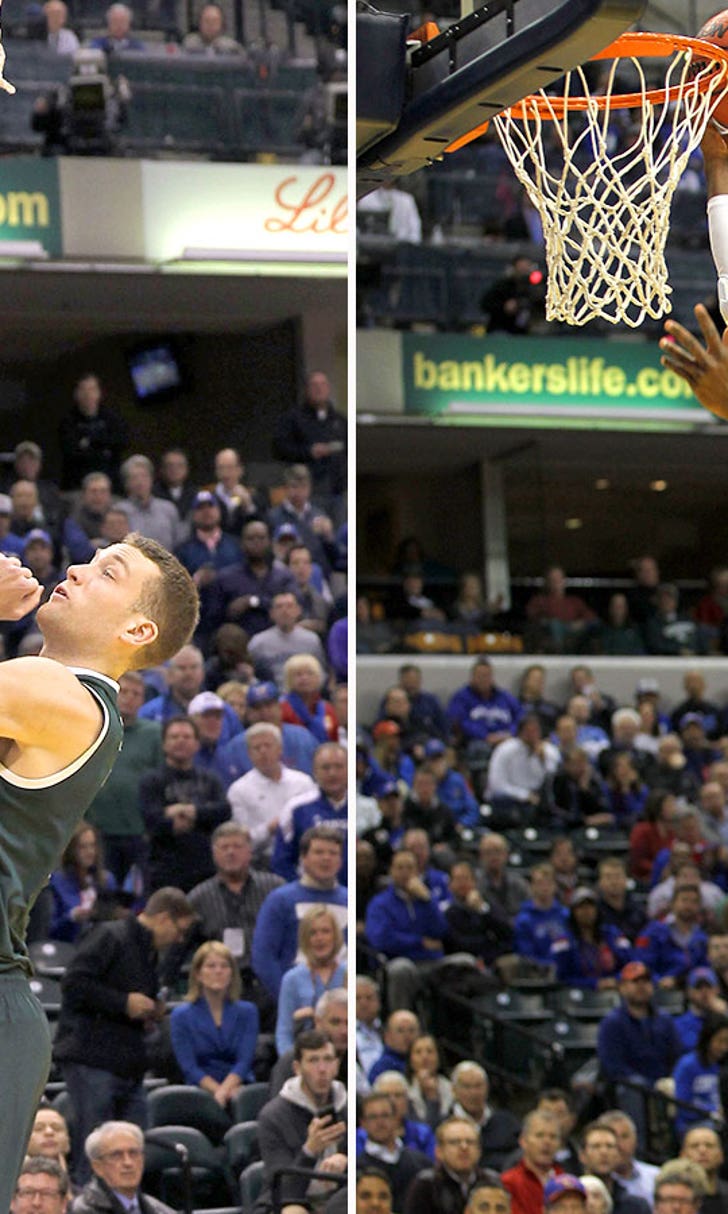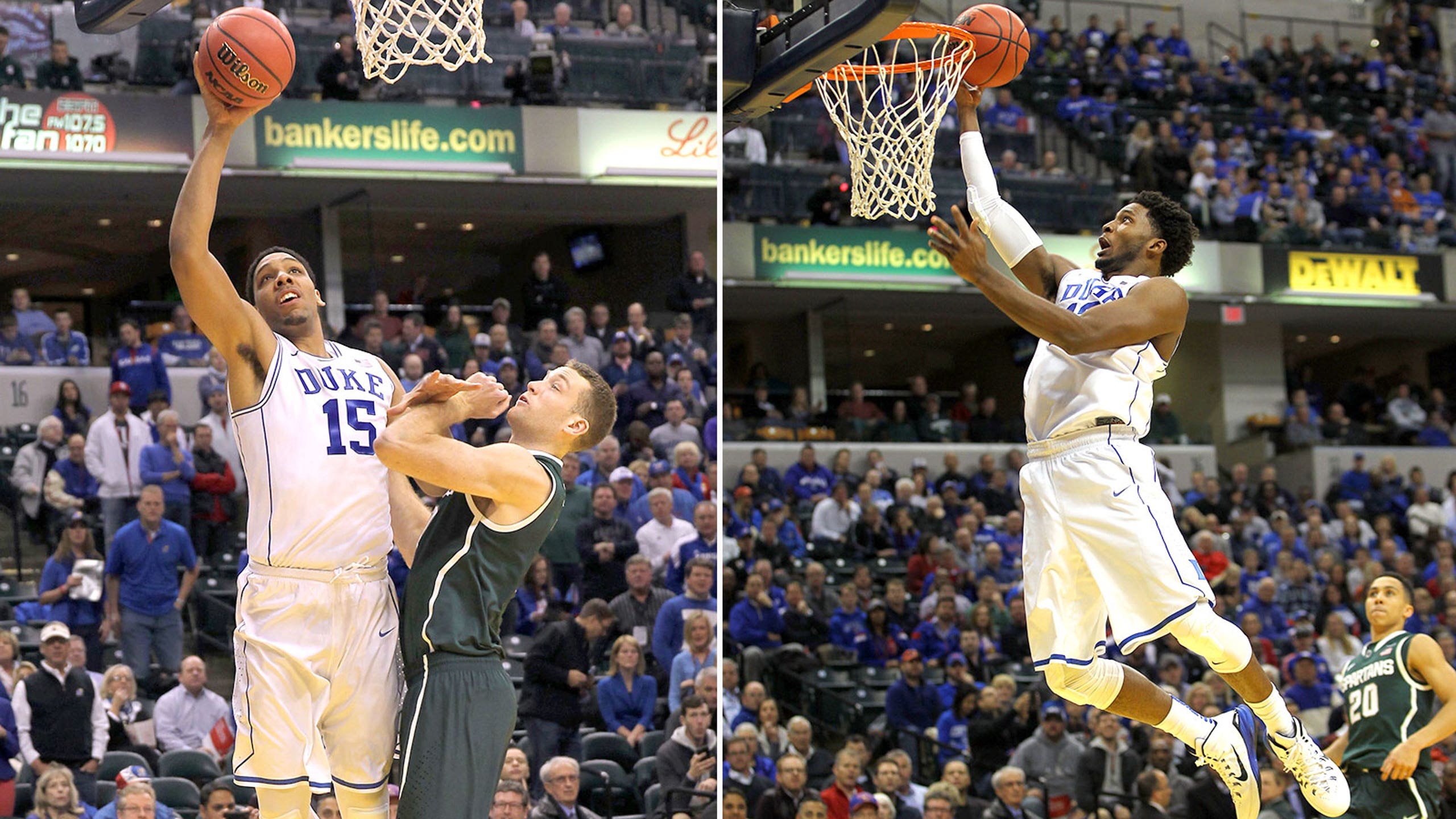 Court Vision: Fab frosh carry the freight in Duke's win over MSU
BY foxsports • November 18, 2014
Here are three reasonably quick takes from No. 4 Duke's 81-71 victory over No. 19 Michigan State -- the opening act of Tuesday's Champions Classic doubleheader from Indianapolis:

1. It's hard to see this Duke team falling to Lehigh or Mercer in the NCAA tournament
When perusing the box score, it's amazing that only eight Blue Devils attempted shots on this night. It's also crazy that only four players (Quinn Cook, Tyus Jones, Justise Winslow, Jahlil Okafor) tallied seven or more points against Michigan State (1-1).
When viewing the events on TV, without any minute-by-minute acknowledgments of points, rebounds or assists (self-imposed Web blackout), the Blue Devils seemingly bore the look of a deep, balanced and controlled group against the Spartans.
Instead, the starting five (including Amile Jefferson) logged the majority of minutes, hoisted a vast number of shots (41 of 50 field goals) and notched 74 of the Blue Devils' 81 points.
And frankly, that was enough to keep Michigan State at arm's length throughout the game. In a weird way, it almost felt like Duke could have played significantly better -- if challenged more (especially in the paint).
Yes, Duke was out-rebounded by a substantial margin (35-25), but everything else was clean, as the Blue Devils shot 54 percent from the field (27 of 50) and 50 percent from beyond the arc (7 of 14).
Plus, they almost posted as many blocks (five) and steals (six) as turnovers (eight).
Not bad for a starting five that includes three freshmen (Winslow, Okafor, Tyus Jones), playing in just their third college game.
Not bad for a high-powered Duke club (3-0) that looks remarkably smooth when not overly fascinated with the three-point shot.

2. It's way too early to assess -- or even care -- if Okafor deserves to be the No. 1 overall pick in next summer's NBA draft
Yes, we've all heard the glowing reports of Duke coach Mike Krzyzewski saying that Okafor -- a McDonald's All-American center from Illinois -- could be a special, perhaps transcendent talent at the college level (even if he only stays one season in Durham).
We've also heard the Okafor comparisons to Anthony Davis, the former Kentucky star and soon-to-be-icon with the NBA's New Orleans Pelicans, based on their hometown connection to Chicago.
But it seems pointless to make such bold (read: rash) declarations -- positive or negative -- about Okafor's long-term growth potential, especially when Michigan State doesn't have an NBA-caliber power forward or center wreaking havoc in the paint.
That said, Okafor (17 points, five rebounds, two blocks, two steals) certainly has a cool efficiency to his game, in terms getting off unimpeded shots down low ... or clearing out sufficient space to collect defensive rebounds.
But once again, there's no value in passing snap judgment on any mammoth-sized freshman, at least until his first coast-to-coast power rebound/85-foot dribble drive/tomahawk dunk.

(We can all blame Shaquille O'Neal for that impossibly high standard for big men.)

Here's one specific kudos: Okafor has excellent awareness of his surroundings when taking up real estate near the blocks. And unlike most 18-year-olds, the 6-foot-11, 270-pound man-child has a clear comprehension of using the backboard on short, angled turnaround jumpers.
How else to explain the remarkably consistent Okafor draining 25 of his 30 shots from the field this season?
How else to explain his textbook running jumper early in the second half -- just seconds after MSU's Branden Dawson threw down a monster alley-oop jam, which temporarily sliced Duke's lead to six points?
In that sense, Okafor has the same uncanny unflappability of a young Anthony Davis.

3. The Spartans cannot win a Big Ten title with only three prominent scorers
Full disclosure: The above statement comes from a passionate Michigan State graduate who, admittedly, feels very uncomfortable writing this particular piece.
You know, that whole annoying thing about journalistic objectivity, or something like that. But it's fine in a one-time setting.
That aside, it's important not to derive too many long-term or set-in-stone opinions about the Spartans this early in the season -- especially since coach Tom Izzo has a reputation for breaking down and summarily building up young squads during the November/December/January months.
Take three years ago: A marginally ranked Michigan State club, coming off a 9-9 Big Ten campaign the previous spring, opened up the 2011-12 season with high-profile games/eventual losses against No. 1 North Carolina (San Diego) and No. 6 Duke (New York) -- four days apart.
Fast forward to that March, with the Spartans winning 27 of their next 32 games, claiming a Big Ten tournament championship and then earning a No. 1 seed in that NCAA tourney (eventually falling to Louisville in the Sweet 16 round) ... it's amazing how an apparent rebuilding season could transform into something so disappointing -- and strangely satisfying -- at the same time.
After all, if you had told me on Nov. 11, 2011 -- the night of the Spartans-Tar Heels clash aboard a U.S. military aircraft carrier, with President Barack Obama in attendance -- that Michigan State would be viewed as a national juggernaut four months later ... I would have said, No way. That's like saying Wisconsin's Russell Wilson or Arizona's Nick Foles will be noticeably better NFL quarterbacks than Baylor's Robert Griffin III. Yeah right!
Back to the present ...
Michigan State, which lost Adreian Payne and Gary Harris to the NBA draft last summer (along with point guard Keith Appling), still has plenty of explosive athletes on hand this season. But when watching the Duke game, it's apparent the Spartans are lacking a number of key components:
There isn't much size in the middle, or a ton of aggressiveness on the defensive end, which might explain why Duke's guards had little trouble getting to the basket on sustained dribble drives. (Five clean paths to the hole, by my count.)

Where's the intimidation? Where's the gumption to cleanly lay out a smaller guard when attacking the basket -- as a means of sending a clear message for the future?
But all that stuff can be rectified over the next four months. The worrisome truth lies with Michigan State's clear lack of scoring help -- especially when Branden Dawson (18 points, nine rebounds), Denzel Valentine (13 points, four rebounds, three assists) or point guard Travis Trice (15 points, six rebounds, eight assists) are plagued with foul trouble.
Like Tuesday night.

The one huge positive: Trice has full control of this offense and should be able to manufacture clean shots any time off the dribble.
That wasn't necessarily the case in the early college years, when the kid often deferred to his teammates in a half-court setting ... and usually succumbed to bigger defenders when penetrating the paint.
But right here, right now, the senior has an impressive arsenal of moves and an unwavering confidence to get the job done.
In other words ... the Spartans should be fine four months from now.

---