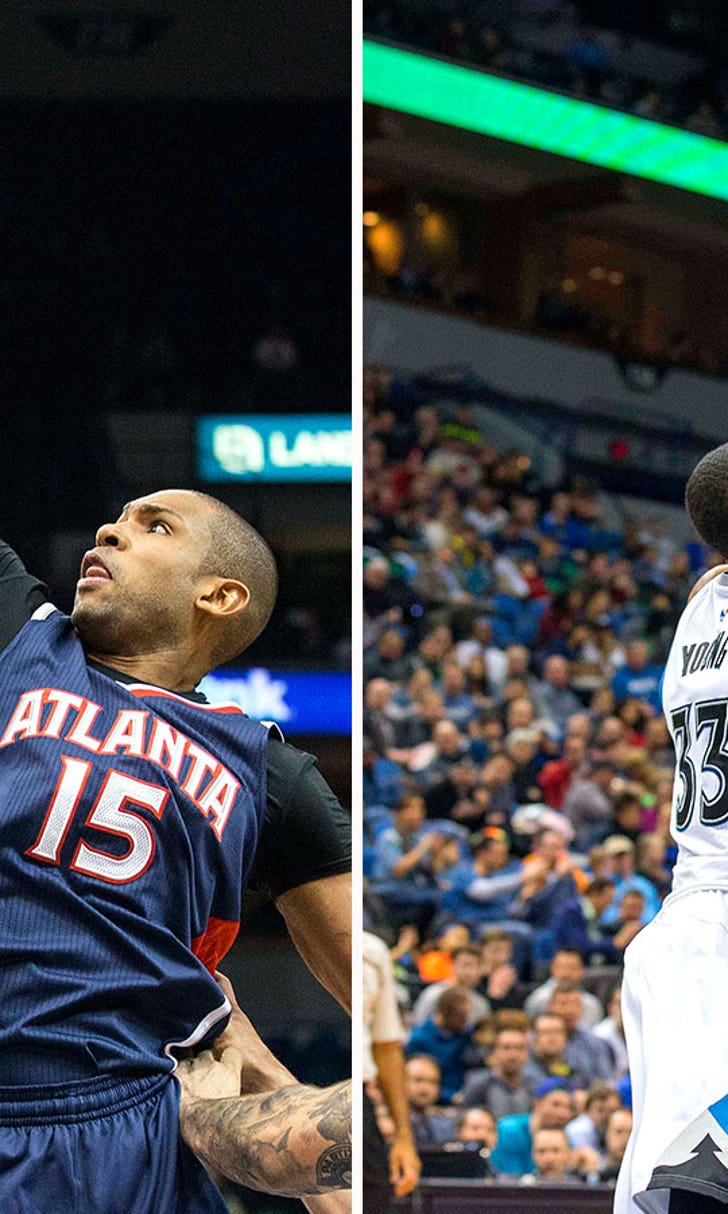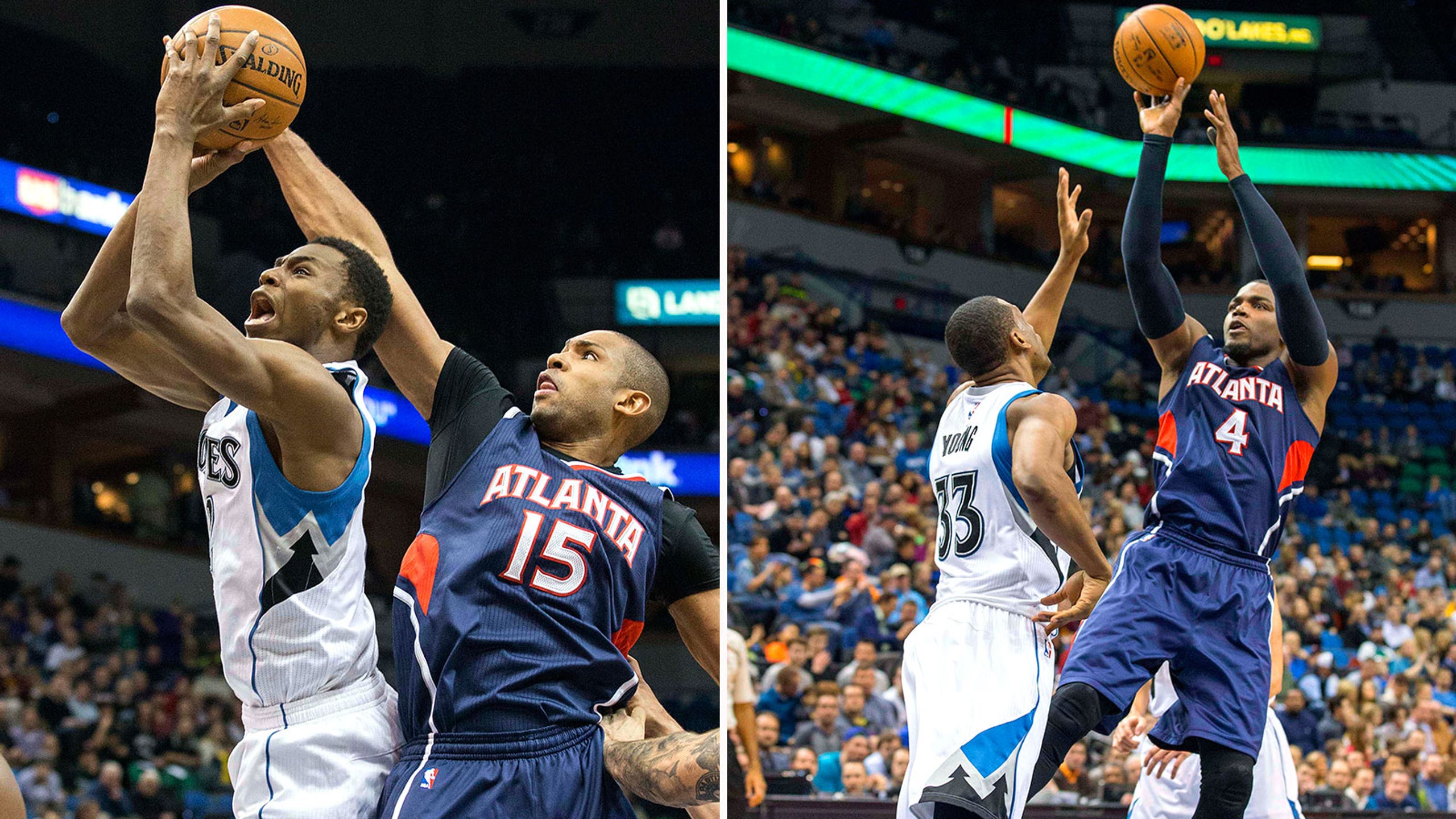 Court Vision: Balanced Hawks tame T-Wolves with big second half
BY foxsports • February 9, 2015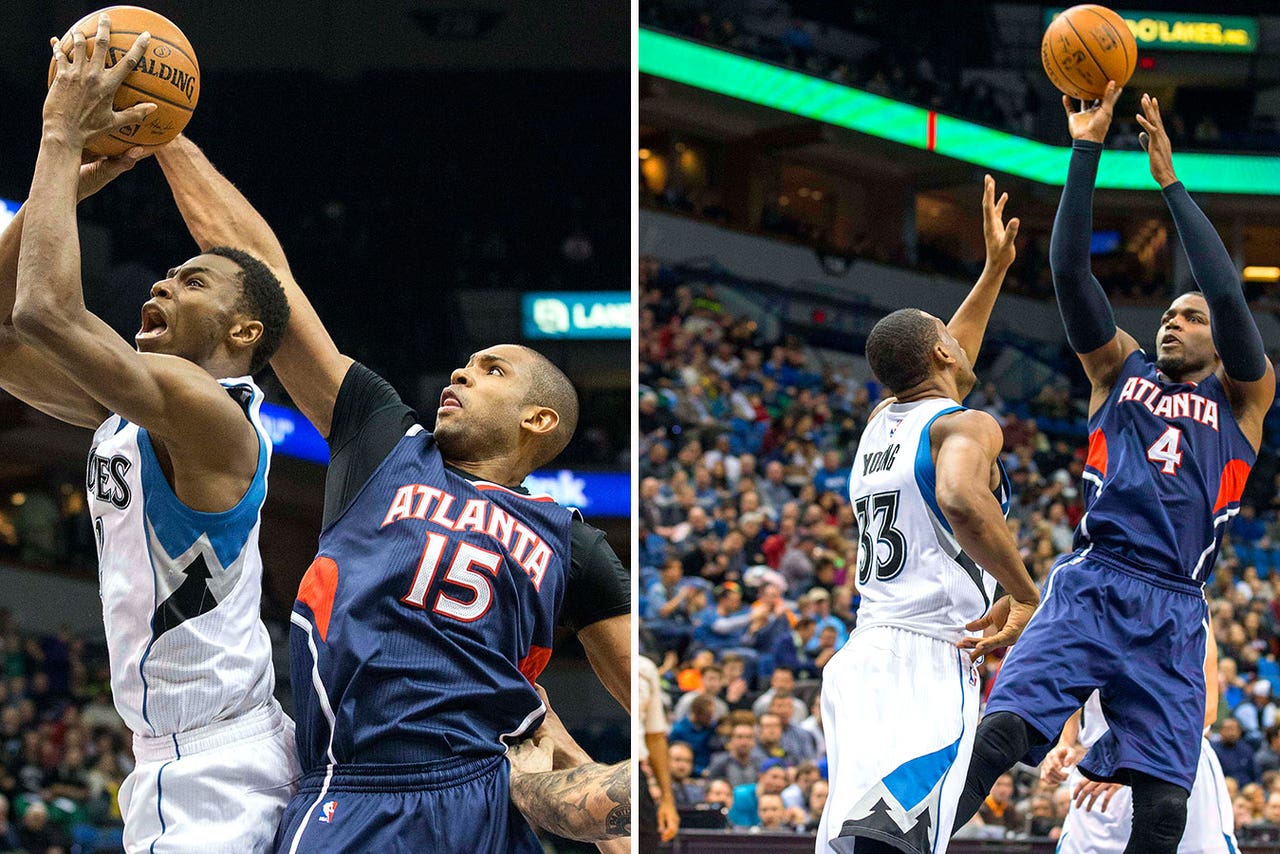 Here are three detailed, but sort-of-random observations from the Hawks' 117-105 victory over the Minnesota Timberwolves -- a tidy road win that Atlanta essentially sealed in the third quarter (more on that later):
Check out these numbers from the Hawks' double-digit win:
**Atlanta's starting quintet -- featuring Al Horford (28 points), DeMarre Carroll (26 points), Paul Millsap (19 points), Kyle Korver (12 points), Jeff Teague (12 points) -- accounted for 83 percent of the club's overall scoring.
**The Big Five all posted positive plus/minus ratios, with a cumulative tally of plus-93 for the night. On the flip side, every Hawks reserve notched a negative on-court ratio against the Timberwolves.
**The starters also shot 59 percent, with the frontcourt trio of Horford, Carroll and Millsap burying 26 of 44 field goals.
Of course, none of the starters actually played more than 34 minutes ... which should help the Hawks (43-10, 1st in the East) finish with a bang on Wednesday (@ Boston) -- before the extended All-Star break kicks in.
The first two quarters entailed the Hawks winning by two each time.
The final stanza involved the Timberwolves (11-41) maintaining a two-point edge.
But the third quarter solely belonged to Atlanta, with the often-mentioned starting five hitting 7 of 14 shots (including three triples) and all eight free throws (21 points all told).
During that span, the Hawks quickly transformed a four-point lead into an 18-point cushion -- highlighted by a finger-roll layup from guard Dennis Schorder (eight points) and a 3-pointer from reserve Mike Scott (eight points), who may log extra minutes on Wednesday, as Atlanta cruises into the break.
Which brings us to this: During the Hawks' broadcast on FOX Sports South, play-by-announcer Bob Rathbun alluded to how a Wednesday victory would clinch the best pre-All-Star-break record in franchise history -- potentially at 44-10.
But haven't the Hawks already done enough in that realm? Charting the club's history, which dates back to 1949-50 (Tri-Cities Blackhawks/Milwaukee Hawks/St. Louis Hawks/Atlanta Hawks), only three teams have notched 55 or more seasonal victories -- the 1998, 1987 and 1968 squads.
Oh well. Moving on ...
Six years ago, then-GM David Kahn pulled off the absurd act (dare we say 'stupid') of drafting back-to-back point guards with the Nos. 5 and 6 overall picks -- Ricky Rubio and Jonny Flynn -- even though the Timbwerwolves (24-58 after the '09 season) had numerous holes with their flawed roster.
But what could possibly motivate any GM to go point guard/point guard at the top of a draft ... especially one that still featured Stephen Curry (No. 7 to Golden State), DeMar DeRozan (No. 9 to Toronto), Gerald Henderson (No. 12 to Charlotte) and DeMarre Carroll (No. 27 to Memphis) on the board.
(Not to mention Taj Gibson awaiting his name at the bottom of Round 1.)
And lest not forget: 2009 was the Year Of The Point Guard, meaning Kahn could have landed Brandon Jennings (No. 10 to Milwaukee), Jrue Holiday (No. 17 to Philadelphia), Ty Lawson (No. 18 -- actually drafted by the T-wolves, before being dealt to the Nuggets), Jeff Teague (No. 19 to Atlanta) or Darren Collison (No. 21) within the first 21 picks.
While driving to work mid-morning, I was surprised -- but not shocked -- to hear the ESPN radio host denounce the Hawks' chances of winning the Eastern Conference title, as long as LeBron James and Derrick Rose remain healthy, happy and focused with the Cavaliers and Bulls, respectively.
During Cowherd's unprovoked mini-rant, he chided the national media for falling in love with the Hawks' sterling 52-game run (42-10, prior to the win over Minnesota), reasoning that only teams with legitimate stars should be considered favorites to claim an NBA title.
He also wondered aloud, How many teams with the longest winning streaks in NBA history actually won a championship that season?
Well, ask and you shall receive:
**Of the top 10 same-season winning streaks in NBA history (excluding the Hawks' recent run of 19 consecutive victories), a listing that includes the 1972 Lakers, 2013 Heat, 2008 Rockets, 1971 Bucks, 2000 Lakers, 2009 Celtics, 2014 Spurs, 1970 Knicks, 1982 Celtics and 1996 Bulls, eight clubs eventually claimed the ultimate prize that year.
(The 1982 Celtics and 2008 Rockets both fell short of the dream.)
That puts the eminently balanced, free-flowing Hawks in good company, in case they decide to follow the footsteps of the 2014 Spurs -- last season's NBA champs -- and pursue a championship with efficient, selfless actions on the court.
---