Court Vision: 5 quick takes from Hawks' Game 2 win over Wizards
Published
May. 5, 2015 10:35 p.m. ET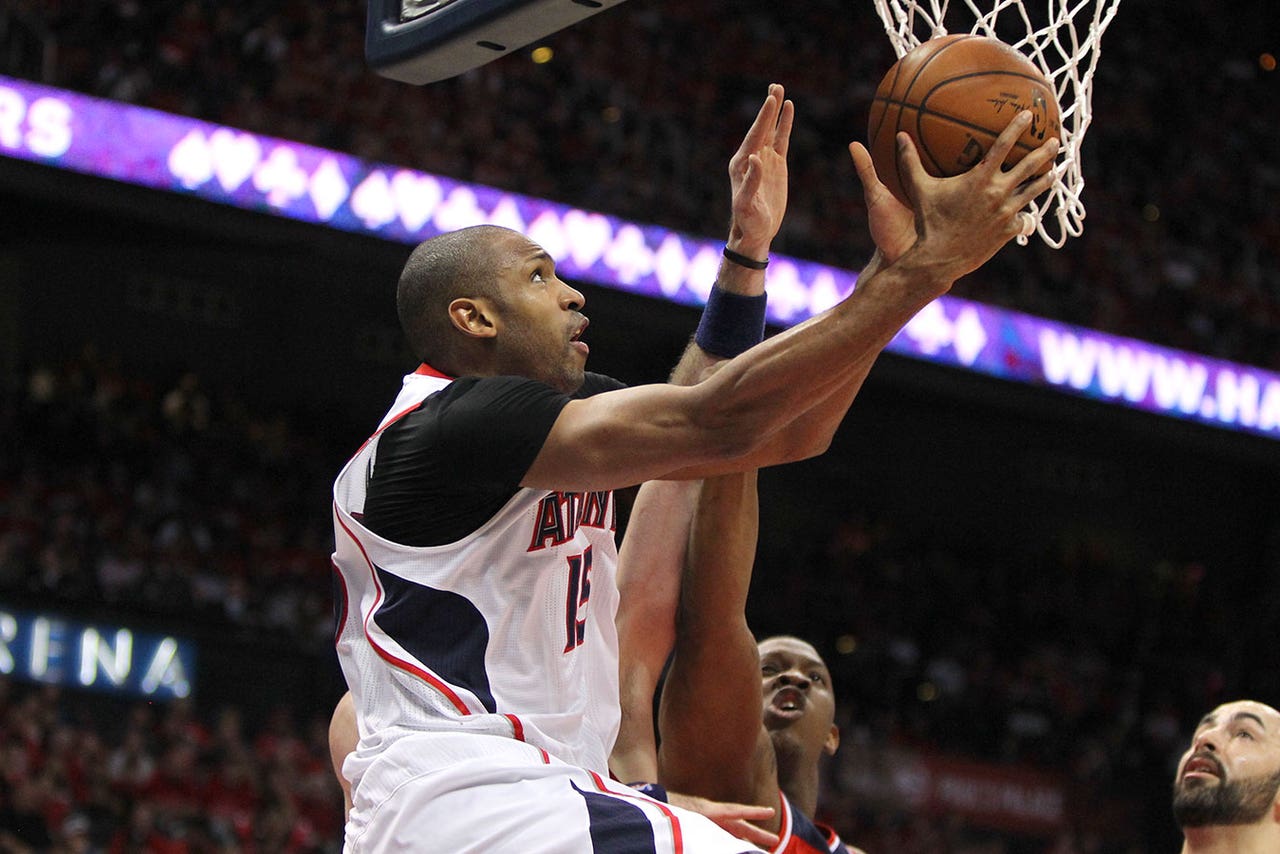 Here are five detailed, but random takes from the Hawks' 106-90 win over the Wizards on Tuesday -- a Game 2 victory that was a must-have for Atlanta (series tied at 1) ... long before All-Star guard John Wall missed the game to injury (wrist):
Horford (18 points, six assists, four rebounds) was his typically stellar self on Tuesday; but a particular sequence in the fourth quarter paved the way to Atlanta's victory:
Immediately following a Wizards run, slicing the Hawks' lead to five with 8:17 left, Horford pulled off the four-part feat of hitting a short layup off the window, burying a 19-footer from the baseline, stealing a Ramon Sessions pass in the paint area and then (cleanly) blocking an Otto Porter fast-break drive to the hoop -- although officials called a foul on the athletic play.
As a justice-prevails moment, Porter connected on only one free throw, effectively swinging the momentum back into Atlanta's favor.
In a game of back-and-forth spurts, the Wizards were seemingly on the cusp of forcing a tie in the waning moments.
But a late Hawks run was cemented with 5:01 left, when the perimeter-oriented giant nailed a 23-footer from the left side, extending Atlanta's advantage to 10 (93-83).
Sure, the Wizards would make things interesting in the end -- thanks to a bevy of perimeter bombs from Paul Pierce (15 points on five three-pointers) and Bradley Beal (20 points, 7 assists) -- but things became largely academic on Antic's rainbow (his third triple of the series).
Most lower seeds are happy to bolt town with a mere series split in the opening two games.
As such, with a Game 1 victory already in the hand, the Wizards performed a Jedi Mind Trick, of sorts, holding out guard John Wall for Atlanta's must-win game.
And with the up-and-down competitiveness of Tuesday's outing ... the Hawks might have a seed of doubt, knowing their best effort was just enough to eclipse a surging Wizards club that's saving Wall for the crucial weekend set (Saturday/Monday in Washington D.C.).
On the whole during the regular season, Atlanta's primary quintet of Horford, Millsap, Jeff Teague, DeMarre Carroll (game-high 22 points) and Kyle Korver (12 points) typically enjoyed a cumulative ratio of +15.
But in Game 1, the Hawks' fab five had a humbling -3, in defeat.
Fast forward to Game 2: The Hawks' entire starting five was in the black, ranging from plus-10 (Carroll) to plus-20 (Korver).
All told, Atlanta's quintet had a cumulative tally of plus-71, easily outdistancing Washington's miuns-50 for the night.
For the opening two games, Wizards starting forward Nene Hilario has incredibly produced only two points and seven rebounds -- and yet, his team finished maybe one finishing kick shy of leaving Atlanta with a 2-0 lead.
Perhaps Wizards coach Randy Wittman will swap out the pylon-like Hilario for Drew Gooden, who was incrementally better against the Hawks (five points, four rebounds on Tuesday).
Needless to say, the Hawks have a huge advantage at the 4-slot in this series (Millsap, Antic), regardless of whom the Wizards utilize at that spot.
Even with Millsap shooting less than 40 percent from the field (12 of 33 for the series).
Citing the naked-eye experience of television, it's shocking that Atlanta attempted seven more three-pointers than Washington in Game 2.
Without the lightning-fast Wall penetrating the lane ... it felt like the Wizards were attempting one long-range bomb for every pair of two-pointers.
(Luckily, Washington had an admirable Plan B in Ramon Sessions, who notched 21 points and four assists in Wall's stead -- covering 40 minutes.)
Instead, Washington accounted for 82 shots (making 35) -- and only 22 from three-point range (draining 12).
---