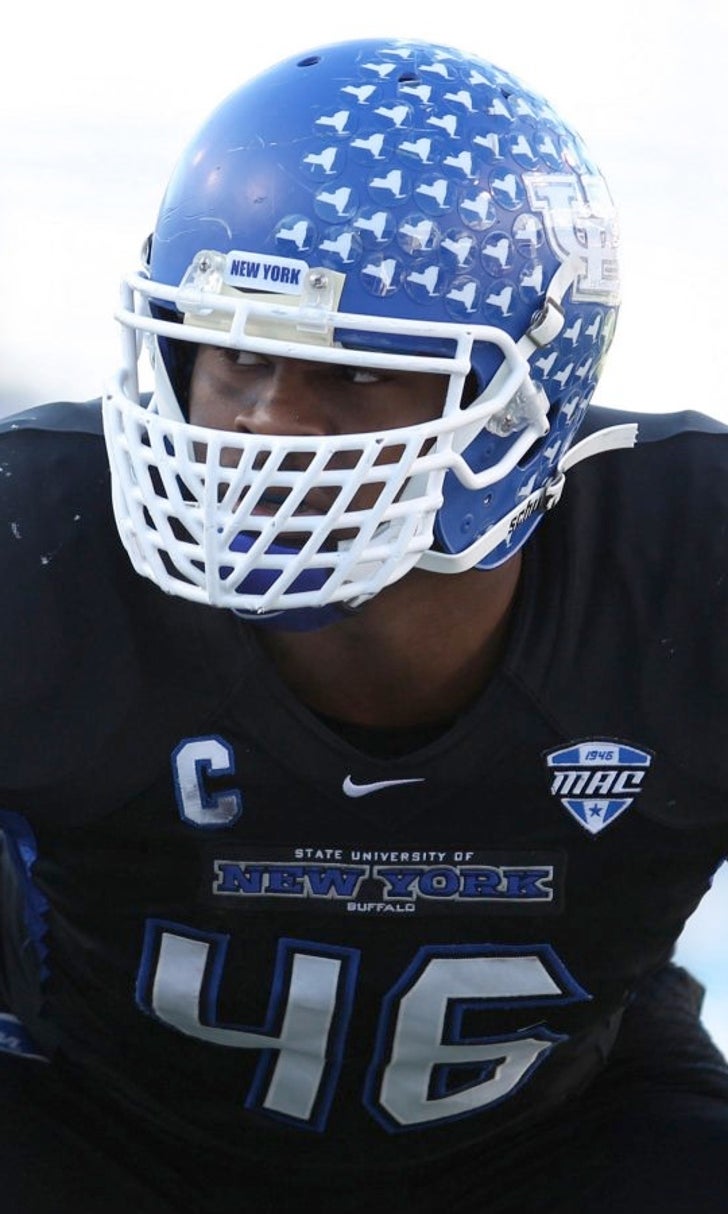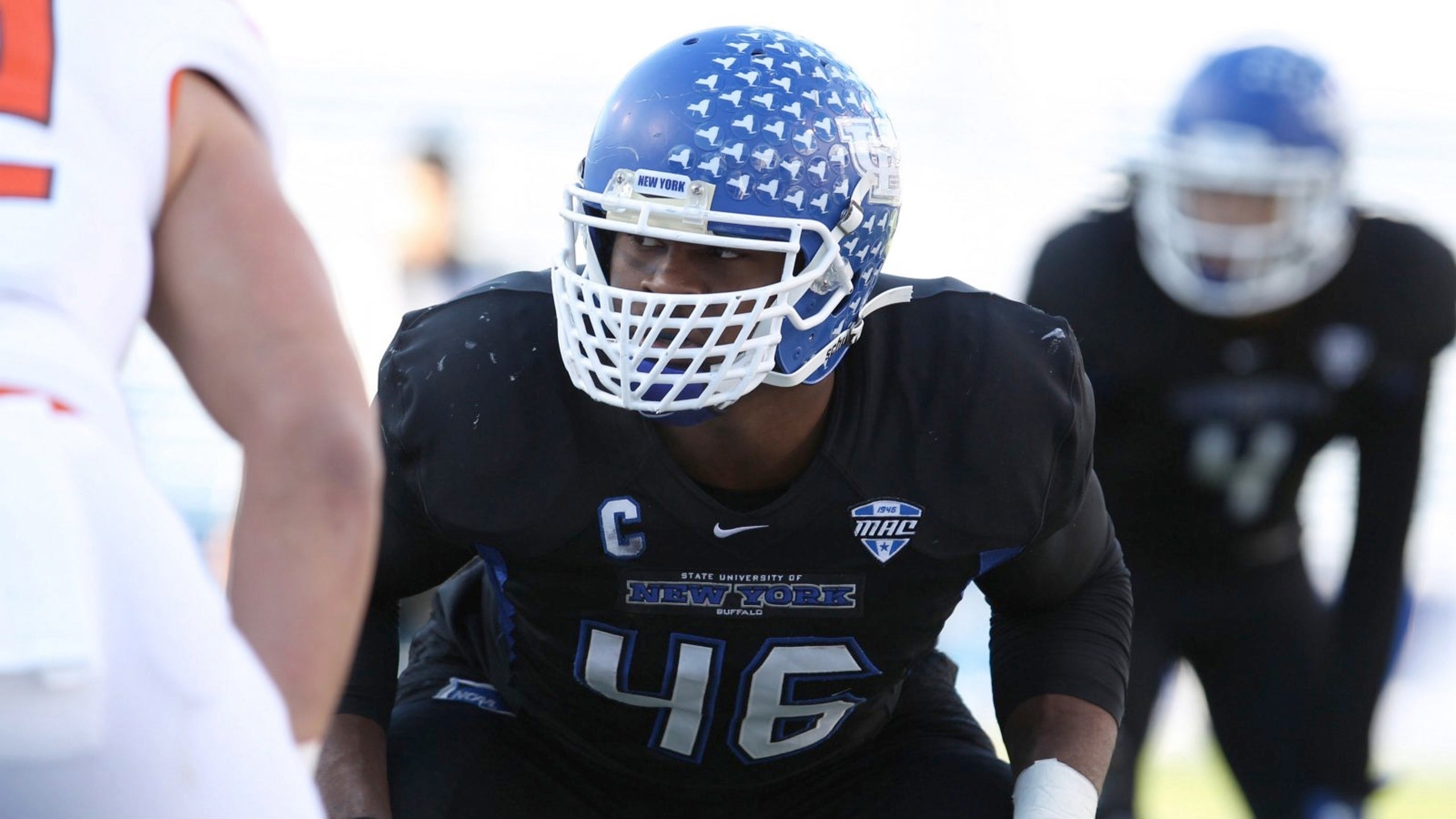 Could Cleveland Browns add another Mack?
BY foxsports • March 22, 2014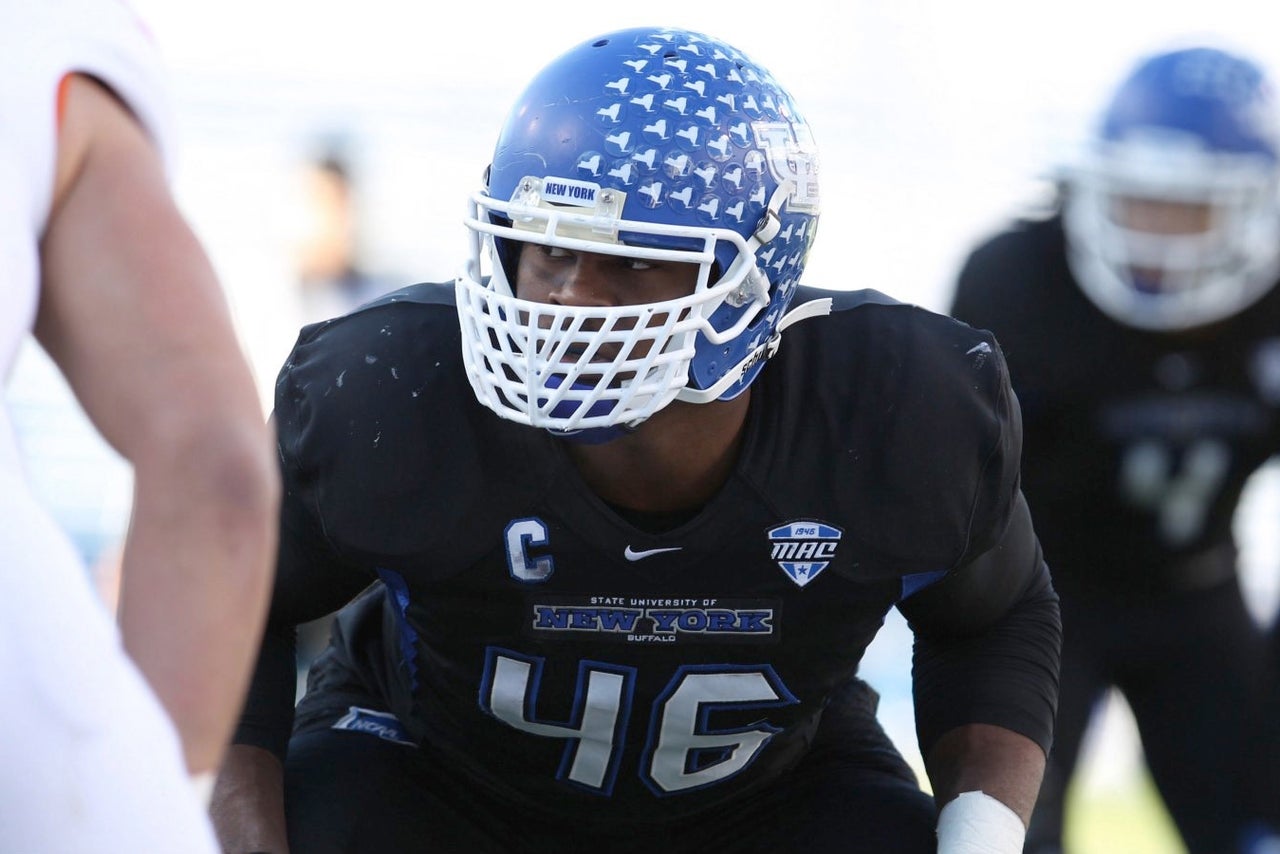 (Over the next several weeks leading up to the NFL Draft, FOX Sports Ohio will take a look at some of the draft prospects that could end up with the Browns. FSO's Fred Greetham was at the NFL Scouting Combine in Indianapolis and talked with many of these top prospects)
While the Browns are waiting to see what kind of offers Alex Mack gets in free agency, if any, before they match it, they might be contemplating another Mack with their top pick in the NFL Draft.
The name Mack has been synonymous with the Browns for a long time. Besides Alex Mack, the Browns had one of their better running backs in franchise history in Kevin Mack, who played in the 1980s. He currently works in the Browns organization.
General manager Ray Farmer has said his philosophy is to take the best available player, and his philosophy might be put to the test when it comes the Browns turn.
Buffalo's Khalil Mack is rated as one of the top players in the draft, but he plays a position that is considered one of the strengths of the Browns.  Should he be the best player available on the Browns draft board when they select they must decide if he'€™s too good to pass up.
Mack is projected to be an outside linebacker, whose specialty is to rush the passer. Last year, the Browns used the No. 6 pick overall to draft Barkevious Mingo.
Besides Mingo, the Browns have Jabaal Sheard, Paul Kruger and Quentin Groves returning as outside linebackers. One option is to move Mack inside to pair with Karlos Dansby, but it'€™s a risk to assume a college player can make the transition to another position.
"My versatility helps me in a lot of ways," Mack said at the combine. "€œIf you have a guy who can rush the passer, as well as drop in coverage — that covers two of the big issues on the defense."
Mack (6-2 1/2, 251) doesn'€™t want to be limited to just playing one position.
"€œI don't want to limit myself to just playing one specific thing,"€ he said. "€œI feel like that's the biggest thing for me. I try to work out, when I work out with the defensive ends, I work out with the linebackers, I also go over and workout with the DBs — just to stay fresh. I work hard, and I want to stay loose and don't want to put a limit on myself."
Mack said he can rush the passer with his hand on the ground as a defensive end, if need be.
"I love it," he said. "€œI love it. I talked to a couple of coaches already and told them I can play defensive end if they need me to."
Mack has been climbing up draft boards since he had a dominating game against Ohio State in the 2013 season-opener. Mack had nine tackles, 2.5 sacks and a 45-yard touchdown on an interception against the Buckeyes. Mack had 15 tackles against Toledo and finished the season with 10.5 sacks.
He was asked how much he thought the Ohio State game helped get him noticed.
"€œA lot, especially being the first game of the season," he said. "€œIt helped with the stage, I feel like there was a lot of people watching that game. It helped me tremendously."
NFL Network analyst Mike Mayock has said that he thinks Mack is worthy of being considered for the No. 1 overall pick in the draft.
"œOh, Mike Mayock is the man," he said. "€œHe's the man, I want to prove him right. I've been working hard this past 5-6 weeks and I'm ready to grind and get out there to work out."
Mack played at Buffalo in the Mid-American Conference and feels he's had to prove himself. He said the draft will be a big day for the school.
"€œThat's going to be a special day for me, as well," Mack said. "€œBut, at the same time, the program I feel is already blossoming into something special down there . . ."
Mack said he felt early on he could excel at the next level.
"€œNo doubt, seeing (former Buffalo players) like James Starks and Naaman Roosevelt, they gave me confidence and they told me the first couple of days I got to Buffalo, 'You're good, you're good,' "€ he said. "Even though I'm looking up to them like 'Oh man, you're telling me I'm good, you're good, you're great.' But, at the same time it gave me that confidence. And I wanted to get better.
"€œI had the attitude that I wanted to get better,"€ he said. "€œI didn't want to settle for that compliment. I wanted to rise above stand prove them to be right, as well as myself."
Mack said when he first saw his rating on the NCAA football video game he was disappointed. It motivated him to excel. His jersey number, 46, reminded him of his original rating.
"€œNo doubt, the NCAA video game — the first one that came out, I was only rated a 46 overall, with a 37 rating for speed, and it was a slap in the face man. Because, I knew deep down in my heart I was better than a 46. And, it just so happened, I was already (wearing) No. 46 and I kept the number."
Mack's speed is one of his strongest assets as he ran a 4.53 in the 40-yard dash at the combine in front of representatives of all 32 NFL teams, including Browns head coach Mike Pettine.
The Browns coach is partial to the defensive side of the ball from his background. He also was the defensive coordinator for the Bills last year. When asked on his thoughts on Mack at the combine, Pettine said he hadn'€™t watched any tape or studied him up until that point. Mack is confident that wherever he ends up, he will be able to make an impact.
"It's going to be a transition (going to the NFL), but I feel like football-wise I'm ready to step in and make an impact, anyway I can."€
---