Concordia's Moore enjoying rare chance at combine experience
Published
Feb. 22, 2014 9:04 p.m. ET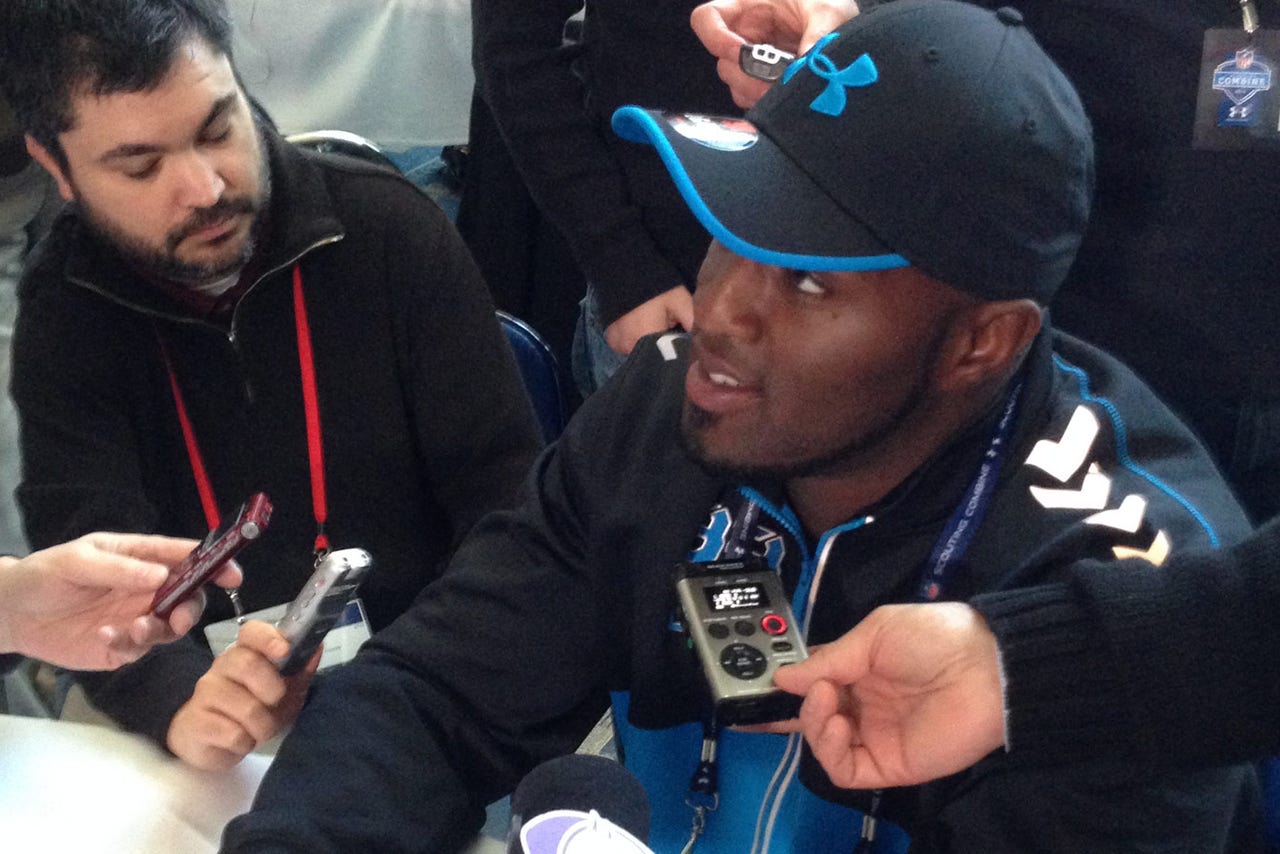 INDIANAPOLIS -- From the halls of Division II Concordia University in St. Paul, Minn., Zach Moore has made his way to Indianapolis and the NFL Scouting Combine.
For two days he'll interview with NFL teams, where he knows the questions about coming from a small school will come up and everything that's attached to why he was at Concordia. Moore said the questions had come up in each interview he had already completed before Saturday afternoon, and expected them to continue for every meeting he would have with teams.
"It's all going to come up and I'm definitely prepared to answer that question in any way or form possible," Moore said.
Moore is the first player in Concordia-St. Paul history to be invited to the combine. Even though he hails from the tiny metropolitan school, NFL scouts still found him, where he was a menacing pass rusher at defensive end.
Academic issues kept him from playing Division I football -- he was recruited by the teams such as Illinois, Michigan, Ohio State and Purdue -- and also interrupted his career at Concordia. His grades back on track, he finished his college career strong, setting the school record with 33 sacks while being named to the Northern Sun Intercollegiate Conference South Division All-Conference first team three times.
His productivity brought the scouts to St. Paul. He said sometimes there would be four to five scouts at his practices.
"It just shows how my hard work paid off," Moore said of being the first Concordia player at the combine. "Many teams have seen my play. They know what I can do and it's just a product of me being here."
The workout portion of the combine is where Moore will likely shine. His physical attributes are easy to see. He was measured in at 6-foot-5 and 259 pounds at the combine Saturday and looks every bit the stature of an NFL defensive end.
Moore learned from his college paper that he'd be testing as a defensive end and teams had interest in possibly seeing if he could play outside linebacker in a 3-4 system. The possible third-day NFL Draft pick went to Arizona to train for the combine.
"Some teams, especially in a 3-4 scheme, they want to see if I can have the ability to move at linebacker," Moore said. "Whatever they want to see me as, I'm willing to do it . . . Right now they predominantly see me as an end, but they see that I can do what I linebacker can do and I can see me at that position, so we'll see how it goes on Monday."
Moore will do the on-field workouts in front of scouts and NFL personnel directors Monday in Indianapolis.
Through Saturday, he said he had received "all positive feedback" from NFL teams during interviews and from his agent.
"He's met with a lot of teams about me and we've got all good reviews," said Moore about his agent's conversations. "So I think that just speaks for how I carry myself as a person and as a player . . . They like my size. They like my film. How I can bend and move as a big guy."
Those physical and athletic gifts have taken Moore from Division II football almost to the NFL. He said he's "getting a lot of love" from NFL teams.
"It's been a great, humbling experience to be a part of," Moore said of the combine. "Everyone back home is rooting for me since I'm the only one from my school who's even been a part of this process. So, it's great to be here."
Moore will graduate in May and appreciates the unconventional route he's had to take.
"Small school experience was definitely great," Moore said. "I have no regrets. I met some great people, great coaches. I'm able to get my academics straight. It's been a great five years."
The small school route, a possible late-round draft pick gives Moore even more motivation to prove he belongs. He was asked about the Seattle Seahawks' Super Bowl winning team that was built on late draft picks and playing with a chip on their shoulder.
"I think we're overlooked at times," Moore said. "People don't give late-round selections that much credibility or respect. So it's great to see when those players come out on top as Super Bowl champions."
Follow Brian Hall on Twitter
---