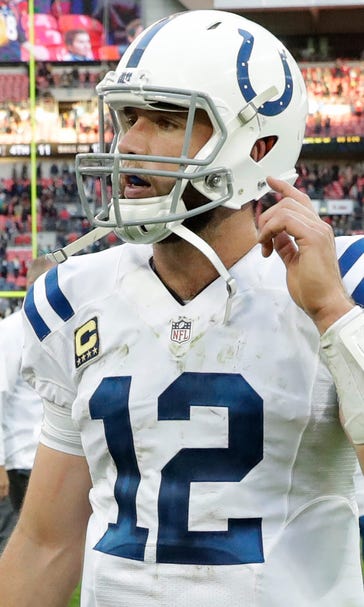 Colts fall to 1-3 with 30-27 loss to Jaguars in London
BY foxsports • October 2, 2016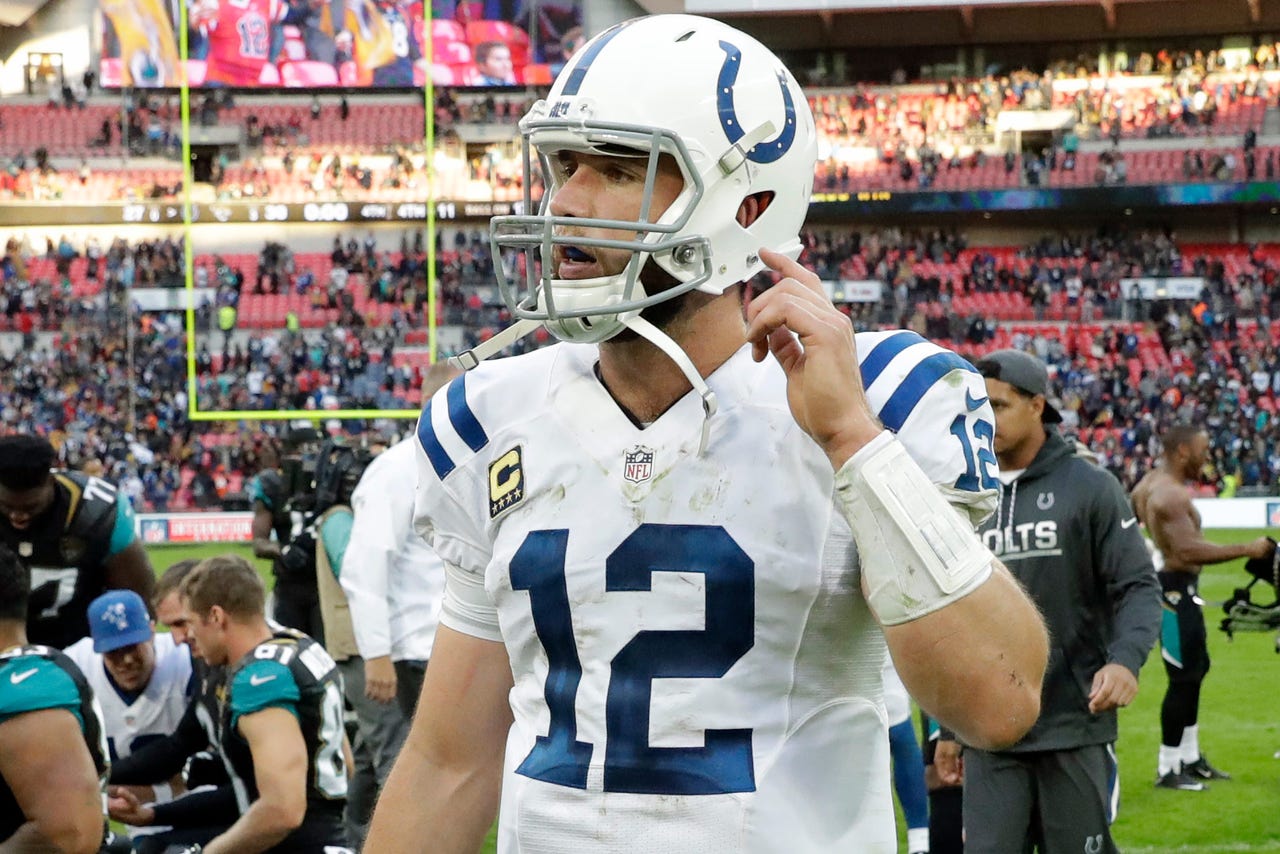 LONDON -- Finally, the Jacksonville Jaguars didn't let one slip away.
The team that leads the NFL in surrendered leads since 2014 pulled out a gutsy 30-27 victory Sunday over the Indianapolis Colts despite conceding three fourth-quarter touchdowns to Andrew Luck and Frank Gore.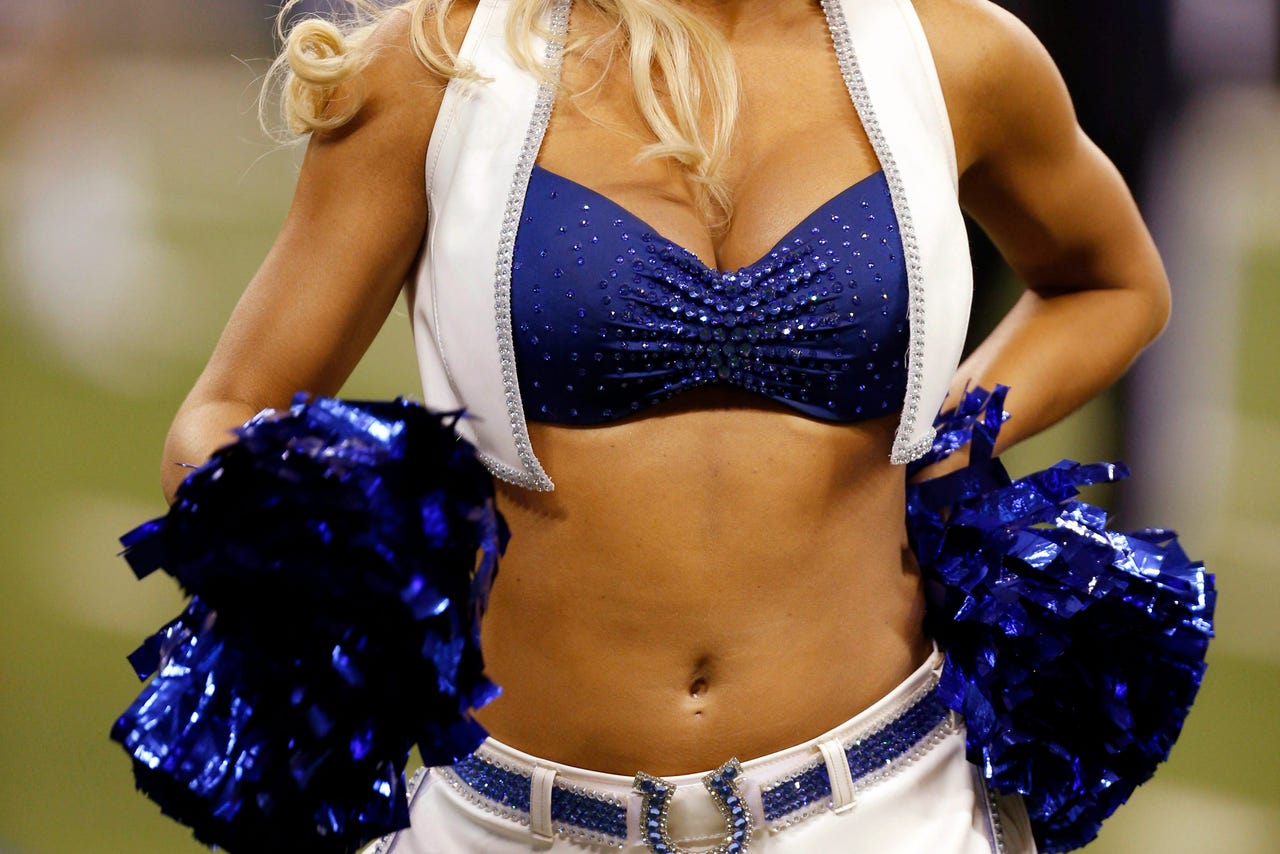 View from the sidelines: NFL cheerleaders 2016.
Jaguars quarterback Blake Bortles held his own versus Luck, throwing for two touchdowns and running for a third. Bortles finished 19 of 33 for 207 yards and three sacks, while Luck went 27 of 42 for 234 yards, two TDs, six sacks and a costly first-quarter pick.
Still, Luck's three fourth-quarter touchdown drives -- the last capped by a 64-yarder to Phillip Dorsett against busted coverage -- rattled the Jaguars' nerves. But Luck's fourth-and-1 pass at the Jacksonville 49 with 1:36 remaining fell from the hands of tight end Dwayne Allen to preserve the victory for under-fire Jaguars coach Gus Bradley.
"Man, that was exciting. Our team never stopped believing despite all that Andrew Luck threw at us," Bradley said after the Jaguars' second straight win at their London second home, Wembley Stadium.
"Our fan base here, that atmosphere out there, was unbelievable, and our team fed off it," he said in reference to the raucous sold-out crowd of 83,764, many of whom waved yellow Jaguars (1-3) flags and raised the volume whenever Luck had the ball.
The Colts (1-3) repeatedly self-destructed on offense with dropped balls and another costly Luck interception that led to Jacksonville's opening touchdown. The Colts proved just as reckless on defense as pass interference and unnecessary roughness penalties extended three Jacksonville scoring drives.
Jacksonville took a 7-0 lead after Dante Fowler Jr. shot through the middle of the line and batted Luck's pass sideways to teammate Yannick Ngakoue, who returned the interception 12 yards to the Colts 26. Bortles found Allen Robinson wide open on an inside slant for a 3-yard touchdown as Robinson easily beat Antonio Cromartie.
"When you have a turnover early in the game, you give up a short field and a touchdown, and 11 penalties that keep drives alive, guys have got to control their emotions, they've got to learn when to say when," Colts coach Chuck Pagano said. "Obviously, we have to be better."
The Jaguars led 23-6 after three quarters before the Colts mounted a tenacious comeback.
The Colts' first touchdown drive of the final period was aided by an end zone pass interference on safety Jonathan Cyprien. Frank Gore -- who ran 16 times for 68 yards and rose to 10th on the NFL's all-time rushing list -- punched the ball through on the next play seconds into the final period.
After a Jacksonville punt, Luck led a 12-play, 78-yard touchdown drive capped by his rollout scoring toss to T.Y. Hilton alone in the right corner of the end zone to narrow the score to 23-20.
The Jags didn't fold under the pressure as so often before. Bortles found Allen Hurns on a short out route that the wide receiver turned into a 42-yard touchdown. Hurns made reserve cornerback Rashaan Melvin miss, then cut inside and through the defense to put the Jaguars up 30-20 with 5:31 left.
But Luck pulled the Colts back to 30-27 barely two minutes later. A coverage miscue by Jaguars rookie Jalen Ramsey left slot receiver Dorsett streaking alone to haul in the 64-yard touchdown throw.
"We'll go back and fix what we need to fix. ... This does not feel good and it shouldn't," Luck said.
JAGUARS CAN RUN: The Jaguars, who entered the game ranked as the NFL's second-worst rushing attack, got a semblance of a running game going. Yeldon carried 13 times for 68 yards and Bortles added seven scrambles for 36 yards, including a 1-yard touchdown keeper on a read-option play that put Jacksonville ahead 14-6 midway through the second quarter. Chris Ivory added eight carries for 29 yards. While nothing special, gaining 136 yards on the ground was a great improvement for a team averaging a paltry 55 per game.
FOREIGN POWER: Frank Gore added to his somewhat strange status as the NFL's greatest rusher outside the United States. Sunday marked his fourth time in regular-season action on foreign soil dating to his rookie year of 2005 in Mexico City. Gore also had strong 2010 and 2013 performances as a 49er in London's Wembley. Adding Sunday's productive numbers leaves Gore with 66 non-American carries for 264 yards and four touchdowns.
MORE GORE: The running back's 68 yards on the ground raised him to 10th on the NFL's all-time rushing list at 12,293. He passed Marcus Allen, Colts all-time leading rusher Edgerrin James and Marshall Faulk. But Gore, making his 84th straight start, most among active running backs, couldn't end the Colts' most awkward streak: the longest run of any team without a 100-yard rusher. The Colts haven't had one since Dec. 16, 2012, when rookie Vick Ballard reached 105 yards versus the Texans.
WHAT'S NEXT: The Jaguars enjoy a bye week before traveling to Chicago to face the Bears. The Colts, unusually for teams making the London trip, chose not to schedule their bye after the game and will face the Bears at home Oct. 9.
---
---