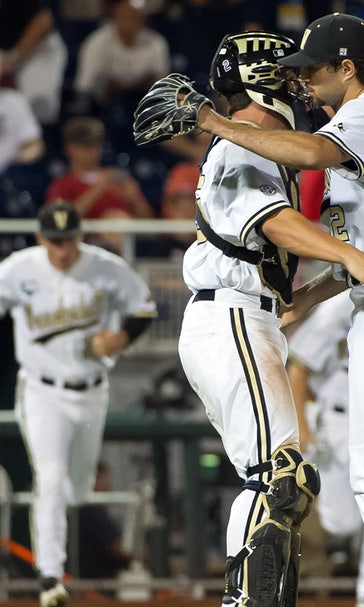 College World Series: Vandy exacts revenge on Louisville
June 15, 2014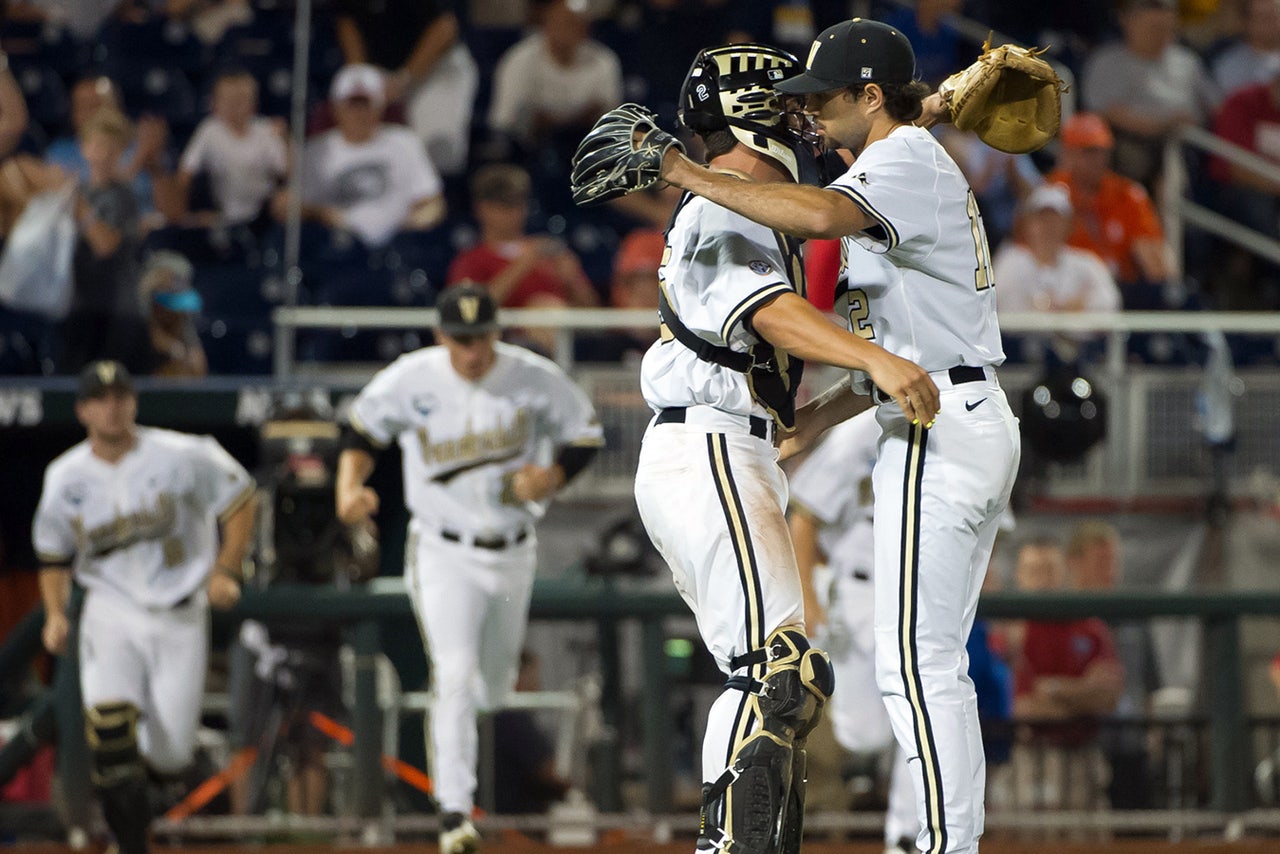 OMAHA, Nebraska -- It took Vanderbilt fans nearly as long to drive from Nashville -- 11 hours -- as it did for the Commodores to win their College World Series opener Saturday night against Louisville. The 5-3 win nearly made it to 11 p.m, Nashville time, 10 minutes shy of midnight on the East Coast, but for Vandy, it got a small amount of revenge on the Cardinals for a sweep in last season's Super Regional in Nashville.
Bryan Reynolds' mustache is a thing of beauty. It's well-manicured and neatly placed at the corner of each side of the lip.
It's just as neatly placed as the two-out RBI triple he hit into right center in Vanderbilt's 5-3 win against Louisville. The hit made it 4-0 in the bottom of the fourth inning, a run that got bigger and bigger as the Cardinals chipped away.
But his hardest hit came against the left field wall in the top of the second inning. When Louisville's Grant Kay sent a rocket toward the 335-foot sign in left, Reynolds earned the oohs and aahs of the pressbox curmudgeons as he left his mark on the wall. The ball was in the sun, too.
"It came out of the sun and I just kind of went for it and it was a good momentum swing for us I feel like," Reynolds said.
And he robbed an Omaha native, stealing a run that would have wound up being more important than it looked at the time.
It's no man-beard, but with time, that mustache could earn Reynolds a pretty cool nickname. It's way beyond his 19 years and so is his game. The freshman from Brentwood is hitting .340 and has been a postseason spark plug for the Commodores, who are competing in their second College World Series in the last four years. That 'stache and those stats could make him more than a baseball stud back in Nashville.
"He's been unbelievable for us all year," Vanderbilt second baseman Dansby Swanson said. "We're all proud of him and we trust him. This point in the season, he's not really a freshman anymore."
After Adam Ravenelle became Vanderbilt's fourth pitcher, Alex Crittenden called time. And that's how things went all night in Omaha, very slowly. At that point in the top of the seventh, the game was approaching its third hour.
The three-hour, 40-minute game became the longest World Series game at TD Ameritrade, breaking Vanderbilt's own record which came against North Carolina in 2011.
"I'll be short because I know it was a long night," Vanderbilt coach Tim Corbin said to open his postgame. "I guess we broke another record."
A fence-jumper -- the first of the event -- was faster than the game, and that wasn't very fast. His poor effort ended in shallow left, unable to avoid even one of the 11 security guards rushing toward him. The winds were way faster, more than 30 mph straight in -- not a night to hit fly balls toward the 408-foot mark in center.
Louisville will get the quickest turnaround, facing Texas in an elimination game Monday at 2 p.m. CT. Vanderbilt has a bit more time to rest, facing UC Irvine in Monday's 7 p.m. game as the visitor.
Vanderbilt pitcher Carson Fulmer started fast -- four scoreless -- and had to watch helplessly as his team gutted out the last four innings to help him improve to 7-1. Louisville starter Kyle Funkhouser, who like Fulmer throws flames, fell to 13-3. His start mimicked the first four letters of his last name and by the time he settled in, it was too late. A three-run third inning did him in, particularly the six walks and wild pitch that scored Vanderbilt's first run.
"I wasn't making a lot of great pitches tonight," Funkhouser said. "The good pitches I did make, they seemed to battle pretty tough. Coach has been saying all year, two-out walks will kill ya. That was basically the definition of it tonight."
Funkhouser threw 125 pitches in six innings. He struck out five.
Vanderbilt found stability in Ravenelle, who picked up his first save. The fourth-round draft pick pitched 2 1/3 and with 22 pitches, allowed a hit and struck out a pair.
"We were very fortunate tonight in a lot of ways," Corbin said. "To drive Funkhouser's pitch count up ... Ravenelle, yeah, those quick outs I thought brought the momentum back and the fact that he was able to grab the first out of the inning, because we weren't able to do that in the middle part of the game, and that's where Louisville started to catch up."
---