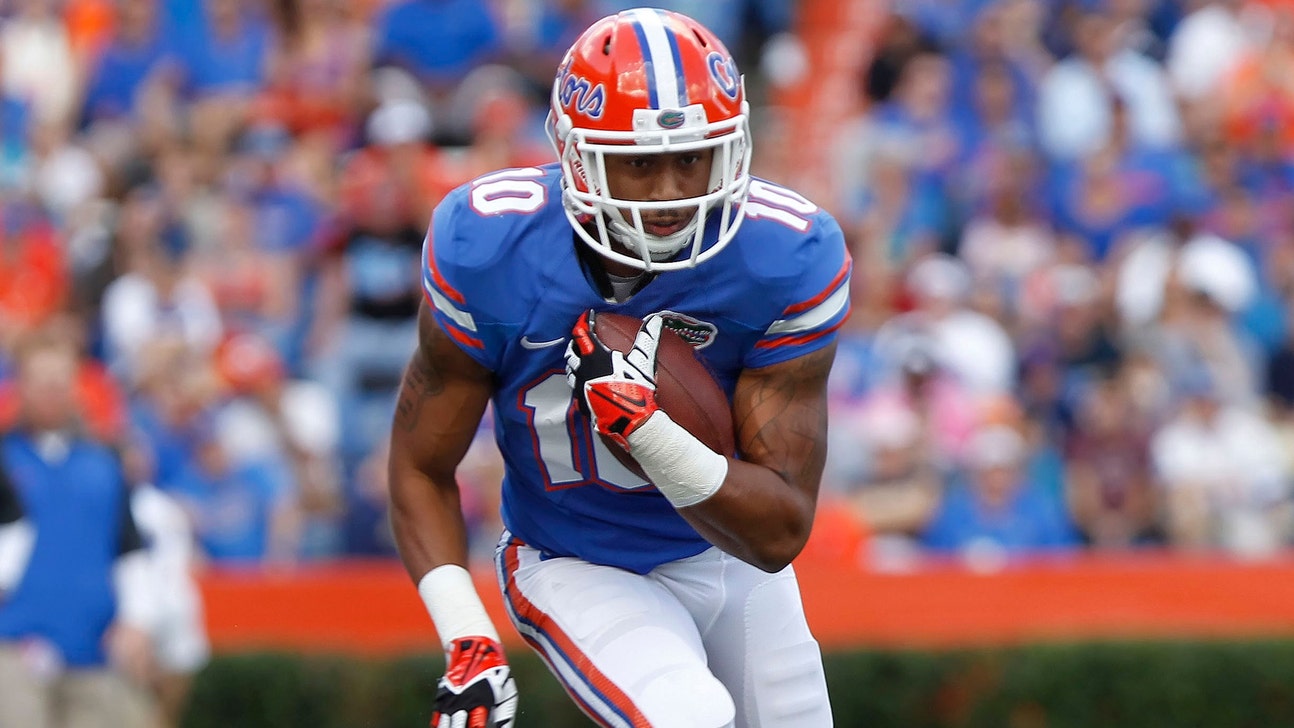 Coaches preaching speed, space for young Gators wideouts
Published
Aug. 4, 2014 4:54 p.m. ET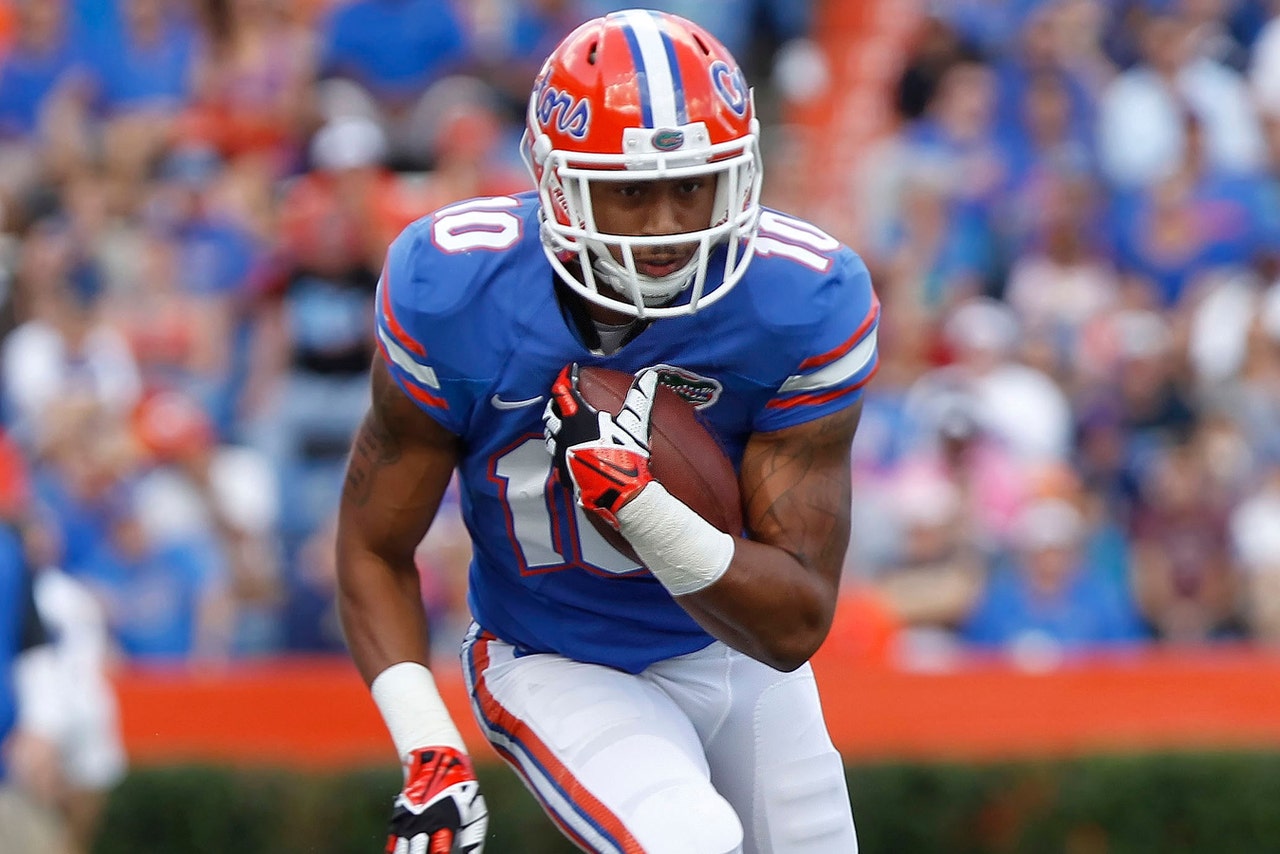 GAINESVILLE, Fla. -- The sun wasn't yet up, but the lights were on at the Dizney Lacrosse Stadium early Monday morning as the Florida Gators hit the practice field for the first time in 2014.
The activity was brisk. Whirlwind, actually.
"Speed and space! Speed and space!" shouted Kurt Roper.
Roper UF fans should get used to that mantra. UF players certainly have. Roper, Florida's new offensive coordinator, has been on a speed-and-space rampage since he arrived by way of Duke last offseason. He introduced the Gators to their new up-tempo offense in the spring and now it's less than four weeks from making its debut when Florida opens the regular season Aug. 30 against Idaho.
"Once he got here, everything changed," sophomore wide receiver Demarcus Robinson said of Roper. "Everything got faster. A lot faster."
That's all good, but Roper's big-picture for the offense is to get better.
A lot better.
For that to happen -- for the Gators to make a significant jump from the No. 12 offense in the Southeastern Conference -- the passing game has to make a mega-leap. That means a stable of receivers with not much statistical data to show for their careers must morph into explosive playmakers. No time to evolve. It has to happen. Now.
Enter Roper and his need for speed.
And space.
"It's exciting," senior Quinton Dunbar said. "We're all going to get a chance to make big plays."
Debose catching Of the current crop of UF receivers, Dunbar is by far the most accomplished. He has 90 career receptions, including 40 last year. How many touchdowns did he score last season? None. Senior Andre Debose, granted a sixth year of eligibility by the NCAA following a season-ending knee injury last August, is the next-most experienced Gators pass-catcher with 29 career receptions. Debose's last touchdown came in a homecoming win over Furman -- get this -- in 2011.
After those two, the combined numbers for juniors Valdez Showers and Latroy Pittman, sophomores Ahmad Fulwood, Chris Thompson and Robinson, plus redshirt freshman Alvin Bailey show 46 catches. That's it. Fulwood had 17 of them last year, yet only averaged 7.5 per reception. Robinson totaled five during a suspension-married rookie season. Pittman, who two years ago looked ready to emerge as a downfield threat, has only four career catches.
So why all the excitement?
"I'm telling you, these guys have all the talent in the world. I know because I've seen it and a lot more people are going to see it this season," quarterback Jeff Driskel said. "It's a really good group of guys who have their minds locked on this year, this team."
Forget about the way things were done under former offensive coordinator Brent Pease; or Charlie Weis before that. Their philosophies were based on Muschamp's preference to pair a balanced, ball-control offense with a dominant defense and kicking game. In 2012, that formula got the Gators to the BCS.
But during the injury-ravaged 4-8 season of 2013, Muschamp saw how his team lost confidence in what the offense was trying to do and decided to reinvent the UF offense. Roper came in and simplified concepts and terminology, but ramped up the pace. If all goes as planned, the Gators will be running 15-20 more offensive snaps per game this season.
The furious tempo at which Roper will operate is intended to exploit match-ups downfield and put receivers in position to make plays.
"Schematically, we'll be drastically different because we're going to be in the shotgun all the time and the tempo will be much different," Muschamp said. "When you play against us, you are going to have to tackle in space. That's how teams create issues for you as a defensive coach. You have got to be able to play in space. You've got to be able to rush four guys consistently well, as opposed to being able to pressure all the time because you create so many one-on-ones outside. When you miss a tackle, it's a big play."
Being part of the offense means a commitment to fight through fatigue.
"We definitely found out in the spring we were going to have to run a lot more to keep the pace," said Fulwood, the Jacksonville product who's 6-foot-4, 205-pound frame (and reach that goes with it) figures to provide issues for smaller corners. "We were going so fast, but it still wasn't fast enough. Coach Roper had us watch Duke on film and see how they kept moving, kept moving."
Added Showers, who figures prominently in the slot receiver role: "I still get a little winded by the tempo. The hardest part is after making a play, there's no jogging back to the huddle; you're running back to get lined up for the next play."
Conversely, that means the defense has to do the same thing.
On Monday, secondary coach Travaris Robinson was shuttling in fresh defensive backs to keep up with the offense's frantic pace. Ditto for the rotations in the front seven.
"And it's only going to get faster and faster as they pick up the offense ands get to know the plays," senior linebacker Michael Taylor said. "It's going to be tough on other teams."
Driskel Sounds drastic given the offensive philosophy of the last few years. The Gators have not had a receiver go over 600 yards in a season since 2009; they've not had one eclipse 1,000 yards since way back in 2002.
How this for context? Roper had two 1,000-yard receivers at Duke in 2012 alone.
"From the time he's been here, it's been go, go, go -- all go," Pittman said. "The defense doesn't like it, but we love it. It wears on those guys. When we get into games, and get into the fourth quarter, the defense is going to be gassed."
Roper and the Gators, in turn, will step on the gas.
That's the plan. Speed and space.
Who will be on the receiving end? That's what the next four weeks are for.
"Everything falls in its place when the season comes around," Driskel said. "Coaches are going to put guys in spots to be successful. You just never know what plays are going to be drawn up for who or how they're going to work out. But I do think three, four, maybe even five of them have a chance to have really special years."
---