Clippers surprised by Heat's Whiteside in 104-90 loss
BY foxsports • January 11, 2015
Well that was unexpected.
Miami's Hassan Whiteside must have been the subject of many Google searches on Sunday.
He has played just 31 career NBA games but got inside the lane with ease and befuddled the Clippers for 23 points as the Miami Heat ended a skid with a 104-90 victory at Staples Center.
The Clippers had been rolling and won five of their last six games before Sunday, and the Heat had lost five of six games.
And all the momentum the Clippers had created with that offensive rhythm and timing and pace in back-to-back blowout victories over the Lakers and Mavericks was lost in the hands of a 25-year-old, 7-foot journeyman.
He dunked, he blocked and after playing so well in the first half, he cracked the starting lineup for the second half.
Whiteside's 23 points were a career-high, and he added 16 rebounds, two steals, two blocked shots and no turnovers against the Clippers.
"I thought we gave him too many easy buckets right at the rim," Blake Griffin said. "They spread the floor, with (Chris) Bosh, you have to respect him deep. That leaves the hole sometimes a little unprotected.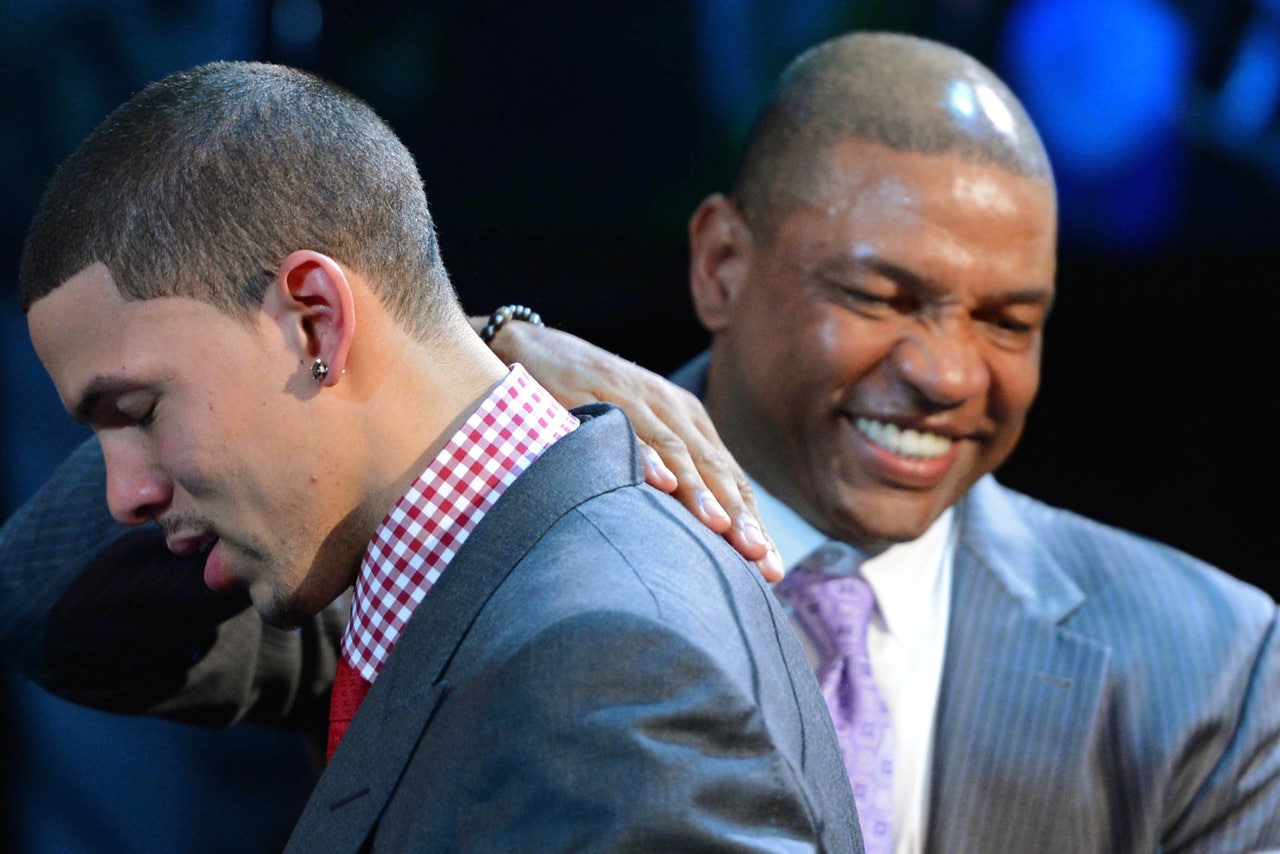 Rivers open to son, Austin, joining Clippers: Whatever makes us better
We need to make it tougher for a guy like that. He played well, extremely well. His efficiency was great on the boards. He was the biggest difference in this game."
Bosh had 34 points, and Whiteside's productivity was a bonus for Miami.
Griffin had 26 points for the Clippers, and Chris Paul added 23. The bench hasn't found a groove, but the starters didn't have one against Miami either.
The Clippers played the day before, beating the Mavericks 120-100.
They surely didn't have much of a scouting report on Whiteside. He averaged 6 points per game over the last 10 games. His was drafted by the Sacramento Kings in 2010 and 33rd overall. His career had taken him to Iowa of the NBA Developmental League and overseas to China and Lebanon.
And then to an unsuspecting breakout game in Los Angeles.
"The ones right at the rim, those are tough," Griffin said. "We have to do a better job of offensive rebounds and putbacks. Those are definitely deflating when you guard and get a stop. A guy like that who's at the rim, catches one and puts it right back in, that's deflating. As a team, we have to do a better job of getting a guy like that off the boards.
Whiteside even seemed to snag some of the rebounds DeAndre Jordan usually pulls down. Jordan had just six rebounds and only two in the first half.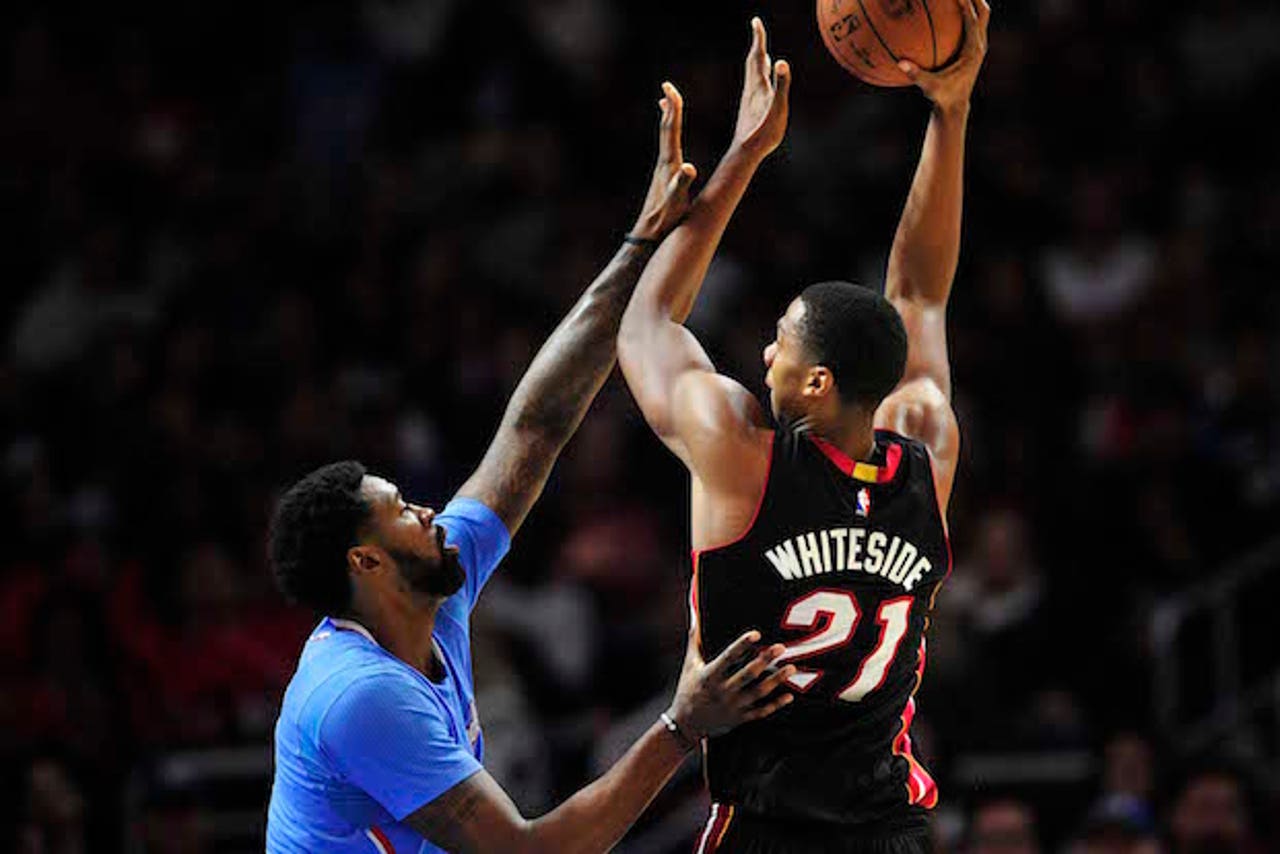 5 things: Clips end homestand with a dud
Whiteside, in a televised interview courtside after the game, said he couldn't get an opportunity to try out with the Clippers: "The Clippers thought it was a good idea. Doc said no. I tried to get a workout here and Doc said no," Whiteside said.
Asked about it in his postgame news conference, Rivers said: "I didn't even know that. I guess not. I know with our summer league team, I think one of our coaches said they thought about it, but I don't get involved in it that much.
Whiteside was involved offensively and defensively and is making good on the Heat signing him on Nov. 24. He's making an impact.
"He was active, very active, on the glass, got a lot of offensive rebounds, ducks-ins, a few lobs early," Chris Paul said. "(He) went to the free-throw line. He just had an all-around good game."
And the Clippers didn't. They were outrebounded 46-27, including just six offensive rebounds. Whiteside had almost as many offensive rebounds as the entire Clippers team with five.
The Clippers started well with a 19-6 lead but seemed to lose energy offensively and defensively.
And then Whiteside came in off the bench and did his unsuspecting thing. 
---