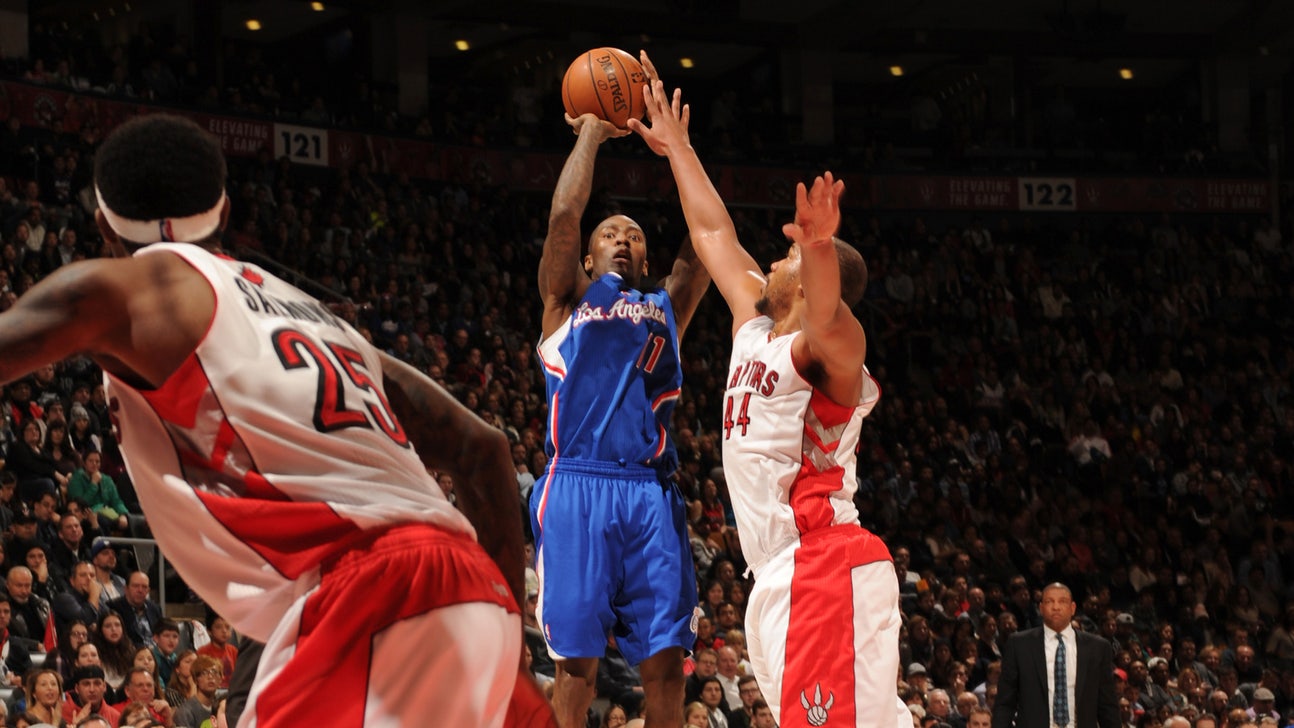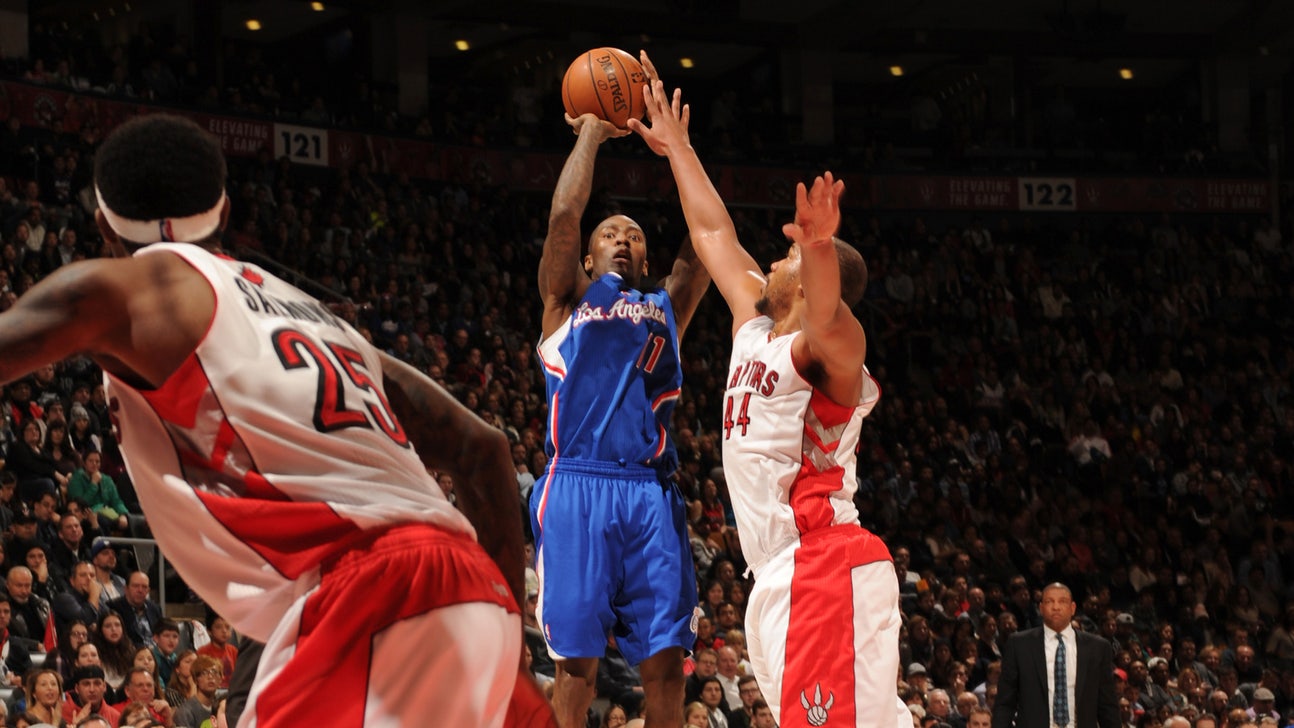 Clippers overcome Ross, top Raptors 126-118
Updated
Mar. 4, 2020 10:50 p.m. ET

Jamal Crawford wondered whether he might produce another 50-point game. In the end, Terrence Ross got one instead.
Crawford had a season-high 37 points and matched a season best with 11 assists, and the Los Angeles Clippers overcame Ross' 51 points to beat the Toronto Raptors 126-118 on Saturday night.
Crawford went up to Ross at the end of the game and gave a message of congratulations and consolation to his former workout partner.
"I told him, `Welcome to the 50-point club,'" said Crawford, who set his career high with 52 against Miami in January 2007.
Crawford connected on 12 of 23 shots, including five from 3-point range, but said he was happier about his assist total.
"Honestly, this could have been a 50-point night," Crawford said. "You kind of know when you have it and this could have easily been a 50-point night, but the way the game went, they started doubling a little bit, I started finding my teammates more. There'll be other opportunities."
Ross matched Vince Carter's franchise record set 14 years ago and nearly doubled his previous career high of 26 points against Portland on Jan. 2, 2013.
"You don't really realize what you're doing until it's all over," Ross said.
The second-year guard connected on 16 of 29 field goal attempts, made 10 of 17 from 3-point range and went 9 for 10 at the free throw line. But he missed his final foul shot with 4 seconds left, failing to top the 51 points Carter scored in a 103-102 win over Phoenix on Feb. 27, 2000.
"Ross was great but we won the game and that's all we came here for," Clippers coach Doc Rivers said.
Blake Griffin scored 30 points and J.J. Redick had 18 as the Clippers won for the 10th time in 13 games. Los Angeles improved to 8-3 without star guard Chris Paul, sidelined with a separated shoulder.
"We're doing it without an MVP candidate," Crawford said. "We're doing it without one of the best players in the world."
Darren Collison added 12 points and Matt Barnes 11 for the Clippers.
"They are an offensive machine from top to bottom," Raptors coach Dwane Casey said.
Griffin scored eight points in the final quarter as the Clippers snapped a four-game losing streak in Toronto.
"This is the best Blake Griffin we've seen and he's going to continue to get better," Crawford said.
Jonas Valanciunas had 17 points and 12 rebounds, Kyle Lowry added 11 points and 12 assists, and DeMar DeRozan scored 10 points before leaving with a foot injury as the Raptors lost for the first time in three games.
DeRozan sprained his left foot when he landed awkwardly on Hedo Turkoglu's leg after attempting a jump shot with 7:53 remaining in the second quarter. DeRozan stayed in the game but was replaced with 2:58 left in the half and headed to the locker room for treatment. He started the third, but left again at 10:06 and did not return.
X-rays were negative and his status for Monday's game at Brooklyn was unknown.
"If I couldn't perform or help my team, there was no point in me being out there," DeRozan said. "I didn't want to slow anybody down so I just decided I was not going to try and force it."
Bothered by back spasms, Redick was limited to two points in 4 minutes during the first half but returned to shoot 6 of 11 in the second.
Rivers said he'd been told Redick would be unable to return.
"At halftime J.J. was like, `Oh no, I'm going back. I at least want to give it a go,'" Rivers said. "He was fantastic."
Toronto led 107-106 on an alley-oop dunk by Valanciunas at 6:36 of the fourth. After a Clippers timeout, Redick hit a 3-pointer, Collison made a jumper and Redick connected again, putting Los Angeles up 113-107 with 5:09 remaining.
Valanciunas stopped the run by making one of two at the line, but Griffin hit back-to-back jumpers to put Los Angeles ahead 117-108 with 3:56 to go.
"We really have what it takes to dig down and get stops when we need to," Griffin said. "In the fourth quarter, the last 5 minutes, it seemed like we got almost every stop we wanted."
Ross matched a Raptors record for 3-pointers in a quarter by making five in the first, including a buzzer-beater that gave Toronto a 37-36 lead after one.
He made two more from beyond the arc in the second, setting a team record for 3-pointers in a half, but Crawford had 15 points for the Clippers, who led 71-65 at halftime.
Ross had 13 points in the third and finished the quarter with a flourish, beating the buzzer with his eighth 3 to tie it at 93 heading to the fourth.
NOTES: Donyell Marshall holds the Toronto record for 3-pointers in a game, hitting 12 against Philadelphia on March 13, 2005. .. Marshall (2005) and Damon Stoudemire (1996) are the other Raptors players to make five 3-pointers in a quarter. ... Six of Toronto's next nine games are on the road. They're 11-11 away from home this season. ... Actor Laurence Fishburne attended the game. ... Rap duo Tag Team performed at halftime.   
---