Miami Dolphins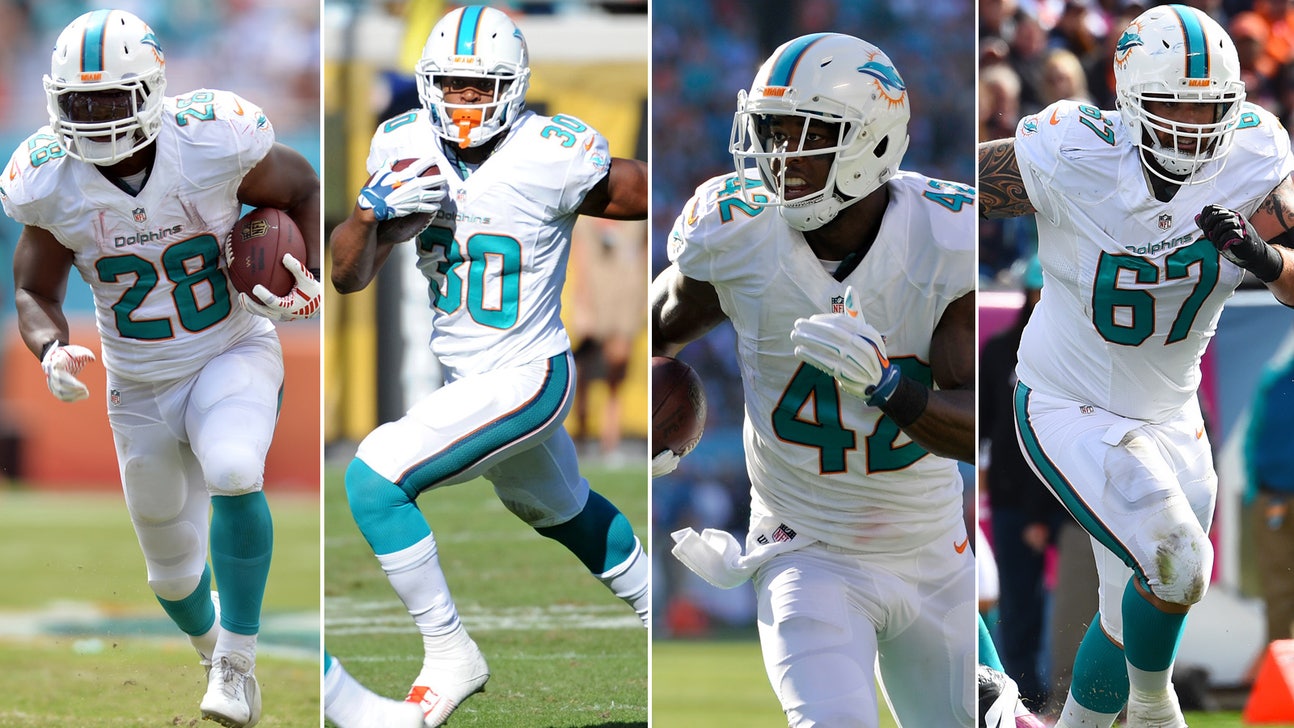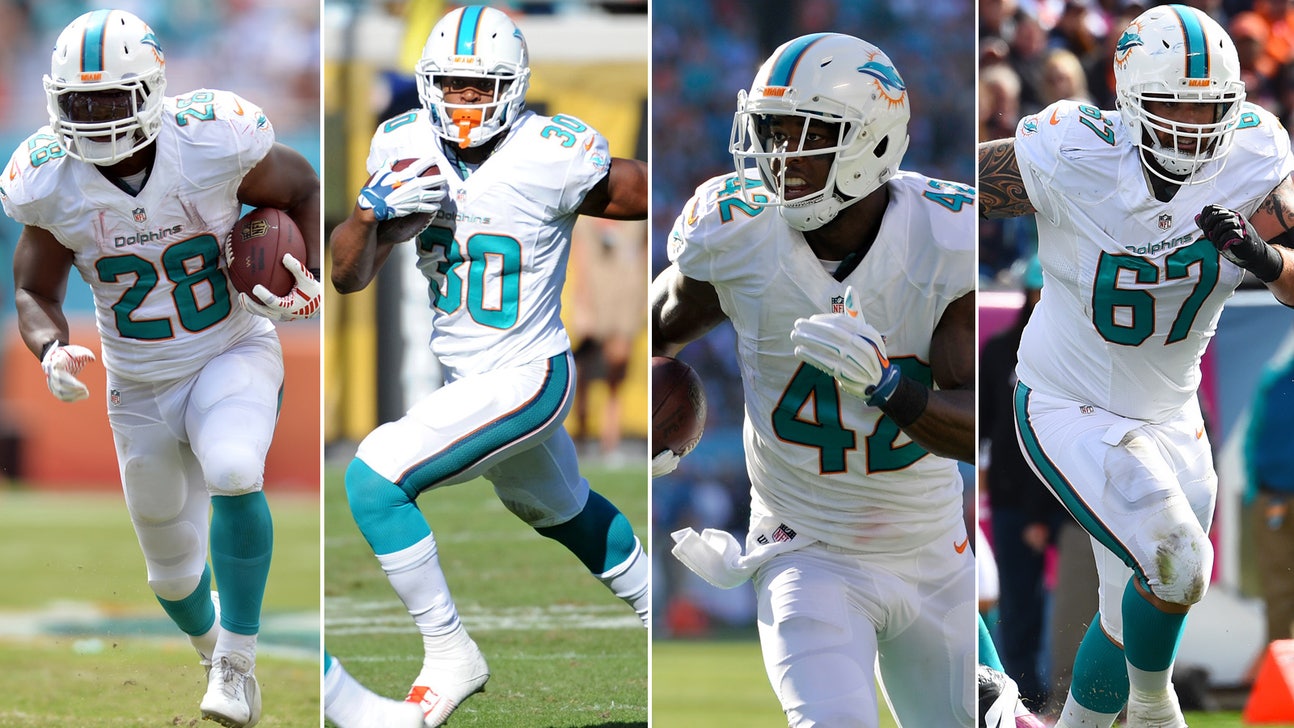 Miami Dolphins
Clay, Odrick, Moore likely most prized of Dolphins' free agents
Published
Mar. 5, 2015 5:00 p.m. ET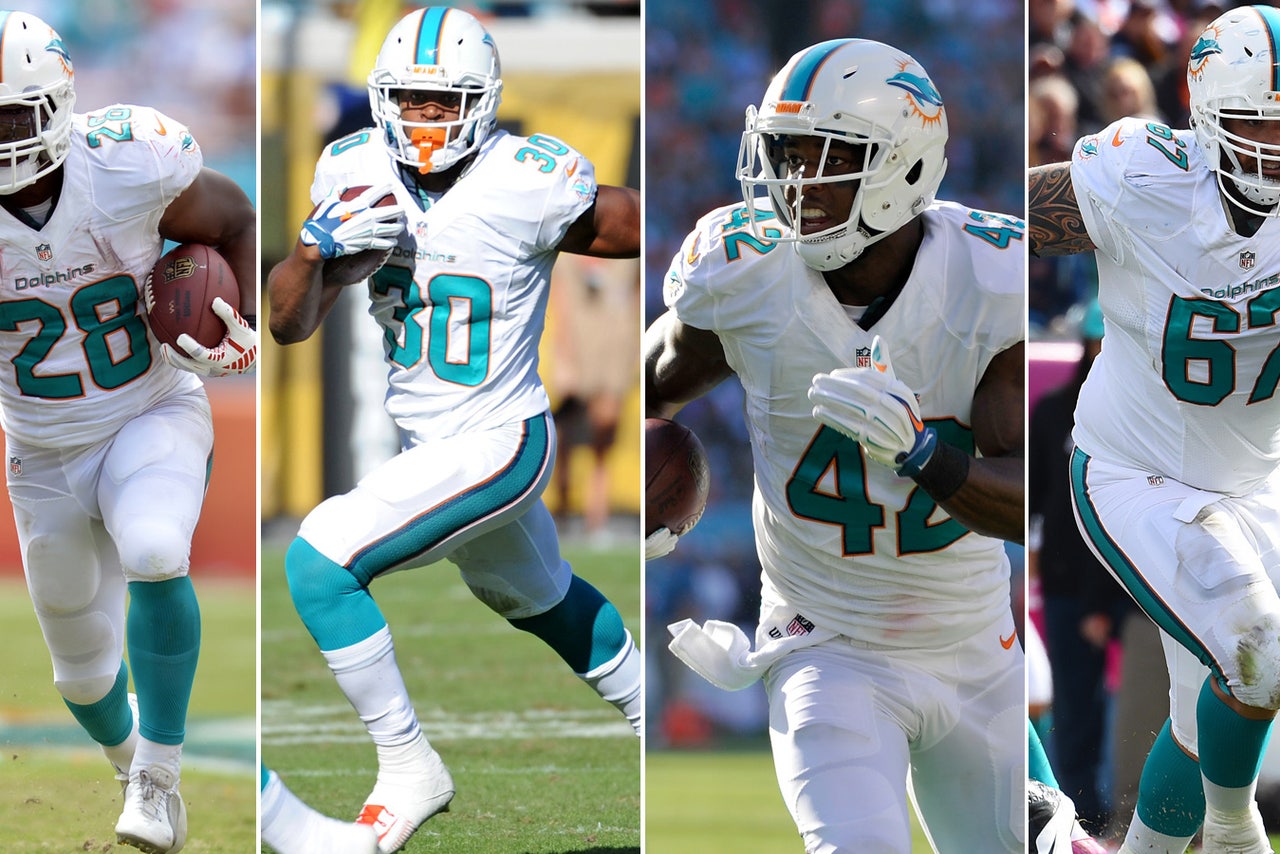 With the start of free agency rapidly approaching, the Miami Dolphins have plenty of difficult decisions to make with their own free agents before they go shopping for reinforcements.
March 10 marks the official start of free agency when clubs can tender contract offers to available players. Three days prior, the permitted tampering period begins in which they can begin contract negotiations with agents of players due to become free agents.
Upgrades are necessary in several key areas in order for Miami to reach their goal of making the playoffs after a sixth consecutive year of being on the outside looking in and back-to-back 8-8 seasons that went nowhere fast.
But which of their own free agents should they retain and which should they let go and look elsewhere?
Let's consider each case individually and analyze each of Miami's unrestricted free agents that could hit the market:
RB KNOWSHON MORENO
Moreno, 27, enjoyed a breakout year with the Denver Broncos in 2013 but missed significant time during Dolphins training camp last season recuperating from knee surgery and didn't exactly quash fears he's injury-prone when he was able to play. He dazzled early but was slowed down by an elbow injury and then quickly landed on the injured reserve list with an ACL injury.
Reason to keep: Briefly led the NFL with 148 rushing yards after his Week 1 demolition of the Patriots with a mixture of power and finesse...
Reason to let walk: ...and then was quickly ruled out of for the reason in his third game. The Dolphins were wise to sign him to a one-year contract.
Prediction: Miami will surely look elsewhere with plenty of cheaper and younger options in the draft and free agency. If he is willing to return at a bargain price, however, that could tempt the front office into giving him another chance to prove he can remain healthy but it's a long shot.
RB Daniel Thomas
Taken in the second round of the 2011 NFL Draft, Thomas hasn't exactly blossomed into the running back of the future the Dolphins were expecting. He didn't even make it through training camp and was only brought back as a Plan B option after Moreno went down with his season-ending injuries.
Reason to keep: Thomas' familiarity with the system is why Miami retained him last season and he totaled 168 rushing yards on 44 carries (3.8 average yards) along with three touchdowns in support of starter Lamar Miller.
Reason to let walk: There's no reason to expect a breakout year from Thomas after four middling seasons. He wasn't exactly the yin to Miller's yang, either, and Miami needs more size and power at the position anyway.
Prediction: The team could strike gold elsewhere in a crowded running back market. Consider the Thomas Experiment to be finally over.
TE CHARLES CLAY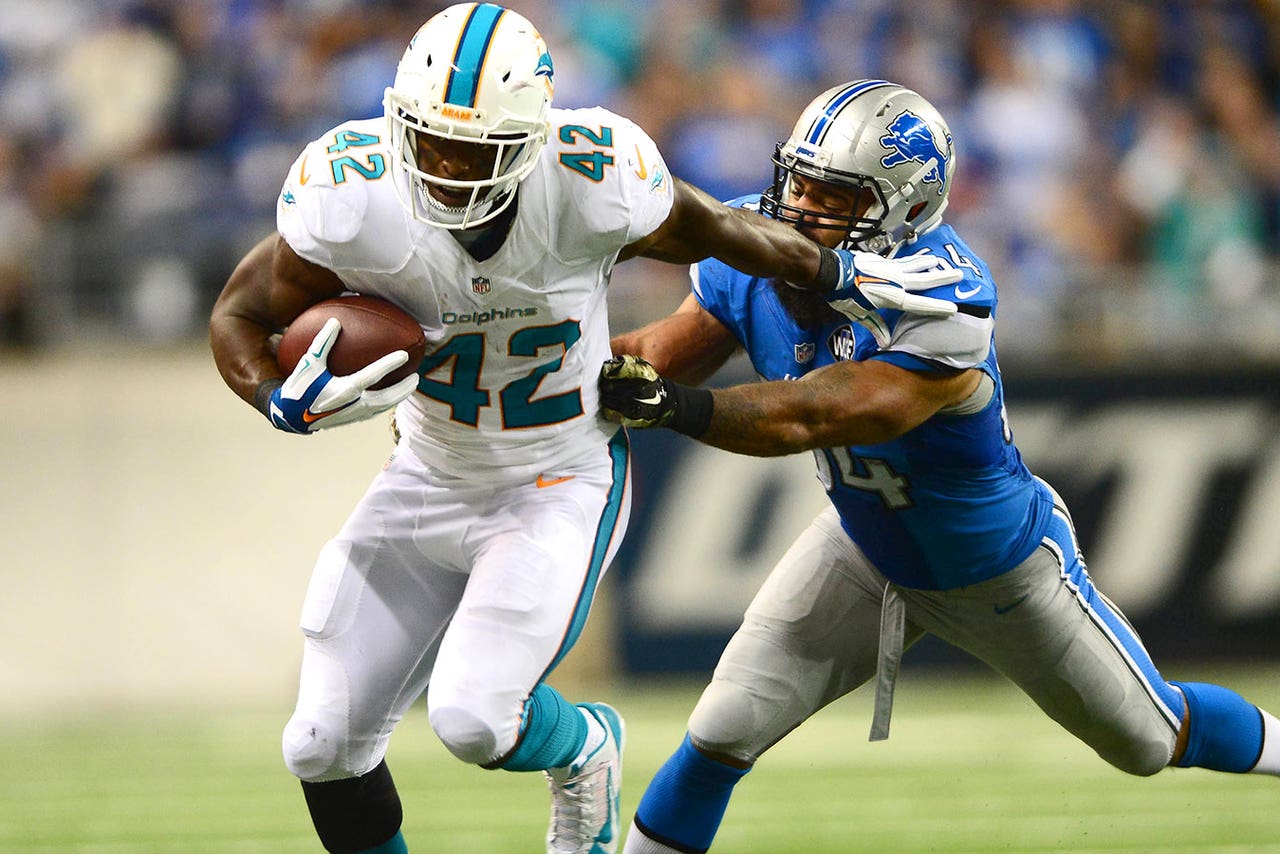 NFL teams have taken notice of Clay for his versatility and talent, despite a down year in 2014 with 58 receptions for 605 receiving yards and three touchdowns in 14 games while dealing with a persistent right knee injury suffered way back in training camp. Back in 2013 when he was fully healthy, he was one of the bright spots for the team with 759 yards on 69 receptions along with seven touchdowns.
Reason to keep: In a so-so tight end market this year without any clear upgrades over Clay, it makes little sense for the Dolphins to shop around. By placing the transition tag on him, they can match any offer for him in free agency but the price tag might ultimately be too much to be tied up to one player.
Reason to let walk: It's no secret there are other teams interested in his services that could possibly offer him more money. Miami will have seven days to match any offer sheet that comes his way, though the price tag could conceivably not make fiscal sense anymore.
Prediction: Miami likely applied the rarely used transition tag on Clay, 26, because they value his production and see him as part of their future plans. He can earn a little more than $7 million in 2015 by signing the one-year tender offer. He'll be back.
G DARYN COLLEDGE
As part of a completely revamped offensive line for 2014, Colledge began the season playing well and started 13 games at left guard last season. His production was up-and-down and he was in and out of the starting lineup after seven games when he began battling a back injury and later migraine issues.
Reason to keep: A Super Bowl champion from his days with the Green Bay Packers, Colledge has been a steady contributor in each of his eight seasons in the NFL. He's as durable as they come, with his three missed games in 2014 marking the first year in which he did not play in all 16 games.
Reason to let walk: At 33 and on the tail end of his career, Miami simply needs more at that starting position to protect Ryan Tannehill.
Prediction: After one season, it's already time to move on. With younger prospects Billy Turner and Dallas Thomas waiting in the wings, Miami already has some depth at the guard spot but could look to the draft in later rounds for cheaper talent.
DT JARED ODRICK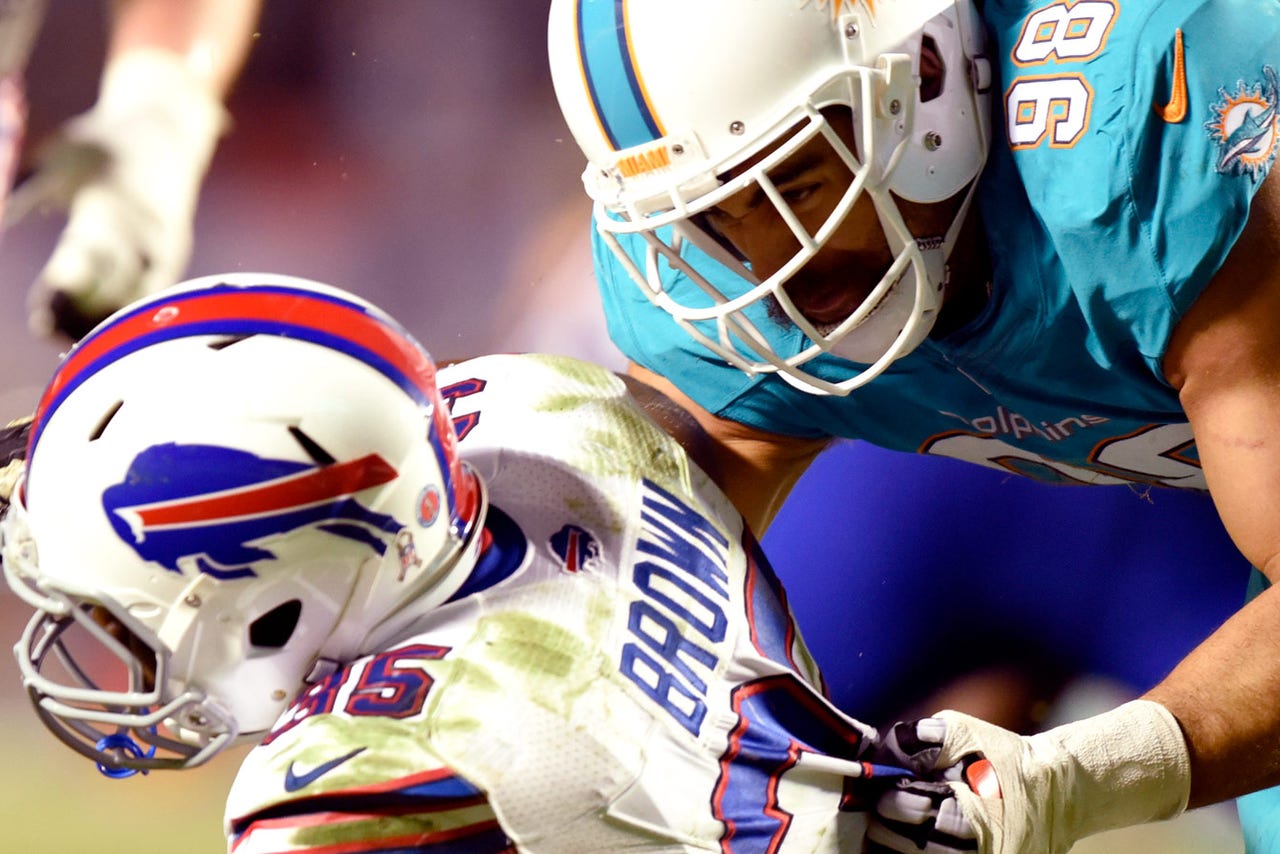 A valued member of the defense and a big presence in the locker room, Odrick nonetheless arrives at free agency at a crossroads in his career. Will he take that next big step in 2015 and is he worth what he can command in the open market?
Reason to keep: Had a large role last season playing 384 snaps in all 16 games and recorded 15 tackles, 29 combined tackles and five sacks while earning a palatable $2.78 million. He's considered one of the better free-agent defensive linemen out there for a reason.
Reason to let walk: Odrick has not truly enjoyed a dominant stretch of games, let alone a season, and that begs the question as to whether he truly is a good fit with the team and for defensive coordinator Kevin Coyle. Will there be any lingering effects from his infamous outburst directed at Philbin on the sidelines of their Week 14 game against the Baltimore Ravens?
Prediction: Miami will ultimately let him go if he finds a big deal elsewhere, of which there is certainly heavy interest in him.
S LOUIS DELMAS
Delmas suffered a torn ACL in Miami's Week 14 loss to the Ravens and was unable to play the final three games of the season, but he was a strong contributor at the safety position when healthy. Still, he's facing a 9-to-12 month recovery so will he even be healthy to play in 2015?
Reason to keep: He recorded 61 tackles, one sack and one interception with an infectious energy and drive in every game he played. He was one of the more consistent defensive players when healthy.
Reason to let walk: His injury will likely scare off teams like the Dolphins who value his play but are wary of tying up precious cap space for him.
Prediction: Miami could actually use a player like Delmas, but they'd surely prefer to sign a player that is injury-free in free agency instead of waiting around to see how Delmas recovers.
QB MATT MOORE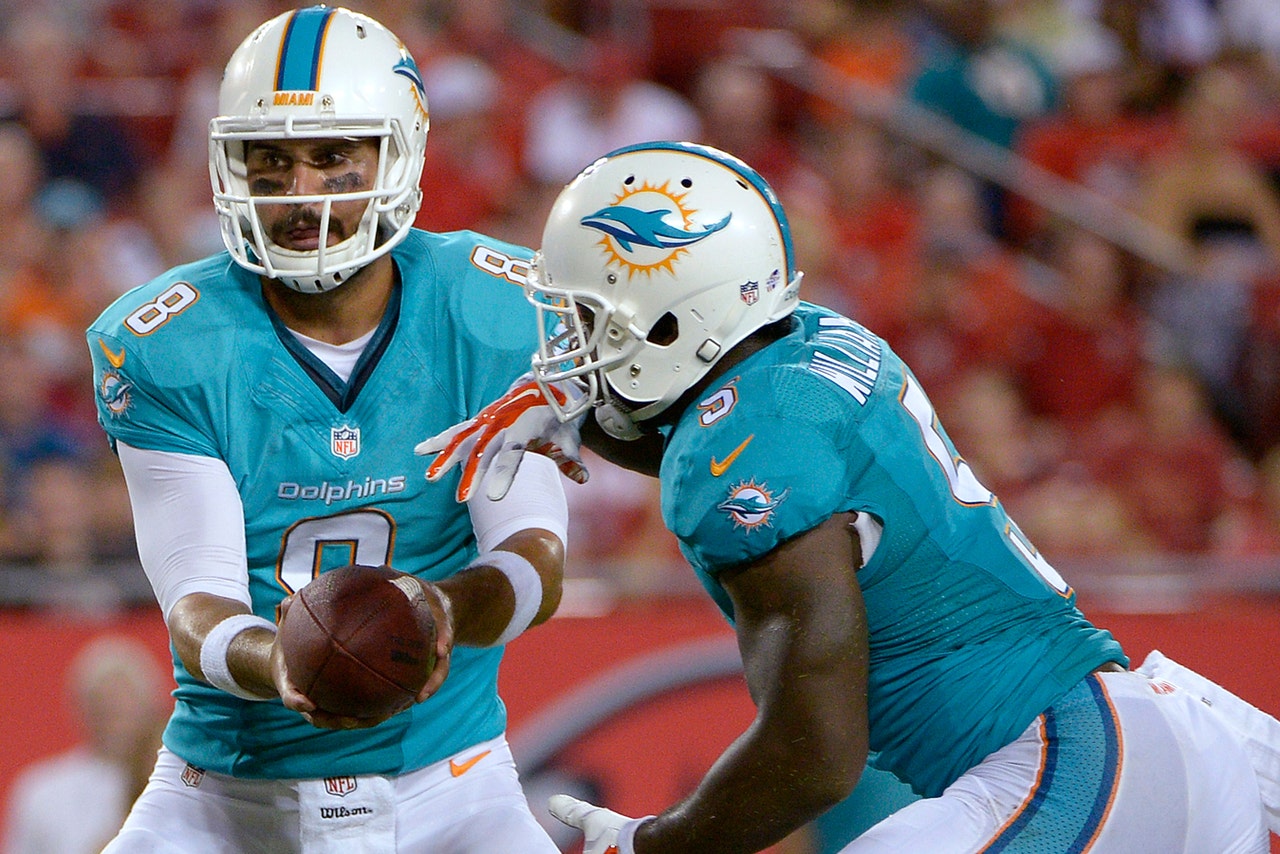 He is a talented but high-priced backup quarterback who ultimately hasn't been needed because of Tannehill's durability. His only memorable highlight last year was his awkward part in the nonexistent starting quarterback controversy needlessly fueled by head coach Joe Philbin's curious refusal to name Tannehill the starter deep into the season.
Reason to keep: Should Tannehill regress and show inconsistency or get injured, Moore is certainly a nice luxury to have on the bench as he is considered one of the best among all reserve quarterbacks.
Reason to let walk: Luxury typically translated to high-priced goods, which Moore assuredly is at $4 million. Is he worth it?
Prediction: After four seasons in Miami, and three as a reserve behind Tannehill, Moore will likely look elsewhere for more playing time. Miami needs all the cap space it can carve up anyway and let him go.
C SAMSON SATELE
He filled in admirably during Mike Pouncey's four-game suspense at the center position. In his second stint with the Dolphins, Satele solidified a shaky spot in the offensive line, to the point that Pouncey was shifted over to guard when he returned to full health, allowing Satele to start all 16 games.
Reason to keep: With Pouncey once again the man in the middle next season, the Dolphins could do worse than retaining Satele as his backup.
Reason to let walk: Satele turned 30 and struggled at times with pass protection as the season wore on. He allowed three sacks as well. How much more is left in the tank?
Prediction: Re-signing him would have to come at the right price and not before checking all available options to strengthen the offensive line, which saw much improvement in 2014 but needs to show more.
CB T.J. HEATH
Heath was signed to the practice squad in November and upgraded to the active roster on Dec. 13 because of injuries.
Reason to keep: The 27-year-old showed enough promise in the practice squad to get promoted, though it was possibly more out of convenience that late in the regular season.
Reason to let walk: The later rounds in the draft could uncover a diamond in the rough at that position. Miami could also take a good look at undrafted rookies with the draft considered as deep as it is.
Prediction: Heath won't be back this year.
LB KELVIN SHEPPARD
He made a name for himself in his only start of the season in Miami's Week 15 loss to the New England Patriots where he recorded 10 tackles and a forced fumble. Sheppard had his moments elsewhere as a backup linebacker and on special teams after he was signed in the wake of Dannell Ellerbe's season-ending hip injury in Week 1 against the Patriots.
Reason to keep: Sheppard showed promise and could step up if called upon to have a larger role in the upcoming season.
Reason to let walk: The linebacker corps was one of the roster's biggest question marks entering last season and that remains the case this season as well. The draft is deep in all positions and linebacker is no exception.
Prediction: Miami will bring him back for at least one season, but there's no reason to overpay for his services with plenty of options out there.
LB JASON TRUSNIK
One of the captains of the team and a valuable member of special teams for four seasons, Trusnik was also called into action early in the season at the linebacker spot and filled in admirably. He recorded 10 tackles, five of them solo, when he was hastily called into action to start in Week 2 against the Buffalo Bills. He finished with 48 tackles and one interception for the 2014 season, including six starts.
Reason to keep: His versatility, durability and leadership in the locker room would be reason enough to keep him. Add that to the fact that he was able to fill in multiple holes because of injuries throughout the season and that makes him a good bet to come back.
Reason to let walk: The draft could provide a younger player with more upside at that spot.
Prediction: Miami should keep the reliable Trusnik for a variety of reasons and he appears to be happy here. Let's make a deal.
S JIMMY WILSON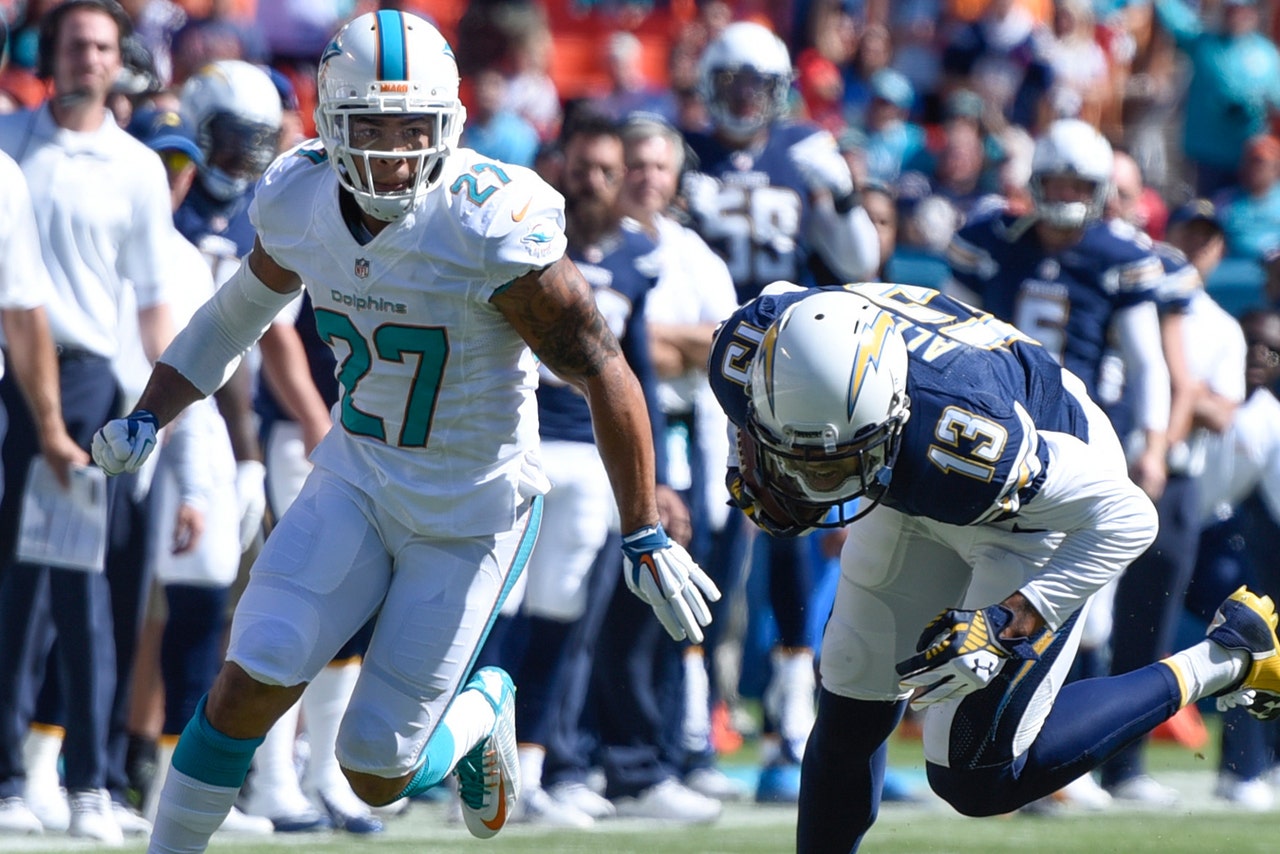 Wilson filled in for the first four games of the season as a free safety paired up with Delmas while Reshad Jones served a four-game suspension for performance enhancing drugs. He settled in nicely at the nickel cornerback position after Jones came back. The former 2011 seventh-round draft pick has made a name for himself and could attract significant interest in the open market.
Reason to keep: He's dependable and versatile and has shown steady progress in his time with the Dolphins. Should Delmas not return, it would be wise to maintain some stability by retaining Wilson.
Reason to let walk: Wilson could price himself out of Miami. The team might be open to injecting fresh blood instead.
Prediction: Miami will be making a run at prized free agents and should they land one or two of them, they'll have to trim their budget elsewhere and Wilson may be a casualty. An amicable separation appears likely.
RESTRICTED FREE AGENTS
DE DERRICK SHELBY
Shelby made headlines last season for all the wrong reasons after getting arrested in October for disorderly conduct and sitting out a week after getting subsequently suspended briefly from the team. Still, he's a quality defensive end in the prime of his career and recorded 21 solo tackles, three sacks and an interception in 13 games.
Reason to keep: On the field, Shelby's return makes sense and the coaching staff has put in a lot of work with him since he was signed as an undrafted rookie in 2012.
Reason to let walk: He needs to show more on the field but how much will that incident with the police hurt his standing with the team?
Prediction: As a restricted free agent, there's little downside to offering him a reasonable qualifying offer for his return.
RB LAMICHAEL JAMES
An under-the-radar addition to the practice team and later the active roster after he was let go by the San Francisco 49ers earlier in the season, James recorded three carries and nine total yards in his time with Miami.
Reason to keep: James carries with him some intrigue and the front office might consider him in a backup role at a position of need. Offensive coordinator Bill Lazor had high praise for him as a route runner.
Reason to let walk: Quality running backs can be found elsewhere, especially in free agency, to fill either starting or reserve roles.
Prediction: Miller was fantastic last season for the Dolphins, but wasn't exactly injury-proof. The team should at least give James a full training camp to decide on his future.
LB JONATHAN FREENY
Signed as an undrafted free agent in 2011, Freeny played as a reserve in 12 games and tallied 15 tackles, 11 solo, in his third season in Miami.
Reason to keep: Freeny has shown durability and has provided steady production when called upon to action.
Reason to let walk: The front office needs to upgrade at the position and it's unclear if Freeny can raise his game to become a steady contributor.
Prediction: Freeny will be phased out as the team seeks upgrades at the linebacker position.
CB R.J. STANFORD
Stanford played in four games last season and recorded nine tackles and an interception in limited action. He was out of the league until called upon to action and started against the New York Jets in Week 13.
Reason to keep: This was Stanford's second stint with the team in his career, so they appear to be intrigued by his talent.
Reason to let walk: He didn't exactly turn heads during his brief playing time as Cortland Finnegan recovered from an injury that kept him out for three weeks.
Prediction: There is no compelling reason at this time to re-sign him to a qualifying offer at this point of the year.
FINAL THOUGHT
The need to get younger and more athletic must be considered after a second consecutive year in which the team's production faded during the crucial month of December.
Ideally, they would like to find better value then some of their outgoing higher-priced counterparts but the team has shelled out big money to prized free agents such as Mike Wallace and Brandon Albert in the past to mixed results.
Some continuity needs to be in order, as they can't overhaul the entire roster. Still, there are plenty of options out there for Miami to be able to go after big fish in free agency, but also be able to fill in the blanks with solid talent at more affordable prices.
You can follow Surya Fernandez on Twitter @SuryaHeatNBA or email him at SuryaFoxSports@gmail.com.
---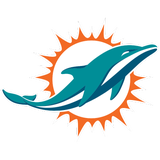 Get more from Miami Dolphins
Follow your favorites to get information about games, news and more
---