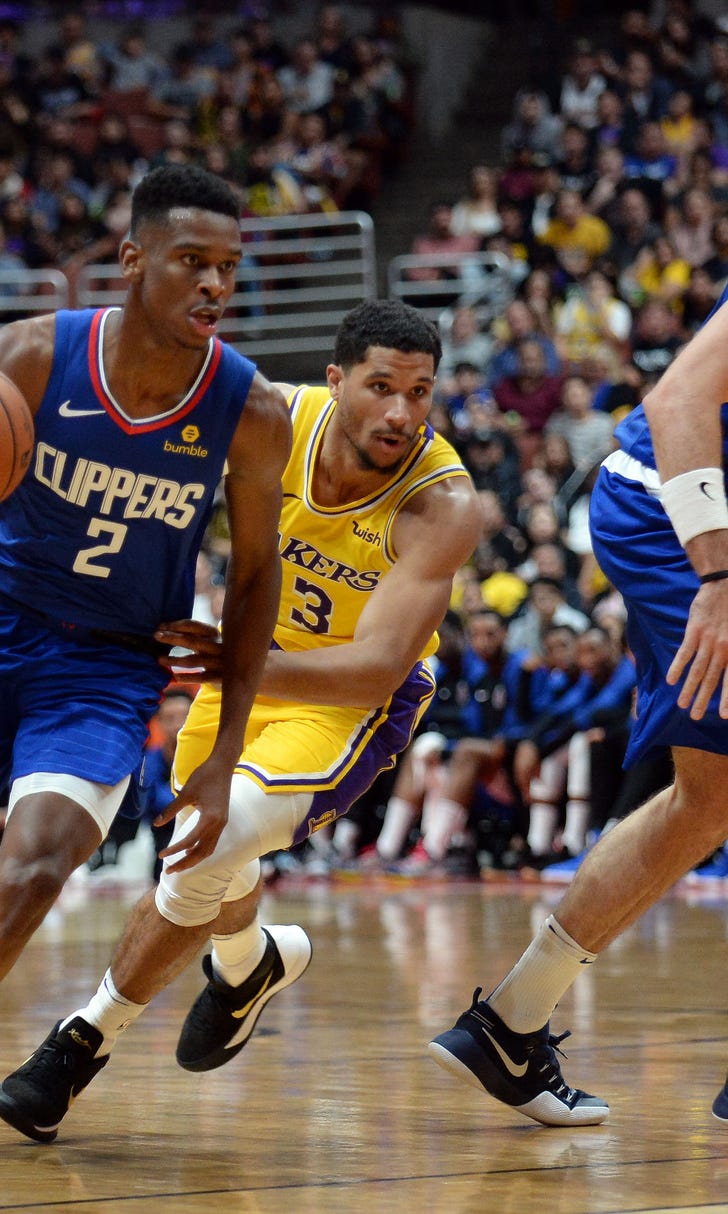 'Clamp City': Los Angeles Clippers enter new era in 2018-19 season
October 16, 2018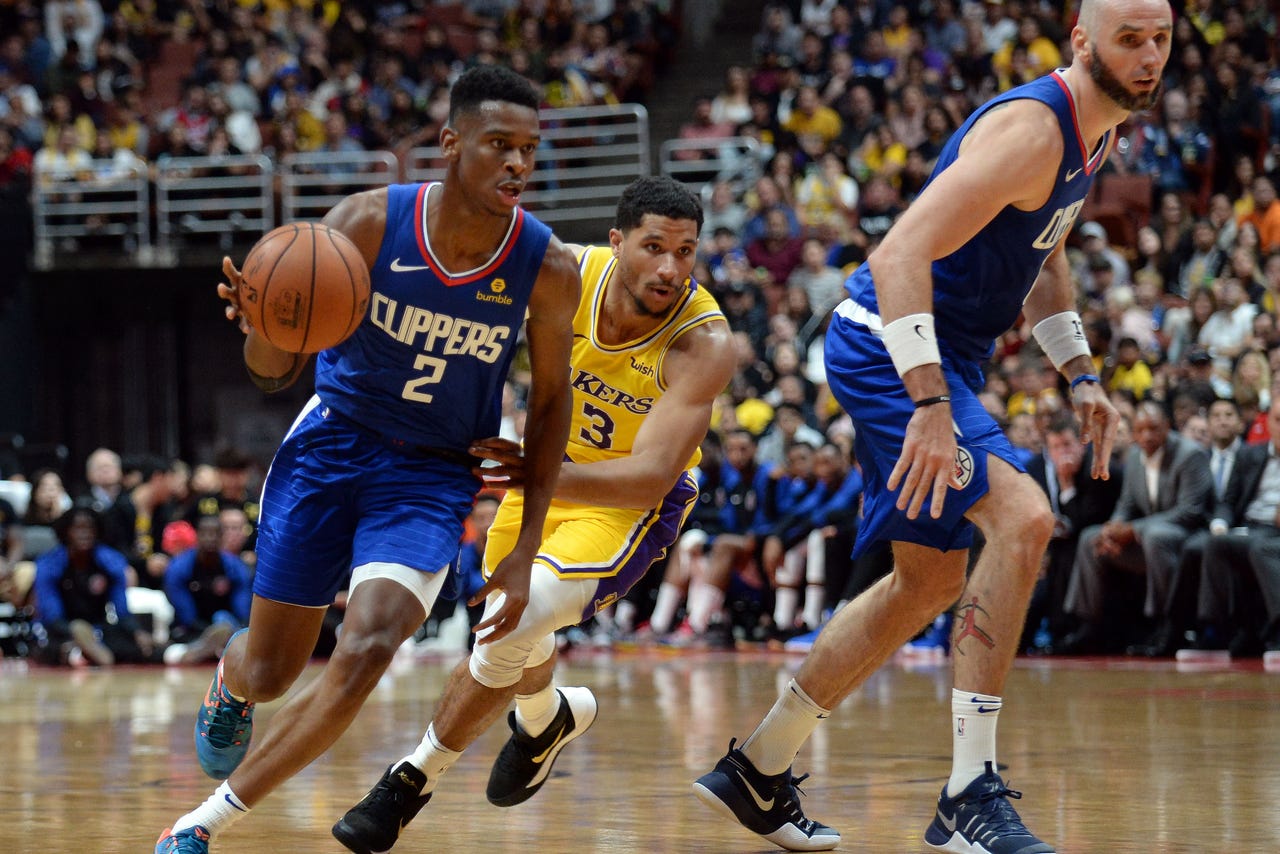 Guard Shai Gilgeous-Alexander (2) was acquired from Charlotte in the June draft as the 11th overall pick. He averaged 14.4 points and 5.1 assists for Kentucky
FOX SPORTS APP: WATCH CLIPPERS ALL SEASON LONG

LOS ANGELES (AP) — The Los Angeles Clippers are entering a new era without the Big Three of Chris Paul, Blake Griffin and DeAndre Jordan. For the first time in years, they lack star power in a city that thrives on high-wattage talent. But it may be a short-term problem.

While the Clippers seek to be competitive this season, the franchise already has an eye on next year. That's when a blockbuster list of potential free agents comes on the market and the Clippers could go shopping for a big name or two.

They might not even wait that long.

In order to attract talent, the Clippers would need some of it to lure a big name. It could be that the team will be active in the trade market this winter, especially with multiple players heading into the final year of their contracts.

Another playoff appearance would make the Clippers more attractive to potential free agents, too. They finished with a winning record of 42-40 last season, but their streak of consecutive postseason appearances ended at six.

Coach Doc Rivers started an NBA-leading 37 different lineups because of a succession of injuries. Things got so dire that the Clippers were forced to dip into the G League for starters.

Rivers signed a multi-year contract extension in the spring, so he's locked in for the team rebuild.

https://twitter.com/LAClippers/status/1051987108326301697

The Clippers open the season hosting Denver on Oct. 17.

Here are some things to watch for this season:

STAY HEALTHY: Injuries sidelined several of the team's most experienced players throughout last season, although Rivers kept the Clippers in the hunt for a playoff berth until the final week of the season. Staying healthy will be critical, especially for guards Patrick Beverley, Avery Bradley and Milos Teodosic, and forward Danilo Gallinari. Each of them was out for long stretches last season. Gallinari, the highest-paid player on the team at $21.6 million, has much to prove. His shooting needs to improve from averages of 40 percent from the field and 32 percent from 3-point range to help the team.

BACKCOURT TANDEM: Beverley has tagged the Clippers as "Clamp City," in a nod to their defensive mindset. He's one of the league's top defenders while Bradley is aggressive, too. Rivers has the option of going with those two as his starting backcourt. If he wants an offensive tandem, Rivers could pair Teodosic and Lou Williams, last year's Sixth Man of the Year who averaged a career-high 22.6 points and 5.3 assists as the team's most prolific scorer. Depending on the opponent, Rivers could employ a mix of defense and offense while drawing from the quartet.

GRIFFIN EFFECT: Tobias Harris came over from Detroit as part of the Griffin trade and had an immediate effect. He averaged 19.3 points and six rebounds in 32 games while shooting 41 percent from 3-point range. The 26-year-old forward reportedly turned down an $80 million, four-year extension from the team. Harris is likely expecting a big year to set him up for next summer when he will be an unrestricted free agent and the Clippers can offer him bigger money if he re-signs.




MAN IN THE MIDDLE: Jordan left as a free agent over the summer, so the Clippers brought in 6-foot-11 Marcin Gortat from Washington in a trade for Austin Rivers. Gortat could be a short-term rental since he's in the last year of his contract. He prides himself as a screen setter rather than the offensive-minded big man. Backing up Gortat will be Montrezl Harrell, who brings energy off the bench and an offensive mindset. The Clippers can rotate in 7-foot-3 Boban Marjanovic for short spurts.

ROOKIE GUARDS: The Clippers have Shai Gilgeous-Alexander of Kentucky and Jerome Robinson of Boston College, who could both make an impact after sufficient time to adjust to the rigors of the league. Gilgeous-Alexander was acquired from Charlotte in the June draft as the 11th overall pick. He averaged 14.4 points and 5.1 assists for the Wildcats. Robinson averaged 20.7 points in college last season, but he may be hard-pressed to find as many minutes as Gilgeous-Alexander while playing behind Bradley and Williams. How well the two rookies develop could have an impact on next season when the Clippers look to lure at least one star player.
---
---