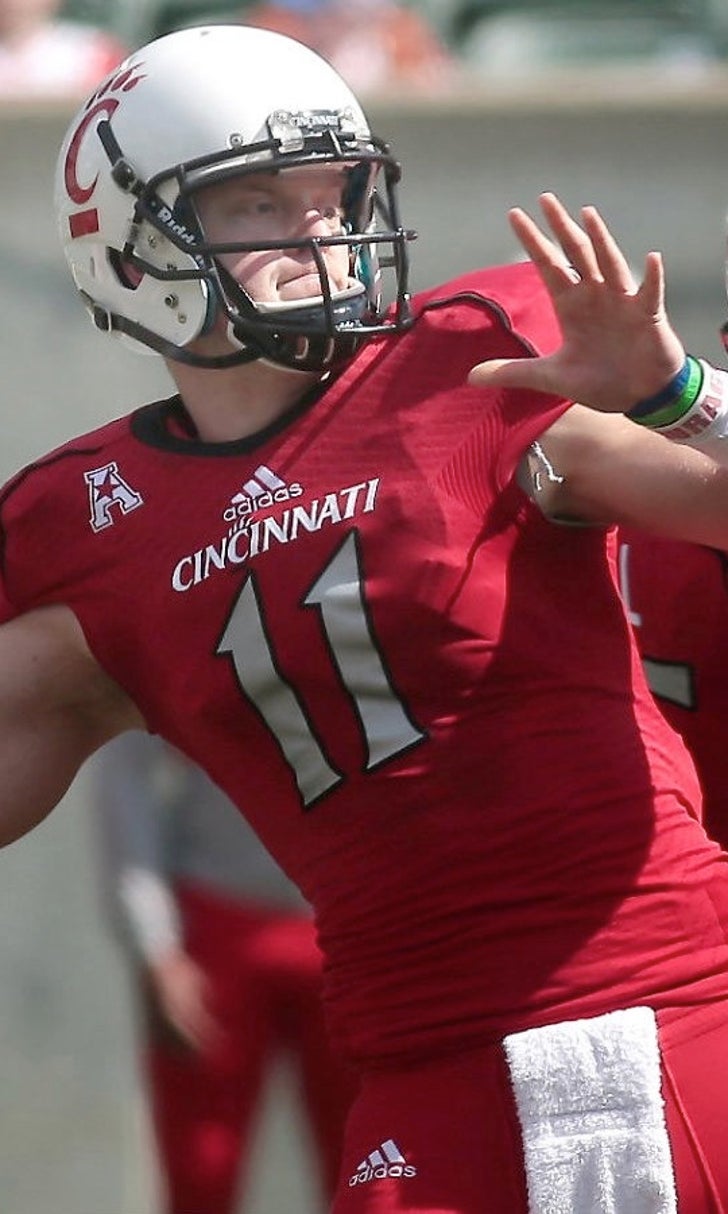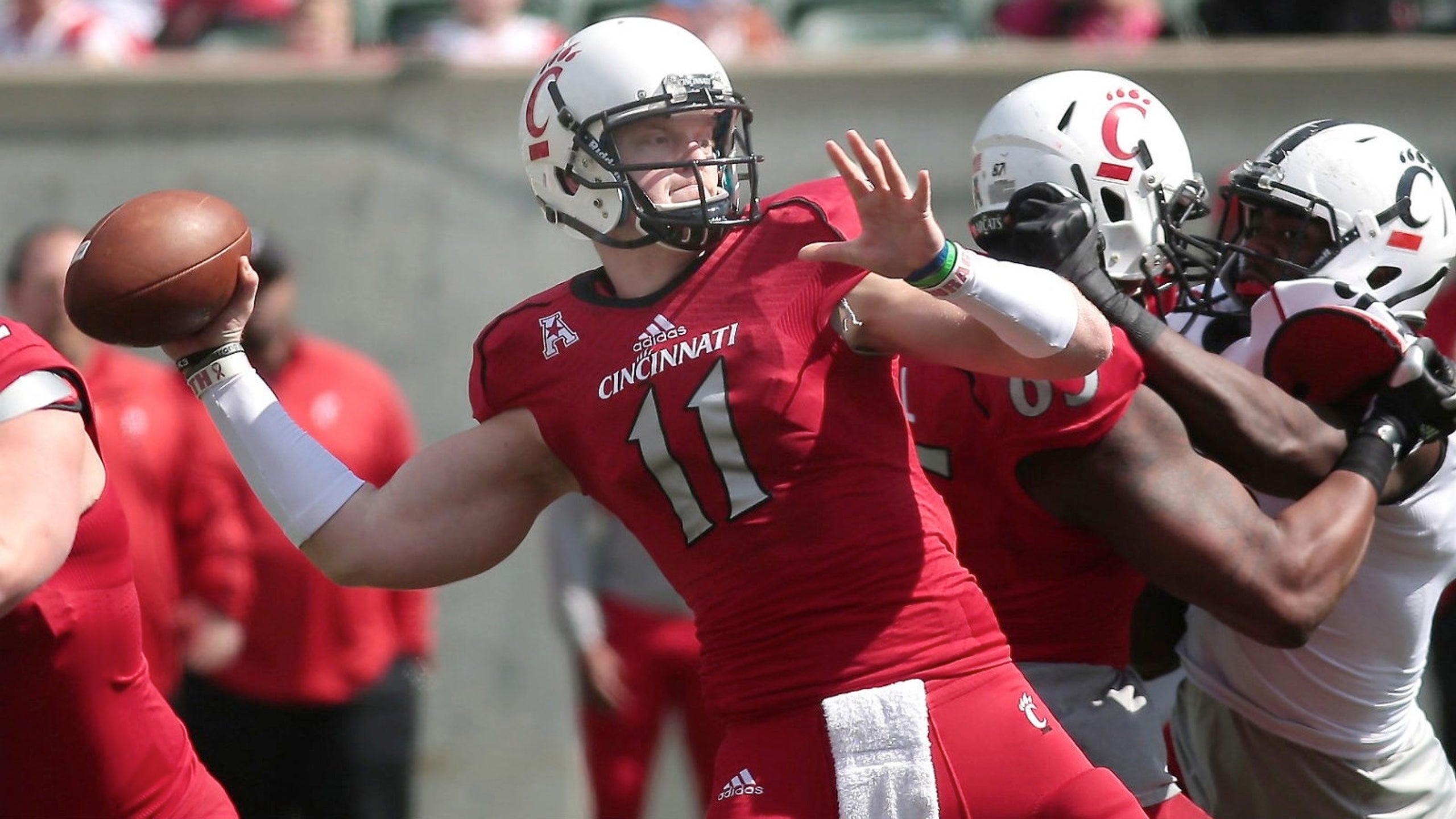 Cincinnati football preview: Kiel takes the reins at QB
BY foxsports • August 15, 2014
CINCINNATI (AP) -- One of Gunner Kiel's biggest challenges is keeping his excitement in check.
During the first few practices of Cincinnati's camp, the sophomore transfer from Notre Dame got caught up in the moment. It's quite a kick being the starting quarterback.
"The first few days were a little shaky," Kiel said. "I think I came out anxious and excited. I think that got me to play a little uncomfortable.
"So at times I have to calm down and relax and play the game I love, not do too much. I know I'm going to make mistakes, but learn from the mistakes."
If Kiel keeps his calm and learns his lessons, the Bearcats (9-4) should be a contender during their season of transition. They're picked to win the American Athletic Conference, which is undergoing yet another reconfiguration. And the Bearcats will be playing all of their games off campus at Paul Brown Stadium while Nippert Stadium gets renovated.
They've got an experienced offensive line and a defense that is deeper and faster, returning eight of its starters. There's also a well-rounded group of receivers led by Shaq Washington and Mekale McKay. The challenge is to get Kiel to settle in and relax. He had a tough scrimmage during spring football, followed by an impressive one a week later.
"It's time to learn from your mistakes and your successes," coach Tommy Tuberville said. "He'll probably have a little of both. We need him to just lead the offense. Hopefully we can see that same leadership that we saw from him last spring at the end."
Five things to watch from the Bearcats:
RUN IT: They used an assortment of running backs last season, with mixed results. Tuberville is hoping that 220-pound Tion Green will win the job and and give the Bearcats a dependable power back, but he hasn't done enough to claim the job so far. Ralph David Abernathy IV will be moved to slot receiver much of the time.
"Anytime you've got a young quarterback, which we'll have if Gunner plays most of the time, you've got to have a good running game to help him out," Tuberville said. "And we've got a good group. Now, we don't have a guy yet that's separated himself.
"It will be running back by committee and hopefully somebody separates himself as the year goes on."
MUNCHIE: Quarterback Munchie Legaux got an extra season of eligibility to recover from two torn ligaments and cartilage damage in his left knee, suffered on a hit early last season. At first, there were fears he'd never play again because of the severity of the injury, but he's splitting plays with the backup quarterbacks during camp. Legaux thinks he'll be ready to play during the season.
IN THE AAC: The conference undergoes another makeover this season, with Tulane, Tulsa and East Carolina making it an 11-team league. Navy comes aboard next season, when the league will have two six-team divisions. There's no conference title game this season, and Cincinnati won't play defending champion Central Florida under the scheduling format. The Bearcats will have two chances to prove their worth during nonleague play: Saturday, Sept. 27 at Ohio State and Saturday, Oct. 11 at Miami, Florida.
"We're very underlooked," Kiel said. "We've had great success in the past. We definitely have a chip on our shoulder."
FASTER D: The Bearcats had 18 players contribute significantly on defense last season. This year, they expect to use 26 or 27. With eight starters back, it should be improved. "We're rebuilding our team on speed," Tuberville said. "We're much faster than we were last year and we've got a lot more experience."
AWAY FROM HOME: With Nippert being renovated, the Bearcats will play at the Bengals' downtown stadium, where they've hosted games on occasion over the years. One of Tuberville's challenges will be to try to make it feel like their home field. They'll hold some practices under the lights when the Bengals aren't using the stadium in order to get acclimated. They'll open the season on Friday, Sept. 12 at Paul Brown against Toledo.
"It'll be fun for our players, it'll be fun for our fans," Tuberville said. "But there's no place like home."
---