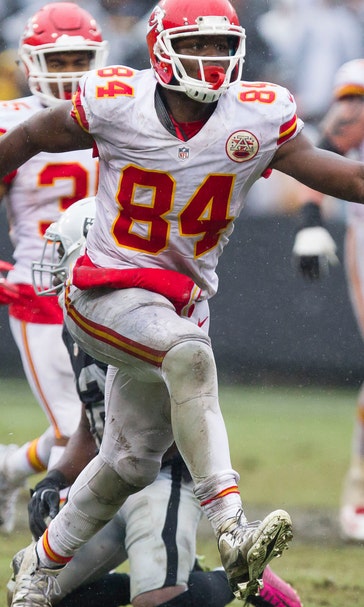 Chiefs take 12-game AFC West win streak to Oakland
October 17, 2017
KANSAS CITY, Mo. -- The Kansas City Chiefs have played nearly a season's worth of games against the AFC West without a loss, dominating one of the toughest divisions in football with ruthless efficiency.

They've figured out a way to solve their nemesis, the Broncos. They've found a solution to their hated rival, the Raiders. They've certainly had their way with the also-rans, the Chargers.

Good luck trying to explain how they've done it.

"I wish I could tell you," Chiefs quarterback Alex Smith said when asked about the string of 12 straight division wins, which the Chiefs hope to push to 13 when they visit Oakland on Thursday night.

"I wish I had the secret," he said. "I'm sure it's a ton of things. It's ultimately about the 53 guys. It's about us scratching and fighting and clawing for the smallest of little victories that end up being the difference to winning these games, because the margins are so small."

Well, not so small against the Raiders.

The Chiefs have won five straight and seven of their last eight against Oakland, and those five most recent haven't been particularly close. Only one of them has been decided by less than a touchdown, and that was a 23-17 victory in January 2016. The rest have mostly been lopsided.

Smith has been just as dominant against the Raiders, going 9-1 in a career that began with games for San Francisco. He's thrown 19 touchdown passes and just four interceptions against them.

So yes, there's been a measure of dominance. But not even Smith knows why.

"Maybe it's because we know (the division) and we've been playing in it for a while now," he said. "Top to bottom, this division is tough. It's tough, competitive and there's a great rivalry with every team. Every one of these games seems to come down to the end. Every one is pretty good."



Coach Andy Reid has had similar success against the Raiders, going 7-1 against them since taking over Kansas City's franchise. He's also had similar success against the AFC West, going 24-12 in his career. That includes a 3-0 mark against the Chiefs while he was with Philadelphia.

He's also at a loss to explain the one-sided nature of the AFC West race, which includes seven straight road wins -- already a franchise divisional record. It could be the extra work the Chiefs put into those opponents during the offseason, or the familiarity that comes with playing them so often, or the simple fact that those teams represent some of the Chiefs' biggest rivals.

"When you play teams twice and they're in your division, you need to spend a little time on them about that midway point between when you are really going to play them and the offseason," Reid said. "I think it's important that you do that."

Then again, the rest of the division is probably doing the same thing.

Perhaps the Chiefs have built a roster for counteracting those teams, an offense that can expose their weaknesses and a defense that can take away their strengths. That might explain why they've been able to handle the Raiders' Derek Carr and the Chargers' Philip Rivers and been able to score enough against the Broncos' vaunted defense to keep winning games.

"That probably gets a little overrated," said Reid, almost dismissively. "What I think you try to do is find the best players that fit your system and then you go from there."

Well, how about this idea: Reid grew up in Los Angeles and Smith grew up in San Diego, so the coach and quarterback have a particular affinity for all things West Coast.

That includes beating teams out west.

All right, that may be the longest of longshot ideas. But it just shows how difficult it is to pin down the reason behind the Chiefs' divisional dominance, other than chalking it up to a fluke.

"Scratch and claw, that's just the way these games go," Smith said. "Everyone is really good."

NOTES: The Chiefs signed RB C.J. Spiller, who spent the offseason with them, with Charcandrick West still in the concussion protocol. "I'm not going to rule anybody in or out," Reid said. "If he does play (against Oakland), he knows the plays." ... WR Tyreek Hill was evaluated for a concussion but found to have a neck injury. He could play Thursday.
---
---