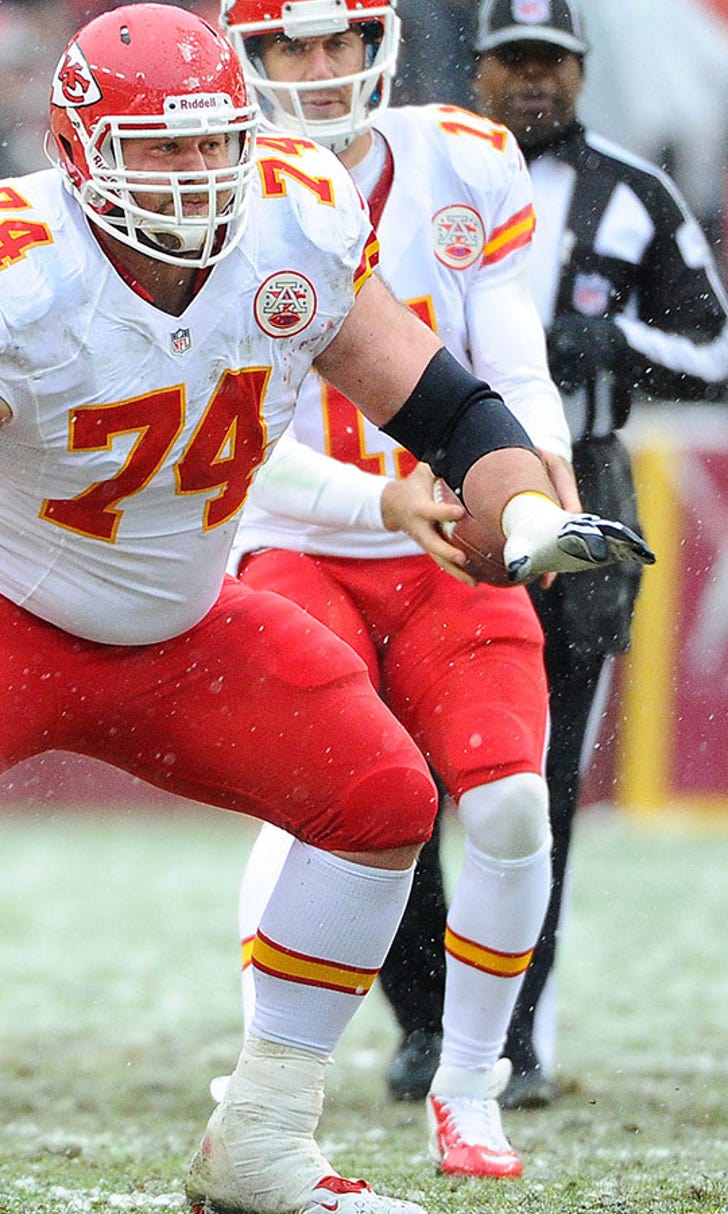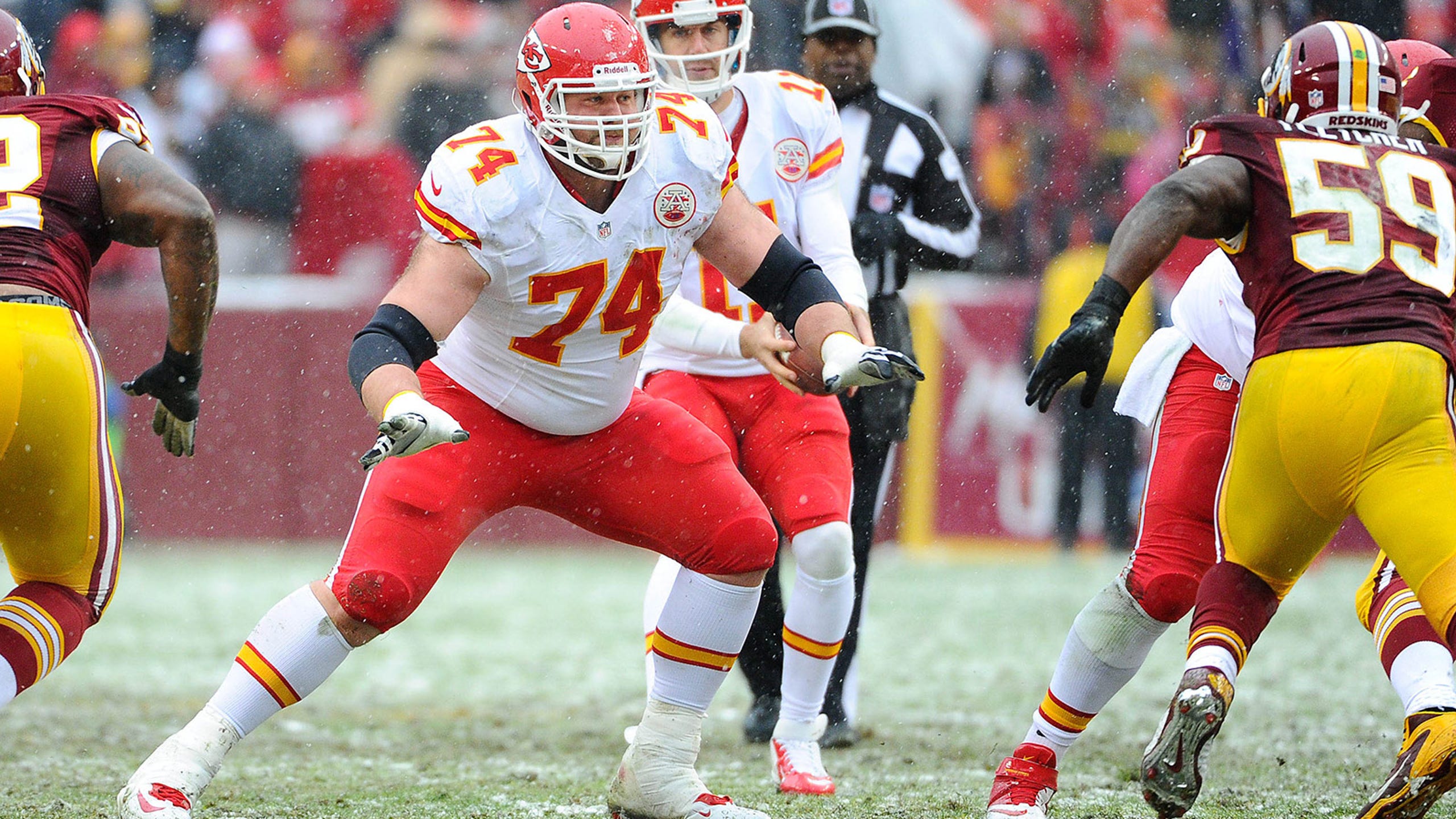 Chiefs' Schwartz on free agency: 'You have to get what you can, when you can get it'
BY foxsports • February 17, 2014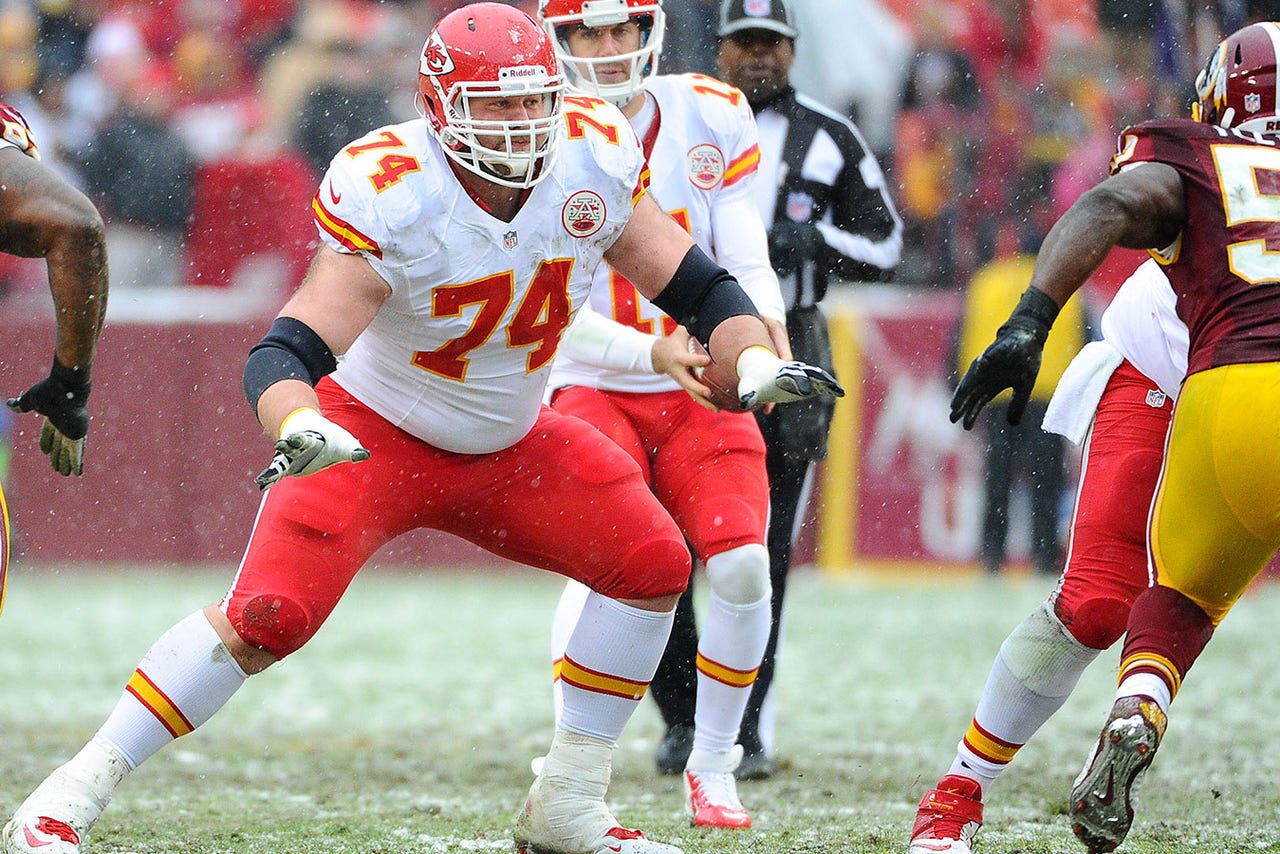 KANSAS CITY, Mo. -- As for talks with Geoff Schwartz, well ...
"They're nowhere," Schwartz, the Chiefs' free-agent guard, tells FOXSportsKansasCity.com. "They're really not supposed to be anywhere right now -- I'm not really a free agent for a couple more weeks.
"They don't tell me much of anything; they haven't told me much of anything. That's well above my pay grade. That stuff that they deal with (with) my agent; he relays the information to me, as needed. This year, I've kind of told him that I don't really need the information right away."
The big lug isn't dismissive; he's just, well, distracted -- and understandably so. The former Oregon standout is marrying fiancee Meredith Snipes next month; the couple's first child is due in July.
"Yeah, so it'll be nice to have a place just to call home for a couple years," says Schwartz, who was recently graded by ProFootballFocus.com (PFF) as the top Chief to hit the open market. "I always wanted to be a father. I know that's life-changing, but I think it's very important. You never really know (what it's like) until the baby comes, but I'm excited."
And the man wants what any new father wants: Stability. Or, at the least, a stable enough reward for one of the best seasons of his young career, at least according to the scouts at PFF. The site has the 27-year-old Los Angeles native graded out as the second-best unrestricted free-agent guard on the market (with a +18.6 rating in 2013) to Carolina's Travelle Wharton -- and well ahead of No. 3, Chiefs teammate Jon Asamoah (+7.9).
PFF even ranked Schwartz ahead of defensive end Tyson Jackson (+14.6) and left tackle Branden Albert (+10.0) as free-agent targets. The former Duck received a positive grade from PFF every week of the regular season in which he appeared save for Week 4 versus the New York Giants (-2.2).
"Obviously, it's not perfect -- it's tough to do what they're doing," Schwartz says of the online film love. "But, you know, I've been grading out well, and I'll take any positive (vibe) I can get going into this free agency (period)."
Monday was the first day NFL clubs could designate "franchise" or "transition" players. Free agency begins March 11, with the start of the new league year. Schwartz proved to be one of the better bargains of the new Andy Reid-John Dorsey power bloc, in hindsight, but that "bargain" stuff starts to wear thin when there's a little one on the way.
"Yeah, I had a great season with Coach Reid and the offensive line and just the whole offense -- it was a fun year," says Schwartz, who played 2013 on a one-year, $700,000 deal with a $35,000 signing bonus. "I was welcomed to the team. Even with the change made to keep me in the starting lineup (at midseason), there was no animosity. It was great. I'd love to come back, but that's not always the way it works."
The goal of the Schwartz camp is a multi-year deal at fair value. The Chiefs, meanwhile, are on the brink of salary-cap hell, with an estimated wiggle room of $3.092 million as of Feb. 17, according to www.OverTheCap.com. That means some creative or painful restructuring to keep most of the pieces from a remarkable 2013 in the fold; another veteran signee from last winter, defensive back Dunta Robinson, was one of the first major cuts of 2014.
"I've earned a couple years in one place," Schwartz says. "So definitely, wherever I end up, that'll be the case. I don't live in that city -- I have a home in the offseason in Charlotte (he was drafted by the Carolina Panthers) and spend the season all over the place. It's kind of tough to just keep moving all over the place."
That goes for his slot on the offensive line, too. When it was suggested on Twitter he should be re-signed by Chiefs management to serve as "versatility," Schwartz last week tweeted back:
I'm not going to be versatility. I'm going to be starting.
And, well, there ya go.
"I was on the ground floor with Coach Reid, and ... especially in Kansas City, the fan base is very loyal and supportive; they've got great fans," Schwartz says. "You definitely want to be part of something ... but yeah, I'd love to be back."
But that love has to go both ways.
"We had a great season to get to 11 wins. It doesn't matter who we beat and how we beat them -- 11 wins is 11 wins," Schwartz says. "You have to be encouraged about that.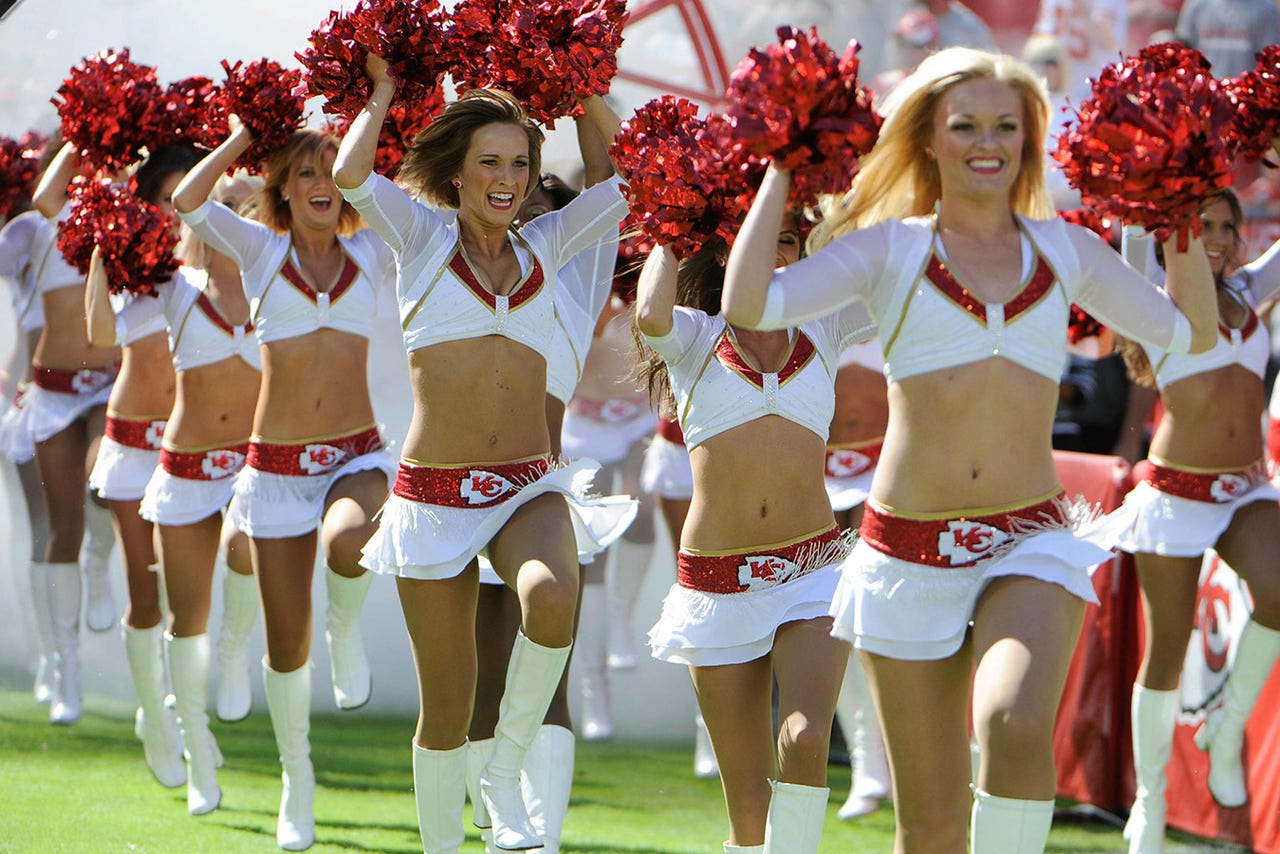 CHIEFS CHEERLEADERS: Flip through our photo album of Chiefs cheerleaders.
"But you're never happy to lose (in the playoffs). It sucks. It hurts. But you learn to get over it, because of the nature of it.
"I was upset for a week, and the Colts lost the next week. You get over it. It's just the way it is -- they went one more week than we did. Especially not being in KC, being back home, you kind of let it bruise a little bit (but) you have to let it go."
Now the question is whether he'll have to let the Chiefs go, too, with a family to support. Franchises, contracts and coaches are transient -- that team at home? That's the lifetime deal, the one that really counts.
"You know, I've done the one-year deals, the minimum, the last two years, and at some point, you have to have some financial (commitment) and stability and also the kind of stability within your family," Schwartz says.
"I've moved now three times, and it's not going to happen again. And you look at the numbers: 'I'm 27, how many more years do you have now?' They say, 'OK, take the discount to stay in one place.' I could be done at 31 or 32. You have to get what you can, when you can get it."
You can follow Sean Keeler on Twitter at @seankeeler or email him at seanmkeeler@gmail.com.
---