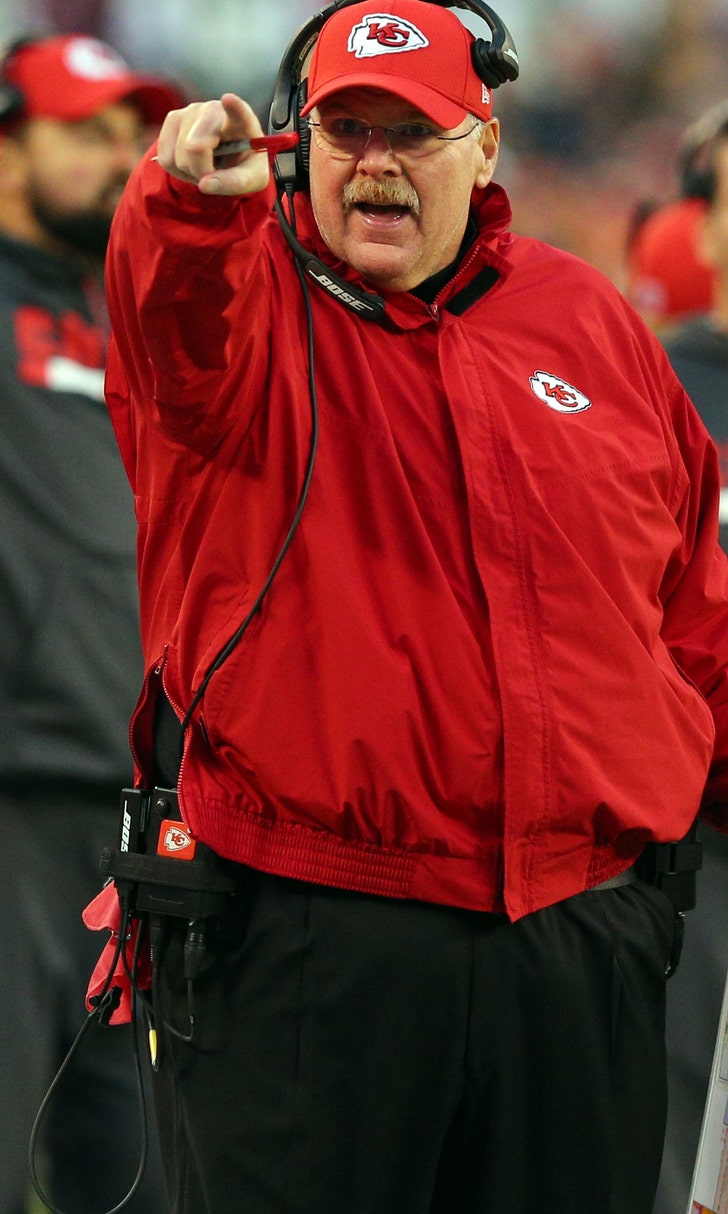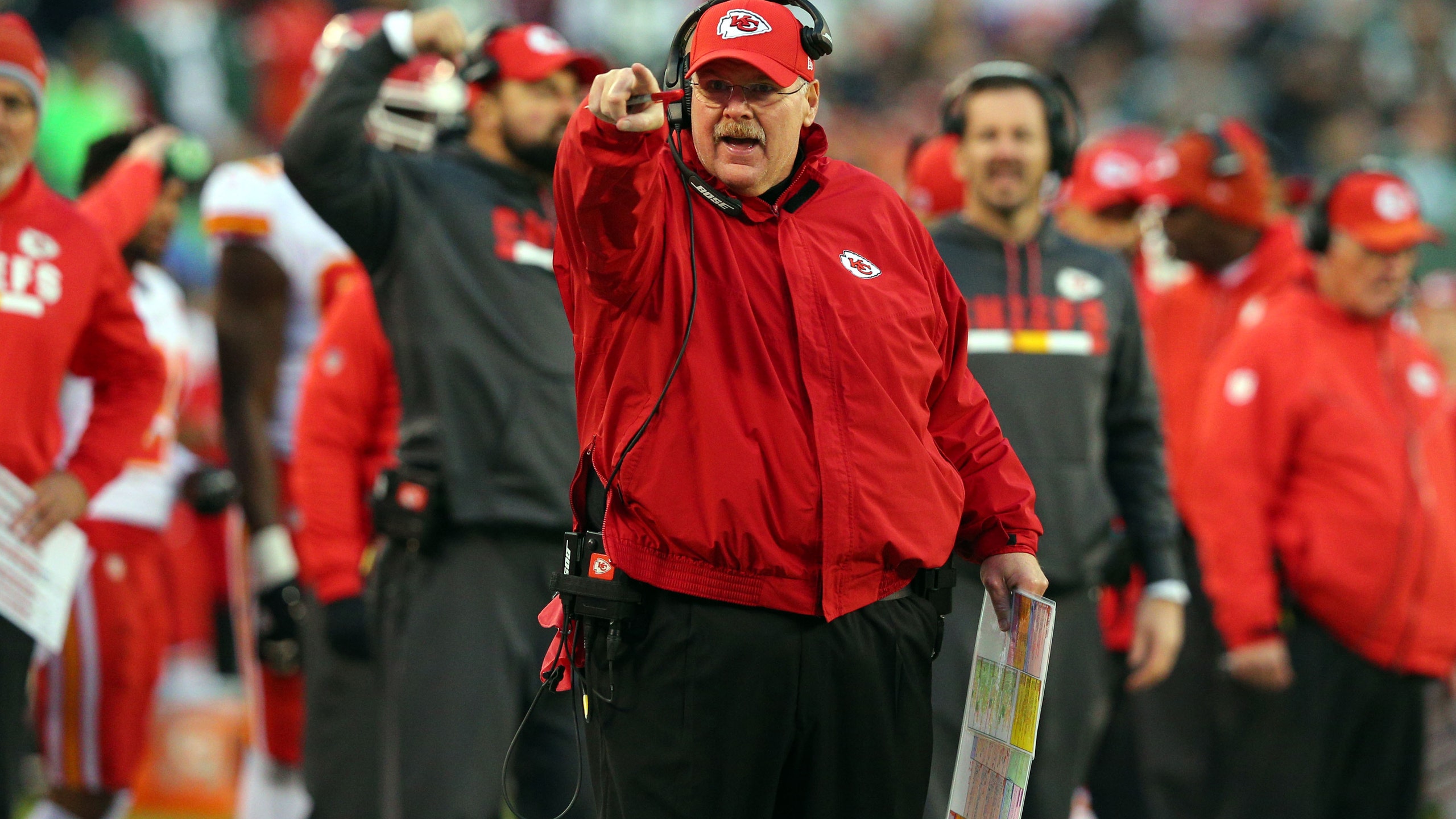 Chiefs' Reid considers letting Nagy continue to call plays
December 7, 2017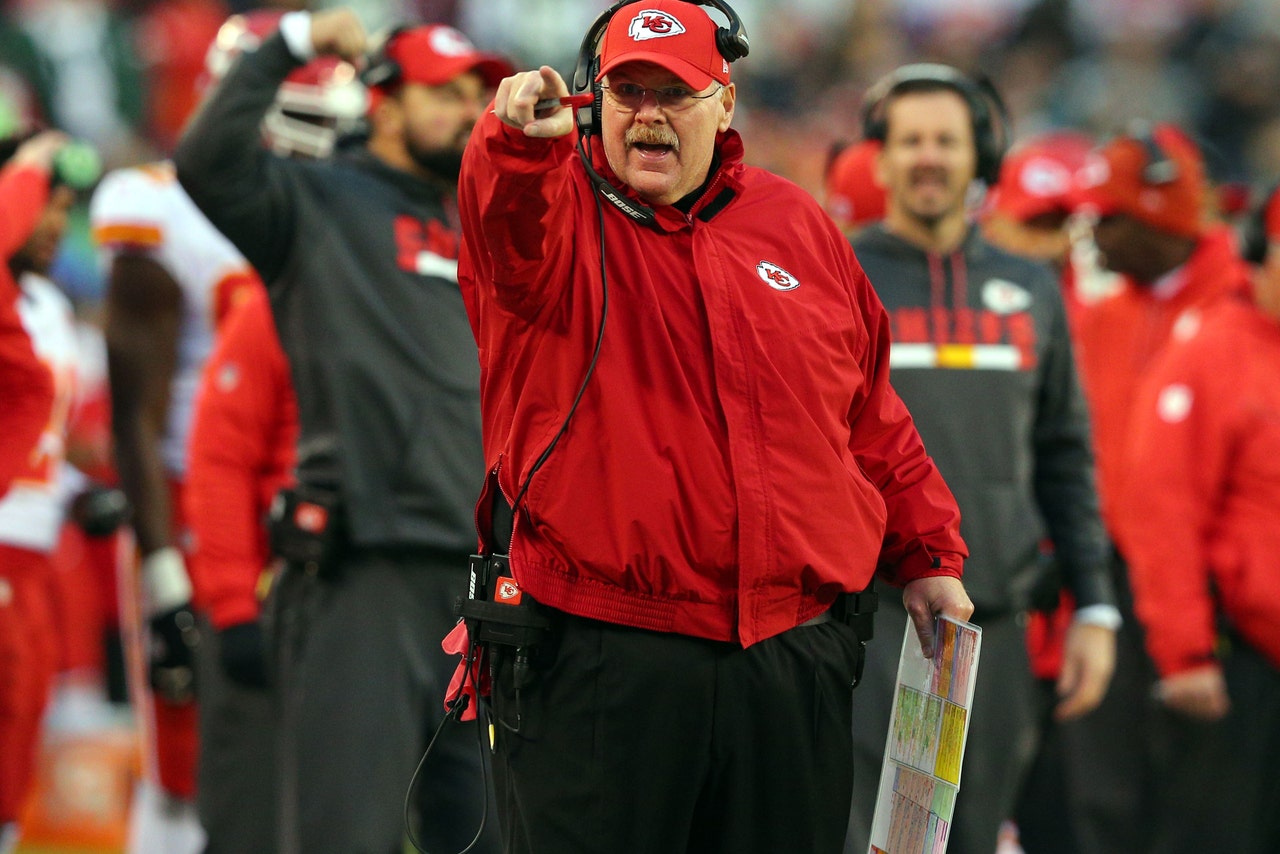 KANSAS CITY, Mo. -- One of the things Andy Reid loves most about being a coach is calling plays, making those crucial and highly visible decisions that have far-reaching ramifications on his team's performance.

That's a big reason he rarely turns those duties over to someone else.

But after a miserable stretch of offensive performances helped to waste the Chiefs' impressive 5-0 start, Reid swallowed his pride -- and his joy -- and gave offensive coordinator Matt Nagy the reins of an offense searching for a spark for last weekend's shootout loss to the New York Jets.

The Chiefs responded by putting up some big numbers, even if their defense wasted them, and it was at least enough for Reid to consider keeping Nagy in charge of the play-calling.

"I for sure saw some good things. It's something I've done in the past," Reid said. "I'm always going to do what I think is best for the Kansas City Chiefs at every spot. So I'll go through it and continue to evaluate it, and whatever I come up with, I come up with there."

Reid still had his fingerprints on the play sheet, of course. There's almost no chance Nagy called that failed trick pass to a tight end-eligible without Reid's blessing, and trying to decipher where one coach's ideas end and those of the other coach begin is an exercise in futility.

Reid certainly won't provide those details.



He never did with Doug Pederson, either. The Chiefs' former offensive coordinator, now the head coach in Philadelphia, was known to have handled some play-calling duties, but neither Reid nor his up-and-coming protege ever let slip precisely how those responsibilities were divvied up.

One thing is clear: The numbers last Sunday support the idea of giving Nagy another shot when the Oakland Raiders visit Sunday in a matchup of teams tied at 6-6 atop the AFC West.

Kansas City had been averaging less than 300 yards total offense over its previous four games and was coming off a 236-yard performance against Buffalo. Alex Smith threw for just 181 yards in that loss, while a ground game that was churning out 100-yard performances early in the season was held to 55.

Even worse, the Chiefs had turned it over seven times in those four games.

But with a noticeably wide-open approach at the Meadowlands, the Chiefs managed to spring a few big plays -- especially early in the game. And they wound up with 474 yards, their best since a Week 1 win in New England, and a season-best 362 yards through the air.

They also didn't turn the ball over against the Jets.

"I think Nagy did a heck of a job. Those guys all collaborate and always have," Smith said. "I know a lot has been made of that, but it was no different than early in the season. I do think for one, it shows a lot about Coach Reid that he would do that and look internally and make that decision.

"It's still a collective effort," Smith added. "Those guys do it all together, the entire staff, and certainly Coach (Reid) is a huge part as far as game-planning and play-calling."

The Chiefs will probably need another big performance from their offense Sunday.



Not only did their defense get gouged by the Jets, it will now be without star cornerback Marcus Peters, who is suspended following a series of embarrassing incidents.

And the previous time their defense faced the Raiders, they watched Derek Carr throw for 417 yards and three touchdowns, the last a short pass to Michael Crabtree on the final play that gave Oakland a 31-30 victory.

"We're trying to score points," Smith said. "You're trying to go out there and execute. If every play was a home run, you are going to do that. There are certain times during the game that you want to hang on to the ball, but that is a specific situation. We're trying to go out, execute and score points. Our job as an offense is to do that."
---
---