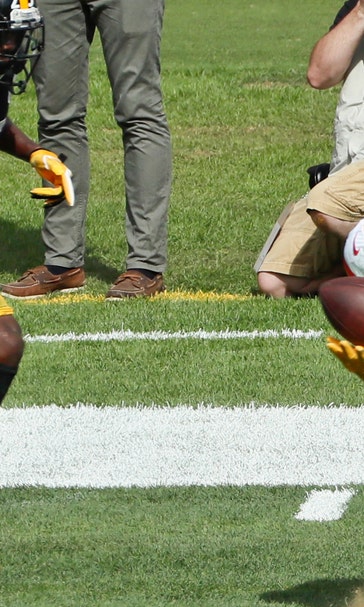 Chiefs' overloaded offense is getting everyone involved
September 19, 2018

KANSAS CITY, Mo. — The Kansas City Chiefs were desperate for help at cornerback this past offseason, especially after trading Marcus Peters, yet general manager Brett Veach made what at the time was a curious decision.

He spent what little remained of his salary cap on Sammy Watkins.

The Chiefs were already loaded on offense with a veteran offensive line, a speedster in Tyreek Hill, the reigning rushing champion in Kareem Hunt and one of the league's best tight ends in Travis Kelce.

So most critics figured adding Watkins to the mix would create just as many problems in keeping everybody happy as it would benefit an offense that was already potent.

Well, the Chiefs are 2-0. Everybody has had a hand in it. And if anybody has reason to gloat it would be Veach, who coach Andy Reid said was merely targeting the best available free agent.

"We felt if we were going to spend money on a free agent, try to get the best one. It doesn't matter what side of the ball," Reid said Wednesday. "I don't think (Veach) was thinking of putting him with Patrick Mahomes or short-changing the defense, he was just getting the best player he could."

Mahomes has certainly been the beneficiary of all those options. He's off to a record-setting start to his career as the starter, throwing 10 touchdown passes without an interception and earning the AFC's offensive player of the week award in back-to-back weeks.

"When you have the weapons we have spread across the field, Sammy and Tyreek on one side, all those guys on the other, the defense has to choose where they're going to cover," Mahomes said. "So we just try to take the best matchup on each play."

The matchup nightmare for the Chargers in Week 1 was Hill, who dominated the Chiefs' AFC West rivals with seven catches for 169 yards and two touchdowns. Six others caught passes, two for scores, including fullback Anthony Sherman — affectionately known as "Sausage" — on a wheel route down the sideline.

Hill didn't even have a first-half catch against the Steelers last week.

Instead it was Kelce and Watkins, who were largely shut out by Los Angeles, who led the Chiefs to a 42-37 victory. Kelce had seven catches for 109 yards and two touchdowns, the highlight a fastball from Mahomes between three defenders, while Watkins hauled in six passes for 100 yards.

Of course, Hill had to have a part in the fun, pulling in five catches for 90 yards and a score after the break. Hunt provided some offensive balance with 18 carries for 75 yards and a TD catch.

"I knew it would just take settling down and getting used to making plays," Watkins said. "I'm not really a statistics guy. I'm really about winning, and that's what it's all about."

The numbers have been plenty gaudy, though.



The Chiefs are averaging 405.5 yards per game, sixth best in the league, and are second in yards per play at 7.2. They're averaging a league-best 40 points, have allowed only two sacks and have scored touchdowns on all of their drives inside the opposing 20-yard line.

They've also given the ball away just once, on a fumble against the Steelers.

"You know, I think we envisioned having a lot of talent. There's definitely a lot of talent on this offense," Chiefs wide receiver Chris Conley said. "The fact that we've been able to get everyone involved is maybe a little bit better than we even expected."

Conley celebrated the lack of egos on the Kansas City offense; nobody is demanding the ball or throwing tantrums on the sideline when it doesn't come his way. He also praised the way the skill players worked together this past offseason, spending the extra time necessary to develop their rapport.

"We practice with the mentality that whoever is out there is ready to make a play when called upon," he said. "So far we've been able to get a lot of guys involved, and we're going to continue to build upon that. Guys are interchangeable because they know the offense so well."

Now the question is whether an opposing defense can figure it out.

Good luck trying to decide who to take away.

"With this offense," Mahomes said, "there's always an answer."

NOTES: Safety Eric Berry (Achilles tendon) remained out of practice Wednesday. He has been out since the early portion of training camp, though Reid insisted he's "getting better." ... DT Chris Jones missed the workout with a slight groin strain, though Reid sounded optimistic that he will be available this week.


---
---