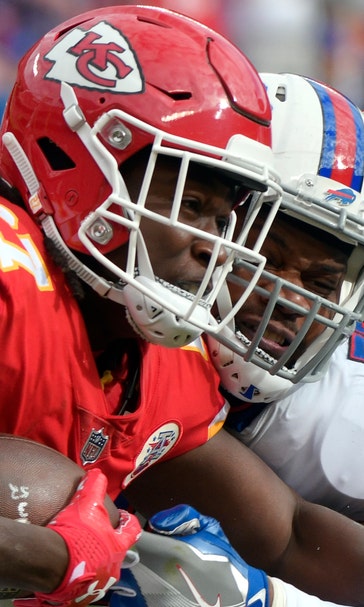 Chiefs continue to struggle, lose to Bills 16-10
November 26, 2017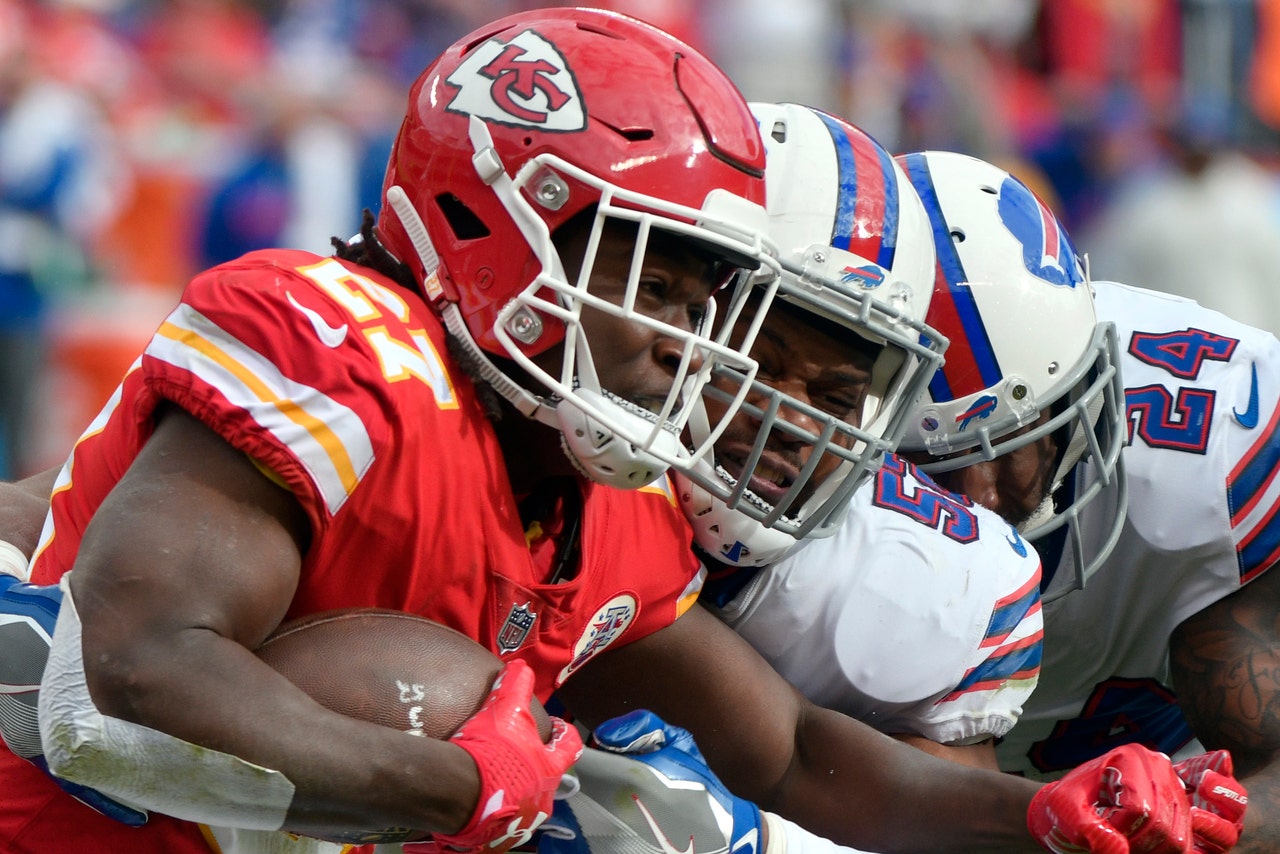 KANSAS CITY, Mo. -- Matt Nagy walked quietly through the Kansas City Chiefs locker room, a bag slung over the offensive coordinator's right shoulder and his laminated play sheet stuffed in a side pocket.

Better place for it would have been the trash.

The Chiefs' offense struggled for the third straight game Sunday, managing just 236 yards before Alex Smith threw an interception with just over a minute left that preserved the Buffalo Bills' 16-10 win -- and the Chiefs' fifth loss in their last six games.

It's been a precipitous slide for a team that at one point was considered a Super Bowl contender.

"That's my responsibility when the offense starts slow," said Chiefs coach Andy Reid, who routinely takes the blame for everyone else's shortcomings. "I'll go back and look at it, but we really didn't get much rhythm going until the second half. Again, I'll take responsibility for that.

"You need to do a better job. Score touchdowns. We aren't doing that."

Well, they did it once Sunday, ending an infuriating streak of eight-plus quarters and overtime without finding the end zone on offense. But after the touchdown pass from Smith to Albert Wilson made it a game in the closing minutes, the offense failed to deliver two more times.

The first occurred with 2:49 left when three straight passes failed to pick up a first down near midfield. Smith dropped back to pass again and threw incomplete, turning the ball over on downs.

The second occurred after Kansas City's defense got the ball back, and Smith found a couple of wide receivers downfield to pick up first downs. But faced with third-and-7 at the Bills 35, Smith threw a pass that was ripped from the air by Tre'Davious White, who nearly took it back for a clinching score.

As it was, it was merely a clinching interception.

Smith finished 23 of 36 for 199 yards with a touchdown and that pick, continuing a personal swoon that has roughly coincided with the Chiefs' collapse. The veteran quarterback was in the MVP discussion after leading the Chiefs to a 5-0 start, highlighted by a road win over New England and a home win over Philadelphia, but now has fans clamoring for him to be benched.



Asked whether first-round pick Patrick Mahomes II might get a shot, Reid replied: "No."

"Listen, everybody's got a piece," Reid continued. "(Smith) is going to stand up here and say that. I can do a better job of putting him in better positions to make plays. The offensive line can do better, the receivers can make catches -- we all have a part in this."

Kareem Hunt ran for 17 yards on 11 carries against Buffalo's porous run defense, the rookie running back bottled up again. Hunt was a fantasy football darling the first few weeks of the season, but he's been getting pounded behind an offensive line that's played like a sieve.

Throw in the drops -- tight end Travis Kelce had one, wide receiver Tyreek Hill had another -- and Reid is correct in his assessment that everybody on offense had a hand in the impotence.

Still, fixing the Chiefs' shortcomings has been a tough proposition.

"I mean, I think practice was good, especially this week. Everybody was having fun, everybody was having energy," Hill said. "I think it has something to do with the energy on our sideline. I think guys just aren't having the same fun we were Week 1 against the Patriots.

"We have to get back to that week," Hill said, "come back mentally sharp, ready to play."

That's because the reality is the Chiefs still control the AFC West, which was once considered the toughest division in the NFL, but is one of the worst in 2017. And they still have a weak schedule down the stretch, with out-of-division games against the Jets next week and the Dolphins a few weeks later.

Plus, their defense has been keeping them in games just about every week.

"You don't point fingers," Chiefs linebacker Derrick Johnson said. "I've been in this league long enough, been in worse situations than this, honestly, but you don't point fingers. You can strike a better blow if you stop pointing fingers, curl them up and get tight. That's what we need to do right now."


---
---