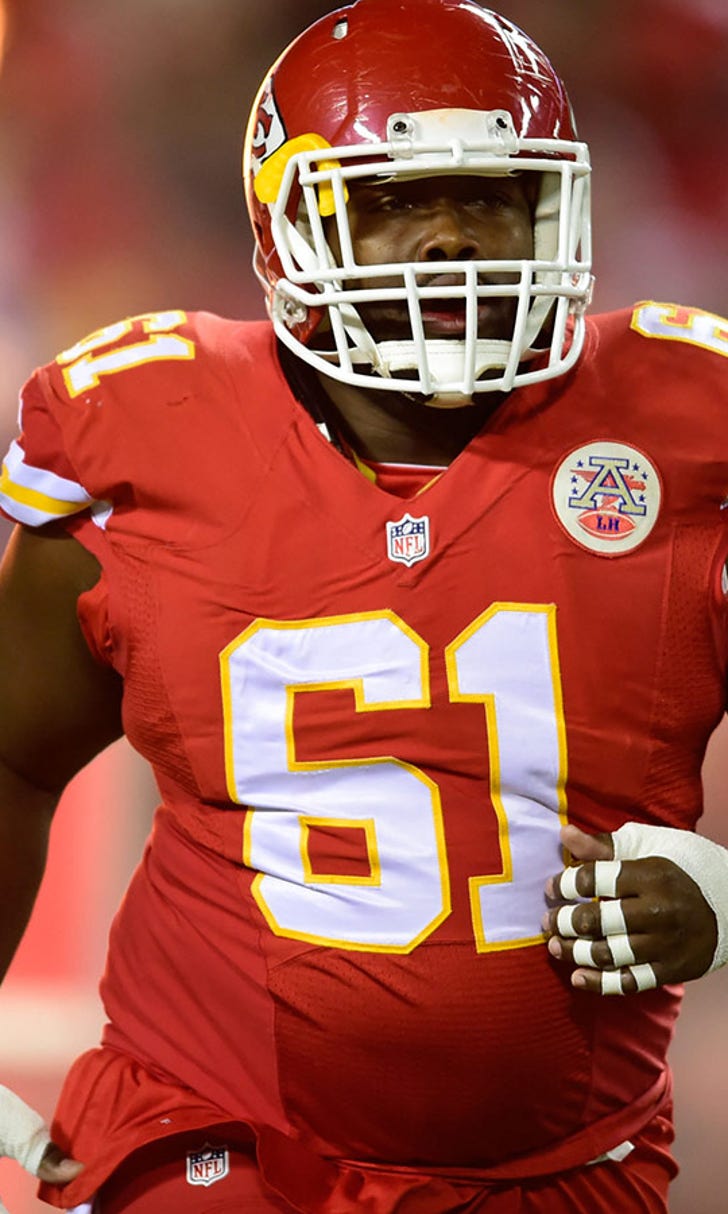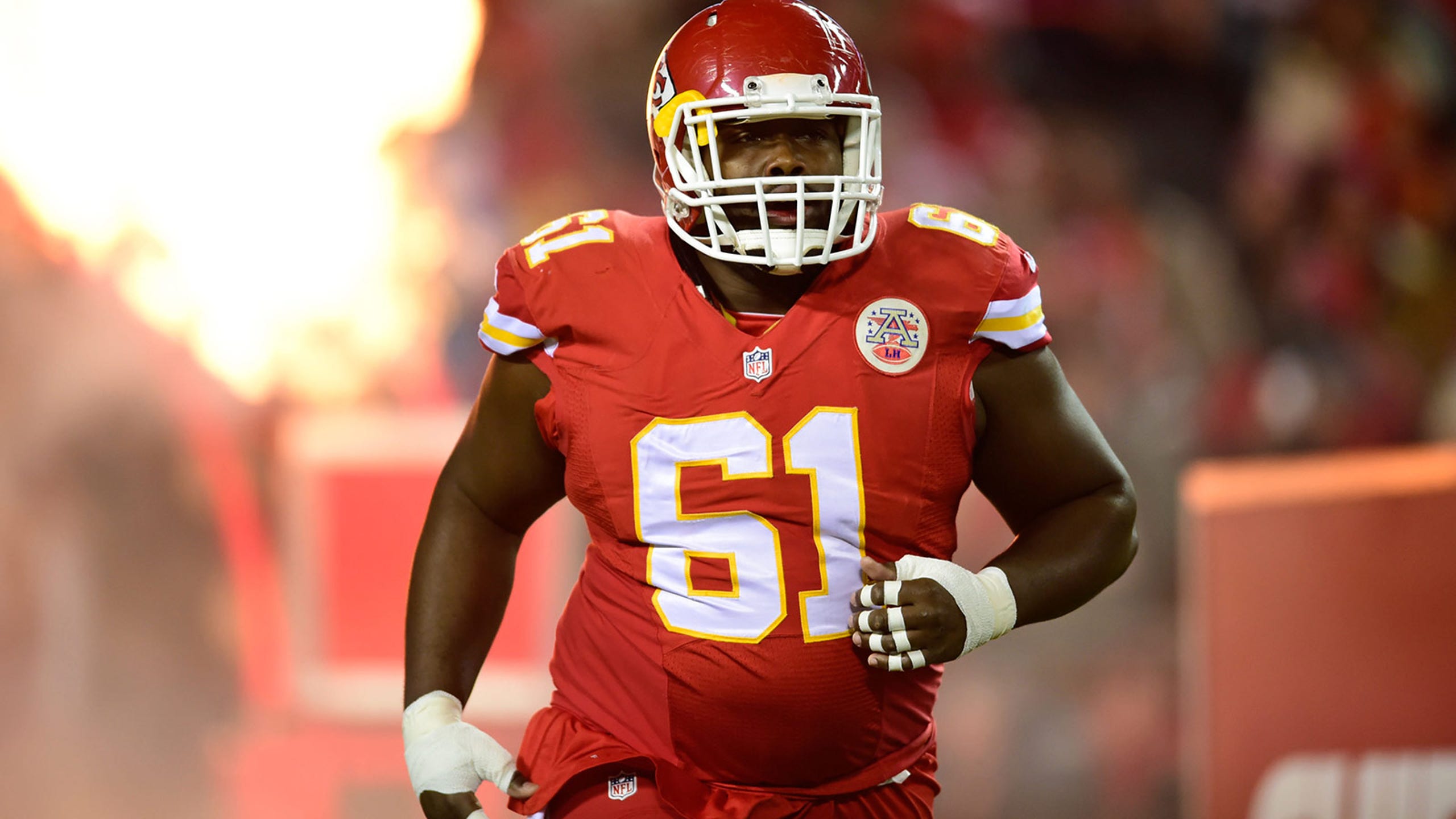 Chiefs center Hudson is getting noticed -- for all the right reasons
BY foxsports • December 17, 2014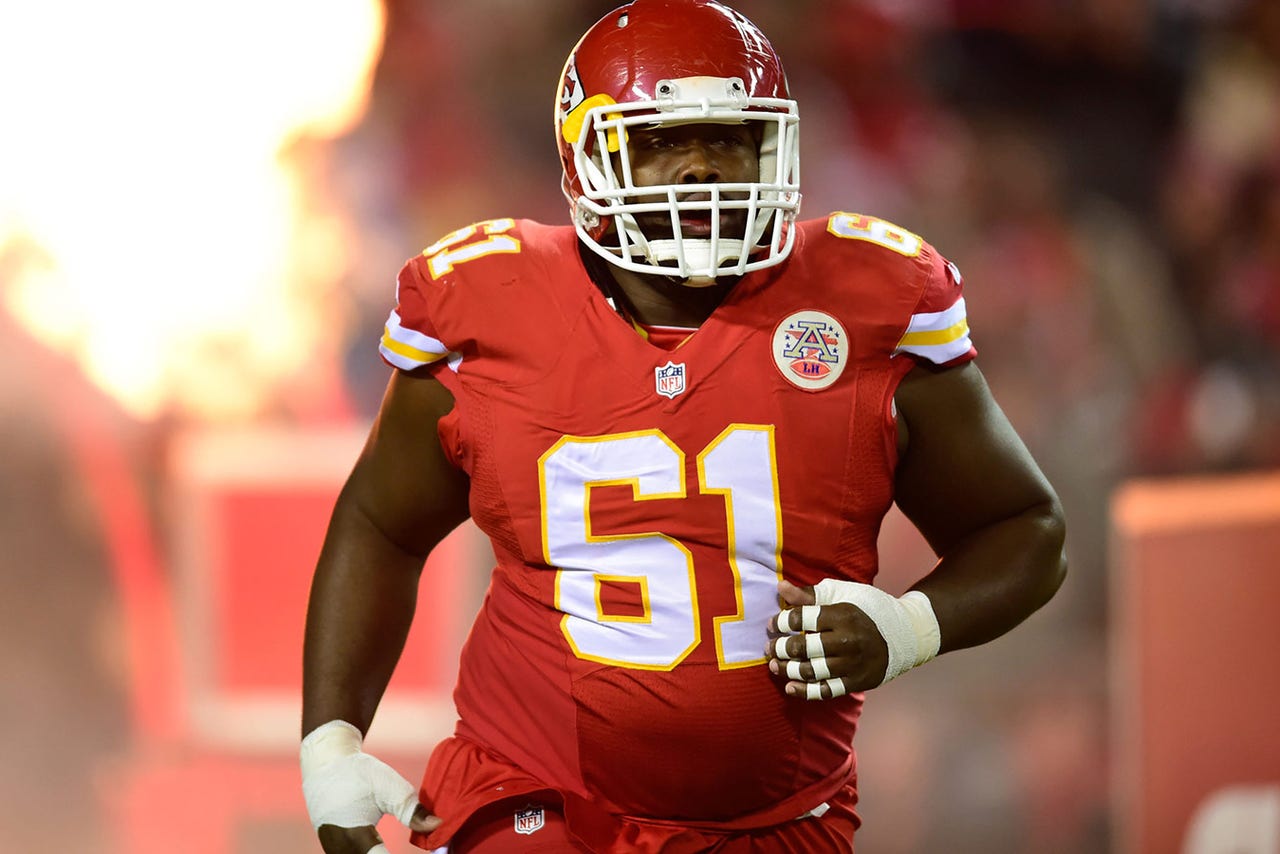 KANSAS CITY, Mo. -- You notice 61, in a good way. There's Rodney Hudson, out in space on a screen, swallowing up some unsuspecting defensive back so Jamaal Charles can slip through. There's Rodney Hudson, dancing in the pocket, keeping his man in front, giving Alex Smith a clean throwing lane. There's Rodney Hudson, on the bench, pulling rookie guard Zach Fulton aside, trying to help keep the kid's head from spinning off.
"In sports in general, especially as an offensive lineman, sometimes it's hard to get noticed," the Kansas City Chiefs' center tells FOXSportsKansasCity.com. "I think it's definitely a good thing to get noticed. And it's definitely something you can appreciate when you're just, day after day, doing your job."
And just picture where they'd be without him. Or don't. Big No. 61 goes into Week 16's trip to Pittsburgh with a +9.6 grade this season from the scouts at ProFootballFocus.com; that's a new career best and tops among Chiefs blockers.
Keep this next number in mind, too, when the conversation turns to postseason accolades and Pro Bowl voting: The next five Kansas City offensive linemen, by snap count, have a combined grade of minus 66.4.
On this particular swinging rope bridge, Big Rodney has been the one wooden slat you can pretty much count on, no matter what.
"You know, he's had a consistent career," says guard Jeff Linkenbach, one of several new teammates Hudson has had to mesh with over the past four months. "And yeah, I believe he's probably one of the underrated centers in this league."
Not for long, hopefully. Hudson's PFF grade through 14 games is the second-best mark for any AFC center who has appeared on at least 25 percent of his team's offensive snaps, and it's fifth best overall.
To date, it also ties the best single-season grade for any Chiefs starting center -- Casey Wiegmann's +9.6 in 2011 -- since PFF began publishing its scouting grades seven years ago. And No. 61 is tied for the NFL lead among centers in screen blocking (+2.5) and third in pass blocking (+2.1).
"He makes all our calls and checks us down and just has great awareness," Linkenbach gushes. "And gets out there and gets after people and finishes people, and is tenacious. And (I) love playing next to him."
And then there's the screen game. The isolations. The fun stuff, where Big 61 becomes a 299-pound monster truck on the move, leaving nothing but tiny, crushed cars in his wake.
"(He) takes the right angle and get outs out there and just destroys the defensive backs," Linkenbach says. "It's always exciting to watch the next day on film and stuff."
"A lot of it is timing up a big body with the little body, you know, hitting that timing just right," fellow center Eric Kush marvels. "So that little guy is sitting there thinking, 'I'm about to make a tackle,' and then -- WHAM!
"You've got to try to get them to like, not quite look at you. It's a good-timing thing, because they're much quicker than we are. You've just got to be able to time it up right and just plow 'em when you get there -- if you try to slow down and stop your feet, they just juke you. Against the Seahawks, what did he say when he was miked up? He's out there 'dropping guys.' So he's doing really well in space; it's awesome to see that. We laugh about it when we're watching films; we love it."
So does he.
"Oh yeah, I like it," Hudson says with a grin. "I like to get out there. It's fun. It's fun to be able to pull around and run over (them) and get in space."
It's also worth noting that the Alabama native is in the final season of a four-year, $3.51 million contract, a deal that has managed to get lost a bit in the brouhaha over the short-term futures of pass-rushing ace Justin Houston (who's still waiting) and quarterback Alex Smith (who isn't).
Young Kush -- a cap hit of $624,779 in '15 and $714,779 in '16 -- has been floated as a possible replacement, and the Chiefs are among the eight NFL clubs who currently spend less than $1.6 million on the center position. (On the flip side, 16 have invested $3 million or more.)
"I just try not to focus on any of that," Hudson says. "I just try to keep it (focused) on what I can control, and that is preparing to play well every day and trying to play well on Sundays."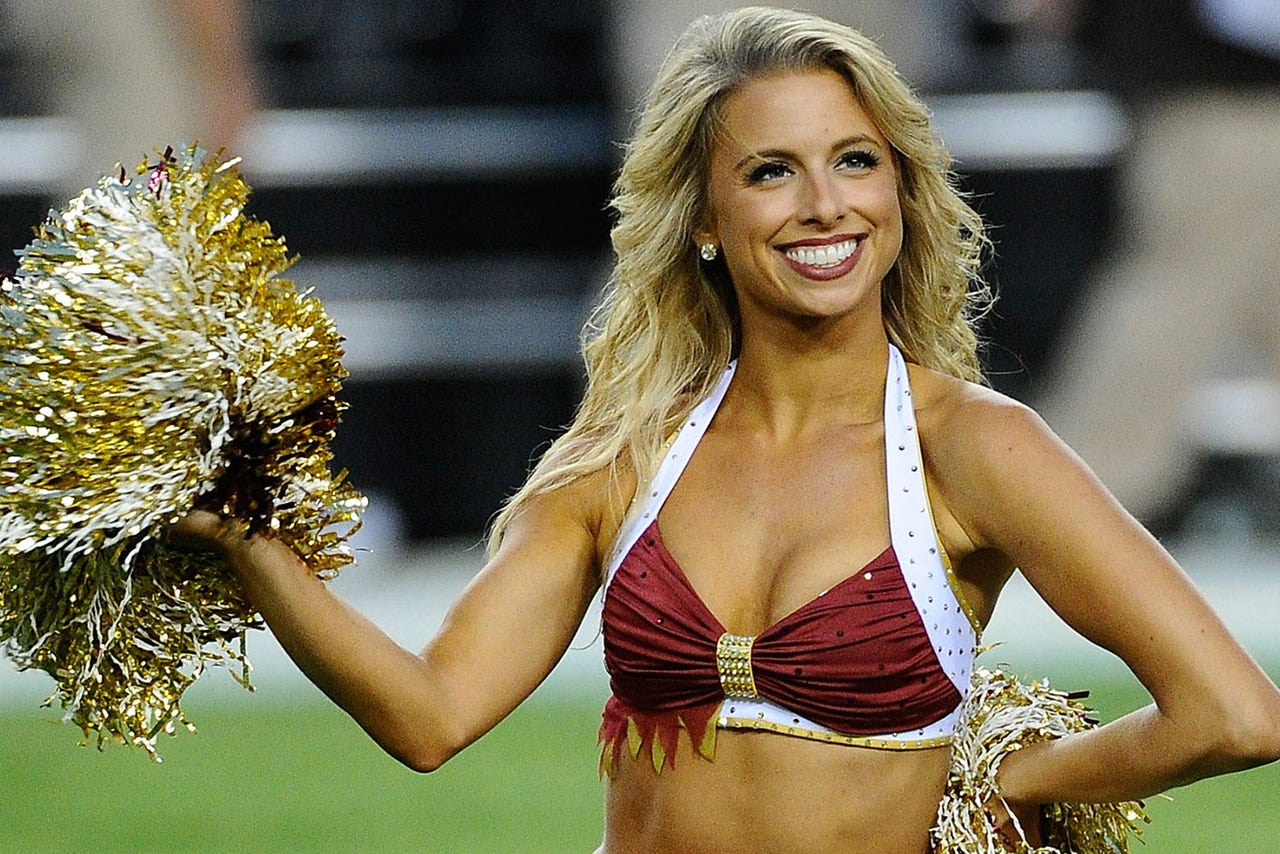 Lookin' good! Flip through our photo album of NFL cheerleaders.
Again, you shudder to think where this line, with a first-year man at right guard (Fulton) and a second-year guy at left tackle (Eric Fisher), would be if 61's head was somewhere else, never mind the rest of his frame. Hudson helps lead the charge for extra work for the offensive line before position meetings and after -- "a few days a week," he says -- to try and help sort out the loose ends. And there have been more than a few.
"Just so we can be on the same page (on) what we're thinking, (so) we can be more vocal to each other," Hudson explains. "I think it's always important to get a little extra as a group so you know what the guy next to you is thinking, and your guys can just pick up and go."
At 25, Hudson -- a second-round pick in 2011 -- was the third-oldest lineman on the roster until veterans Ryan Harris and Mike McGlynn, both 29, were brought in as street free agents shortly before the start of the regular season.
"It happens -- it happens fast," Hudson says. "And your role has to adjust within the room and on the team. I'm just trying to soak it all in, get better and continue to try to grow as a player and as a leader."
Do what I say. Better yet, do what I do.
"He's kind of a quiet guy," Kush says.  (He) helped me last year when I was trying to learn the offense and everything. And he actually would help me with little things (such as), 'Hey, think about it like this,' or, 'Look at it like this.' Different things to help the process of learning things, learning different looks and stuff like that. That's the kind of leader he was. He's not going too hoo-rah and holler. But he gets his stuff done and helps everybody with it, too."
There's Rodney Hudson, level as a dining room table, good times or bad. There's Rodney Hudson, grinding.
"I know, personally, one of the best things that helped me (when I was younger) was talking to my teammates," Hudson says. "Of course, the coaches give you great points and stuff -- but I think it's also important to get the point of view from one of your peers. And I think it helped me out a lot. So I try my best to make sure I'm helping the younger guys out, because I know what kind of impact that had on me a few years ago."
It's noticed. For all the right reasons.
You can follow Sean Keeler on Twitter at @SeanKeeler or email him at seanmkeeler@gmail.com.
---