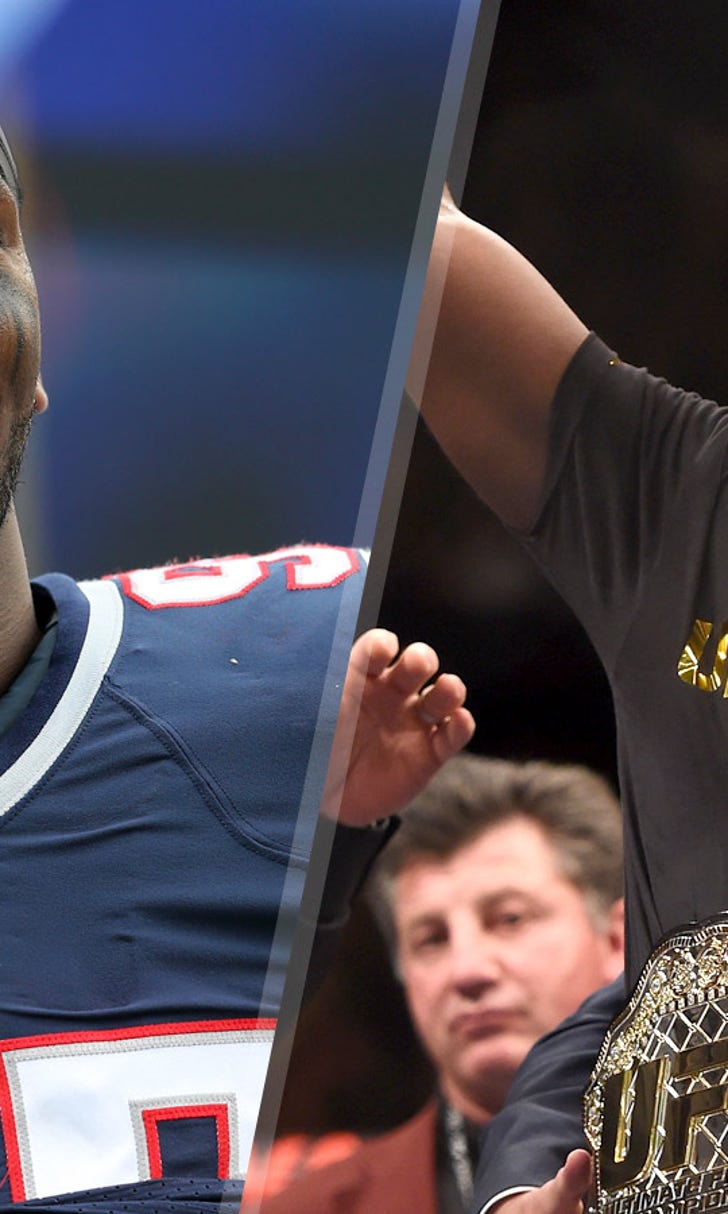 Chandler Jones ready to fight his brother Jon Jones ... for charity
BY foxsports • February 11, 2015
UFC champion Jon Jones has talked about going up to heavyweight on numerous occasions once he clears out the 205-pound division, but his first opponent might be someone that hits really close to home.
It seems Jones' younger brother Chandler, who just won a Super Bowl with the New England Patriots, believes he can still whoop the UFC champ just like he used to do when they were kids.
"Me and my brother used to fight all the time when we were young and I'm pretty sure I can take him down now. I am way bigger than he is," Jones told TMZ this week.
Chandler Jones isn't lying when he says he's got some size on his famous fighting brother. Chandler is about an inch taller than Jon at 6-foot-5 and he's definitely been eating more than the UFC's reigning pound-for-pound king as he weighs about 265 pounds on gameday.
Now sibling rivalry is one thing, but while Chandler might be the greatest Jones on the gridiron (although older brother and Indianapolis Colts defensive end Arthur Jones might have something to say on that subject), he might be biting off more than he can chew challenging Jon to a fight.
It might sound like a joke between brothers, but Chandler is apparently dead serious about setting up a fight with Jon -- for charity, and there's no word on the kind of stipulations he'd put on his brother if they actually stepped into a cage together.
Would Jon have to wear 50-ounce gloves? Fight with one arm tied behind his back?
"It will be fun if we actually did a one-round match for charity, that would be fun," Jones said.  "If I win, he would have to donate to the charity of my choice and vice versa."
As for Jon's part in this proposed fight, the man who might already be considered the greatest UFC champion of all time loves his brother and knows he's a phenomenal athlete -- but as far as getting into the Octagon together? 
Jones vs. Jones for UFC 200 maybe? You never know. 
---
---