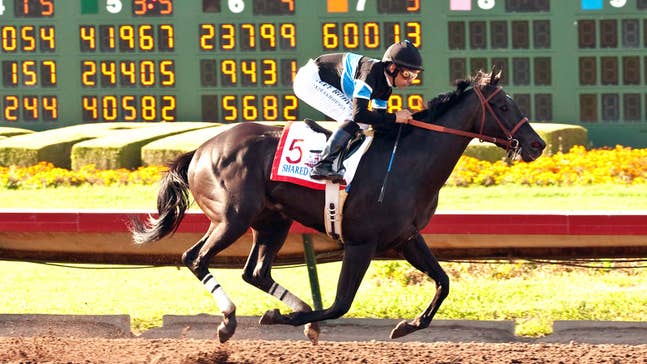 Champion Thoroughbred Shared Belief euthanized due to complications from colic
Published
Dec. 3, 2015 4:08 p.m. EST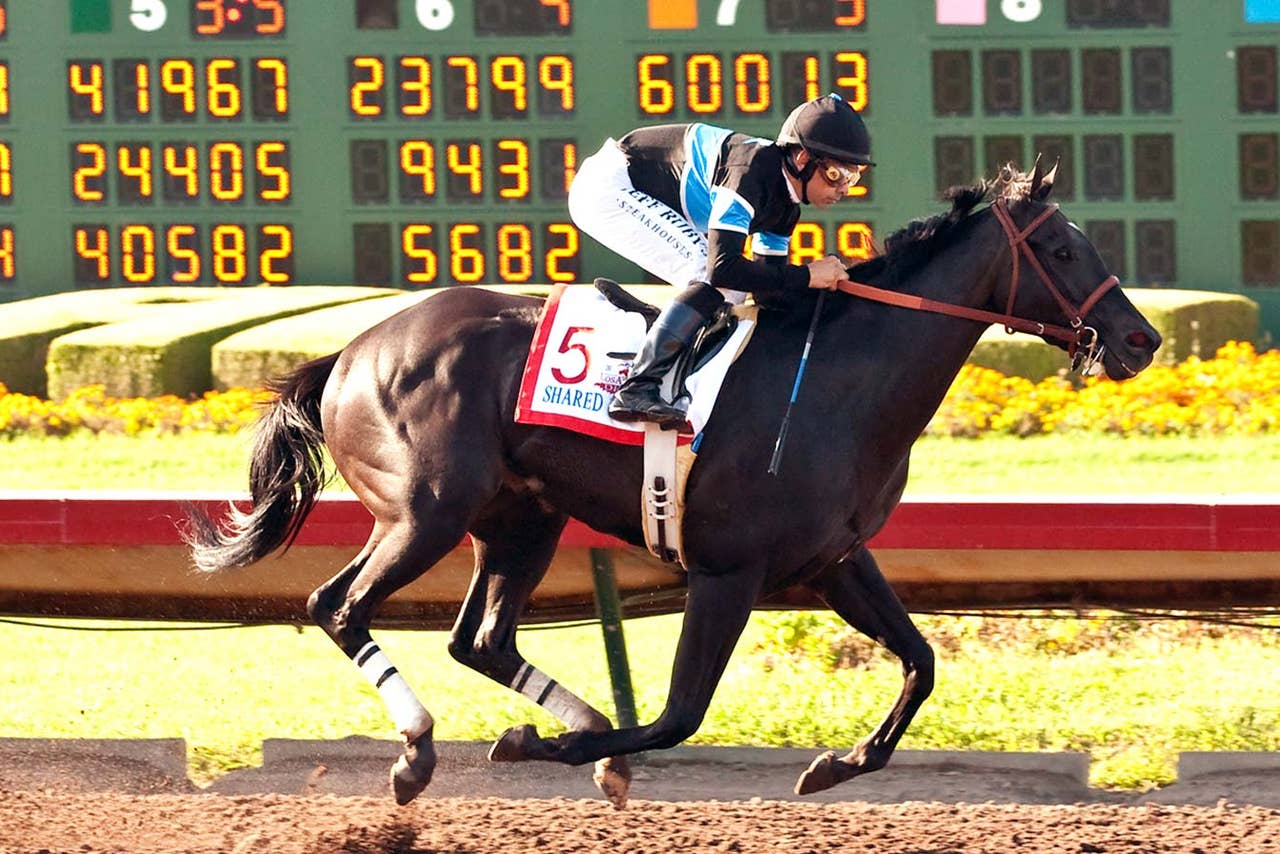 ALBANY, Calif. — Shared Belief, the champion 2-year-old male in an undefeated 2013 season, was euthanized Thursday after a brief bout with colic.
Sports talk host Jim Rome, the horse's majority owner, announced the news on his Jungle Racing's Facebook page.
Shared Belief, based at Hall of Fame trainer Jerry Hollendorfer's stable at Golden Gate Fields, fell ill and underwent surgery at UC Davis, but could not be saved, the posting said.
"We are all absolutely devastated," the posting said. "Shared Belief was a once in a lifetime horse. A champion, fighter and unbelievable talent who impacted and changed all of our lives. The little horse that feared no one and could do anything."
It said autopsy results were not yet available.
Colic is one of the most common causes of death in horses. It typically involves abdominal pain.
Shared Belief won 10 of 12 career starts and had earnings of $2,932,200.
After going undefeated at 2, the gelding missed the 2014 Triple Crown series because of foot problems.
In 2014, Shared Belief won three consecutive stakes: the Los Alamitos Derby, the Pacific Classic and the Awesome Again. He was the favorite in the $5 million Breeders' Cup Classic that fall, but finished fourth after he was bumped by eventual winner Bayern at the start. He closed the year by winning the Grade 1 Malibu Stakes.
This year, Shared Belief won two of his three starts. He beat 2014 Horse of the Year California Chrome in winning the San Antonio Stakes and the Grade 1 Santa Anita Handicap. He injured his hip in April in the Charles Town Classic in West Virginia.
After Shared Belief spent the summer recovering, Hollendorfer had indicated the horse would run at Santa Anita's winter-spring meeting that begins Dec. 26.
"He absolutely loved his job and to compete and to run," the online posting said. "As heartbreaking as this is, we all consider ourselves so fortunate to have been part of this amazing animal's life. He was a super horse from day one."
---